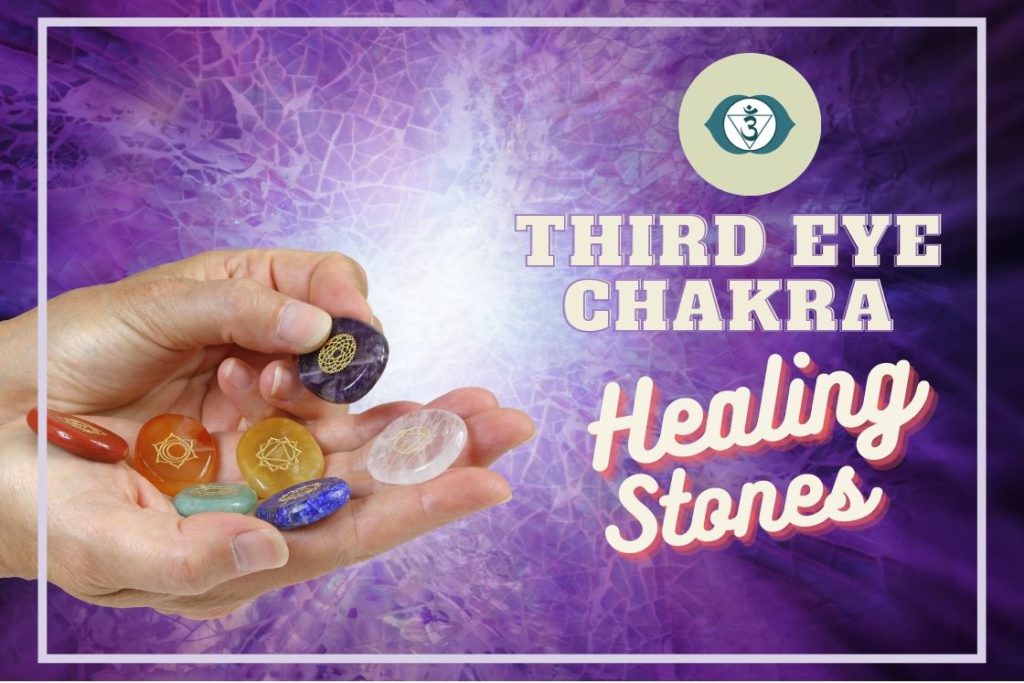 The 6th chakra or better known as the third eye chakra is associated with spiritual enlightenment, wisdom, intellect, and intuition. It is also called the Ajna Chakra in Sanskrit and is located in between the eyebrows.
It is signified by purple or indigo, the colors that resonate with psychic skills, visions, and connecting to the higher consciousness. The energy of this chakra provides a bridge between the physical and the divine realms.
Also known as our sixth sense, a balanced third eye chakra will provide an improved sense of perceptions and intuitions.
Using stones and crystals for healing third eye chakra
Crystals and stones help in activating and healing the third eye chakra by stimulating the pineal gland which will help in connecting to our wisdom and get clarity of the bigger picture of life. To perceive the world with the help of logical thinking, it is important to keep this chakra in balance.
The high vibrations of many stones and crystals will help in developing our psychic gifts and solve issues related to the eyes, brain, nose, and ears.
You will also find that many stones resonate with other chakras such as the heart and the crown chakra. This association also helps inflow of energy between them and assists in better communication and self-expression of our feelings.
What stones and crystals are good for third eye chakra healing?
Indigo or purple are the two colors that belong to the third eye chakra which represents harmony, wisdom, integrity, and self-awareness. Hence the stones and crystals that are mostly used to balance and heal the third eye chakra are in the range of blue, purple, indigo or violet and have high to medium vibration frequencies.
The below list comprises 9 such stones and crystals that will be helpful in your journey of activating, balancing, and healing the third eye chakra.
1. Amethyst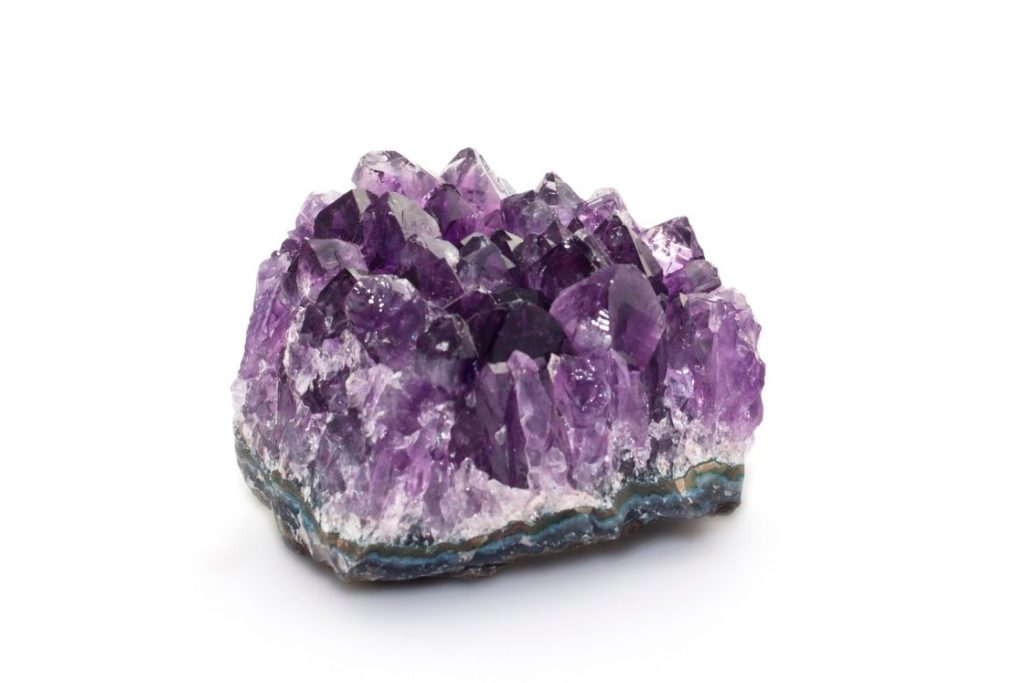 Focus – meditation, spiritual awareness, wisdom, intuition, mental clarity, focus, creativity, psychic abilities
Color – pale violet, deep purple, purple-black
Known as – The Stone of Spirituality, Contentment, Peace & Meditation
Amethyst is the most commonly used stone for third eye chakra healing. It is closely associated with connecting our souls to the divine, hence promoting lucid dreaming. A perfect relaxation stone, it helps to balance the third eye chakra to achieve mental clarity and enhance your psychic abilities.
The high vibrations of this stone aids in memory formation through mindful meditation and emotional balance. It is considered as one of the most spiritual stone which is used during meditation to stimulate and link the third eye and crown chakra. This bridge opens a pathway to spiritual awakening and intuitive abilities.
The calming effect of this stone helps reduce stress and frustrations and keeps us motivated. It is a powerful protective stone as it helps reduce negative dreams, and improves the quality of sleep, and increases our focus.
How to use – It is commonly used as jewellery such as necklaces, earrings, headbands, etc.
2. Labradorite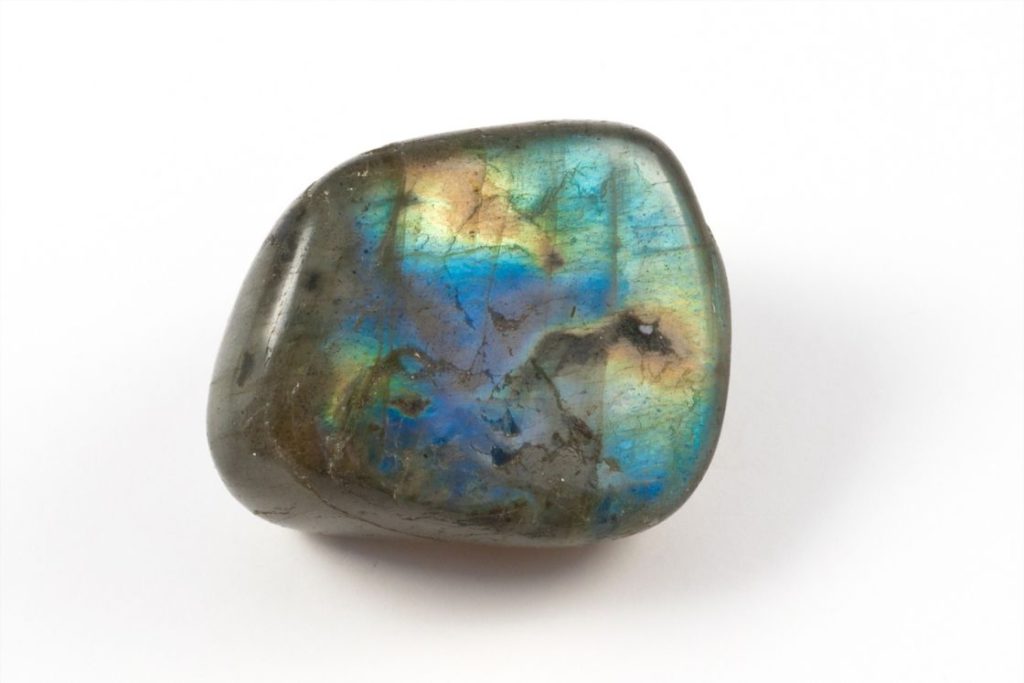 Focus – protection, psychic abilities, intuition, intellect, energy balance, imagination, metabolism,
Color – dark base color with metallic-looking color plays of blue, green, yellow, and red
Known as – The Stone of Transformation
This beautiful iridescent stone is the favourite of empaths and psychics due to its powerful spiritual and protection abilities. The stone protects us from negative energies, thereby awakening our third eye chakra and enhancing our psychic abilities.
When used during meditation, it helps balance the third eye chakra and promotes better intellect and intuition. As a result, you will understand the purpose of the different challenges you are facing in life. Moreover, it also aids in our sense of judgment by balancing and stimulating mental abilities.
In relation to physical ailments, it helps in healing issues with the brain, eye, and metabolic activities.
3. Lapis Lazuli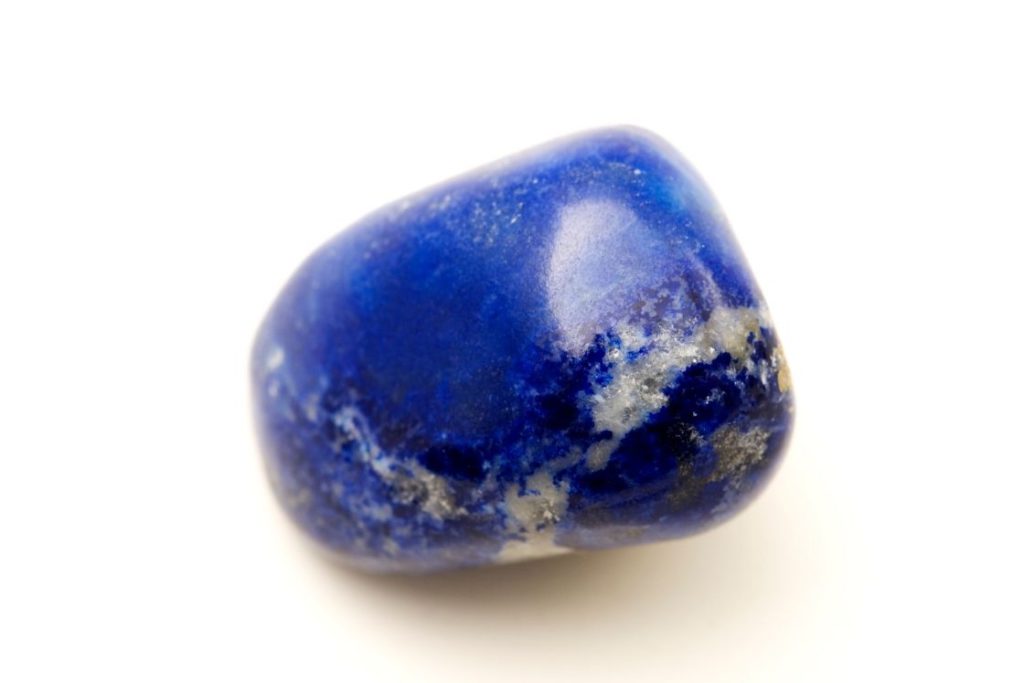 Focus – meditation, spiritual awareness, intuition, psychic abilities, lucid dreaming, astral projection, luck
Color – indigo, blue, green-blue, violet-blue
Known as – Stone of Enlightenment and Illumination, Stone of Friendship, Truth and Total Awareness
Apart from resonating with the throat chakra, Lapis Lazuli stone is also beneficial in balancing the third eye chakra. Its blue color is associated with opening our minds and connecting our spirits to the higher self.
By stimulating your throat chakra, it will also assist in guiding you to the path of spiritual awakening. It promotes self-awareness which helps in enhancing your thirst for knowledge, dream recalling abilities, and takes you on the path of self-discovery.
The stone is also said to energize the third eye chakra by removing a psychic blockage, supporting mental endurance, and clear perception. It improves sleep quality thus reducing insomnia and migraine.
How to use – Can be worn as jewellery in the necklace to keep it close to the third eye and throat chakra.
4. Sodalite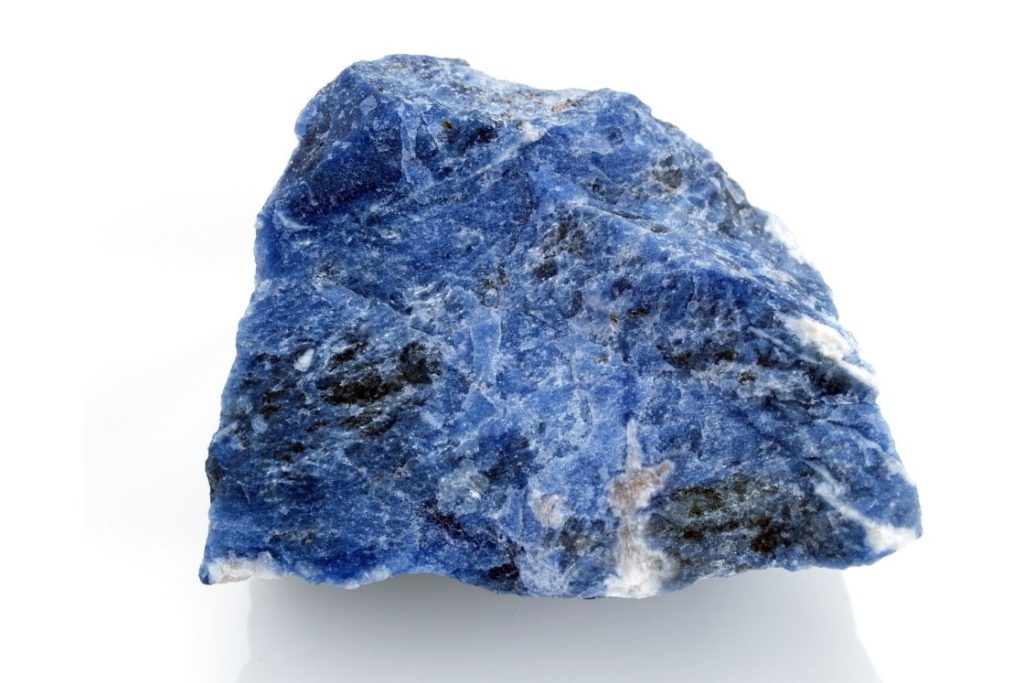 Focus – mental clarity, meditation, self-expression, communication, self-awareness, self-esteem, intuition, emotional balance, psychic abilities, good luck, and wealth
Color – blue with white veins
Sodalite is yet another stone that resonates with the throat chakra as well. The stimulation of both chakras will help in enhancing creativity, self-esteem, confidence, logical and intuitive thought processes. It creates an emotional balance thereby reducing any anxiety, fear, or guilt.
The sodalite stone cleanses our minds of hallucinations and other negative thoughts, healing the third eye chakra and bring forth a calm and relaxed mindset. Through this, we will have a healthy balance between our thoughts and feelings, along with mental clarity and intuition.
The blue and white veins of this stone help in aligning your mind to the higher self and assisting you in the path of discovering your psychic abilities.
It is especially beneficial to writers and students as it enhances your memory, focus, creativity, and outflow of ideas. A truly spiritual stone, it will help you in seeing a positive side to situations, searching for truth, and giving you the courage to stand for the right.
How to use – Keep this stone on your desk or office space to enhance your flow of ideas and logical thinking.
5. Purple Fluorite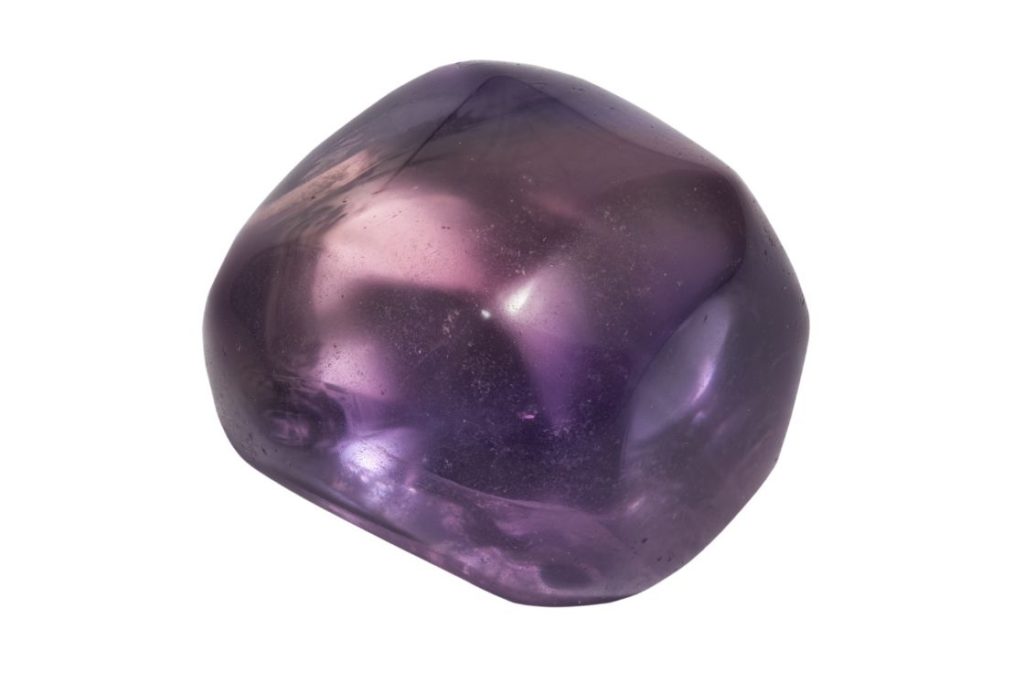 Focus – mental focus, confidence, concentration, intellect, protection, mindfulness, emotional balance
Color – purple
Known as – Stone of Discernment and Aptitude
Hailed as the go-to stone for focus, this versatile stone removes any creative blocks and distractions, allowing us to concentrate on the more important things in life. Purple Fluorite will unblock your third eye chakra and open your mind to new ideas and thoughts, which will help in wise decision-making.
Though fluorite comes in many colors, purple fluorite is said to resonate more closely with the third eye chakra along with the crown chakra. Also called the stone of mental excellence, this stone's energy will heal the chakra and give you the confidence to stick to a plan.
It is also a highly protective stone as it helps with identifying manipulations from other people. Through effective third eye chakra stimulation, you will also be assisted in memorizing and retaining knowledge or skill along with an uninterrupted flow of information.
How to use – Use fluorite as part of a crystal grid during meditation to enhance the healing energies of other crystals.
6. Azurite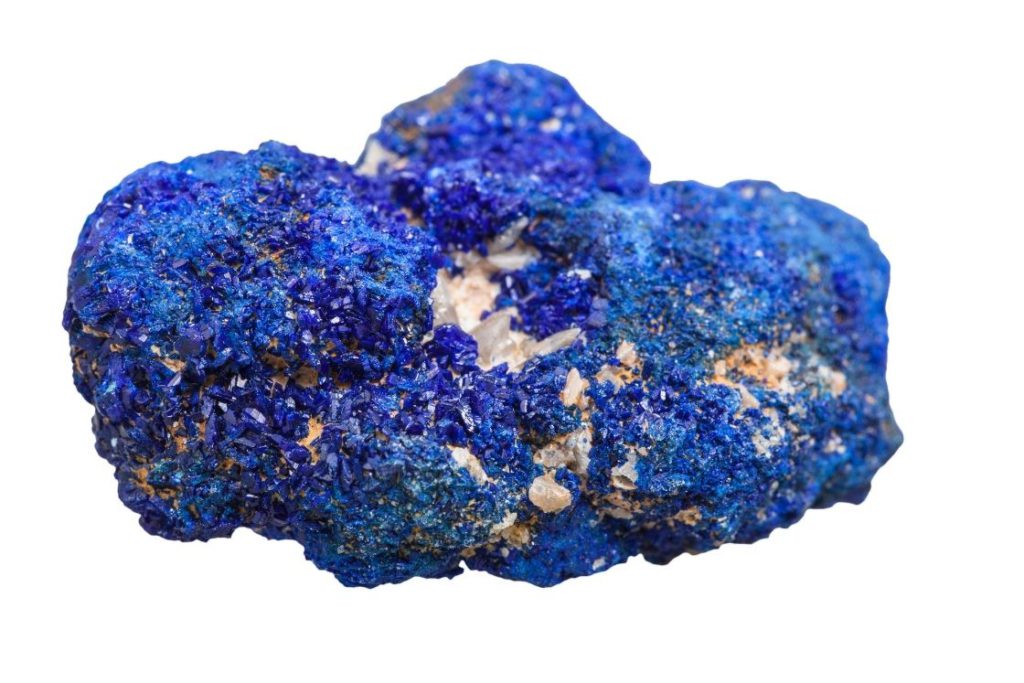 Focus – spiritual guidance, intuition, creativity, communication, meditation, psychic abilities
Color – blue
Known as – Stone of Heaven
This bright blue stone is one of the most powerful stones for stimulating the third eye chakra. The powerful vibrations stem from this stone helps in opening your psychic abilities, divine guidance, and enhancing intuitive perceptions and creativity.
When Azurite is used during meditation, it can calm your mind and deflect any distracting thoughts or anxiety to enter your mind. The quietness needed during a meditation session is best provided by this stone.
The stone is also associated with healing and balancing the throat chakra, resulting in better expression of psychic experiences and feelings. Due to its psychic awakening abilities and spiritual guidance, it is best suited for people looking to become energy healers or spiritual mediums.
How to use – Pair Azurite with Malachite to heal and balance the mind and body simultaneously.
7. Iolite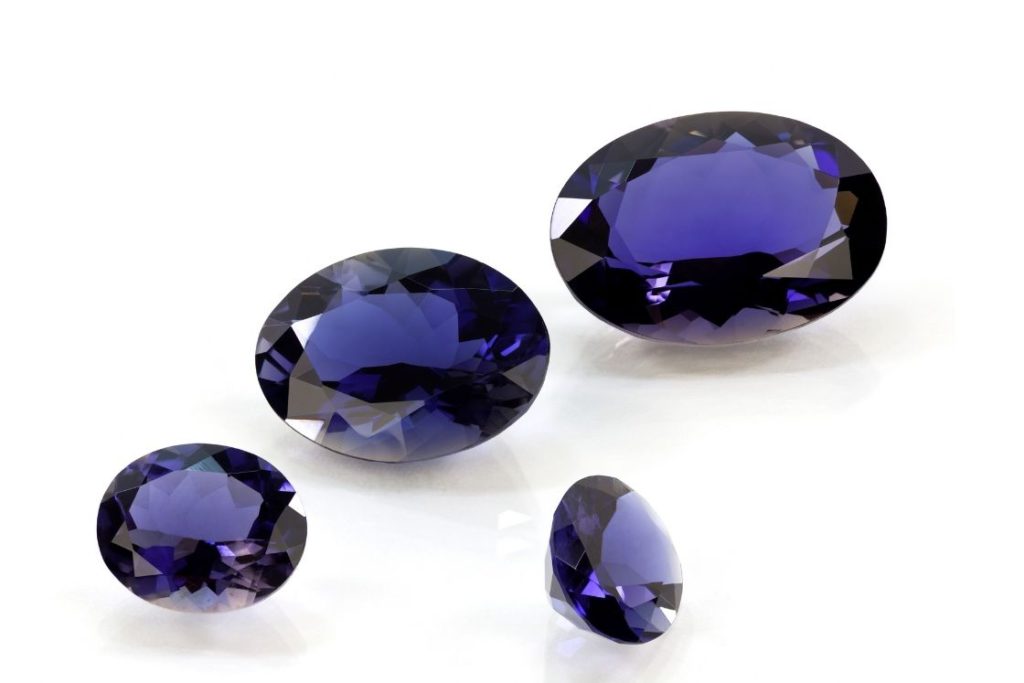 Focus – confidence, self-trust, psychic abilities, mental clarity, intellect, harmony, intuition, creativity, balance male and female personalities
Color – blear blue to deep violet
Known as – Stone of Exploration and the Muses, The Violet Stone
Lolite stone is perfect for harmonizing the male and female characteristics of your spirit for a better flow of energy through all the chakras. It opens your inner knowing capabilities and raises your consciousness by gently opening the third eye chakra.
This stone is most preferred by shamans as it is of great assistance during your astral journey. It gently stimulates imagination and visions, increased clairvoyance and self-awareness, and letting the angels guide you.
By opening your psychic abilities, lolite enhance your confidence, self-esteem, and mental clarity which is extremely beneficial for anyone who is in the process of learning. Thus the gentle energies of Iolite will heal your chakra and help you achieve your goals.
How to use – Due to its gentle energy vibration, it is recommended to always keep this stone in close contact with your energy field.
8. Moldavite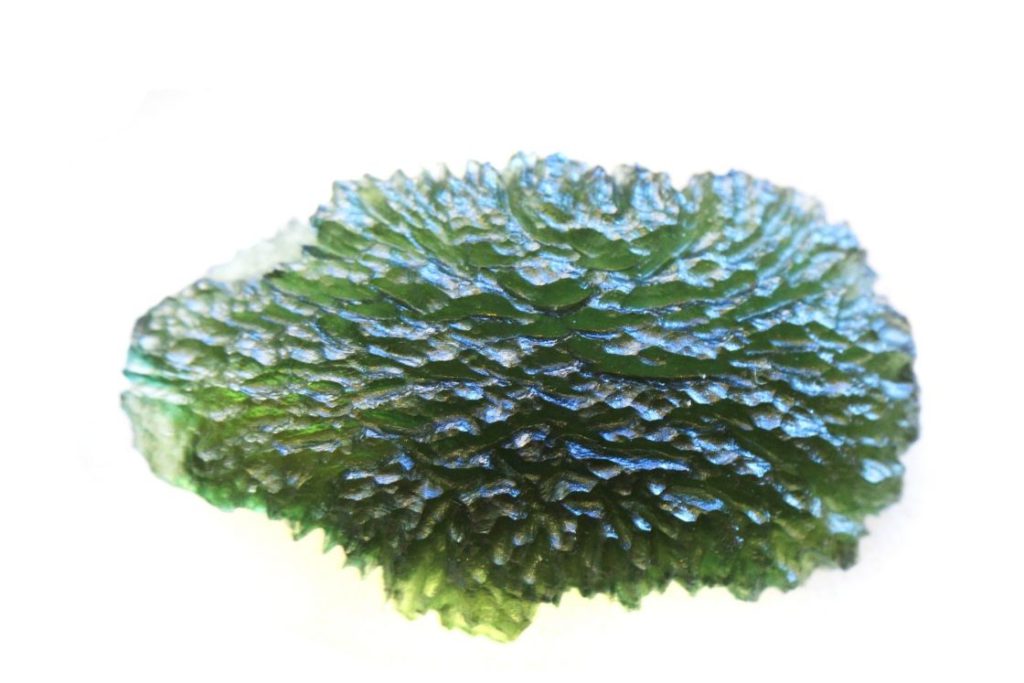 Focus – vivid dreams, spiritual awakening, emotional and intellectual understanding, energy flow, balance the mind, positive thinking
Known as – Stone of Greatness
Moldavite possesses energies from the earth as well as the universe as it was brought into the earth by an asteroid impact. Due to its unique origin and shape, this crystal is most revered in the spiritual world for its metaphysical and healing properties.
It has a very high vibration frequency which is great for emotional releases and connecting your spirit to the higher realms. By healing and balancing the third eye chakra, you will experience lucid dreams, enhanced synchronicities, and spiritual awakening. A protective shield will be cast around your aura to ward off negative energy and psychic attacks.
It is a good stone to align and activate all the chakras, specifically the heart and the third eye chakra. A better flow between these two will ensure a balance in emotional and intellectual understanding, along with a healthy energy flow in your body.
How to use – This stone should be used with caution as it can often result in intense feelings and reactions such as sweats and flushes due to its high vibrating frequency.
9. Blue Kyanite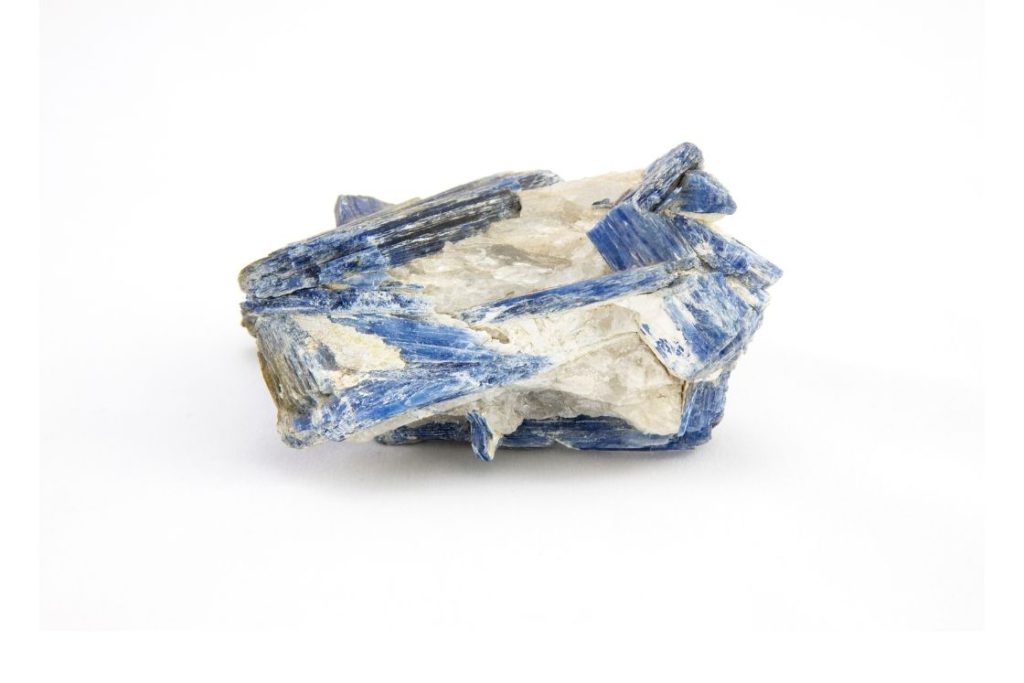 Focus – psychic abilities, communication, self-expression, relationships, meditation, good luck, and wealth
Color – blue
Another high-frequency crystal, Blue Kyanite strengthen the psychic and telepathic abilities by opening the third eye chakra. It is an effective stone to use during meditation to transcend into a deep meditative state as it provides tranquillity and calmness.
Kyanite assists in self-discovery, logical thinking, and memory-boosting by providing a shift in perceptions. It is the perfect stimulating stone for people who yearn for angelic guidance and spiritual connection to the higher realms. Moreover, it balances and aligns all the chakra and enhances memory and intellect.
The powerful energy of this crystal helps in curing destructive behaviours and addictions. With a healed third eye chakra, you will be encouraged to live life with integrity and purpose. It also fosters good communication and resolving disagreements between two people by getting them within a common frequency.
How to use – As it doesn't absorb any negative energy, it can regularly be worn as jewellery or used during meditative sessions. You can also use it to cleanse other crystals.
How to use stone and crystals for healing third eye chakra?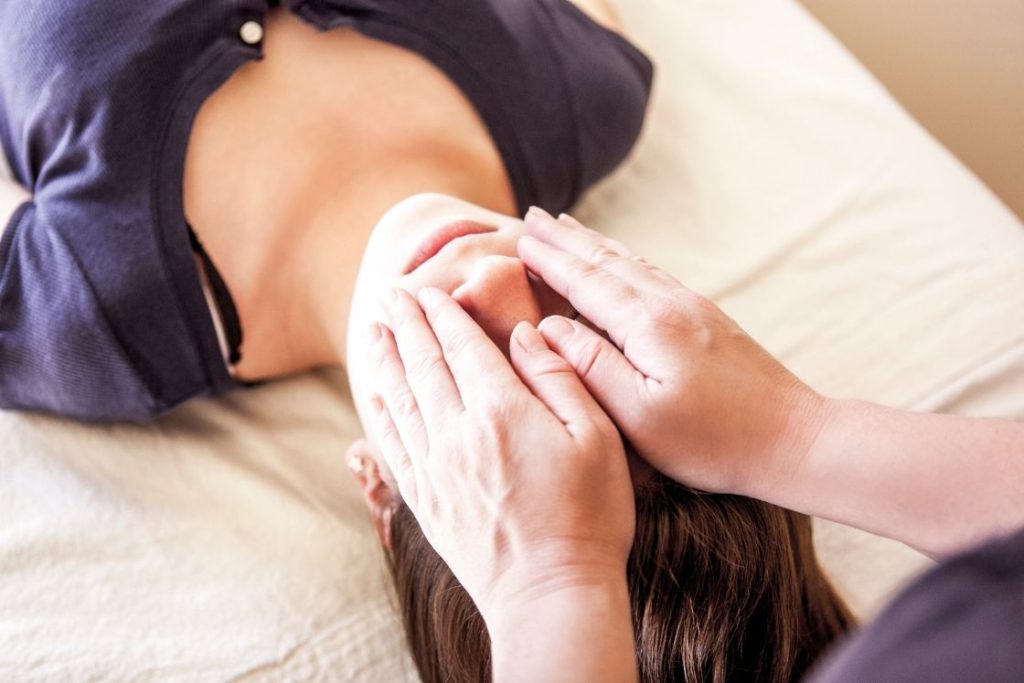 Use the stones and crystals during meditation. You can place one crystal in the palm for concentration or place them in a crystal grid. Placing any one or a combination of stones on the location of the third eye chakra also proves effective.
Recite affirmations while holding the crystal in your hand.
Necklaces and earrings are the best forms of jewelry that can be worn with these stones and crystals embedded in them. Headbands are another way to keep them in contact with the chakra.
Keep them under or beside your pillow to activate lucid dreaming and visions.
You can keep any of the above crystals with you during tarot or psychic readings.
Conclusion
For enhanced intuition, concentration, focus, improving psychic abilities, and connecting yourself to the higher realms, stones, and crystals are effective ways to achieve the above. A balanced third eye chakra will make you feel like you're living in your skin. You will have better spiritual connections along with enhanced confidence and self-awareness.
With their unique vibration frequencies and healing powers, stones and crystals are one of the most sought-after ways to heal and balance the third eye chakra.