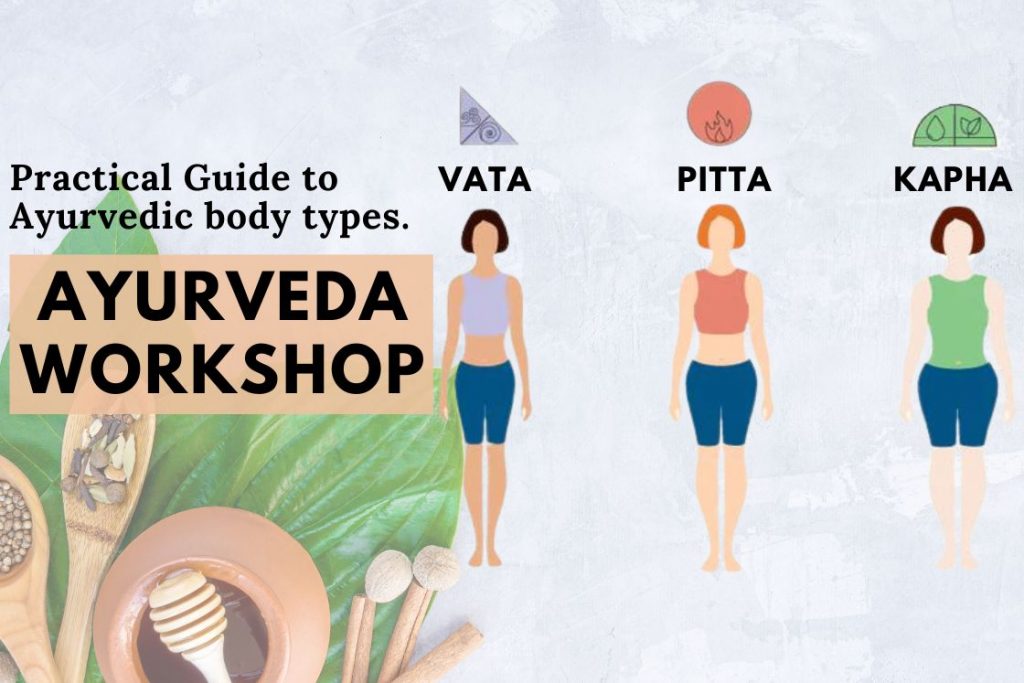 The Sanskrit word Ayurveda (Ayur = life and Veda = knowledge or science) literally means "Science of life".
Ayurveda is the sister practice of Yoga which uses a natural system of medicine and treatment to gain complete balance in body and mind.
The main concept of Ayurveda is that it personalizes the preventive measures and healing process according to the individual's body-mind constitution (Prakruti & Vikruti). To understand this body-mind constitution, Ayurveda gives us the concepts such as Dosha, Dhatu, Mala, Agni, and many more.
We at Fitsri are conducting 5- days Online Ayurveda Workshop in the host by a renowned Ayurvedic practitioner Salila Sukumaran. This workshop will empower you to understand your body-mind constitution, Ayurvedic body types, and apply different practices of Ayurvedic routine (Dinacharya) in your daily life.
About the workshop
From your body's shape and size to habits, strengths and weaknesses, by knowing your Ayurveda body type, you'll know exactly how your body functions. You can then use this information to create a routine that brings you peace, purpose and poise.
In this 5-day workshop, you will learn to use Ayurvedic wisdom to:
Max your quality of life
Improve your health
Develop supportive rituals you can rely on
The facilitator of the workshop will be sharing recommendations for food and lifestyle for each constitution + so much more!
Workshop Highlights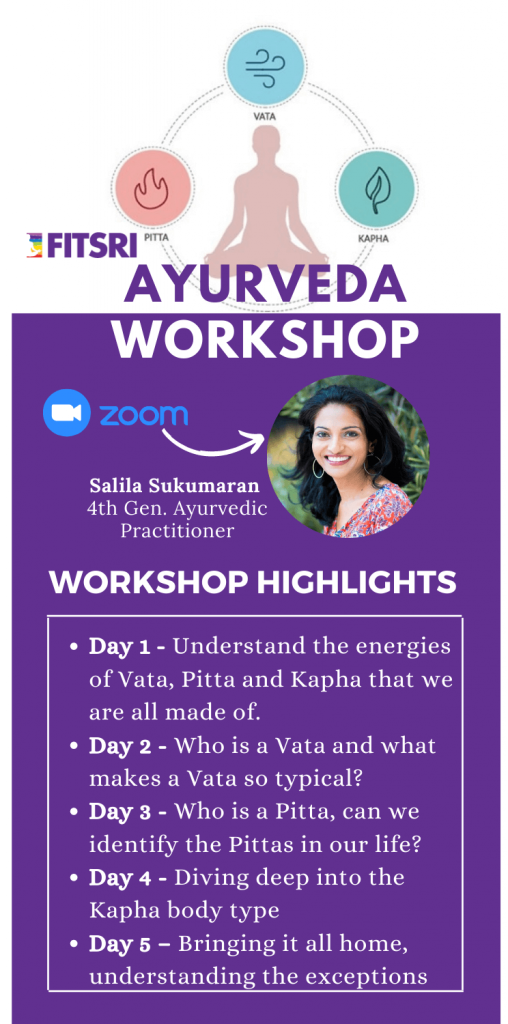 Day 1 – Understand the energies of Vata, Pitta and Kapha that we are all made of.
Learn how all of Vata, Pitta, and Kapha energies create our unique body types and emotional landscape.
Bring it all together to have a taste of why we are the way we are.
On the first day you will learn:
The fundamentals of Ayurvedic body types; explained through a unique storytelling that makes you go aha
Real-life examples to gain complete mastery
You learn to be patient when others act out.
Day 2- Who is a Vata and what makes a Vata so typical?
Who are some famous Vata body types and what can we learn from them about being a Vata
The positives of being a Vata
How to make the best out of your Vata imbalances
Why is the Vata body considered the weakest body type
How to thrive and flourish as a Vata
Day 3 – Who is a Pitta, can we identify the Pittas in our life?
Famous Pittas who changed the course of history
Why do Pittas get a bad rap
How to calm down a fiery Pitta in your life
How to manage your emotions as a Pitta
How to use your Pitta advantage for success and love
Day 4 – Diving deep into the Kapha body type
Why is the Kapha body type the strongest
What makes a Kapha most happy
How to manage a Kapha who drives you crazy
Why is a Kapha imbalance the easiest to fix
What is the best diet for a Kapha
Day 5-Bringing it all home, understanding the exceptions
How to balance your dosha even if you are not sure of your body type
3 powerful Ayurveda rituals that balance all body types
A diet that works for all doshas
Meet Workshop Teacher
Salila Sukumaran
(4th Gen. Ayurvedic Practitioner, Yoga ambassador to AYUSH, Government of India)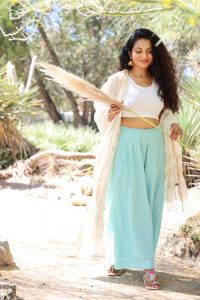 Hi, I am Salila! A 4th generation Ayurvedic practitioner, Nutritionist, Chef, Educator, and Yogi.
Ayurveda is a beautiful gift passed down from India's great Vedic ancestors. It is the OG personalised medicine & intuitive living. In present times, we are busier, restless, and more prone to sickness & diseases than ever. With metabolic diseases, auto-immune issues, cancers, etc., on the rise, we need Ayurveda now more than ever.
When I wasn't feeling like myself many years ago, Ayurveda healed me and made me fall in love with myself again. In this moment of reconnection with my own highest self, I heard a call from deep within. A call to become a channel to enable every man & woman to reach their highest selves. It has since been my sole purpose in life to heal all who come to me. With my ancestral gift of Ayurveda, I guide you to live the life you are meant to live, feeling Juicy Glowy™.

As featured in

5-Days Ayurveda Workshop Details
Date
22 to 28 April 2024
Recording Available

Time
7:00 AM – 8 AM PST /
7:30 PM – 8:30 PM (IST)
Medium
Zoom webinar
Number of sessions
5 interactive classes, each day 1 session about 1 Hour. Recordings are available in case one missed any live sessions or can't attend a live workshop.
Discounted Workshop Fee
₹2999 4999 (People who are attending from India)
$79 129 (People who are attending from outside of India)

* Last date for the discount is 31st January
Recording Available
Recording of the workshop, Q&A interaction with the teacher
Book Your Spot Now
5 hours learning
Handouts
Dosha Quiz
Recordings Available to watch later
$79 / ₹2999
Ayurveda Workshop Frequently Asked Questions
Q. Can I attend this workshop without previous education?
A. Yes, this Ayurveda workshop will take the concepts from scratch which will help you demystify your ayurvedic body type and practices easily.
Q. What can I do after this workshop?
A. This is a foundational workshop to understand the principles of Ayurveda and different body types. It adds knowledge that can give you a professional (and personal) advantage. However, it shouldn't be compared with full coaching courses.
Q. What happens when I press 'Book Now'?
A. After you press "Book Now" you will be redirected to the payment page. There you will see three payment modes available for Indian and International payments separately. Once you have paid, you will get the details about the online Ayurveda workshop in your email within a day.

In case you do not get the email from us within a day, please check your spam folder for an email from Fitsri. Or you can directly email us: contact[at]fitsri.com
Q. Will there be time to ask my questions?
A. Yes, after each class there will be a Q&A time of 15 minutes where you can ask the teacher your questions.
Q. I have some other queries. How to contact you?
A. You can contact us directly at [email protected] for any query related to this pranayama class. Optionally, you can also WhatsApp us for quick replies.