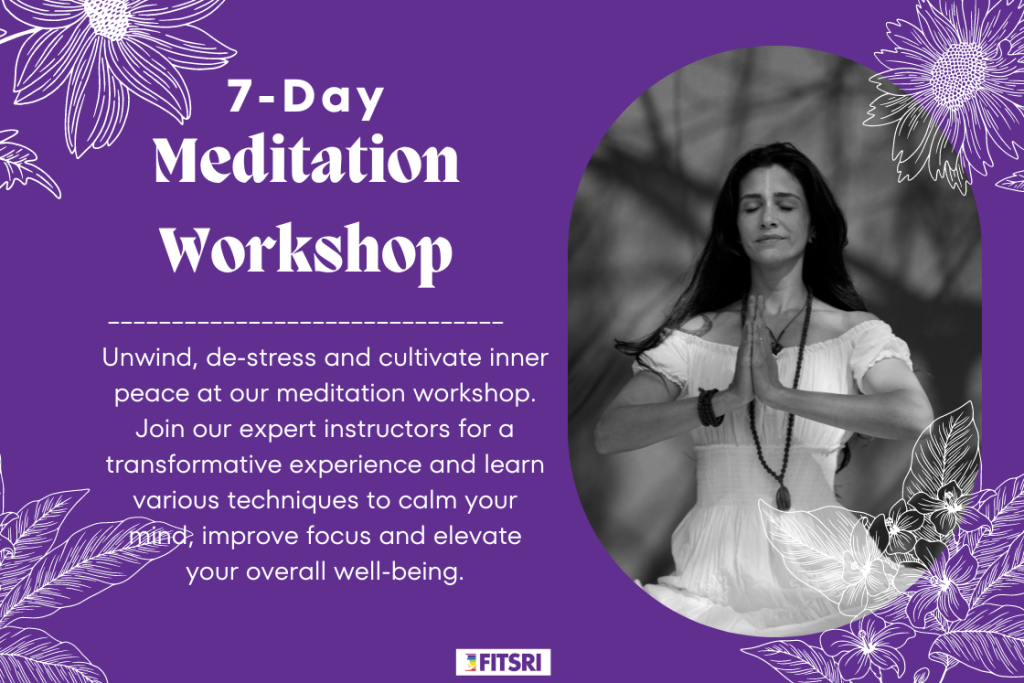 Meditation as widely understood, is not a set of techniques or rituals instead it is a state of experience of evolved mind. It is a communion with the inner self and a phenomenon that happens as a by-product of a persistent Yogic journey. Meditation is the means of expanding our consciousness and transcending the limitations of our minds and emotions. It is not a process of self-forgetfulness and escape rather it is a process of discovering one's inner potential, harmony, and power of discrimination in life.
On the path of meditation, one discovers many wonderful things. You will witness the blossoming of your potential and self-development. There will be much better interactions with life as a process. With regular practice of meditation every day, your moments of inner silence and communion will rejuvenate and refresh your mind, nourishing you with vital sustenance and energy.
Meditation induces a deep state of relaxed alertness and rest. This not only helps rejuvenate the cells and tissues of the body but also facilitates a deep inner process of healing on the levels of thoughts and emotions as well.
Experience of this meditation workshop is suitable for all age groups and levels of practitioners. This introductory meditation workshop program is designed to lay a very solid and deep foundation of authentic understanding of Yogic system. It will be guided program which will help aspirants understand and experience the journey with constant support and guidance of the teacher. The practices chosen in the workshop will equip the practitioners to deepen the awareness and experience of meditation; it will further help to live life consciously and mindfully with 'relaxed alertness'.
It is for this purpose we must get equipped with the process and techniques which train us to withdraw the mind and bring it closer to the inner self. A few minutes of meditation every day will give you sufficient strength not only to face life but also to live it fully.
Highlights of the Meditation Workshop
Each session of the workshop will entail meditation techniques sourced from the traditional and authentic traditions of Yoga and Meditation in India. The duration of each session will last for 90 minutes and will comprise guided sessions of traditional meditation and preparatory techniques of meditation. 
During the entire workshop of seven days, the practitioners will get to learn both theoretical and practical techniques of meditation. The following techniques will be taught during the workshop-
1. Systematic Yogic Relaxation (Yoga Nidra)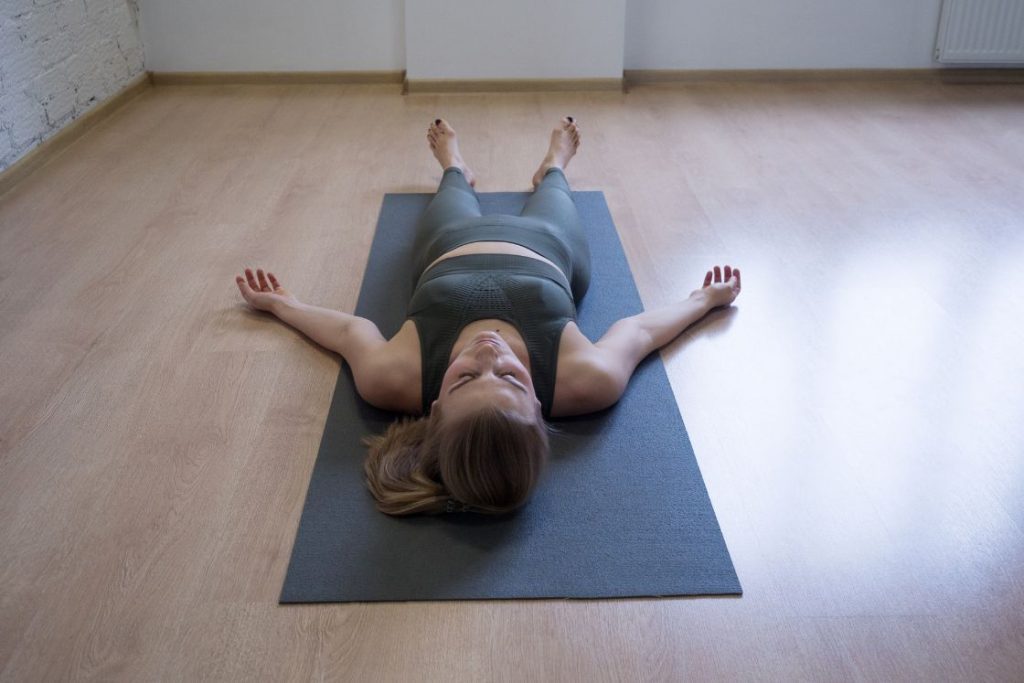 Known as trance or psychic sleep; Yoga Nidra is one of the most effective ways to relax the body, mind, and emotions. It is a systematic guided relaxation that induces a hypnogogic state in the practitioners. There are a total of eight stages of Yoga Nidra. Ideally, this relaxation technique is performed in Shavasana. In this particular stage of Yoga Nidra, we will focus on physical relaxation. The entire practice will commence with the preparation of the body in shavasana and then practitioners will be instructed to guide the awareness through different parts of the body and simultaneously relax them.
Yoga Nidra is an excellent technique to calm down the nerves; suitable for those leading a very stressful life. This technique helps in cases of hypertension, anxiety, stress, insomnia, and heart conditions. Yoga Nidra is also used as a preparatory process in meditation.
2. Non-Reactive Awareness of thoughts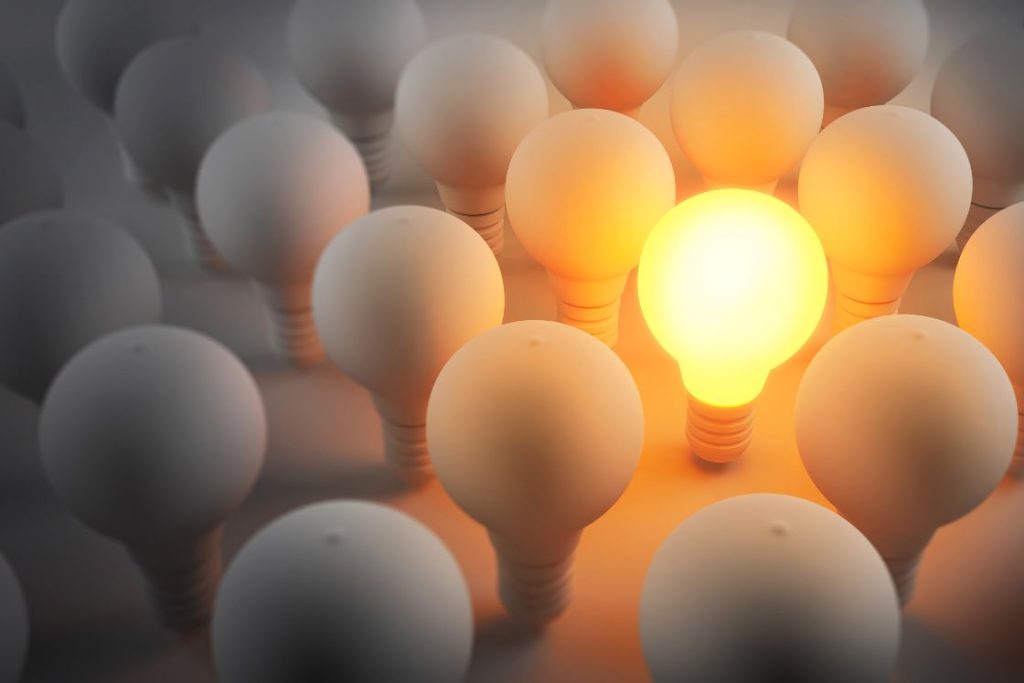 The purpose of this meditation is to neutralize negative thought patterns. In life, we accumulate suppressed thoughts that cause unhappiness and tension in our life. These suppressed thoughts keep building up continued dissatisfaction and stress in life. The main cause behind these tensions is identification with negative thought patterns. Once we learn how to be non-reactive then we can easily neutralize them and prevent de-vitalization of mind and emotions.
3. Visualization of breath in the Psychic Passage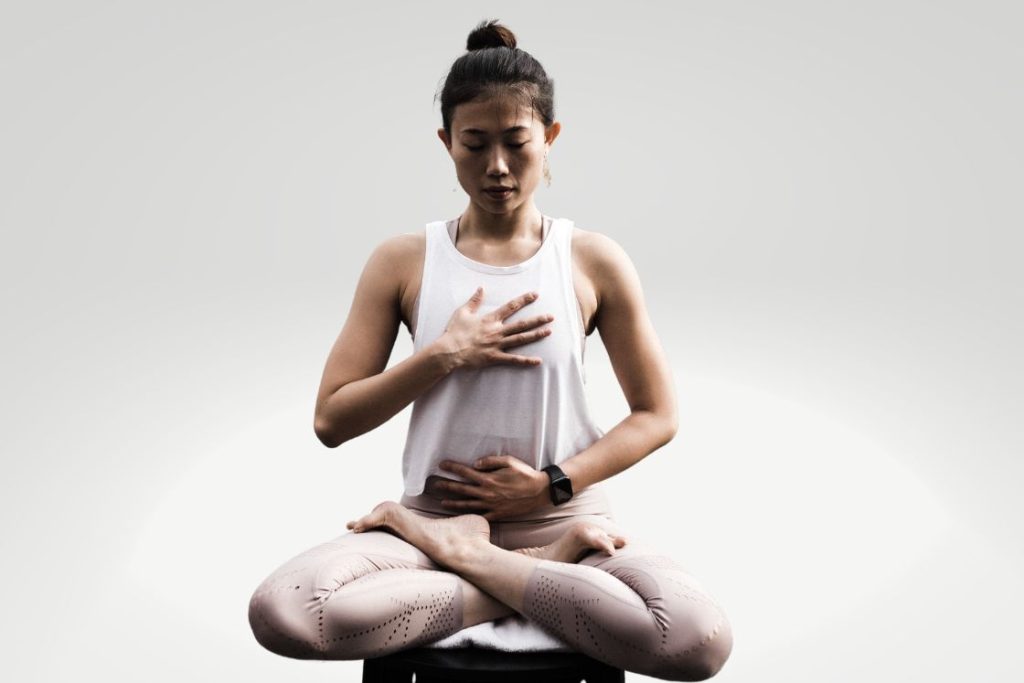 This is an excellent technique to develop an awareness of the breath, the concentration of the mind, and healing potentials in the practitioners. This meditation requires visualization of a psychic or energy passage in the body. In the highly advanced mediation tradition of kriya and kundalini yoga, different psychic passages are used to enhance the awareness of energy. These passages are used to awaken the healing potential in the person.
In this meditation technique, we are going to use the frontal psychic passage in the body. This passage is imagined at the front of the body, between the navel and throat. And then, later on, awareness and breath are guided along this psychic passage.
4. Non-Reactive Awareness of Sense Perceptions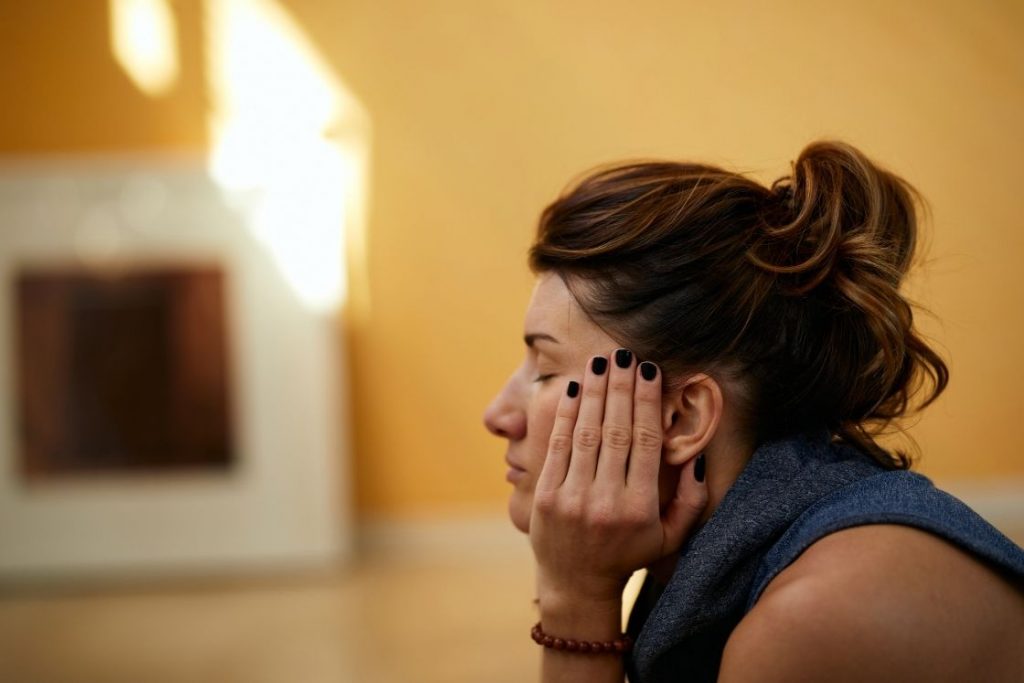 The purpose of this meditation is to develop non-reactive awareness (Witnessing awareness) and remain unaffected by the influences of the sense perceptions. This technique helps strengthen our mental immunity against the outer sensorial stimuli. The immediate benefit of the technique is to induce a state of internalization and calmness.
5. Mantra Awareness in the Psychic Passage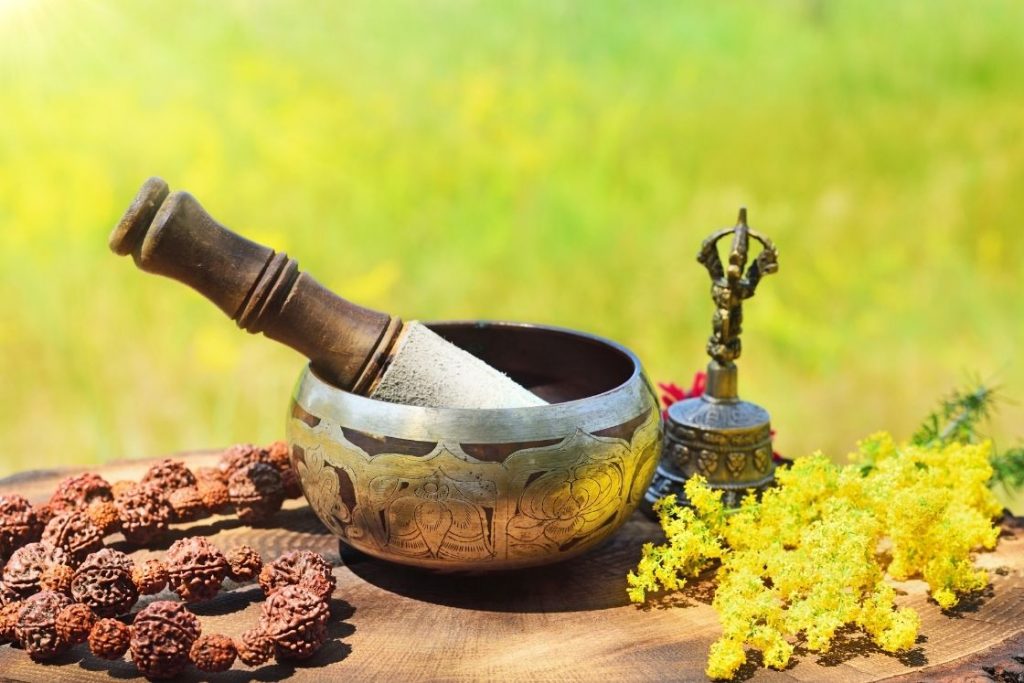 A mantra is a powerful tool to arrest the wavering thought patterns in the mind. A mantra is a psychic sound vibration that aims to control the dissipating tendencies of the mind and induces relaxation and inner tranquility. In this meditation, we will use a traditional mantra repeated with the visualization of breath. The mantra used is 'SO' and 'HAM'. During the practice 'SO' mantra is repeated during inhalation and the 'HAM' mantra is repeated with exhalation. This technique is part of Dharana (Concentration) practices, helps to develop the ability to concentrate, relaxes the mind, and harmonizes emotions.
6. Breathing Into Body-Space (Full Yogic Breathing)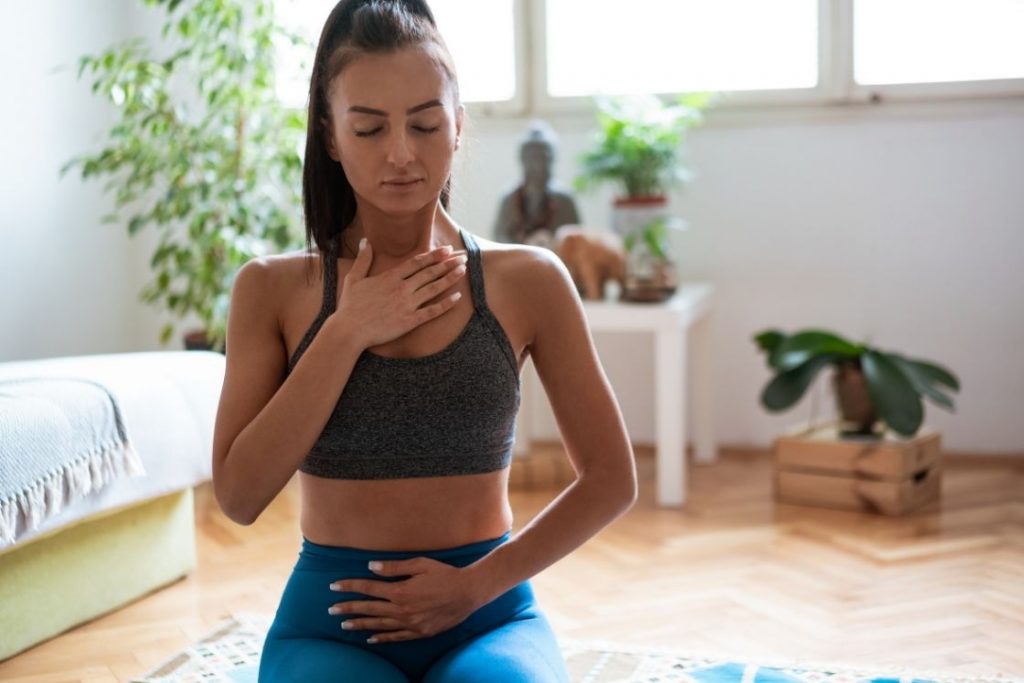 This preliminary meditation and pranayama technique is a continuation of the last technique of abdominal breathing which we have practiced previously. The purpose of this practice is to develop an awareness of the three different stages of breathing processes in the body. The practice will begin with abdominal breathing and gradually extend into thoracic and clavicular breathing. When all these three stages are performed together it is known as full yogic breathing.
Full yogic breathing helps to develop control over the breath, enhances the vital capacity of the lungs, and rectifies incorrect breathing. It is a very helpful technique during stressful situations in life.
7. Expansion of awareness-inner sensations with breath awareness
It is a continuation of the earlier practice of meditation on awareness of sensations. This practice is very effective in inducing relaxation and deepening the awareness of the body. It can be used as a relaxation or meditation practice. As it deepens the awareness of the body and inner sensations hence can be used as a preparatory technique of meditation. The key to this meditation is to remain conscious and aware during the entire process. There are possibilities that during the practice some thoughts may arise, in that case, it is advised not to suppress the thoughts but rather remain a witness of their activation and allow them to gradually recede.
This technique can be practiced either in a lying or sitting position. The lying position has the advantage of getting deeper relaxation but there are possibilities of falling asleep. If you tend to fall asleep during relaxation then it is advisable that you must perform this practice in a sitting position or else you should wash your face with cold water before practicing this meditation.
8. Inner Space Breathing Visualization
Visualization is used as one of the most important tools in meditative traditions in order to deepen awareness and relaxation. This inner space breathing is one of those meditations which helps the practitioners to prepare for higher meditation practices. The purpose of this meditation is to enhance the awareness of the inner space of the body using the breath as a tool.
This meditation can be practiced in a sitting or lying position. It is a highly recommended technique to help an individual to relax the mind and body and refine the awareness to experience subtle dimensions of meditative processes.
Meet the Program's Instructor
Sushant Pandey, Masters in Yoga Psychology from Bihar School of Yoga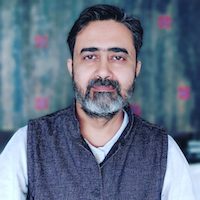 Sushant is a postgraduate in Yoga Psychology (1997-99), from the World-renowned Bihar School of Yoga and worked as a Lecturer there in the same department for four years.
As a lecturer at Yoga University, Sushant had opportunities to lead practical classes on Hatha and Kundalini Yoga, traditional Meditations, and Philosophy talk with specialization in Samkhya, Tantra, Kundalini, and Yoga Philosophies.
With a master's in Yoga Psychology and experience in broad settings, he has a deep understanding of the philosophical, psychological, and practical aspects of yogic traditions.
Sushant has been teaching globally for over 20 years. He is the former Head of Yoga at Ananda in the Himalayas and is now an independent teacher and trainer in India with a specialization in traditional Hatha Yoga, Kundalini Yoga, Pranayama (breath-work), and various traditional techniques of meditation like Yoga Nidra (A Systematic Yogic Relaxation), Chakra Shuddhi (Chakra Cleansing Meditation) and mindfulness techniques.
As featured in

Details of Mediation Workshop
Dates
12th to 18th June 2023 – Completed
December 2023

Recording Available
Time
6:30 PM to 8:00 PM (India) / 9:00:AM to 10:30 AM (US / EST)
Medium
Zoom webinar
Number of sessions
7 Sessions, each day 1 session about 90 min/each
Recordings of live sessions will be given to all participants.
Your investment
₹600/class (India) or $13/class (International)
Bonus

Recording of the workshop, live Q&A interaction with the teacher
Recording Workshop Price
₹3999 4999 (participants who are attending from India)
$89 109 (participants who are attending from outside of India)



Book Your Spot
3999 INR / $89 USD
Frequently Asked Questions
Q. What happens when I press 'Book Your Spot'?
A. After you press "Book Your Spot" you will be redirected to the payment page. There you will see three payment modes available for Indian and International payments separately. Once you have paid, you will get the details about the online class in your email within a day. In case you do not get the email from us within a day, please check your spam folder for an email from Fitsri. Or you can directly email us: contact[at]fitsri.com
Q. Who can join this Meditation Workshop?
A. Meditation Workshop is suitable for almost everyone, irrespective of what health condition one is going through or what level of the practitioner (beginner/advanced) one is. If you are interested in enhancing your mental, emotional, and spiritual well-being, then this program would work wonders for you.

Q. Do I need special equipment for practice?
A. No, Meditation practice necessarily doesn't require the use of any kind of equipment. However, it can be helpful to have a meditation cushion, block, and bolster nearby to support your posture and make you feel comfortable during the practice. You may also want to have a notebook and pen handy to record any insights or experiences that arise during your meditation.

Q. Will there be Q&A time If I have any questions?
A. Yes, after each class there will be a Q&A time of 15 minutes where you can ask the teacher your questions.
Q. I have some other queries. How to contact you?
A. You can contact us directly at [email protected] for any query related to this meditation class. Optionally, you can also WhatsApp us for quick replies.