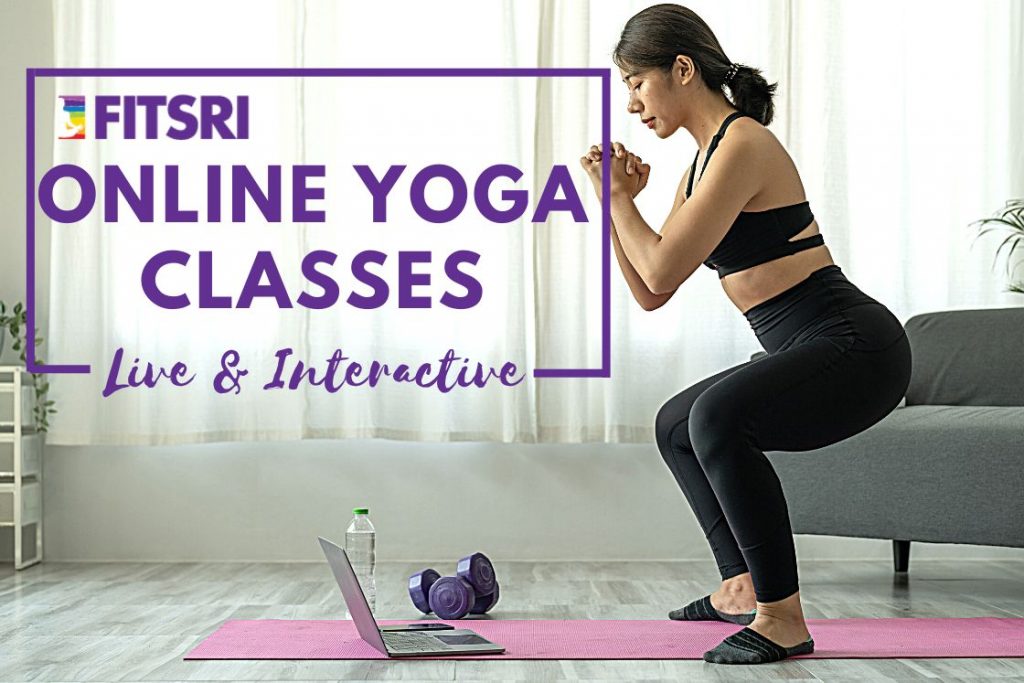 Are you looking for a way to get in shape, strengthen your body and improve your mental health, ALL from the convenience of your home? If so, you have the perfect solution right in front of you – online yoga class.
Live Online Yoga Classes usually are good for practitioners who wish to be part of a studio Yoga class, but cannot make it because of some constraints such as distance, demanding work schedule, or non-availability of teachers nearby, etc.
With an online yoga class, practitioners can log in from the convenience of their homes and practice regular yoga during class hours. All you need is a reliable internet connection and a computer or mobile device that can stream video.
We at 'Fitsri' are pleased to inform you that we are accepting registration for regular live online yoga classes. Keep on this page to learn more about:
Our Online Yoga Class Structure
At Fitsri we ensure our online group yoga classes fulfil the needs of all level practitioners; from beginner to intermediate and advanced.
Our online classes will be in a proper sequence of warm-up stretching, asanas, pranayamas, mudras, mantras, meditation and other relaxation techniques that make yoga a holistic exercise regime. A typical yoga class will last 75 to 90 minutes.
Here's a basic outline of our online yoga class.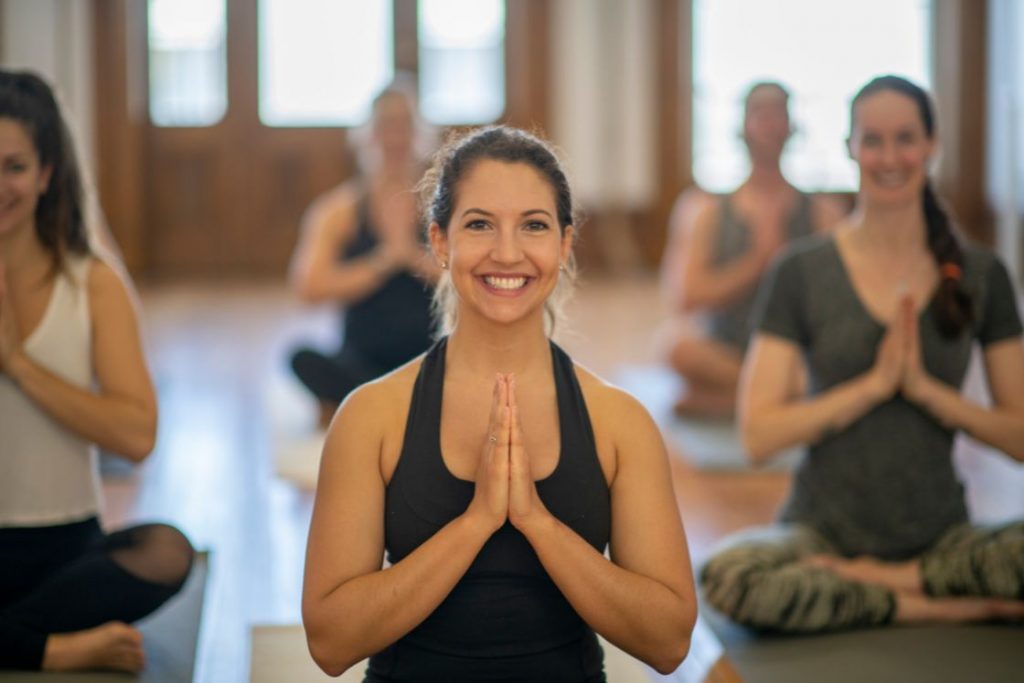 Centering (up to 10 minutes) – A typical yoga class will begin with a moment of relaxation in Shavasana. Then the teacher will guide you through OM chanting, Patanjali prayer and ask students if they have any physical conditions or injuries.
Warmup (up to 20 minutes) – After centering, the teacher will take you through warmup sequences which may be focused on the theme of the particular class. For example, it can include traditional sun salutations, some sort of core work, or upper body strengthening pushups.
Core sequence (up to 40 minutes) – This segment of the class will vary according to the theme of a particular day's class. Our classes are scheduled in a systemic manner that focuses on several themes on different days of the week. (Check the schedule below)
Relaxation (up to 20 minutes) – At the end of yoga class, the teacher will guide you through a relaxation sequence (based on the class's theme) which eventually will lead to the ending Shavasana. Typically, this segment will end with a guided mantra meditation with mudras practice and a Q&A discussion.
Our approach to yoga is holistic and resonant with the 5000-year-old authentic yoga system of total wellness from ancient India.
Benefits of Online Yoga class
Taking a yoga class at home can mitigate a lot of issues including time flexibility, high price, variety of teachers, and nervousness of joining in-person class, etc.
Online yoga classes make your practice convenient, consistent, and affordable, as well as effective, safe, and inspiring. It lets you connect with like-minded people in a group class from the comfort of your home.
Here are a few benefits of our online yoga class;
Live Interaction and individual consultation with your virtual instructor
Get access to the online community
Get live session recording to watch later multiple times
Save travel time to the studio
Cheaper than an onsite studio class
Class Schedule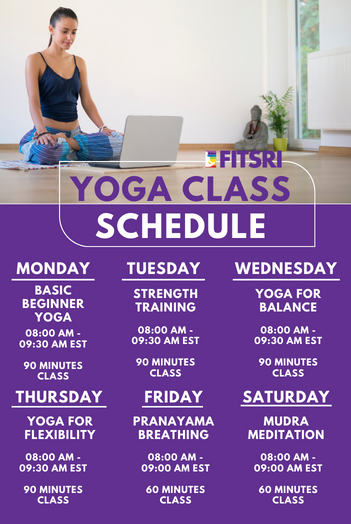 Currently, all our online yoga classes are streaming in Eastern Standard Time (EST). 08:00 AM – 09:30 AM Monday to Thursday and 08:00 AM – 09:30 AM Friday and Saturday. There will be 24 live online yoga classes in one month. Sunday is off.
Here's the tentative schedule of our online yoga classes.
Monday – Basic beginner yoga
Tuesday – Strength training
Wednesday – Balancing
Thursday – Flexibility
Friday – Pranayama breathing
Saturday – Mudra meditation
Note – Compare other time zone timing here and contact us if our class timing doesn't fit to your time zone.
Fee Structure for online Yoga classes
For those attending from India
Per month
3 Months
6 Months
12 Months
Rate (₹)
2499

(~105 ₹ per class)
5999

(~80 ₹ per class)
8999

(~62 ₹ per class)
11999

(~41 ₹ per class)
For those attending from outside of india
Per month
3 Months
6 Months
12 Months
Rate ($)
$99

(~$4 per class)
$239

(~$3.3 per class)
$359

(~$2.5 per class)
$479

(~$1.6 per class)
Those who want to try one class or multiple class for trial can apply for passes. The price and validity for the passes is as follows:
| | | |
| --- | --- | --- |
| Class pass | Price (attending from India / — outside India) | Validity |
| Online trial * | 199 ₹ / $4 | 2 days |
| 1 online | 499 ₹ / $10 | 1 week |
| 3 online | 899 ₹ / $24 | 1 week |
| 5 online | 999 ₹ / $30 | 2 weeks |
* Online trial only valid when doing first time registration.
Details of online yoga classes
| | |
| --- | --- |
| Date | Starting from 1st May 2023 |
| Time | 08:00 AM to 09:30 AM (EST) / 6:30 PM to 8:00 PM (IST) |
| Medium | Zoom live webinar |
| Number of classes | 24 classes per month, about 90 minutes long each class |
Register for Online Class
Our Yoga Teachers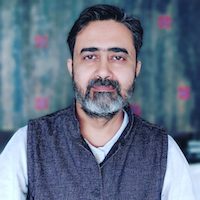 Sushant Pandey
Sushant is a postgraduate in Yoga Psychology (1997-99), from the World-renowned Bihar School of Yoga and worked as a Lecturer there in the same department for four years.
As a lecturer at Yoga University, Sushant had opportunities to lead practical classes on Hatha and Kundalini Yoga, traditional Meditations and Philosophy talks with specialization in Samkhya, Tantra, Kundalini and Yoga Philosophies.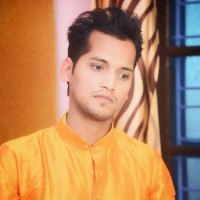 Ashish
Ashish is a yoga alliance registered teacher and continuing education provider with more than 5 years of experience in yoga teaching. He is one of the people behind fitsri.com and currently responsible for content creation on the website.

As featured in

Online Yoga Class FAQs
Q. Which yoga style do you offer in online classes?
At Fitsri we focus more on yoga exercises and practices from traditional Indian hatha style, especially in beginners' class. The classes comprises challenging and strength building postures, performed in slow flow movement, which eventually leads to a focused mind and increase self-awareness. It's Hatha flow for intermediate and seasoned practitioner.
Q. What do I need to join a online yoga class?
For a online yoga class, apart from a yoga mat, you need a good working internet connection on your phone or laptop with a webcam. If you're using mobile phone, a tripod is recommended. Other yoga props such as a yoga strap, bolster, cushion, block, etc. are optional according to your practice.
Q. How can I practice yoga at home without props?
Yoga at home can be effectively practiced without having the actual props. Infact yoga props aren't completely necessary for practice. But still when props needed for online classes and you don't have one at the time, we can give you ideas of available alternative for props. For example, a pillow as an alternate of bolster and actual belt as yoga strap.
Q. How many participants will be there in online class?
Our online yoga classes are in small batch of 10 members so that each student can get personal attention and guidance from teacher.
Q. Can I get a demo class before booking monthly class package?
Yes, you can book a demo class before deciding on taking monthly class package. The fee of demo class is $4 / 200 ₹. Fill the registration form above to book a trial class. For quick registrations, please contact Fitsri Team at +917579419263 via WhatsApp.
Q. What time zone is followed for your online classes?
We follow Eastern Standard Time (EST) for all our online classes and workshops.
Q. Is online yoga classes safe? Will I be able to practice yoga postures correctly and effectively?
One may get concerns about efficiency of online yoga classes because of lack of personal attention (hands on adjustment) from instructor. In our classes, experienced yoga teachers will guide you primarily vocally, then visually, by explaining poses on themselves or someone else and then ask you to practice. This process of teaching makes the whole experience of online class almost similar to a studio class.
Q. How do I get the access of live online classes?
After filling up the registration form, you will be redirected to the payment page. After completing the payment, you will receive a confirmation email from Fitsri. Then we will send you online class zoom details 1 day before the class. Make sure to also check your Spam folder if it's not in your inbox.
Q. What if in case I missed a class or technical issue happens?
In case our internet connection is poor or there is any other technical issue, we will offer a make up class for that. In case you missed a class, we will provide recordings of particular class to you.
Q. Can I get private therapy class to address my concerns or particular ailments?
Yes, please email us separately at [email protected] if you need private class for your therapatic needs. We will provide you personal consultation and arrange a particular class.