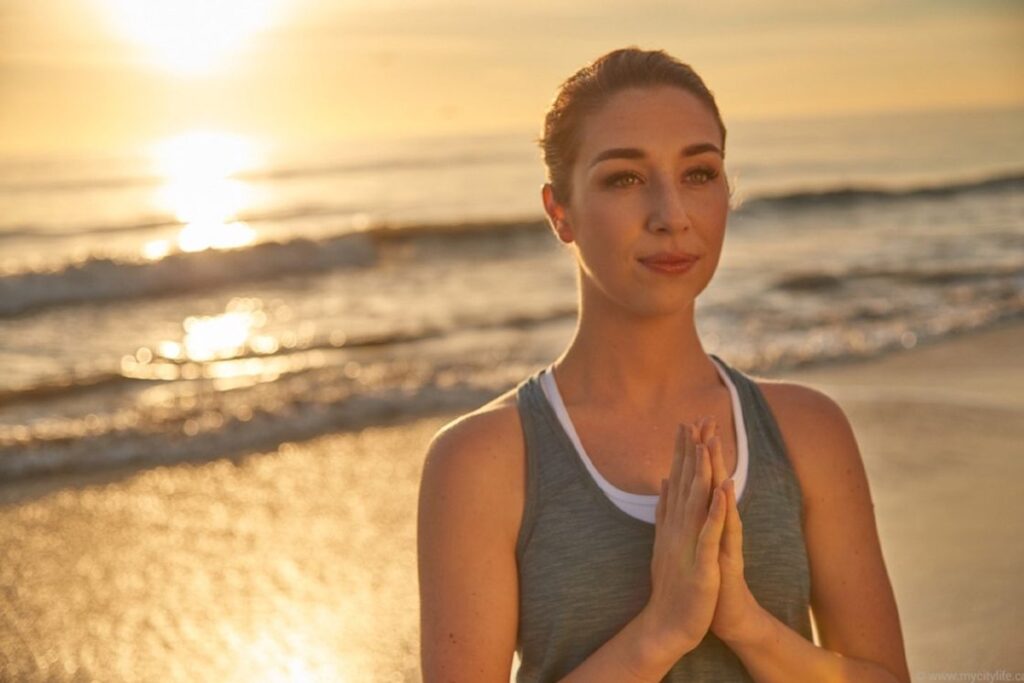 Kassandra Reinhardt is a prominent figure in the world of yoga, renowned for her impactful journey in yoga practice and teaching. Let's delve into her life journey, learn about her background and husband, explore her famous yoga books, and discover her expertise in the yin yoga style
Kassandra Reinhardt is a highly acclaimed Ottawa-based yoga instructor, celebrated for her extensive expertise and a YouTube channel boasting a remarkable 1.3 million subscribers. Her mastery lies in the realm of yin yoga, and she has honed her skills through comprehensive yoga teacher training, encompassing both 200- and 300-hour programs, as well as specialized training in yoga therapy since 2012.
As an influential figure, Kassandra is also an author of works like "Yin Yoga" and "Year of Yoga." Her online presence and unique yin yoga approach are highly respected in the wellness community, resonating with those seeking mental and physical wellness through yoga.
Biography
Kassandra Reinhardt, a prominent Yoga YouTuber, was born on October 9, 1990, in Canada. She spent her formative years surrounded by her family, friends, and relatives. After completing her school education in her hometown, she pursued higher education at a university, where she earned her bachelor's degree.
Kassandra's journey into the world of yoga began in 2008 when she started practicing this ancient discipline. Over time, her passion for yoga grew, leading her to share her knowledge and expertise with a wider audience. She embarked on a career as a yoga instructor and content creator.
Age
Kassandra Reinhardt's age is 33 years old as of 2023. She was born on October 9, 1990, in Canada, making her a Libra by zodiac sign. Kassandra celebrates her birthday annually on October 9th with her friends and family.
Kassandra Height and Weight
Kassandra's height is approximately 5 feet 4 inches, and her weight is around 56 kg. She is described as a beautiful individual with black eyes and long black hair. Additionally, she is known for having a stunning and captivating figure.
Kassandra Husband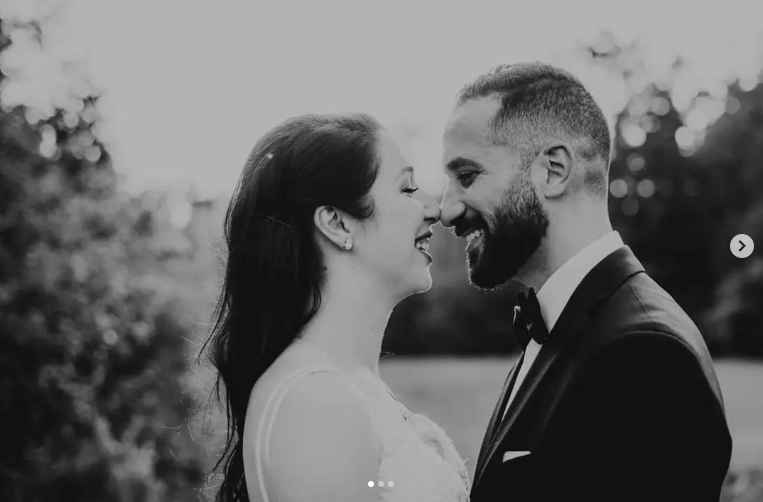 Kassandra Reinhardt is married, having wed in June 2019. However, she has not disclosed much information about her husband in the public domain. While some sources mention Andrew McGuire as her husband, his profession and background are not well-documented, although he is an integral part of Kassandra's online platform
Kassandra Reinhardt Net Worth
Kassandra, a popular YouTuber known for her yoga content, has amassed millions of subscribers on her YouTube channel. Public sources estimate her net worth to be approximately $1 million, with YouTube being her primary source of income. Given her active career and growing popularity, it's expected that her net worth may increase in the future.
What is Kassandra Reinhardt Yoga Style?
Kassandra Reinhardt is known for teaching Vinyasa and Yin Yoga styles. She offers a wide range of free online yoga classes through her YouTube channel and website. Vinyasa Yoga is a dynamic and flowing style that synchronizes breath with movement, making it an excellent choice for building strength and flexibility.
On the other hand, Yin Yoga is a slower-paced practice that focuses on deep stretching and holding poses for an extended period, promoting relaxation and flexibility.
Kassandra Reinhardt's Vinyasa Yoga Style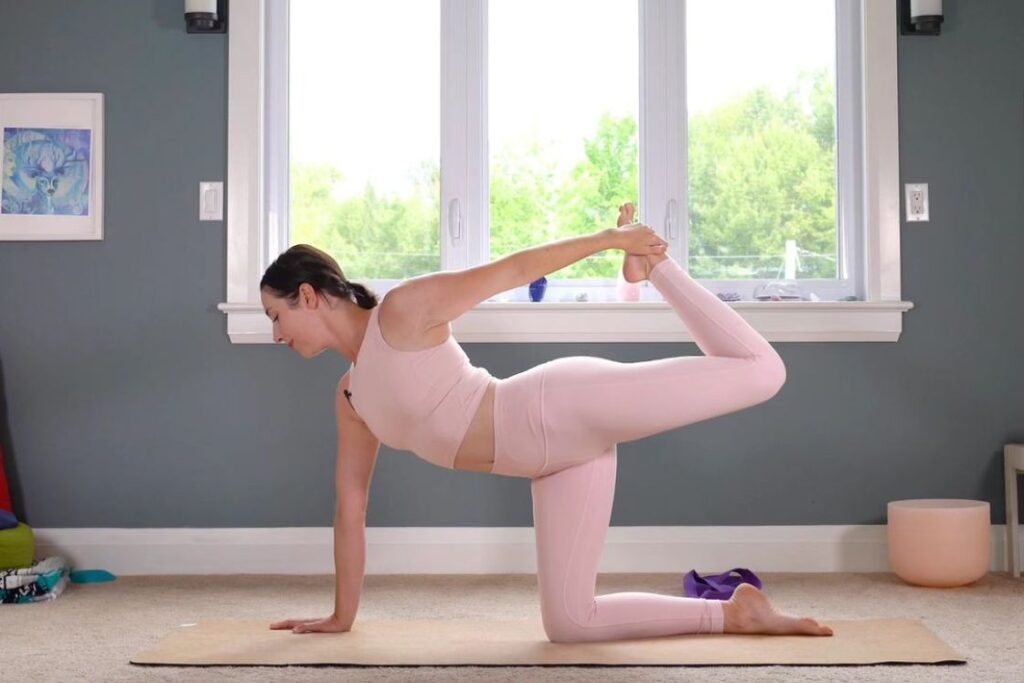 Kassandra Reinhardt's Vinyasa Yoga Style is a dynamic and flowing form of yoga that emphasizes the coordination of breath with movement. Here's an overview of her Vinyasa Yoga Style:
Breath and Movement Synchronization: Vinyasa yoga, as taught by Kassandra Reinhardt, places a strong focus on linking breath with movement. Each movement is paired with a specific breath, creating a seamless and flowing practice.
Fluid Transitions: In Vinyasa yoga, practitioners move through a sequence of poses with fluid transitions. The practice is characterized by continuous movement, which helps build heat in the body and increases flexibility.
Variety of Poses: Vinyasa sequences can include a wide range of yoga poses, from standing poses to inversions and backbends. Kassandra's teaching often includes variations to suit practitioners of different levels, making it accessible to both beginners and experienced yogis.
Core Strength: Many Vinyasa sequences incorporate core-strengthening exercises and poses. These strengthen the abdominal muscles and provide stability in various postures.
Balance and Flexibility: Vinyasa yoga challenges balance and flexibility as practitioners flow through a variety of poses. The practice can help improve both physical balance and mental focus.
Mindfulness: While Vinyasa yoga is a physically active style, it also encourages mindfulness. Kassandra often guides practitioners to stay present in the moment, cultivating a meditative aspect to the practice.
Kassandra Reinhardt's Yin Yoga Style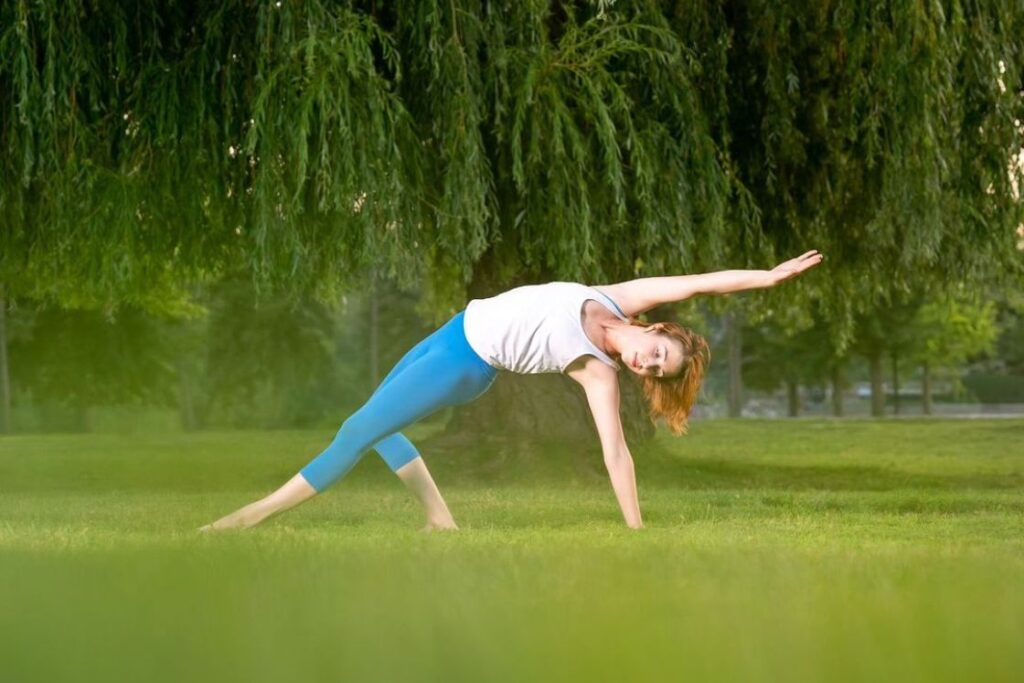 Kassandra Reinhardt's Yin Yoga Style is a gentle and meditative form of yoga that focuses on deep stretching and relaxation. Here's a brief overview of her Yin Yoga Style:
Mindful Stretching: Kassandra Reinhardt's Yin Yoga places a strong emphasis on mindful stretching. Practitioners are encouraged to move into poses slowly and deliberately, paying close attention to the sensations in their bodies.
Long-held Poses: In Yin Yoga, poses are held for an extended period, typically ranging from 3 to 5 minutes or even longer. This extended duration allows for a deep release of tension in the muscles and connective tissues.
Minimal Muscle Engagement: Unlike more dynamic yoga styles, Yin Yoga minimizes muscle engagement. Instead, it targets the deeper connective tissues, fascia, and joints. This approach promotes flexibility and joint mobility.
Breath Awareness: Kassandra often guides practitioners to focus on their breath during Yin Yoga sessions. Deep, mindful breathing helps enhance relaxation and cultivate a sense of calm.
Props and Support: Props like yoga blocks, bolsters, and blankets may be used in Yin Yoga to provide support and make the poses more accessible. This makes the practice suitable for individuals of various levels, including beginners.
Meditative Aspect: Yin Yoga is considered a meditative practice. It encourages mindfulness and introspection as practitioners hold poses and explore sensations in their bodies.
Kassandra Reinhardt Yoga Teacher Training Approach
Kassandra Reinhardt offers yoga teacher training programs for individuals looking to deepen their knowledge and become certified yoga instructors. These programs are designed to provide comprehensive training in various yoga styles, including Vinyasa and Yin Yoga. Participants can expect to learn about yoga philosophy, anatomy, teaching methodology, and gain practical experience in guiding yoga classes.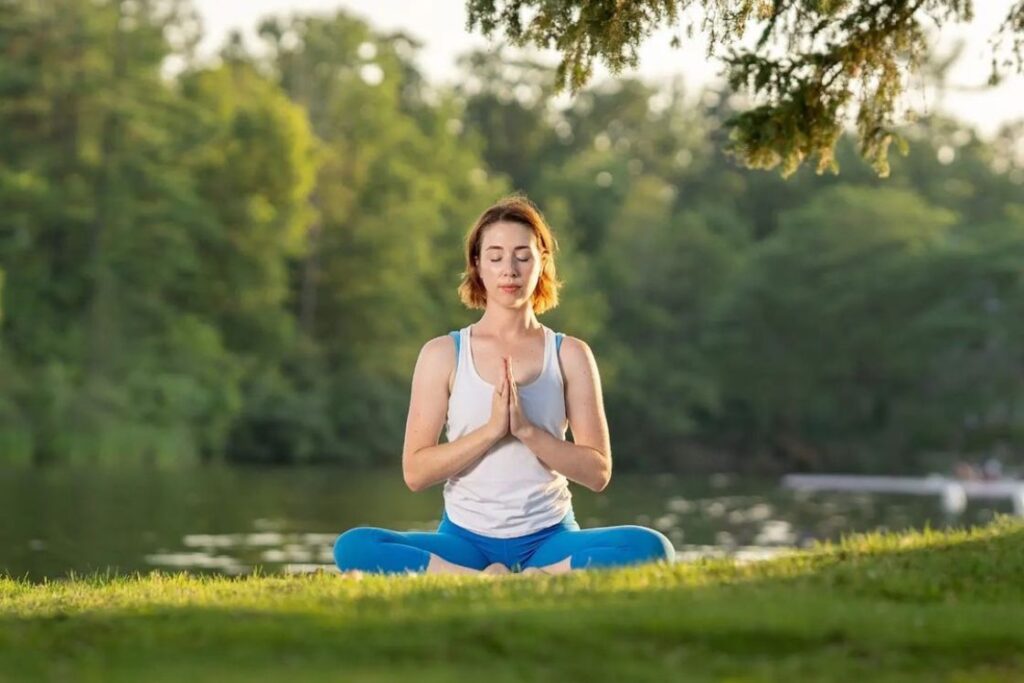 Kassandra's yoga teacher training programs often include:
Yoga Philosophy: Exploring the philosophical foundations of yoga, its history, and its significance in modern life.
Asana Practice: In-depth practice of yoga postures, alignment, and sequencing.
Anatomy and Physiology: Understanding the human body's mechanics and how it relates to yoga practice.
Teaching Methodology: Learning effective teaching techniques, class planning, and communication skills.
Practical Teaching Experience: Opportunities to lead yoga classes and receive feedback.
Yin Yoga and Vinyasa Flow: Specialized training in Kassandra's signature styles of yoga.
Certification: Upon successful completion, participants receive a certification that allows them to teach yoga professionally.
Kassandra Reinhardt Yoga Books
Year of Yoga: Rituals for Every Day and Every Season – This book offers a holistic approach to yoga, aligning your practice with the natural world through movement, breath, and meditation for different seasons. It provides daily rituals to enhance your yoga journey.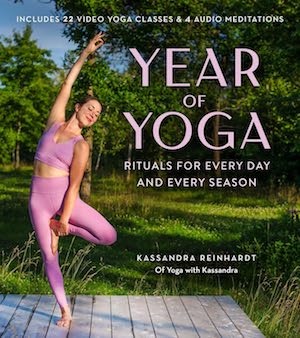 Yin Yoga: Stretch the Mindful Way – In this book, Kassandra Reinhardt explores Yin Yoga, a slower-paced practice that focuses on deep stretching and mindfulness. It guides readers through Yin Yoga philosophy and practice.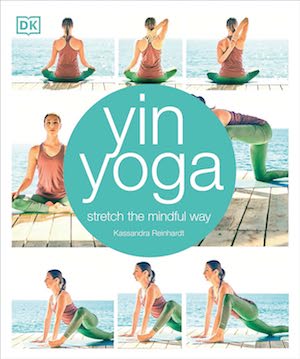 My Yoga Journey: A Guided Journal" by Kassandra Reinhardt is a valuable tool for enhancing your daily yoga practice. This guided journal is designed to help you deepen your mindful practice of yoga by incorporating reflection before and after each session.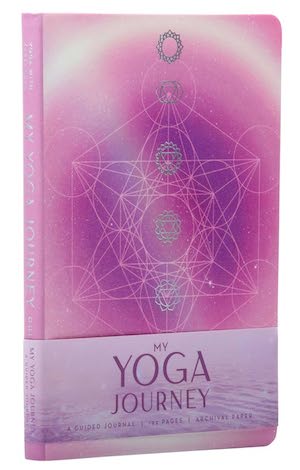 I Radiate Joy: I Radiate Joy" is a motivational card deck created by Kassandra Reinhardt, a celebrated Yin Yoga instructor known for her popular YouTube channel, Yoga with Kassandra.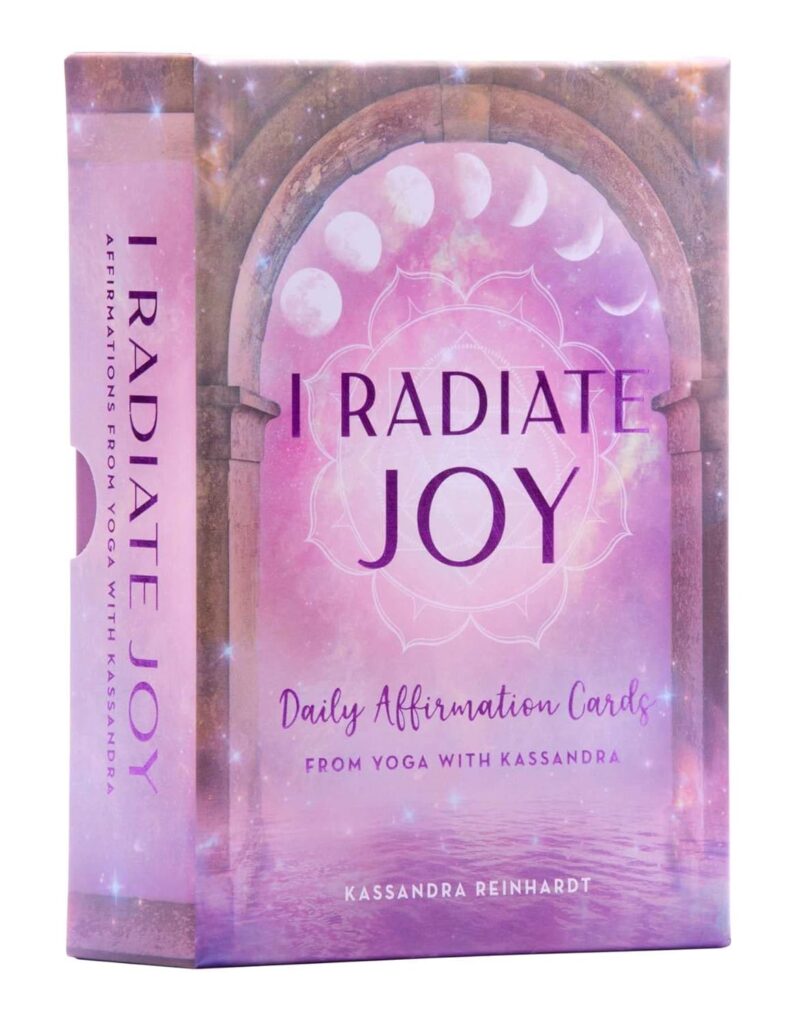 FAQs About Kassandra Reinhardt?
Q1. Who is Kassandra Reinhardt?
Kassandra Reinhardt is an Ottawa-based yoga instructor and the founder of one of the largest yoga YouTube channels in the world, Yoga with Kassandra.
Q2. How old is Kassandra Reinhardt?
Yoga with Kassandra is 33 years old as of 2023.

Q3. What is Kassandra Reinhardt's Height?
Kassandra Reinhardt's height is approximately 5 feet 4 inches (162.56 cm).
Q4. What is Kassandra Reinhardt's Yoga Style?
Kassandra Reinhardt specializes in Yin Yoga, a slow-paced style of yoga that focuses on deep stretching and relaxation.
Q5. What is Kassandra Reinhardt's Net Worth?
According to publically available resources, Kassandra Reinhardt's estimated net worth is around $1 million accrued through her yoga business and partnerships.
Q6. What are some of Kassandra Reinhardt's Yoga Books?
She has authored books like "Yin Yoga: Stretch The Mindful Way." and "Year of Yoga"

Q7. What is Kassandra Reinhardt's Instagram Account?
Kassandra Reinhardt's Instagram account is @yoga_with_kassandra. You can follow her on Instagram to stay updated with her yoga practice, teaching, and wellness journey.