Mudras are specific hand gestures that invoke a spiritual connection to our inner self and even with the divine. Each of the 5 fingers represents one specific element of fire, earth, water, air, and space, which help in balancing our chakras and doshas (Kapha, Vata, and Pitta).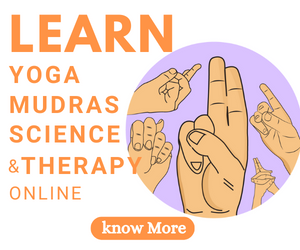 Though there is plenty of information available over the internet and can be provided by your yoga instructors, reading a book about mudras will be just as beneficial. There is a certain limit to the amount of knowledge a yoga teacher can impart in one class and mudra books are the best way to fill that gap.
Below we have listed the 7 best books on yoga mudras. These books you can refer to gain knowledge about hand gestures.
After reading these books, you will be able to choose mudras for your own according to your physical condition. Please note that this is not an exhaustive list.
1. Best for Beginners – "Mudras for Modern Life: Boost your health, re-energize your life" By Swami Saradananda
Format Available – Kindle, Paperback
Swami Saradananda is a London-based yoga and meditation teacher whose writing style can inspire you to start practicing right away. She holds a MA degree in 'Traditions of Yoga and Meditation' from SOAS (School of Oriental and African Studies), University of London.
She has previously worked with the International Sivananda Yoga Vedanta Centres for 26 years and is currently a freelance yogi who travels and writes books to spread yogic wisdom. Her love for India inspired her to learn the culture, embrace the yogic traditions and travel for frequent pilgrimage.
Mudras for Modern Life is one of the best books for beginners who want to learn the basics, significance, and benefits of yoga hand gestures. The author has wonderfully compiled the information on mudras in an easily understandable manner and sectioned it appropriately.
The book contains mudras routines for specific health issues, from stress and insomnia to arthritis and headaches. From breaking down the relation of each finger to the elements of fire, water, air, space, and earth to restriction for each mudra, each concept has been detailed thoroughly.
Even if you are an advanced practitioner, this book will still come in handy. It also mentions various Pranayama and yoga asanas to compliment the mudras.
Buy it because –
The book has helpful pictures with wonderful illustrations.
Well organized with clear instructions.
Written in a way that people who have never been to a yoga class can grasp.
Each mudra has one page dedicated.
Don't buy if –
Cultural appropriation is important to you.
You may find the font too light to read.
You need more historical and cultural and spiritual references.
2. Best for In-depth Knowledge – "Mudras of India" by Cain Carrol and Revital Carrol
Format Available – Kindle, Paperback, Hardcover
Cain Carrol is an author and speaker who imparts his wisdom on topics of personal growth, self-healing, and embodied spirituality. He is a sought-after private coach who has conducted many teacher training and retreats globally.
Revital Carrol is another author of the book who has intensive knowledge and passion for Indian culture, yoga, and dance. She has performed worldwide and also provides classes and workshops in the bay area of San Francisco.
Mudras of India takes you on a journey of healing, storytelling, emotional expression, and elevated spiritual state. It is a detailed book that explains the mudras from the perspective of yoga and dance.
The authors have thoroughly researched every aspect of the mudra and have given their best in illustrating them as well.
Each mudra has been correctly referred to by its Sanskrit name, along with its history, technique, benefits, and application described comprehensively.
Buy it because –
Visually appealing with over 200 photographs of mudras.
Details the cultural and spiritual significance of each mudra.
Mudras have been explained with the Indian context.
Well written and illustrated.
Don't buy if –
You are only interested in looking at pictures.
Do not want to spend time reading the background of each mudra.
You only want to learn about the spiritual side of mudras.
3. Best to Know Healing Effects – "Healing Mudras: Yoga for Your Hands" by Sabrina Mesko
Format Available – Kindle, Paperback,
Sabrina Mesko is a world-renowned author and Mudra expert who holds a PhD in Healtheology. She has countless publications under her name, which got her into the list of LA Times Bestselling Author. Moreover, she is an International Authority on Mudras, an ex-member of the World Yoga Council, and board-certified from the American Alternative Medical Association and American Holistic Health Association.
She is the founder of the world's only Mudra Mastery™ Certification Mentorship Program with Certified Mudra Teachers and Mudra Therapists.
Her book, Healing Mudras, is an international bestseller that details the healing benefits of the various mudras. This book has perfectly described how mudras can release energy blockages through nadis and chakras. It is visually appealing and has a straightforward layout making it easy to read and understand.
In this book, the author has outlined various ways – mantras, meditation, breathing exercises, visualization, affirmations, prayers, and eye movements – through which you can increase the power of the mudra.
Buy it because –
Mudras have been explained well with good illustrations.
Techniques are easy to follow and can be practiced right away.
The text is easy to understand.
It focuses on the healing aspect of mudra through chakra balancing.
Don't buy if –
You are put off by minor typographical errors as it has a few typos.
Want to learn about the holistic benefits of mudras.
If you do not have sufficient knowledge of Chakras and Nadis.
4. Best for Everyday References – "Mudras: Yoga in Your Hands" by Gertrud Hirschi
Format Available – Kindle, Paperback,
Gertrud is a well-known Swizz yoga teacher who teaches yoga in line with the latest medical findings. While she teaches yoga in her yoga school in Zurich, she also holds seminars in Switzerland, Greece, and Germany.
This book teaches the simplicity of the mudras and how you can incorporate them to achieve happiness, health, and inner peace in your day to day life. With clear graphics and descriptions, anyone who is interested in the overall development of their mind and body can refer to this book.
In the book, you will find mudras that engage the entire body as well (Kaya Mudras), making it one of the go-to books for physically inclined people.
If you apply the methods detailed in the book, you will be able to prevent illness, heal emotional issues, invoke spiritual development, and enhance the mudras effects through breathing exercises, affirmations, visualizations, herbs, nutrition, music, and colors therapy.
Buy it because –
It includes the physical aspect of mudras.
Well detailed and illustrated making it easily understandable.
You want to achieve the overall development of your mind-body-spirit.
Aid in your meditative practice.
You can imbibe the mudras techniques in daily life.
Don't buy if –
You want the mudras to be organized in proper sections.
Refrain from reading the digital version as some information may get lost.
5. Best for Women – "Power Mudras: Yoga Hand Postures for Women" by Sabrina Mesko
Format Available – Kindle, Paperback
Another bestseller from Sabrina, this book acts as a follow-up to her book Healing Mudras: Yoga for Your Hands. In this book, she has illustrated 78 powerful mudras which will provide healing, balancing, and energizing powers to women.
You will be able to reclaim your feminine essence, feel better and look better by practising these chosen mudras mentioned in this book.
The mudras presented in this book cater to reduce or eradicate the effects of most pertinent issues faced by women such as aging, stress and anxiety, Computer burnout, PMS and fertility, and fear.
Some mudras will also revolve around sexual empowerment, opening to love, embracing change, rejuvenation, emotional balance, higher consciousness, better communication, wisdom, prosperity, happiness, etc.
Buy it because –
It is well researched and well put together information
As a woman, you want to tackle the issues mentioned in this book.
Solely dedicated to the women population.
All the mudra concepts and how to have been written in a way that connects with a women's life.
Don't buy if –
You are a guy (it's quite obvious from the title!)
You believe that there shouldn't be any discrimination between mudras for men and women.
6. Best in Chakra Mudras – "Mudras for Awakening the Energy Body" by Alison Denicola
Format Available – Kindle, Paperback
Apart from being an award-winning author, Alison Denicola is a yoga and meditation teacher, energy healer, and coach. Since 2009, she has been taking group sessions and workshops that are centred around meditation and stress release.
Mudras for Awakening the Energy Body contains a stack of 40 cards – 33 mudras and 7 chakra cards – which have been beautifully illustrated. The mudras cards relate to focusing energy and expanding consciousness.
Each of these cards has its details in its reverse with instructions for the pose, an explanation of specific benefits, and an affirmation. This deck comes with a guidebook that contains additional information and guided meditation to enhance the power of the mudras.
Buy it because –
It is handy and portable.
Colorful and beautifully illustrated cards.
Can be used by teachers and students alike.
Guided meditation techniques are also outlined separately.
Don't buy if –
You need a more refined form of text.
You fear that you will lose the cards.
You do not have the basic idea of chakras.
7. Best for Losing Weight – "21 Simple Hand Gestures for Effortless Weight Loss" by Advait
Format Available – Kindle, Paperback
Advait is known to write in a simple no-nonsense manner which makes an instant connection with the readers. The step-by-step instruction detailed in each of his publications makes people want to try them immediately. His aim is to spread awareness about the ancient Indian teachings of yoga, meditation, and Ayurveda to the masses.
He is also passionate about spreading the techniques of 'Vedic Mathematics' which is an ancient Indian arithmetic technique.
In this book, he has detailed 21 mudras that will help you reduce weight and enhance your self-confidence and morale. The self-instructive book details mudras in straightforward language along with supporting illustrations.
If you have just been struggling to lose weight, want to release toxins from your body, enhance your metabolic activity, or need the discipline to stick to a regime, this is one book that should be picked up.
The book also gives recommendations to group some mudras and it also mentions other benefits you can feel once you start practicing the mudras.
Buy it because –
It gives clear instructions and short explanations on individual mudras for weight loss.
Good presentation and easy-to-follow instructions.
Beneficial for people who have no connection to yoga.
The pictures make it easy to understand the formation of mudras.
Don't buy if –
You believe that mere sitting with a specific hand gesture will not aid in weight loss.
You do not have the patience to sit for a longer duration to practice the mudras.
You are prone to reading a philosophical and psychological view.
Conclusion
Have a read of the above books to gain more insight and knowledge on the mudras. Each of them has its own style and format which you can choose as per your preference. Take benefit of the ancient Indian knowledge that has been forwarded by saints and yogis.