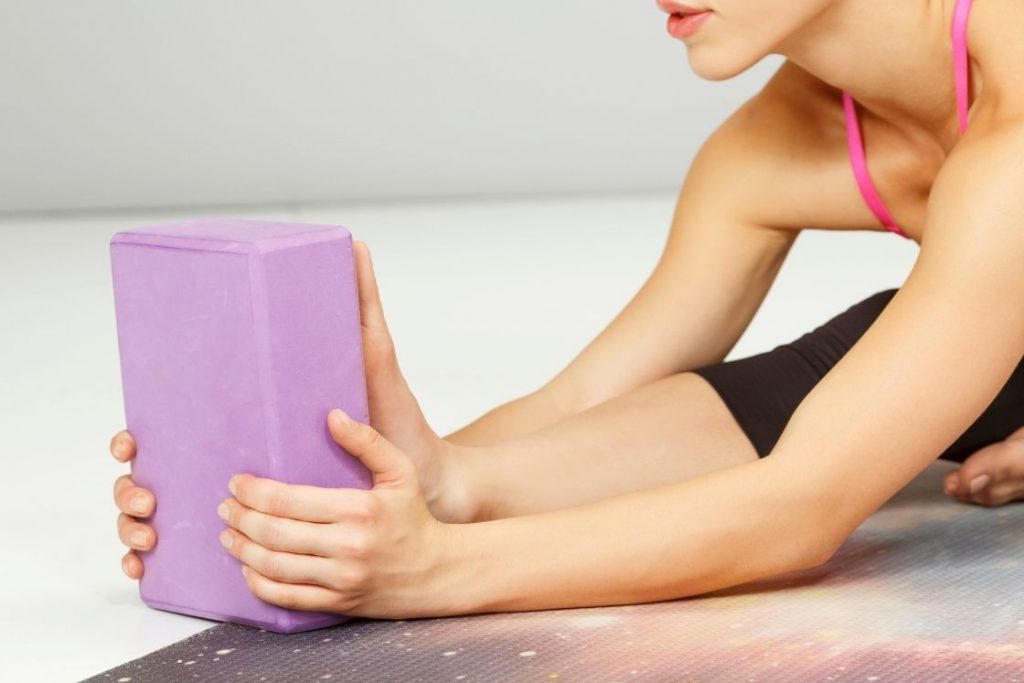 Yoga blocks are one most used props in yoga practice. They provide ample support, deeper flexibility and mobility, and enhance your balance, strength and stability. Though they are preferred by beginners, advanced practitioners also do not shy away from using them to challenge themselves.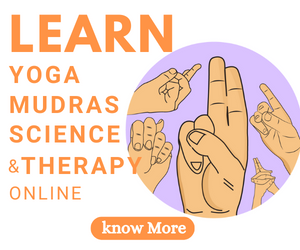 The use of yoga props was originally propagated and popularized by the renowned yoga guru BKS Iyengar, the founder of Iyengar Yoga. As per his standards, a yoga block with dimensions 9 x 4.5 x 3 inches is ideal. However, the most common dimension available today is 4 x 6 x 9 inches.
Based on your hand size or height and flexibility level, you can also buy a smaller or larger size. 
Why should you buy a yoga block? 
Technically speaking, buying a yoga block is not a necessity. But there is no harm in having one or a couple of them. They will help you with your alignment and building balance & strength in your yoga practice. 
A yoga block act as an extension of your limbs to reach the ground or even touch your toes. This will aid in reducing any injury caused due to straining the muscles. You can also play with the various heights of yoga blocks to deepen or lessen the stretch on specific body parts.
It is a wonderful prop to use for most balancing or standing poses.
If you are a beginner or are suffering from an ailment/injury, you can take the support of a yoga block to easily perform the asanas. Advanced practitioners can also use them to create modifications to their pose or helping in reaching more difficult poses.
10 Best Yoga Blocks 
We have compiled a list of some of the best yoga blocks that you can buy to start your yoga practice.
Let's take a look at each one of them in detail.
Best in Budget: #1 Gaiam Essentials Yoga Brick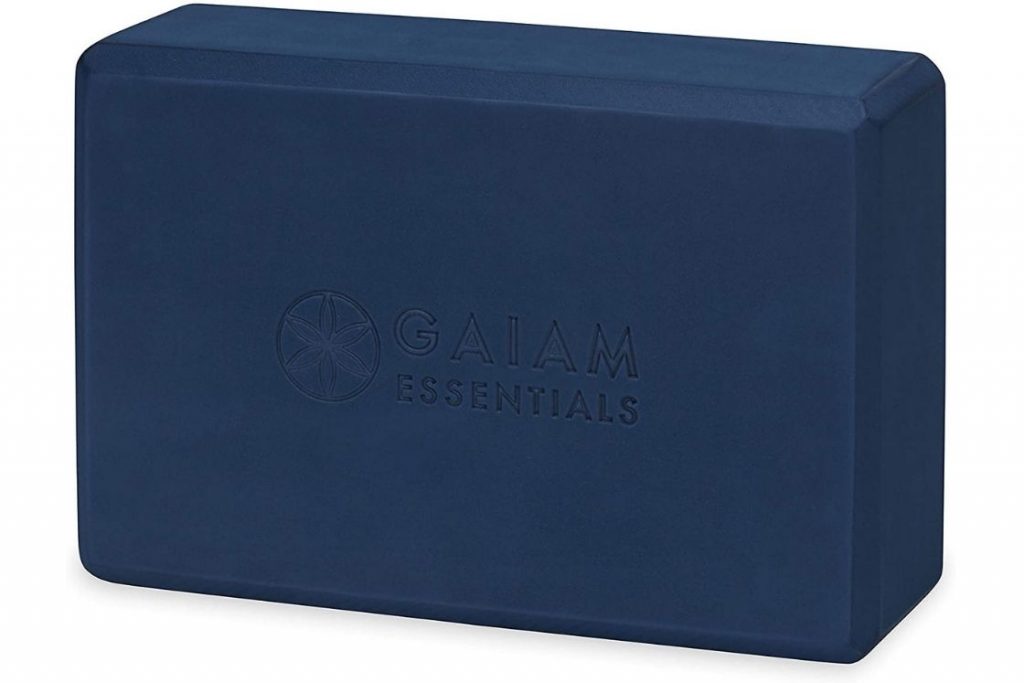 Material – Foam
Available Size – 9W x 6L x 3D inches 
Weight – 0.3 lbs
If you do not want to spend a hefty amount but also want quality, this yoga block from Gaiam will be a safe bet for you. Gaiam is a brand that is known for quality yoga accessories, so you can rest assured you will get the good stuff.
This yoga block by Gaiam is made of lightweight EVA Foam (expanded rubber or foam rubber). It is dense enough to easily withstand your body weight and will not crumble even after using it rigorously. The bevelled edges make it easy to grip the block in any pose. The yoga block is easy to clean with a damp cloth. As it is lightweight, it is also easily transportable. 
Pros:
Highly economical price
Good for beginners
Lightweight yet durable
Can withstand bodyweight
Beveled edges for a good grip
Easy to clean and carry
Cons: 
The depth may be smaller than the standard yoga block
Softer material may not let you practice balancing poses
You may need an additional block to create height.
Not meant for taller people.
Best Overall: #2 Manduka Yoga Block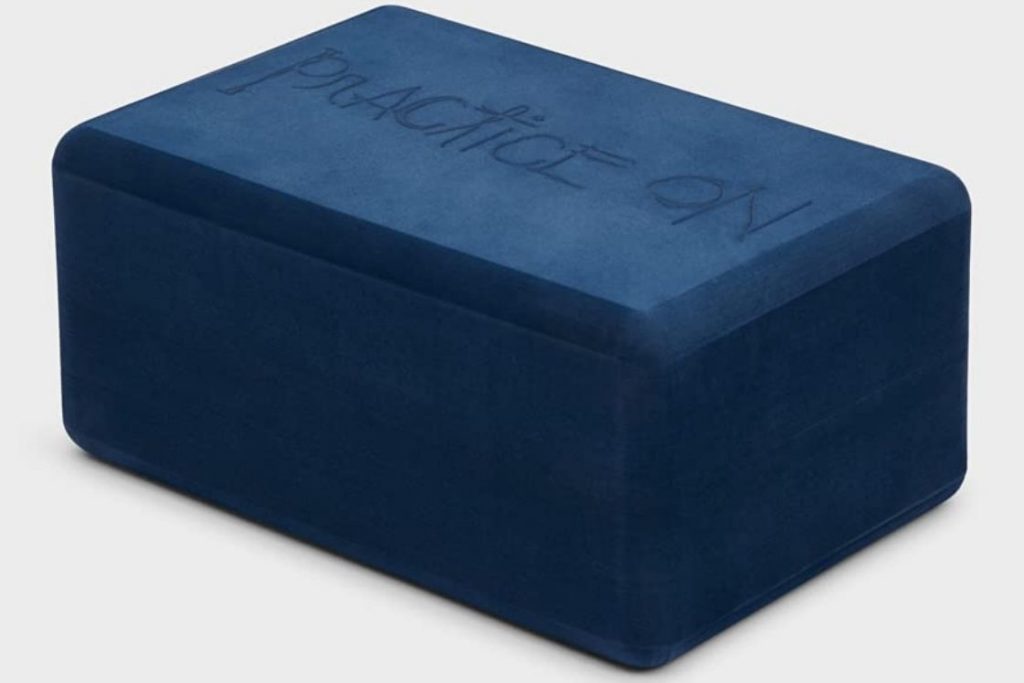 Material – Recycled EVA Foam
Available Size – 9W x 6L x 4D inches 
Weight – 0.9 lbs
The first thing you notice in this block is the words "Practice On" written on top, which inspires and boosts your morale to stay focused on your practice.
It is made from 50% – 75% recycled post-industrial and post-consumer EVA foam, so when you choose this block you know that you are contributing to saving the planet in your own way. The block is also lightweight and portable making sure you do not miss out on attending your yoga class.
The yoga block is highly durable and firm due to its density and makes it less squishy than others. The contoured round edges are slip-resistance ensuring a firm grip, balance, and stability during your practice. The texture is soft which gives comfort. 
It can be used by beginners and advanced practitioners alike.
Pros:
Dense yet lightweight.
Rounded edges provide balance, stability, and firm grip
Made from recyclable material
Soft texture
Can be used by practitioners of any level
Easy to carry
Cons:
Can feel too firm for some practitioners
Easily absorbs sweat which can molding
Not suitable for people with small hands
Best Wooden Block: #3 Wooden-Life Bamboo Yoga Block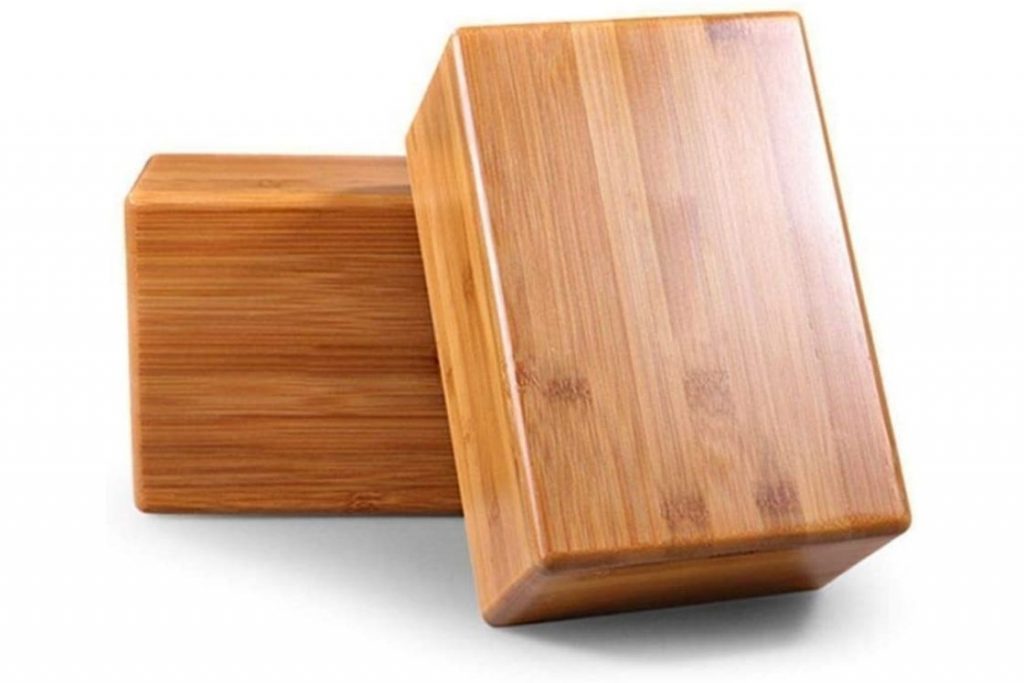 Material – Bamboo 
Available Size – 9W x 6L x 3D inches 
If you want something firmer and less squishy than the cork or foam yoga blocks, you can opt for this wooden yoga block. It is made of high-quality bamboo wood and has a light coating of lacquer.
It comes in a set of two so you do not have to worry about spending more for purchasing another. It is firm to support your entire body weight and surface hardness doesn't allow any chance of bending or cracking.
It is a long-lasting product that is also easy to clean. The edges are rounded so you do not feel discomfort when you grip the yoga block.
Pros:
Firmer than cork and foam
Long-lasting and durable
Easy to clean
Can support entire body weight
Comes with an additional block
Cons:
Harder on joints
Not suitable for sweaty people
The smooth surface may be a hindrance to stacking or grip
Best Cork Block: #4 Manduka Lean Cork Yoga Block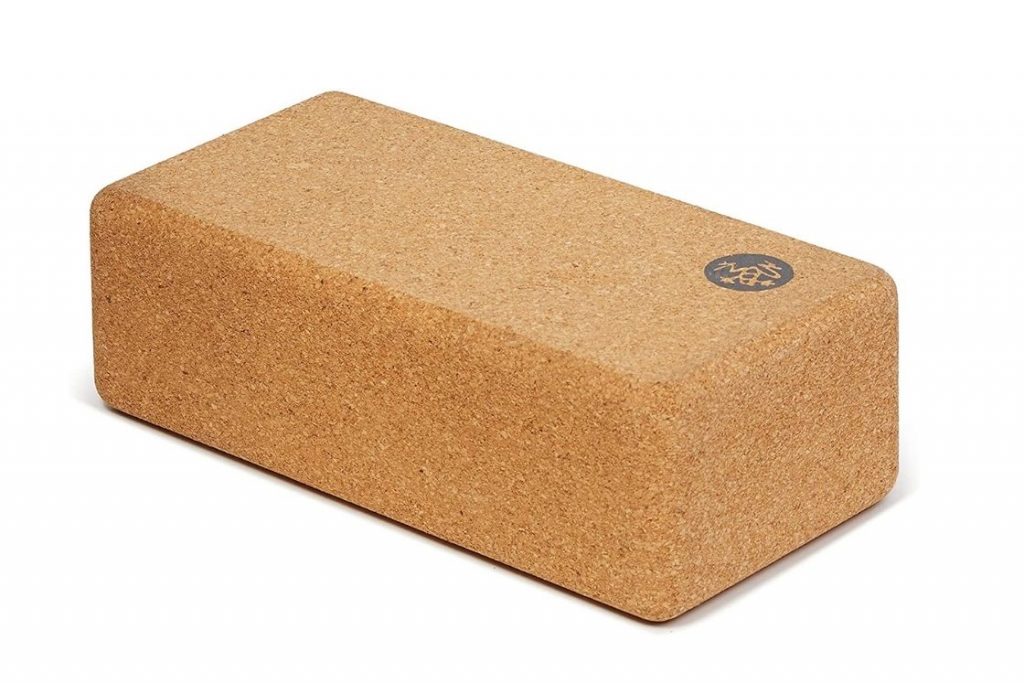 Material – Cork
Available Size – 8.5W x 2.75L x 4D inches 
Weight – 0.3 grams
The block is made of fine-grain cork, which makes it sturdy and simple to handle even when damp. The smooth, rounded sides of the block provide a comfortable surface to put your hands on while stretching and balancing.
Because of its reusable and biodegradable substance, this block is one of the most environmentally friendly alternatives available. The block will most certainly outlast its foam counterparts.
Weighing only 0.3 grams, it is one of the most lightweight options making it easily transportable. It makes it versatile and can be used by practitioners at any level.
Pros:
Made from eco-friendly material
Extremely lightweight
Durable and sturdy
Smooth textured surface
Can be used by beginners and advanced practitioners alike
Cons:
Sides may crumble
Bad odor due to sweat absorption
Leaner than standard yoga blocks
Best Wrist Support: #5 Wrist Buddy Yoga Blocks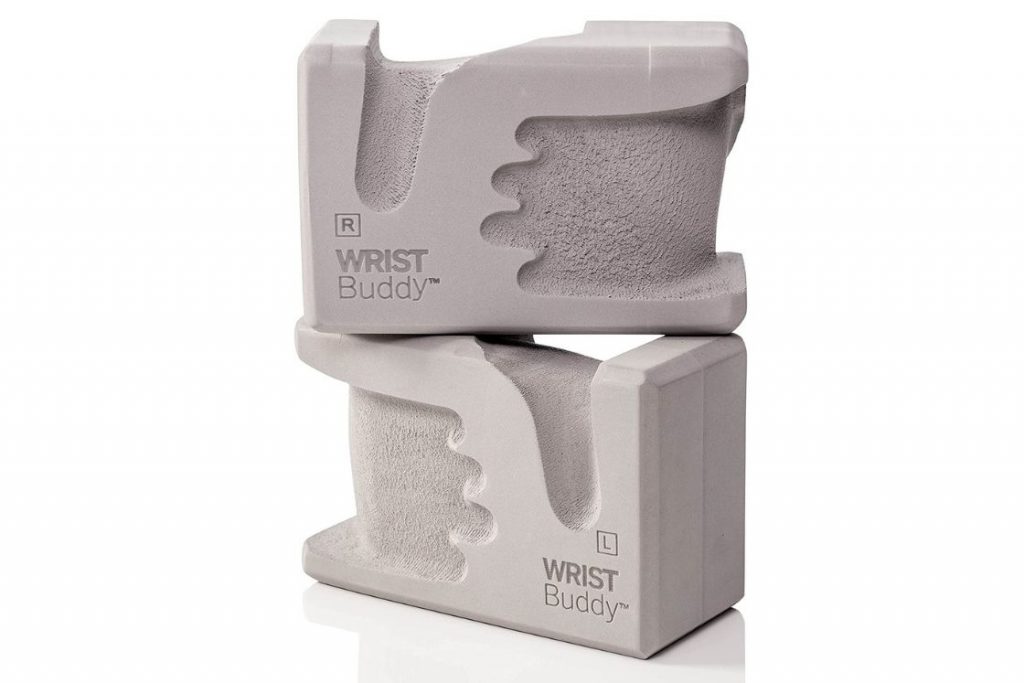 Material – High-density EVA foam
Available Size – 9W x 6L x 4D inches 
This yoga block comes with a unique design for the placement of your hands. Comes in a set of two, one each for right and left, with markings for easy identification. The hand contours reduce wrist compression and give a firm grip. This helps in shifting the weight from the wrists to the palms.
Even though it is a high-density block, it is lightweight so that you can easily carry it to your yoga studio. It is also dense enough to support your body but soft to place under your head and back. The grooves fit almost all hand sizes. It is easy to clean and the closed-cell EVA foam assures that it is anti-slip and water repellant.
It doesn't have any unpleasant odor and is latex-free.
Pros:
Grooves for hands
Removes pressure from wrists
Dense but light
Soft texture
Non-toxic
Anti-slip and water repellant
Cons:
Price is on the higher side
The grooves may cause discomfort on the back
People with small hands may not find it a good fit.
Best for Balance Training: #6 ALAMATA Cork Yoga Blocks 2 Pack Round Yoga Blocks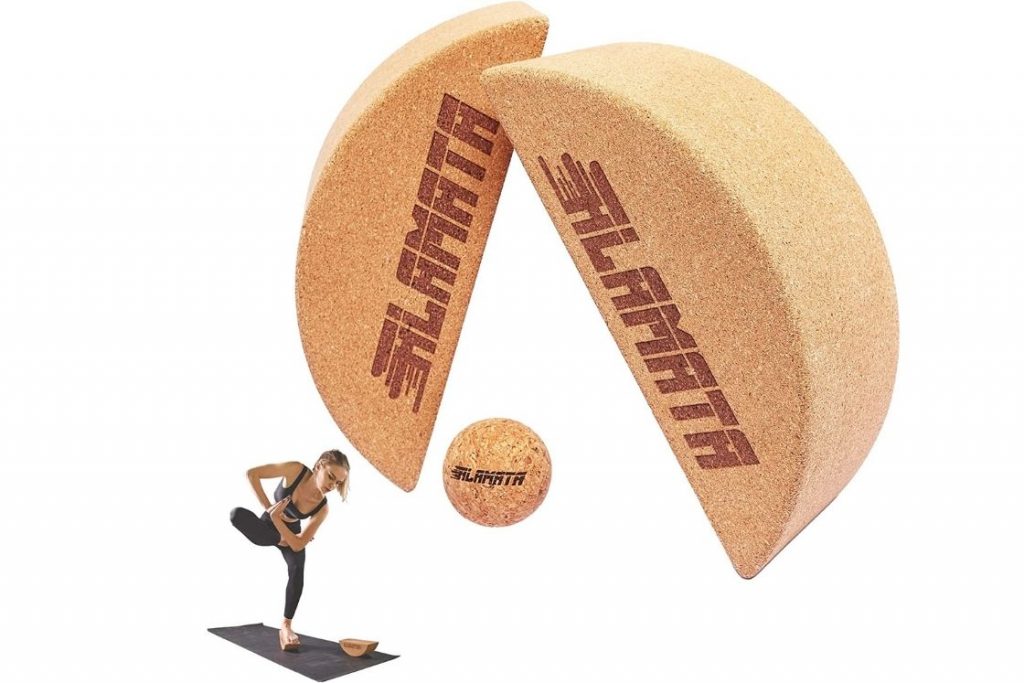 Material – Cork
Available Size – 9.7W x 3.9L x 3.4D inches
Weight – 1lbs
For practitioners who want to train themselves for balancing poses and gain core strength, this innovative, half-moon cork block will give the perfect setting. You can use it for most balancing poses to challenge yourself and the curved surface can be used to give a nice stretch to the back and neck.
It can be used for all yoga styles. The cork material is known to enhance traction and grip when it becomes wet which makes it ideal for intense yoga practices.
This unique yoga block will improve your flexibility and strength to hold the poses for a longer duration. They are easy to hold and can be used by all levels of practitioners.
It comes with a 1.9-inch massage ball made of cork which you can use in everyday life. The blocks come in a set of two.
Pros:
Improves strength and balance
Can also be used for restorative purposes
Firm grip
Comes with a massage ball
Can be used for all intense yoga styles
Cons:
It may be small for taller people
Price may be an issue for some buyers
Best Ergonomic Support: #7 Yoga Foam Wedge Blocks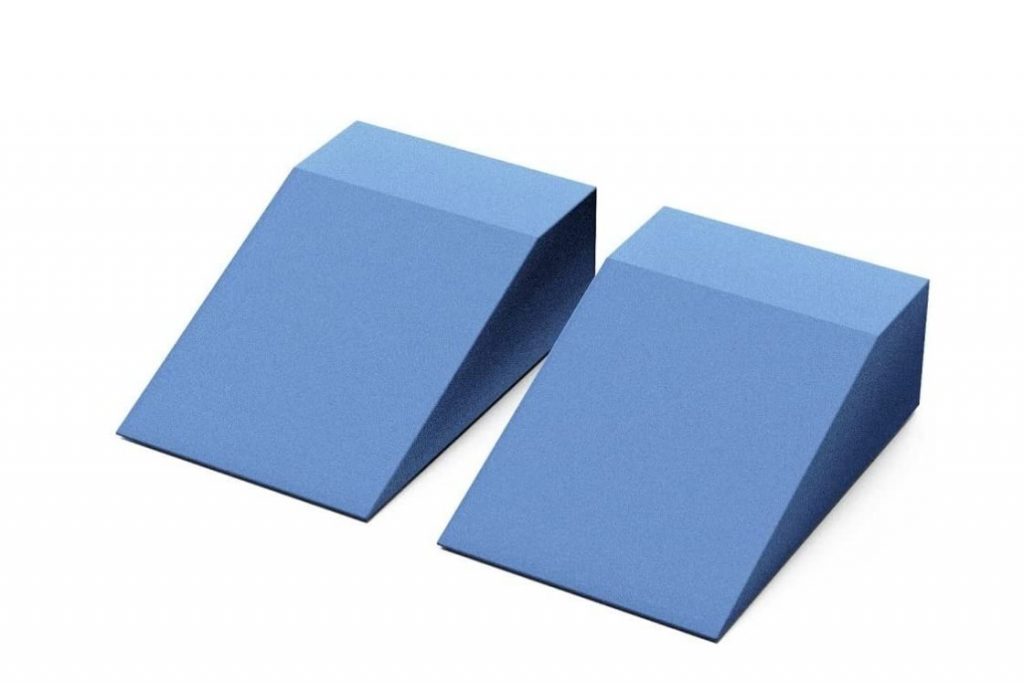 Material – Foam
Available Size – 6W x 11.8L x 3D inches
These are made of high-density foam, and because they're wedge-shaped, you have more height possibilities to experiment with. They're also a little more comfortable to hold. You'll end up with a regular, rectangular yoga block if you stack them on top of each other.
You can use them for backbends, reclining, sideways stretching, and forward bends. The soft texture is comfortable on the skin and it also offers comfort to the joints. 
The ramp can be used for upper and lower body support and the wide flat bottom ensures stability.
These blocks come with a carry bag so that it is easier to travel with them.
Pros:
Easier on the joints
The wide bottom ensures a firm grip on the floor
The ramp gives comfort to joints and back
Comes with a carry bag
Can be made into a rectangular block when stacked
Cons:
The thinner end of the ramp may start breaking early
Best Multi-purpose: #8 Three Minute Egg Yoga Blocks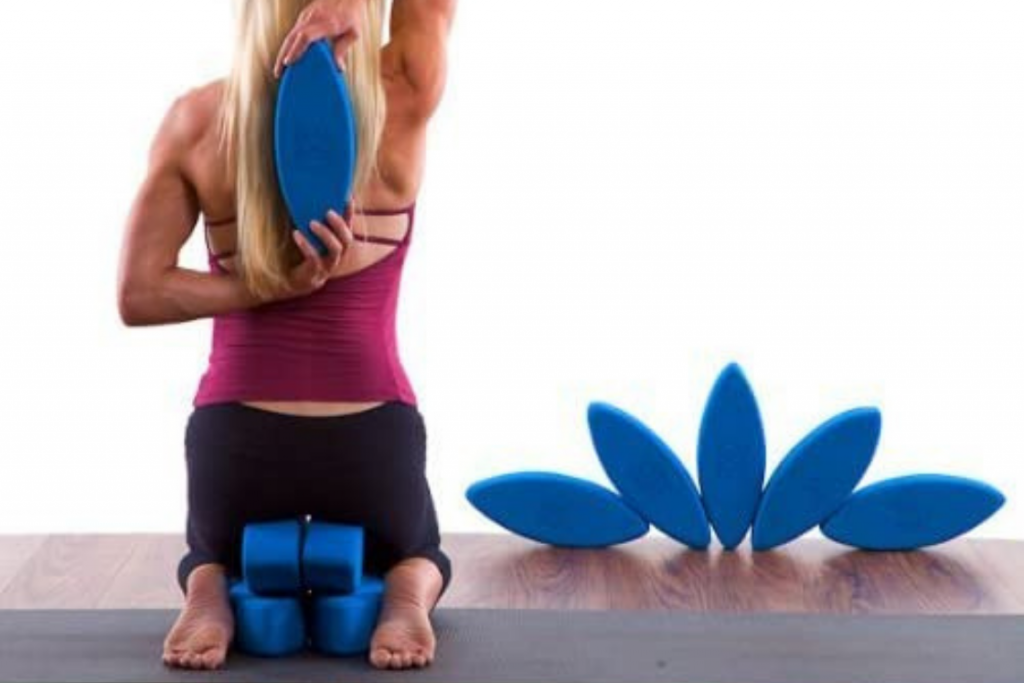 Material – Foam
Available Size – 14W x 9L x 4D inches
Weight – 0.2 lbs
The oval yoga block, made of biodegradable foam, is a great prop for moderate backbends and releasing neck and back stress. It is designed to adapt to your spinal curves for maximum comfort. Stretching and low-impact yoga are also easy with the Three Minute Egg.
You can use it in various ways – as support for seated poses, as weights to build muscle strength, for squeezing for additional stretch, as a restorative prop for the back, and also in poses where you cannot hold your hands behind your back.
The size is suitable for mostly all practitioners. It is also quite easy to clean, long-lasting and lightweight.
It comes in a set of 1,2,3,4,5, and 6 so you can buy as per your need.
Pros:
Easy to grip
Ergonomic oval design that contours the spine
Great for experimenting
Lightweight 
Easy to clean
Cons:
Not suitable for putting entire weight and most balancing pose
Best Innovative Design: #9 Bhoga Infinity Block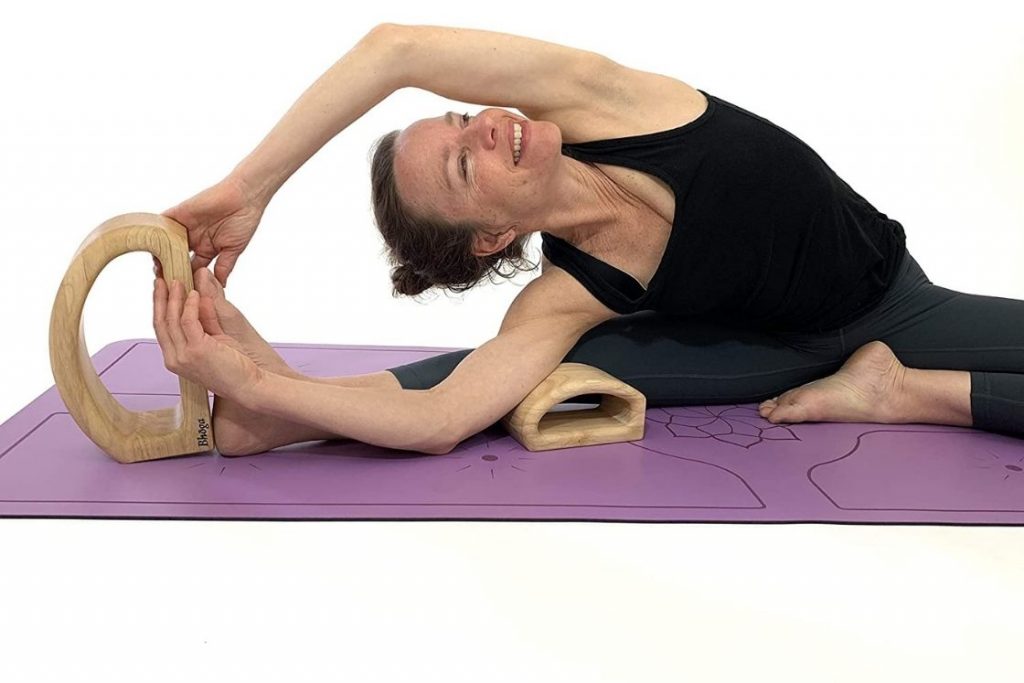 Material – Rubber Tree Hardwood
Available Size – 6W x 10L x 4D inches
Weight – 2.2 – 2.5 lbs
If you want to stand out in your yoga studio yet also reap the benefits of a yoga block, this block is for you. The innovative design with the open core ensures superior flexibility and grip. You can tie a strap through the open core for enhanced support.
The curved surface is made keeping in mind the natural curve of the spine, which makes it beneficial in restorative yoga poses.
It is made from sustainable and recyclable rubber tree hardwood that provides stability and fluidity in your poses.
They come in a pack of 2 and are easy to maintain.
Pros:
Made of sustainable & renewable rubber tree hardwood
Designed to conform naturally to your body curves
Great for back bending and restorative poses 
Open sides contribute to better grip
Sturdy & stable
Very easy to clean
Cons:
They are heavy
Price is on the higher side
Best for Beginners: #10 REEHUT Yoga Blocks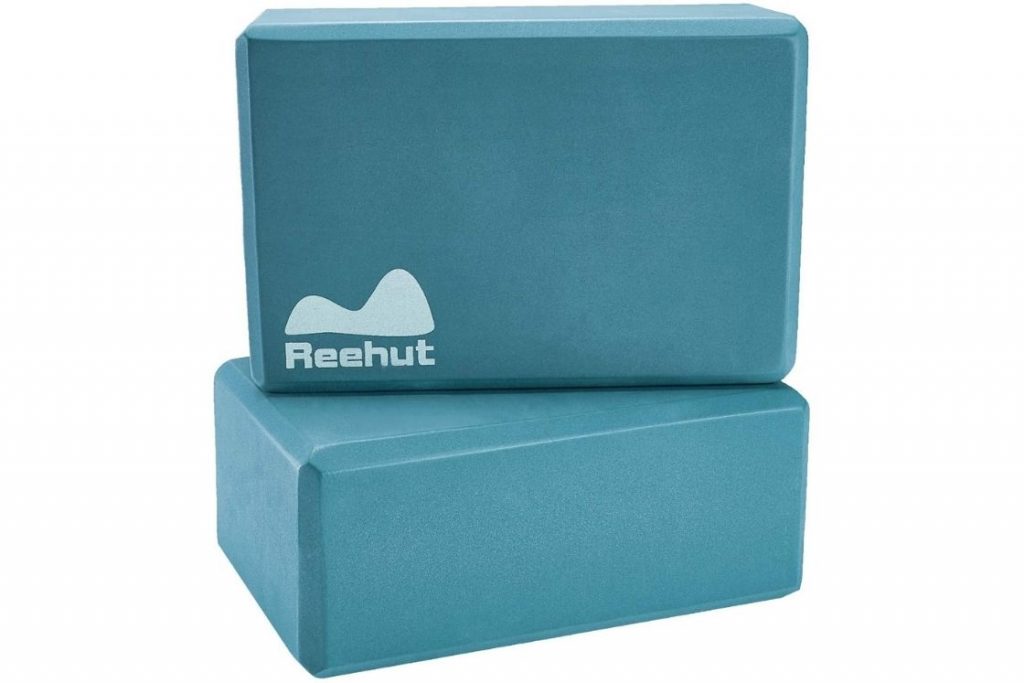 Material – EVA Foam
Available Size – 6W x 9L x 3D inches
Weight – 0.53 lbs
REEHUT blocks are made of EVA foam and are light and easy to carry to the studio or wherever your yoga practice takes you. The suede-like texture and beveled edges provide a comfortable grip, and the moisture-resistant material wicks sweat, moisture, and bacteria away.
Foam is great for stretching, restorative poses, and backbends, and ensures comfortable practice.
The brand also provides a 60-day money-back guarantee as well as an 18-month replacement guarantee, making the deal even better.
Pros:
Soft & comfortable to grip
Wick away sweat and bacteria
Beveled edges
Easily portable
60-day money-back guarantee
Easy on the budget
Cons:
Can become slippery
Foam can easily sustain dents and scratches
Points to keep in mind while buying a yoga block
If you've decided to buy a yoga block, here are a few points that you should consider while making a purchase.
Size and Dimensions – as already stated earlier, the most commonly available dimension of a yoga block is 4 x 6 x 9 inches. You also have other variants of 3 inches and 5 inches to support your height and flexibility. You also get blocks that are half-sized or much smaller so that you can stack them to gain more height.
The shape of the block – Typically, a block comes in a rectangular shape with rounded corners. You can turn them each way to decrease or increase the height as per your need. In recent years, there have been quite a few new shapes that have come up that cater to specific body areas such as your spine, calves. Egg-shaped, oval, curved, rounded, half-moon are some other shapes of yoga blocks that are beneficial in reclining or needing poses.
Material – There are 3 types of material in which yoga blocks are available, wooden, cork and foam. 
Wooden yoga blocks are sturdy, dense, and durable. They are commonly made from bamboo, birch, maple, pine, balsa, and poplar. It is very easy to clean them. 

However, they get slippery if your hands get sweaty, are heavy to carry, and are hard on the joints and spine. Due to their smooth surface, you will not be able to stack them very well, unless you use a towel or some sort of padding.
Cork is an eco-friendly alternative and is much lighter than its wooden counterparts. The slightly rough texture ensures good grip and traction to the hands, feet, and floor/mat. They are easy to carry and store.

You can use them during intense yoga practices but due to their high absorption, they easily absorb sweat and moisture. It makes them difficult to clean and it can also cause a bad odor to emit from them after some time. They also start crumbling from the corners due to the texture.


Foam is one of the most affordable and lightweight material for a yoga block. They also give a good grip, are easy to carry and store, and can be stacked due to the texture. It gives support for restorative yoga asanas or for balancing your body weight. 

But they are not as eco-friendly as cork, can wear down faster, are susceptible to dents and cracks, are not easy to clean, and absorb moisture and sweat easily. You should not prefer fam yoga blocks if you want to practice active yoga styles.
Conclusion
Before buying any yoga product, it is always a good practice to list your preferences and then get to searching for the right product for yourself. You do not want to waste money on buying something that neither is of good quality, not suitable to your needs and is not worth your money as well.
We hope our list has given you a range of products to choose from. Happy shopping!