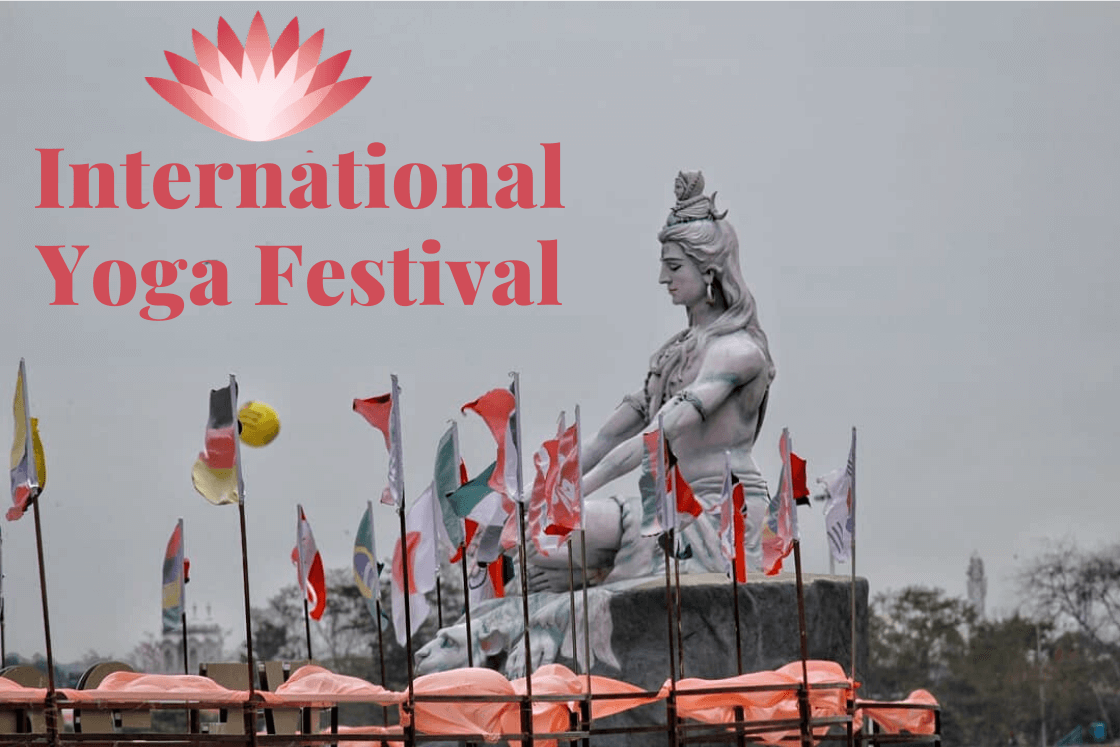 Yoga has become an integral part of people's lifestyles today due to its miraculous effects on body, mind, and soul. Not only it makes the body more flexible & strong but also improves the various functions in the body & mind. All the nations are spellbound with this ancient exercise practice which has been originated in the Indian Subcontinent.
International Yoga Festival (IYF) is a platform to explore the essence of the ancient way of health and wellness. It provides us with the best way to relax and invigorate our physical, mental and spiritual health. Here, at IYF Rishikesh you will get a chance to understand multiple forms of yoga under one roof.
Brief Summary of International Yoga Festival (IYF)
Every year the International Yoga Festival (IYF) is organised by the world-famous yoga ashram Parmarth Niketan in Rishikesh, India. Rishikesh is popularly known worldwide as the birthplace of the traditional yoga. This town at the foothills of Himalayas is the abode of several traditional sages, yogis, and seers.
Read More: International Day of Yoga – 21st June
IYF is an opportunity for the masses across the globe to learn and practice yoga under the guidance of traditional yoga Gurus. Events in this festival not only allows you to learn from the Indian yoga masters but also the best yoga masters from every nook and corner of the world. Every year people from approximately 35 countries attend this event to attain the true essence of spirituality and balance.
This weekly event includes 70 hours of classes of varied styles of yoga from Hatha, Kundalini, Kriya, Ashtanga, Iyengar to Vinyasa Flow, Sattva, Jivamukti and Yin Yoga.
This festival also offers the various classes of
Pranayama – Ancient breathing techniques
Meditation – Mind Calming exercises
Yoga Philosophy & Satsangs
It offers one to lose themselves in the spiritual world with the kirtan, mantra, music therapy.
IYF emphasis on the eight limbs of Yoga and how we can adopt them in our day to day life. It is the perfect chance to do some self-discovery and awakening our consciousness.
History of International Yoga Festival
It has been more than two decades now that India introduced the concept of celebrating the International Yoga Festival. For the very first time, this international event conducted at Hotel Ganga Kinare, in Rishikesh. Those were the days when less number of participants used to be part of the IYF.
In the year 1999, the Uttar Pradesh Government of India took an initiative to introduce this event in the Parmarth Niketan Ashram, in Rishikesh. With the change in the venue, the International Yoga Festival came in the spotlight and attracted the huge crowd. However, the event used to be held in the first week of February.
Though all the participants used to stay in the hotels yet all the sessions and classes were observed in the Parmarth Niketan Ashram. The meditation sessions were guided by Pujya Swami Veda Bharati Ji whereas Yogacharya Bharat Bhushan Ji and his team were in charge of the asanas.
When And Where Is The International Yoga Festival Celebrated?
The International Yoga Festival is hosted in Rishikesh every year in the month of March. In the year 2023, the IYF is going to be held in the first week of March i.e. From March 1st, 2021 to March 7th, 2021. The theme of International Yoga Day 2023 is "Humanity." Past themes include "Yoga for Heart," "Yoga for Peace," and "Yoga at Home.
Rishikesh is all set to welcome people from all over the world for the IYF 2023. Like every year, Parmarth Niketan Ashram is hosting the event with the Uttarakhand Tourism Development Board in association with Incredible India, Ministry of Tourism and Ministry of AYUSH, Government of India [efn_note] Ministry of Ayush http://ayush.gov.in/ [/efn_note]. Being the largest yoga ashram Parmarth Niketan Ashram, situated near the bank of the holy river Ganges.
Highlights Of The International Yoga Festival 2019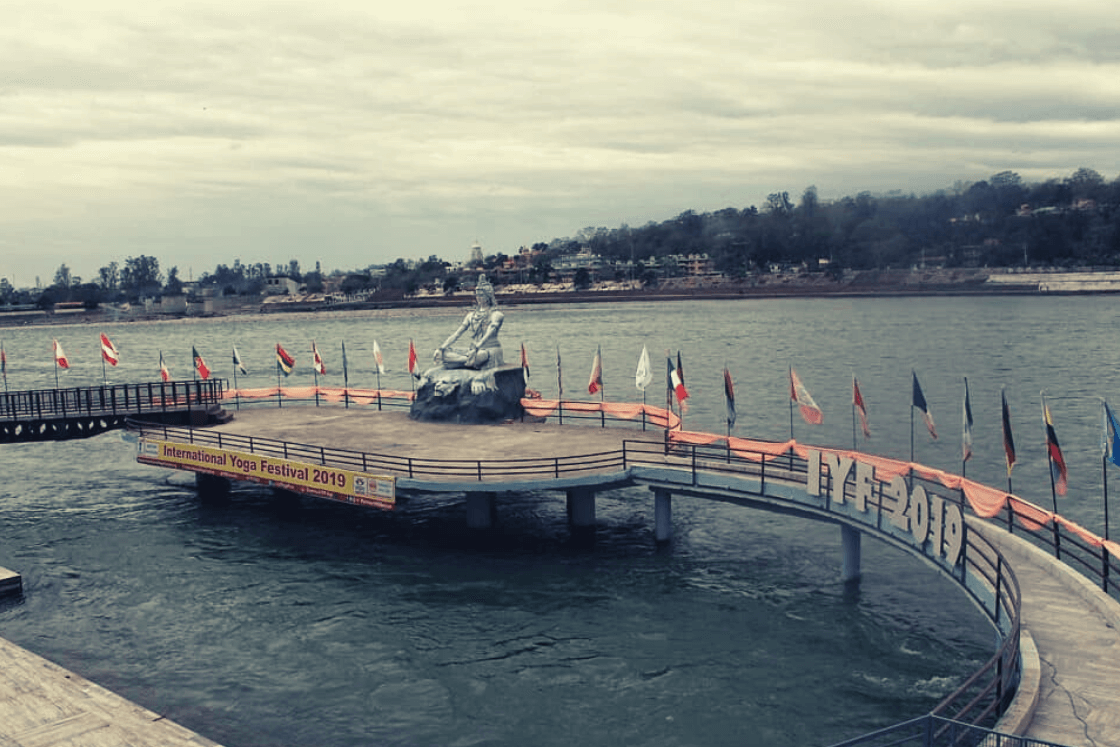 The International Yoga Festival 2019 was divided into three themes such as;
Day 1 & 2 were assigned Traditional Yoga:
Begin with the Purification Ceremony to join the prayer session which is followed by; Traditional Hatha Yogasana, Musical Meditation, Vedic chanting, Sound Healing, Spiritual lectures, Yin Yoga, Yoga of Awakening, Voicing out the Chakras, Havan, Sacred Fire Ceremony, Therapeutic Yoga Flow within between breaks for breakfast and lunch.
Day 3 & 4 were dedicated to Contemporary Yoga
After the Purification ceremony, participants can be part of yoga classes and spiritual sessions such as; Ashtanga Yoga, Anahata Flow, Restorative Meditation, Ganga Yoga, Earth Prayer, Detox Flow, Spiritual Lectures, Satsang and Ganga flow Meditation, Indian Classical Dance Workshop, Natural Remedies session and others with breaks for breakfast and lunch.
Day 5-7 were devoted to Shakti – The Power of Creation
There were several Yoga sessions at the International Yoga Festival led by notable female spiritual personalities. These 3 days were dedicated to them to share their knowledge of wide variety of Yoga styles. 'Traditional vs Contemporary Yoga', 'Yoga sessions accompanied by Vedic mantra chanting', 'Prana Shakti: Soul Sadhana' and other sessions by prominent figures.
Highlights Of International Yoga Festival 2020
Like every year, Rishikesh is all set to host the International Yoga Festival 2020 which outlines the age-old legacy of ancient India. This grand fest is a weekly event conducted in the month of March. The internationally renowned festival held near the Banks of sacred River Ganges in the Parmarth Niketan Ashram in Rishikesh, Uttarakhand.
The wide variety of sessions includes multiple styles of yoga, meditation, therapy spiritually captivating Kirtan, inspiring spiritual discourses and talks with spiritual gurus are scheduled in the 70 hours course. The event is occurring between March 1, 2020 to March 7, 2020.
IYF explores not only the Pranayama, Asanas, and Meditation but also all the 8 limbs of yoga. Be it Yamas or Niyama, for a complete week you can sink yourself in the life of a simple yogi.
What will be the tentative schedule of IYF 2020?
Every day the session begins at 4 AM in the morning followed by different yoga, meditation, and other sessions.
Traditional yoga session at 6:30 AM which is followed by a breakfast
Multiple yoga style classes from 8:30 to 10:30 AM
Discourses and lectures on spirituality from exceptional saints and yoga masters at 11:00 AM.
From 12:30 PM to 1:30 PM a traditional Indian lunch.
3 Yogasana sessions from 3.30 PM to 5.00 PM.
Evening timing between 6 to 7 pm is dedicated to fire ceremony and Ganga Aarti on the bank of Ganges.
A sattvic dinner is served at 7 PM which is followed by various cultural programme and the evening ends with a Satsang.
Nights out at 9:30 PM till 4 AM in the next morning.
All Events of International Yoga Fest 2020
International Yoga Fest 2020 is full of traditional, cultural and yogic events. Here is a list of all the events that are going to be the highlight of IYF 2020.
The different types of meditation which are going to be part of IYF 2020 includes; Agnihotra, Ajapa Japa, Antar Mouna, Chakra sandhi, and Chidakasha dharma. These help you to deal with your conscious mind, mastering the concentration of mind and also focuses on the inner visualization of the body.
You will get an opportunity to choose from multiples styles of yoga in IYF 2020; Hatha, Kundalini, Kriya, Ashtanga Yoga, Iyengar, Vinyasa Flow, Sattva, Jivamukti, Yin, Shintoh, Bharat, Deep & Somatics Yoga. Not only this, but you can also explore Tai chi, Yoga therapy, Therapeutic Yoga, Zen, Taoist, Yoga Nidra.
Get ready to bless your senses with the Satsangs of the spiritual masters from worldwide on several uplifting and inspiring subjects. The perfect occasion for those who want to listen to divine words and inspiring spiritual lectures of revered saints and yoga masters. Discourses and shlokas from Bhagavad Gita, Vedas, Upanishads, Vedantas and traditional yoga texts.
You can also enjoy the spiritually captivating Kirtan and the sessions on yogic mudras, Vedic chanting and a lot more.
Some Major Events, not to Miss in IYF 2020?
A cultural evening with the well-known musicians and dancers from India as well as from the USA, Israel, and  Australia. You can enjoy the live performance by well-known artists like Kailash Kher, Shivamani, Anandra George, Joseph Schmidlin, Joanna Faso and more.
Get an overview on Ayurveda & Vedic Astrology,  Tantrik Sanskrit as well.
The IYF offers a chance to experience and learn the Pranic Healing, Reiki and Oida Therapy.
Enjoy traditional and sattvic Indian food that will balance your Ayurvedic doshas too.
Why You Should Be The Part Of The International Yoga Festival 2020?
Although you practice yoga daily, International Yoga Festival is the experience that is beyond the ordinary practice you do on your mat. It can be a life-changing experience for you as it is a retreat that offers you a variety of activities like dance, sing, and laugh & of course all 8 limbs of yoga.
IYF is a platform where you get an opportunity to learn from various world-class yoga masters under a single umbrella. Today, there are huge forms of yoga which is practised in different parts of the world. Meeting and practising with such passionate and inspiring yoga experts is so motivating.
During International Yoga Fest, you meet and get along with people from various countries. With this, you can share your experience or journey of yoga, spirituality and more. Therefore, IYF offers to connect with like-minded people.
International Yoga Festival is the perfect getaway from your usual life. It teaches you how to come out of your comfort zones and break your old habit pattern. This event offers you mental, emotional and spiritual detox along with inner engineering.
Registration Details
To get register for IYF 2020, Parmarth Niketan lets buy you tickets from their official website of IYF. You can get various tickets information from here – Register for IYF 2020
The price of the ticket varies from $79.74 – $735.99 depends upon the number of days, facilities and accommodation.
You should not rely on purchasing the tickets from the Parmarth Niketan on the very day of the festival because it all depends on the availability of seats. It is better to purchase tickets through the online platform in advance.
All registration options include meals, hot drinks, classes, lectures, and performances. You will get a group discount if you are more than 20 people. If you are an Indian citizen you will get some discounts on tickets & it costs you only 315.99$.
You can also check all the details of bookings on the official website of Eventbrite [efn_note] IYF 2020 Registration & Accommodation Details https://www.eventbrite.com/e/international-yoga-festival-2020-tickets-61087860435[/efn_note]. We strongly recommend you to read all the terms and conditions before booking a ticket.
For any FAQ about IYF 2020, you can check it out here [efn_note] IYF 2020 FAQ https://www.internationalyogafestival.org/faq/ [/efn_note].