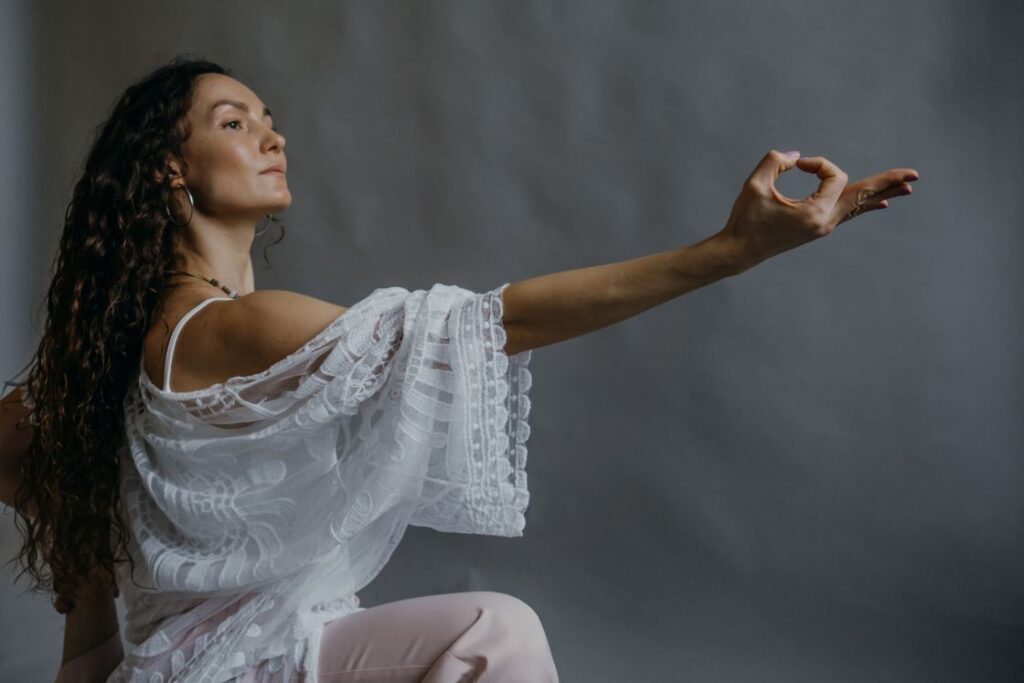 Women's contributions to the development of yoga are rarely discussed. But, long before the term "spirituality" or "awareness" was coined, women had a profound impact on the development of these concepts.
Today, there are many women leading the way in yoga teaching as the practice's popularity expands. These yoginis are lovely, motivational, and insightful. They serve as role models that we can all look up to as mentors, teachers, and guides.
Thus, in this post, we'd like to introduce you to 10 notable and inspiring female yogis who have made a significant contribution through their yoga education in celebration of Women's Day this March and the role that women have had in shaping the yoga community.
1. Indra Devi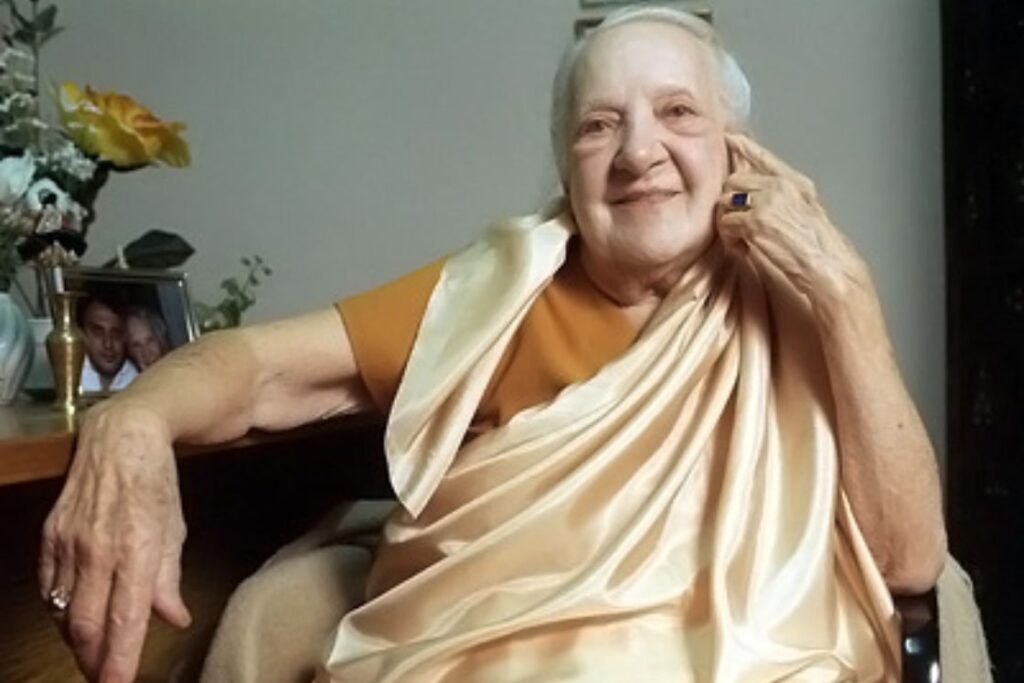 Indra Devi, who was named Eugenie Peterson and was born in Latvia in 1899, is arguably the most well-known founder of contemporary yoga in the West. Indra Devi introduced a female perspective to a world that had previously been dominated by men.
She relocated to India and requested T. Krishnamacharya to instruct her after experiencing a cardiac condition. He initially turned her down on the grounds that she was a woman and a Westerner. He eventually consented to educate her, after the Maharaja of Mysore insisted, and Devi trained under his guidance in Mysore amongst the future yoga teachers Pattabhi Jois and B.K.S. Iyengar.
Devi appealed to the pressures and vanity of Westerners by portraying yoga as a soothing exercise that improved health and beauty while healing worry and tension. Devi did this by combining her charisma and noble nature with the practice.
She officially changed her name to Indra Devi in 1953 after becoming a citizen of the United States. She published two hugely popular books in the 1950s: Yoga for Americans (1959) and Forever Young, Forever Healthy (1953).
In 1961, Devi relocated to Tecate, Mexico, where she established the Indra Devi Foundation (http://www.fundacion-indra-devi.org/). She later opened numerous yoga studios all across Buenos Aires, the city and capital of Argentina, which are still in operation today.
She conducted her style of hatha yoga, which included asanas and pranayama. She steered clear of spiritual guidance, preferring to leave that to yoga masters. She never adopted a formal or harsh demeanour, and everyone she interacted with admired her warmth and sharp humour.
On April 25, 2002, Indra Devi, affectionately known by her pupils as Mataji, Hindi for Mother, passed away in Buenos Aires at the age of 102.
2. Kathryn Budig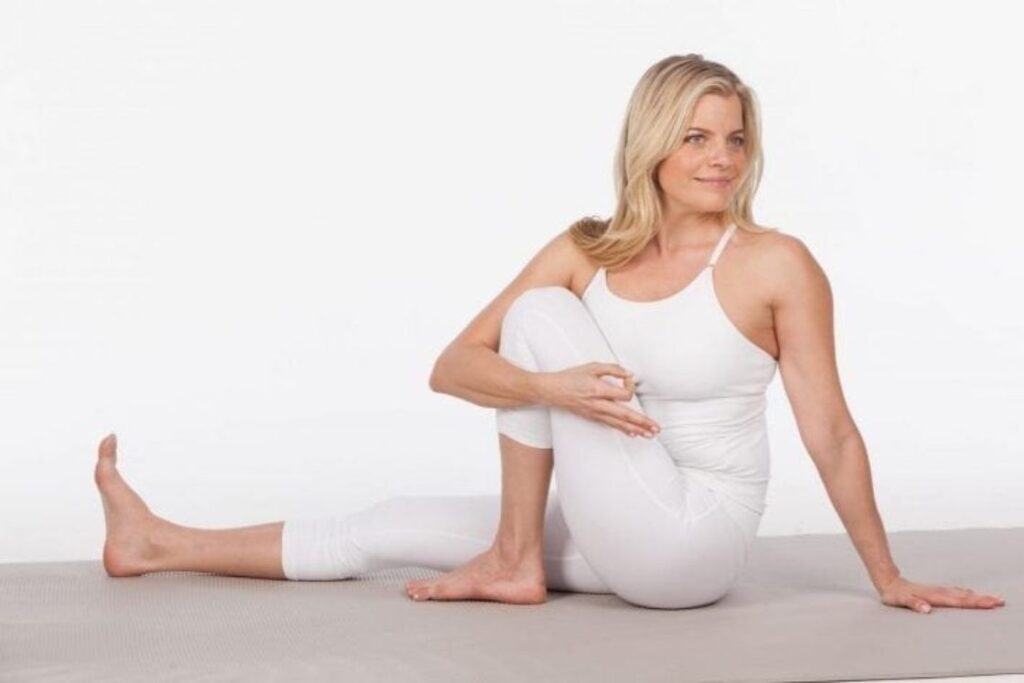 In the yoga community, Kathryn is a household name. Kathryn is originally from the Midwest, and when her job as a model/actress became meaningless, she moved to Los Angeles to study yoga.
She spent eight years studying under Maty Ezraty in Los Angeles, where she also taught for a while. Today, she travels the world giving lectures and workshops that motivate others.
Kathryn's Vinyasa Flow sessions, which draw on Ashtanga, are renowned for having a humorous element as she challenges students to have fun while pushing themselves!
She is the wellness specialist for Women's Health Magazine and has a DVD with the same name (Aim True Yoga). She also wrote her first book, The Women's Health Big Book of Yoga.
Budig routinely wrote to Yoga Journal, The New Potato, and MindBodyGreen and has almost two decades of experience in her industry.
At House of Phoenix, you may discover Kathryn's yoga lessons, amongst other things, online. You can easily find her videos on Youtube and Glo. She is also quite active on Instagram, Facebook, and Twitter along with her blog page https://www.kathrynbudig.com/.
3. Elena Brower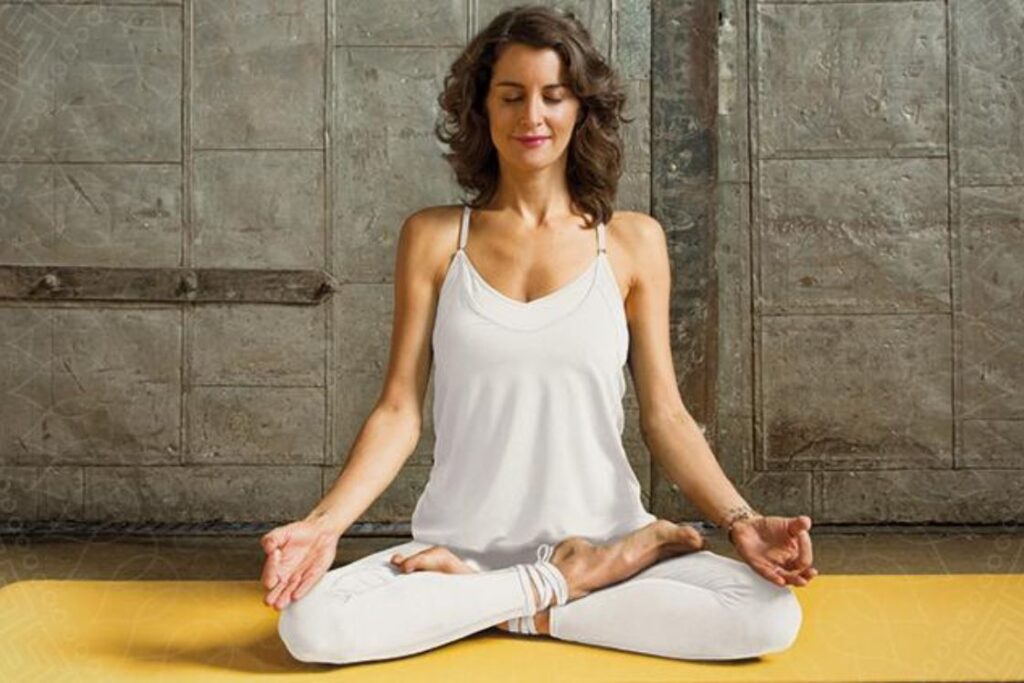 Since she began teaching yoga more than 16 years ago, Elena has become a well-known yogini who inspires others by helping them both on and off the mat. She founded and co-owns the yoga studio in New York City called Virayoga, where she uses artistic alignment to educate people on how to become conscious of their body, mind, and soul.
She enjoys the art of journaling for self-reflection and self-study, as well as mindful relationships and conscious separation. She is also the author of the yoga journaling book "Practice You: A Journal" and the co-author of the yoga journaling book "The Art of Attention."
Also, she supports and loves aromatherapy as a form of treatment.
She is the executive producer of the movie On Meditation: Documenting the Inner Journey alongside delivering lectures and writing books.
The Glo website features Elena's yoga sessions and meditations. Moreover, popular yoga informational websites such as Yoga International, MindBodyGreen, Yoga Journal, and the Huffington Post have all featured Elena's writing.
You can gain more insight about her through her website https://elenabrower.com/. She is also active on Instagram, Youtube, and Facebook.
4. Kino MacGregor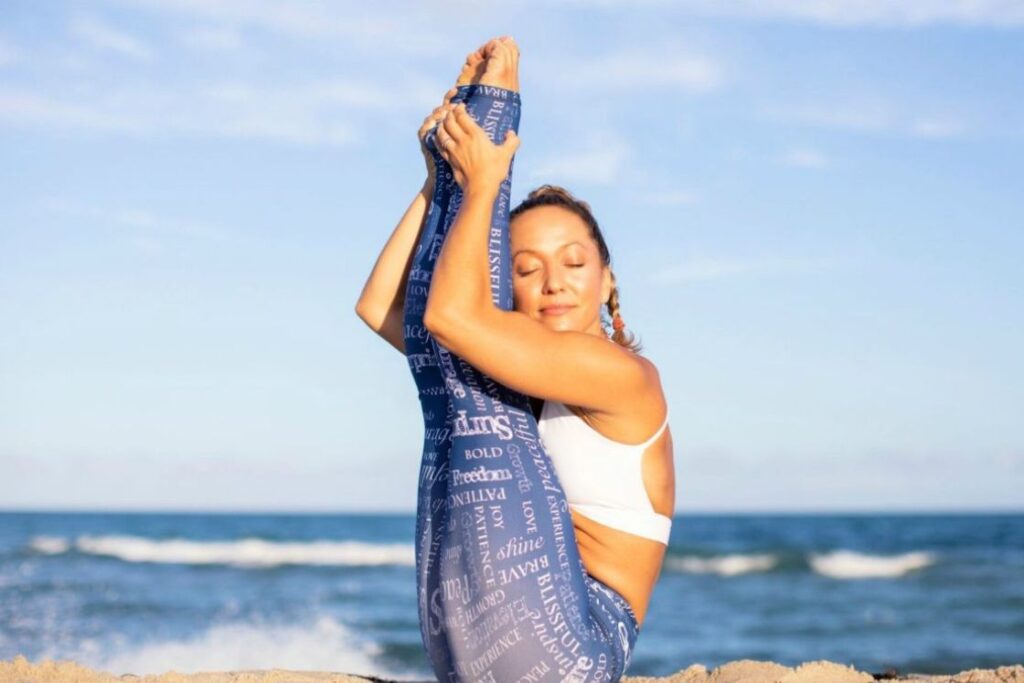 Born in Miami on September 12, 1977, Kino MacGregor is an American Ashtanga yoga instructor, author, businessperson, and content creator. She is one of a small handful of individuals who have been certified to teach Ashtanga Yoga.
When Kino MacGregor was nineteen years old, she attended her first yoga session without any previous experience in movement training. She practised Mysore style and Ashtanga for three years before spending seven years travelling to Mysore to learn at the K Pattabhi Jois Ashtanga Yoga Institute from K Pattabhi Jois.
K. Pattabhi Jois certified her to instruct Ashtanga yoga when she was 29 years old.
Intending to integrate yoga, holistic health, and consciousness, Kino came back to Miami Beach to establish a center. She started Miami Life Center with her husband Tim Feldmann in 2006, where they now co-teach daily seminars and workshops.
She is the author of 4 books, the producer of six Ashtanga yoga DVDs, and has also released a mantra chanting CD. Kino is also the founder of the world's first yoga TV network Omstars.
She is now doing the Ashtanga Yoga Fifth Series (Advanced Series C) from R. Sharath Jois, grandson of K. Pattabhi Jois. Additionally, she has also been an avid practitioner of Vipassana Meditation for nearly 20 years.
According to Kino, traditional yoga should be available to people of all ages, sizes, and shapes. For her, Yoga is not just an exercise; it is a way of life with strong adherence to the principles of truth, nonviolence, and love.
She is a global instructor through her Youtube, Instagram, Facebook, and Twitter channels. Her website https://kinoyoga.com/ features a lot about her calendar, her experiences, and her upcoming works.
5. Ashley Turner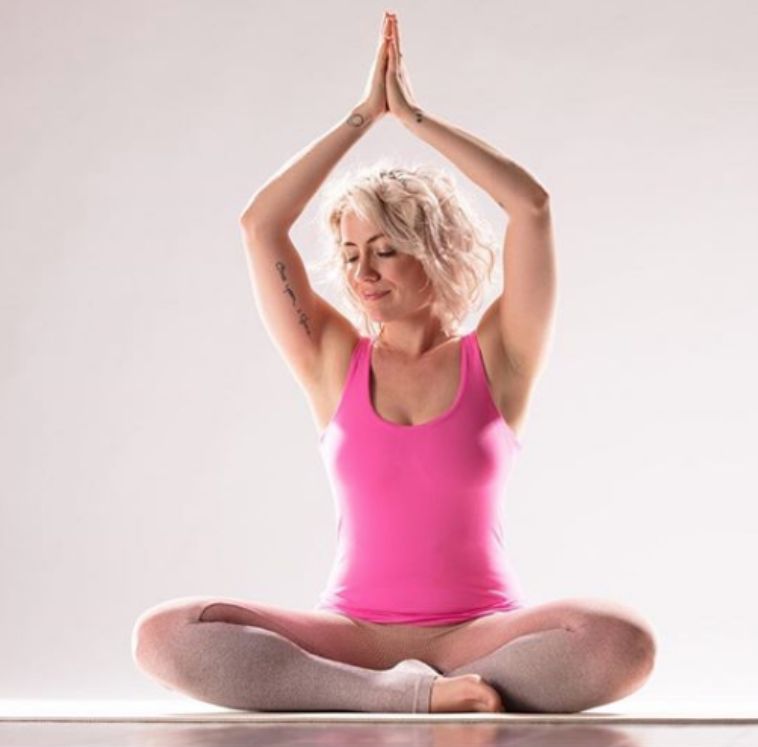 Ashley is a multi-talented wellness inspiration who holds the titles of a yoga instructor, ordained priestess, author, and registered marriage and family therapist!
As part of an active lifestyle, Ashley first discovered the yoga community when she started instructing aerobics classes as a student at the University of Southern California. Ashley felt motivated to live a life centered around what she terms "yoga psychology" because she discovered how closely linked her psychological and emotional well-being was to her physical well-being.
She has distinguished herself as an innovator in the yoga field by fusing yoga with contemporary psychology, neuroscience, and spirituality. Her engaging teaching style skillfully weaves together profound ideas and useful advice that can change your life.
Her pursuit of knowledge is motivated by a desire to discover her voice and assist others in doing the same. Ashley understands that every learner and every teacher will connect with things differently. She advises anyone interested in yoga to visit many schools and studios till they discover the one that appeals to them.
She was recognized by Yoga Journal as one of the "Who's Who in Power Yoga" and is renowned for facilitating profound self-exploration and transformation for her students and clients by combining the ancient knowledge of yoga philosophy with contemporary psychology.
Ashley has also produced several yoga DVDs, and her first book, Aroma Yoga, is a manual for employing aromatherapy for holistic health.
You can know more about her through her website https://ashleyturner.org/, and connect with her through Instagram, Facebook, and Twitter.
6. Brett Larkin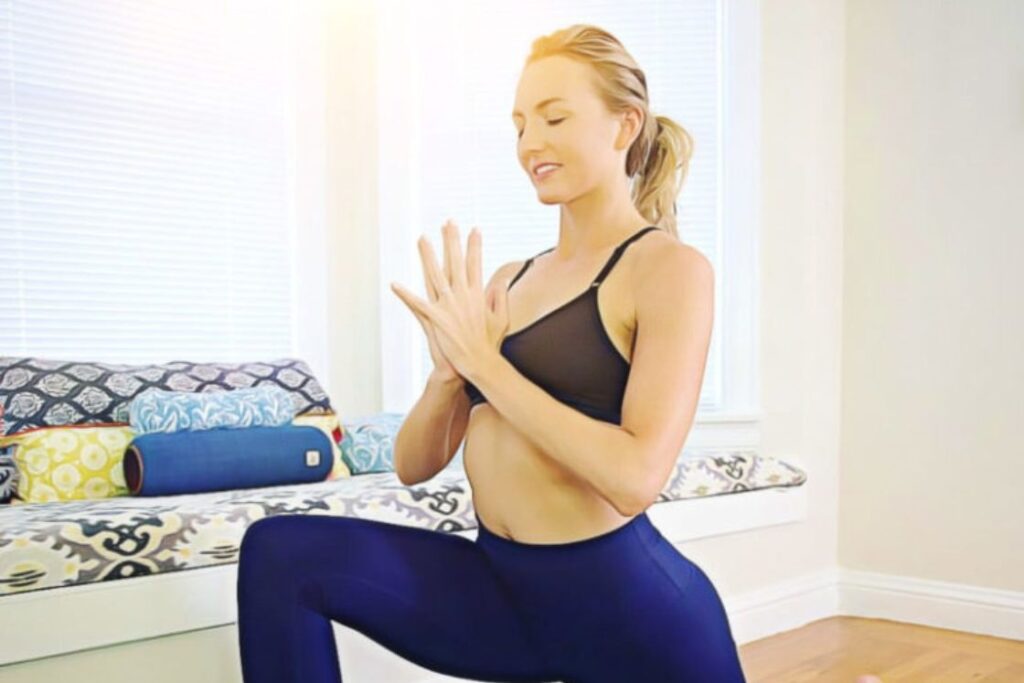 In addition to being a successful businessperson and in-demand online business adviser, Brett Larkin founded the Uplifted Online Yoga Teacher Training and its award-winning YouTube channel.
Brett trained with her first instructor, Yogiraj Alan Finger, the original co-founder of YogaWorks, while still a student, in both New York and India. Her favourite instructors include Gurmukh, Elena Brower, and Kia Miller, and she has completed numerous Yoga Alliance, KRI, and prenatal certification training with their guidance.
Having trained more than 1,500 yogis to become teachers and healers online, Brett is a digital pioneer in the field of yoga. She was the first person in the world to launch a live, real-time, interactive 200-hour yoga certification program online in 2015, thanks to her experience in technology and talent for trend prediction.
Brett has been featured in Forbes, Entrepreneur and Gaia as a visionary, and as a teacher. She has introduced her unique method to leaders at Silicon Valley's biggest firms and created a passionate global following.
Larkin's passion for dance has served as one of the main sources of inspiration for her yoga practice and teaching, both personally and professionally.
She has dedicated the last few years to developing a platform for yoga instruction that offers courses in Hatha, Kundalini, and Vinyasa, and has become the industry leader in highly interactive online yoga certification.
You can follow her on her Instagram, Facebook, and Twitter to stay up-to-date on her schedules and workings. Her website https://www.brettlarkin.com/ features all details of the yoga teacher training courses, upcoming schedules, and various informative blogs.
7. Dr Hansaji Yogendra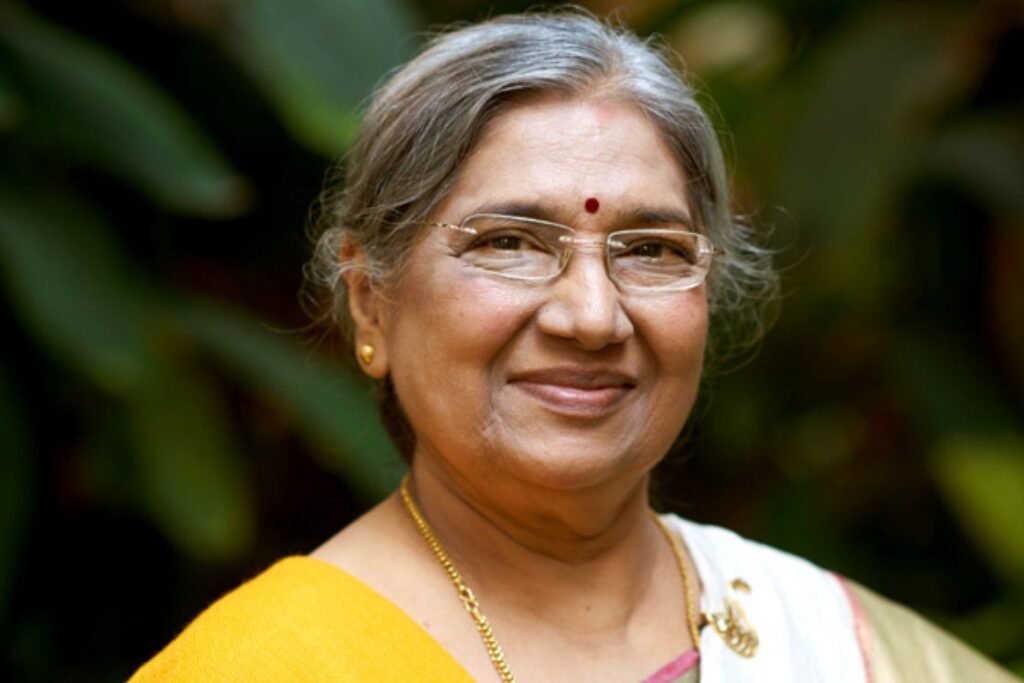 Dr Hansaji Yogendra, an Indian yogini master, author, researcher, and television personality, has been at the frontline of the yoga movement. In 1918, her father-in-law Shri Yogendra started The Yoga Institute in Bombay, from where she completed her yoga training and currently serves as the Director. The oldest organized yoga facility in the world, it is a non-profit organization that has received official recognition.
In 1980, she served as the host of the television program "Yoga for Better Life" on the Indian channel DD National. 
She was the only female yoga teacher to conduct the record-breaking event at Delhi's Rajpath on the first-ever Internation Yoga Day on 21st June 2015. She has also written numerous yoga books in Gujarati and English.
She also held high positions in the Indian yoga community, had an exceptional law degree, contributed significantly to medical research, and received numerous honors.
She is the President of the International Board of Yoga as well as the Chair of the Yoga Certification Committee for the Quality Council of India (QCI). She serves as the Indian Yoga Association's Vice President.
The growth of the Ladies Wing in The Yoga Institute, additional women-specific programs, pregnancy, antenatal, and postnatal camps, as well as the Menopause Women's Camp, are all results of her concentration on promoting yoga instruction to positively touch the lives of women.
Dr Yogendra is renowned for her kind disposition and beautiful radiance. She is a well-known orator around the world and brings a distinct energy with her everywhere she travels. She explains yoga philosophy in plain terms using examples from everyday life.
You can also find her videos on the official Youtube channel of The Yoga Institute or connect with her through her Instagram.
8. Mata Amritanandamayi (Amma)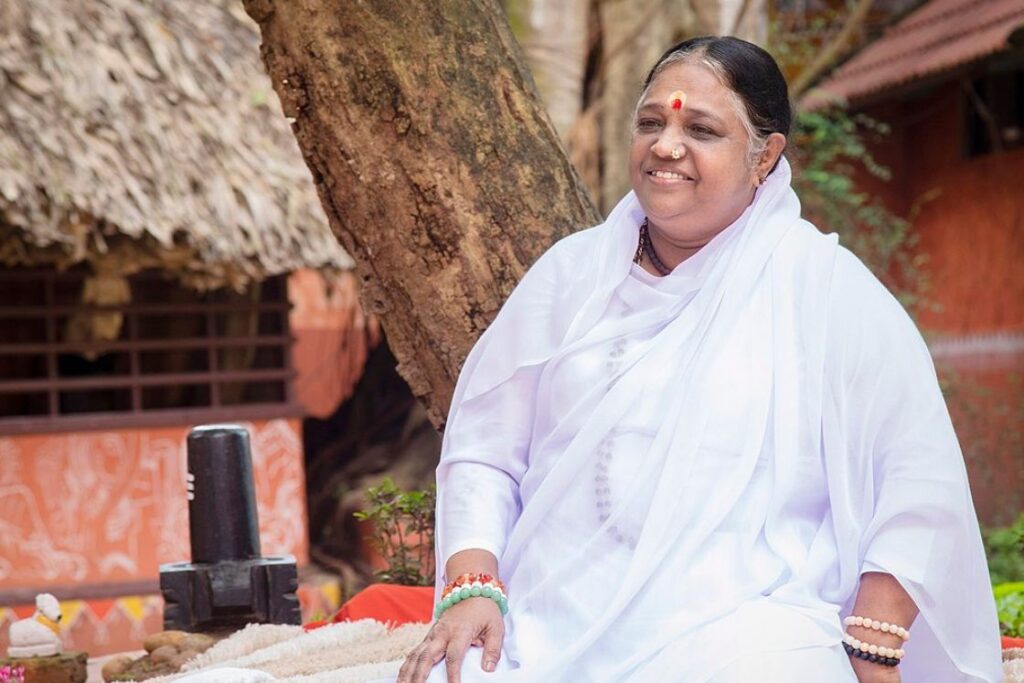 This beloved karma yogini, also known as The Hugging Saint or Amma, has a big heart and is one of our generation's most admired karma yoginis. 
Amma, who was born in southern India, grew up in a society where there was a great deal of poverty, pain, and misery. Nonetheless, she had always believed that it was her responsibility to soothe those who were hurting and to be kind to them. Regardless of religion, background, caste, or gender, she believed that everyone was equal and worthy of love.
Once spiritual searchers began settling at her parent's farm in the hopes of becoming Amritanandamayi's students, the Mata Amritanandamayi Math (MAM), a worldwide institution, was created in 1981.
Amritanandamayi started running programs all over the world in 1987 after receiving requests from followers. She still does this every year.
Amma has spent a great deal of her exceptional life participating in activism, humanitarian causes, and charitable endeavours. She practices meditation, Bhakti Yoga, and Jnana Yoga in addition to karma action.
She emphasizes the value of meditation, engaging in karma yoga, committing acts of selflessness, and developing divine virtues like compassion, patience, forgiveness, self-control, etc.
Amritanandamayi has addressed many social concerns in her speeches and writings, such as the value of selfless service, the necessity of interfaith cooperation, the need for environmental conservation, and the desegregation of science and spirituality. She has also addressed several times at the UN and twice at the Parliament of the World's Religions.
You can find out more about her and her humanitarian work through her websites https://www.amritapuri.org/ and https://amma.org/. You can also get regular updates about her schedules and the world through her Youtube, Facebook, and Instagram pages.
9. Gurmukh Kaur Khalsa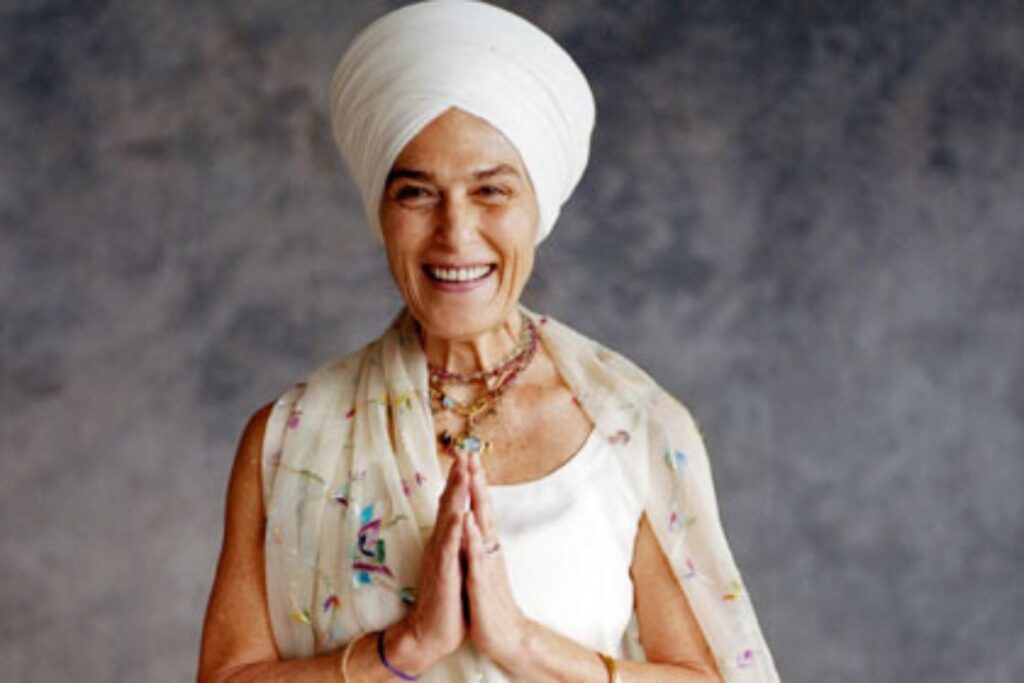 Gurmukh Kaur Khalsa is a pioneer in the field of prenatal yoga and a teacher of Kundalini Yoga as taught by Yogi Bhajan. She was born Mary May Gibson in Downers Grove, Illinois, in 1943.
She left her home when she was nineteen and moved to the west. Before discovering Yogi Bhajan as her Spiritual Teacher and the calling of her Destiny in 1970, she was a seeker but unsure of what she was looking for. She knew she had discovered her Path when she met Yogi Bhajan.
The first Yogi Bhajan's Yoga Center was established in Los Angeles by Gurmukh and her husband Gurushabd in the early 1980s. It was a modest and welcoming space that helped create the Los Angeles Kundalini Yoga Community.
Following the birth of her daughter, Gurmukh taught sessions for expectant women using her understanding of Kundalini Yoga and her personal prenatal experiences. This finally led to the creation of her own pre- and post-natal videos as well as the birthing education program "The Khalsa Way" in 1995.
They established a studio in Hollywood, Golden Bridge Yoga Center in 2002, where Gurmukh taught every day. Gurmukh Kaur Khalsa serves as the Director of Golden Bridge Yoga, which also has locations in Santa Monica and New York City.
It was here she developed a long list of celebrity clientele with names including Madonna, Courtney Love, Gweneth Paltrow, etc, however subsequently Gurmukh Kaur ceased taking private lessons with celebrities.
She is a well-known Kundalini Yoga teacher who travels the world with her husband, Gurushabd, to teach students all over the world about Kundalini Yoga and teacher training courses.
You can follow her on Instagram and Facebook for the latest updates.
10. Nanammal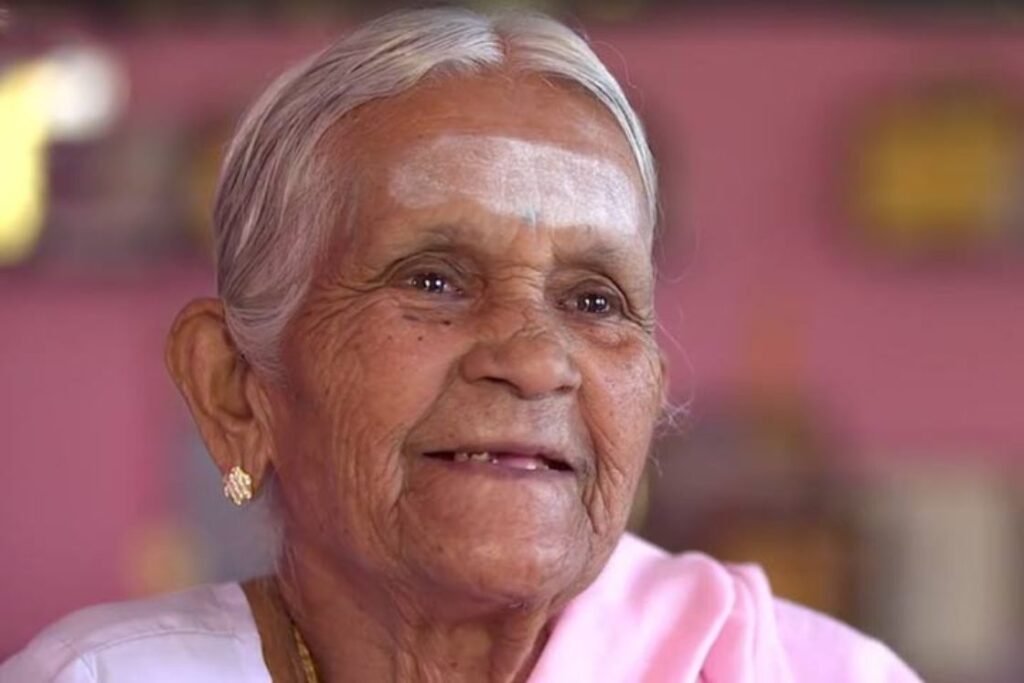 The 99-year-old woman, who was known as "yoga granny," was able to perform more than 50 yoga postures, including the difficult sirsasana (headstand pose), paschimottanasana (sitting forward bend pose), and the mayurasana (peacock pose). She was also the second oldest yoga teacher in the world.
Her ability to perform all of these poses while wearing her typical plain pink saree made her stand out.
In a farming family in Coimbatore, Tamil Nadu, India, Nanammal was born on February 24, 1920. Her father started teaching her yoga when she was eight years old, and she subsequently mastered more than 50 asanas.
During her marriage, Nanammal developed a preference for naturopathy because her husband was a Siddha specialist in the village who was also involved in agriculture.
She founded the "Ozone Yoga Centre" in Coimbatore in 1972. The center's traditional yoga class, which puts more of an emphasis on pranayama, was being taught. More than a million people were trained by Nanammal and she continued to instruct 100 people every day at the "Ozone Yoga Centre" for the rest of her life.
She became well-known on YouTube for her videos in which she was shown wearing a pink sari and executing challenging yoga poses.
Nanammal was devoted diligently to daily healthful practices and was dedicated to safeguarding the spiritual traditions of yoga. Her goal was to raise knowledge of yoga techniques among women, mostly female students at various educational institutions, to address various health-related issues, particularly those that arise after marriage.
Nanammal has received numerous honors and awards for her accomplishments, including the prestigious Padma Shri Award in 2018, the National Nari Shakti Puraskar Award from the then-President of India, Pranab Mukherjee, and the 2017 Yoga Ratna Award from the Government of Karnataka.
She died on 26 October 2019 after being bedridden from a fall from her bed.