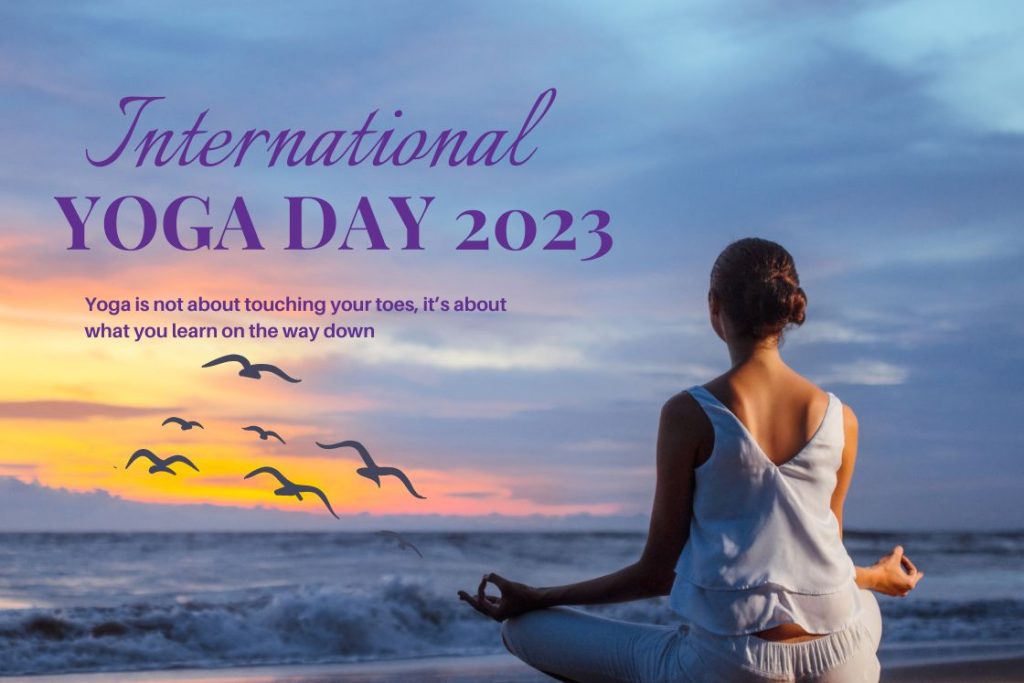 In 2023, International Yoga Day holds even greater significance as it marks another year of global participation and celebration. On the 21st of June, individuals and communities worldwide will once again unite in a shared mission to promote the ancient wisdom and transformative potential of yoga.
From the bustling streets of busy cities to the tranquil settings of serene natural landscapes, people of all ages and backgrounds come together to embrace the practice of yoga. Yoga sessions, meditation practices, workshops, and cultural performances will fill the day, creating an atmosphere of harmony and connection.
International Yoga Day serves as a powerful reminder that yoga is a practice that transcends boundaries. It unites people from diverse cultures, religions, and belief systems, emphasizing the universal values of inner balance, mindfulness, and compassion. Through the practice of yoga, individuals embark on a journey of self-discovery, cultivating physical strength, mental clarity, and spiritual well-being.
Beyond the physical postures and exercises, International Yoga Day sheds light on the holistic development of individuals and societies. It encourages us to foster a greater sense of harmony within ourselves and with the world around us. By embracing the principles of unity, mindfulness, and compassion, we can collectively work towards a more peaceful and balanced world.
As we approach International Yoga Day 2023, let us join the global community in celebrating the transformative power of yoga. Whether you are an experienced practitioner or new to the practice, this is an opportunity to deepen your understanding, explore new dimensions, and share the joy of yoga with others.
International Yoga Day 2023 Theme
The theme for International Yoga Day 2023 is "Yoga for Vasudhaiva Kutumbakam. This theme highlights the concept of Vasudhaiva Kutumbakam, which promotes the idea that the entire world is one interconnected family. It emphasizes the importance of unity, compassion, and global harmony through the practice of yoga. By embracing this theme, individuals are encouraged to recognize the interdependence of all beings and work together to create a sustainable and peaceful world for everyone.
International Day of Yoga Logo
On 29th April 2015, India's External Affairs Minister, Sushma Swaraj and Union Minister of State for AYUSH, Shripad Yesso Naik launched the logo for IDY.
There was an 18 member team of New Delhi based 'Panchtatva advertising' behind the creation of the logo. To increase the participation of people in this process, ideas also accepted from the different niches of societies and people.
Finally, Prime minister Modi approved the logo selected from AYUSH department for the IDY. This logo represents all the essentials which spread the real meaning of yoga, i.e., Union of Individual Consciousness with Universal Consciousness.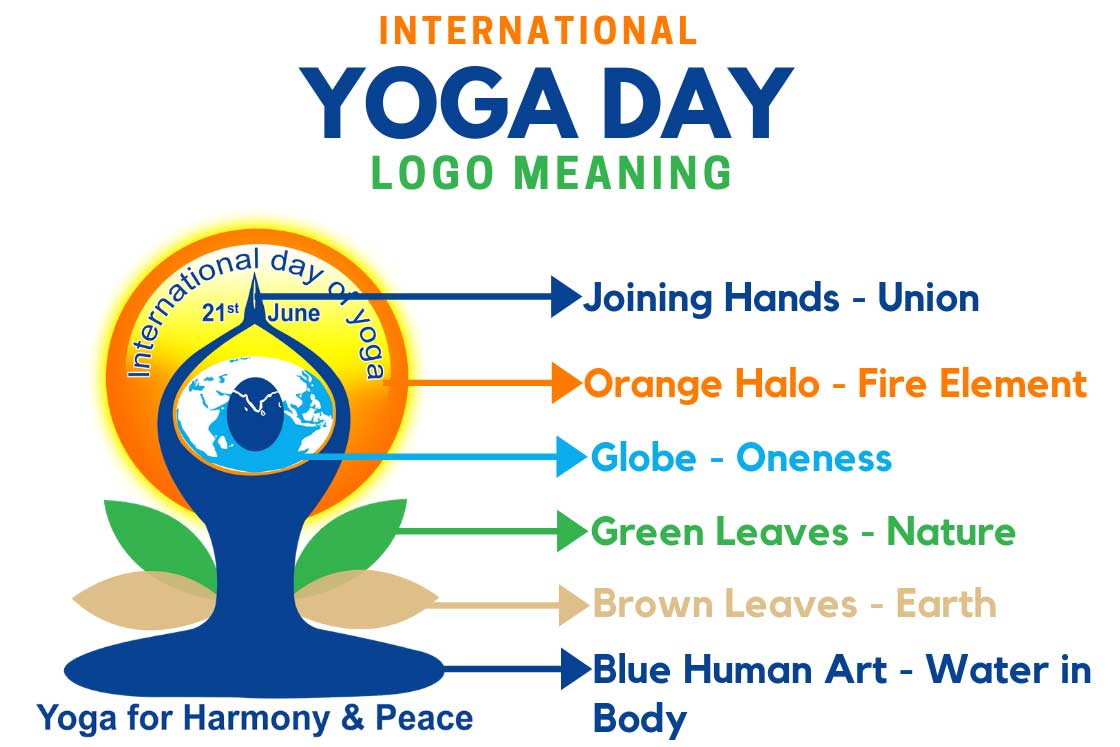 Color patterning and symbolism of the logo define the very core essence of ancient yogic knowledge. Understand it in this way.
White Background of Logo – White represents the universal consciousness.

The logo is inscribed itself on the white background. It means whatever we are doing in yoga, unites us with the Universal Consciousness.

Joining Hands – Human art having joined hands represents a state of harmony between the mind, body & soul.
2 Pairs of Leaves – Brown leaves represent – Earth while Green – Nature. It means yoga helps us to be grounded.
Human Art & Orange Halo – As human art filled with blue color, it represents how our body made up of excessive water (blue color). The orange shade of halo represents fire elements. As fire is the source of ultimate energy, it has given the first place in logo.
Globe Behind Human Art – It

symbolizes oneness and unity among all the people around the globe.

Words in Logo –

it represents the real purpose of yoga, i.e., why yoga masters spread it in the west

"

yoga for harmony and peace."
International Yoga Day 2022 Theme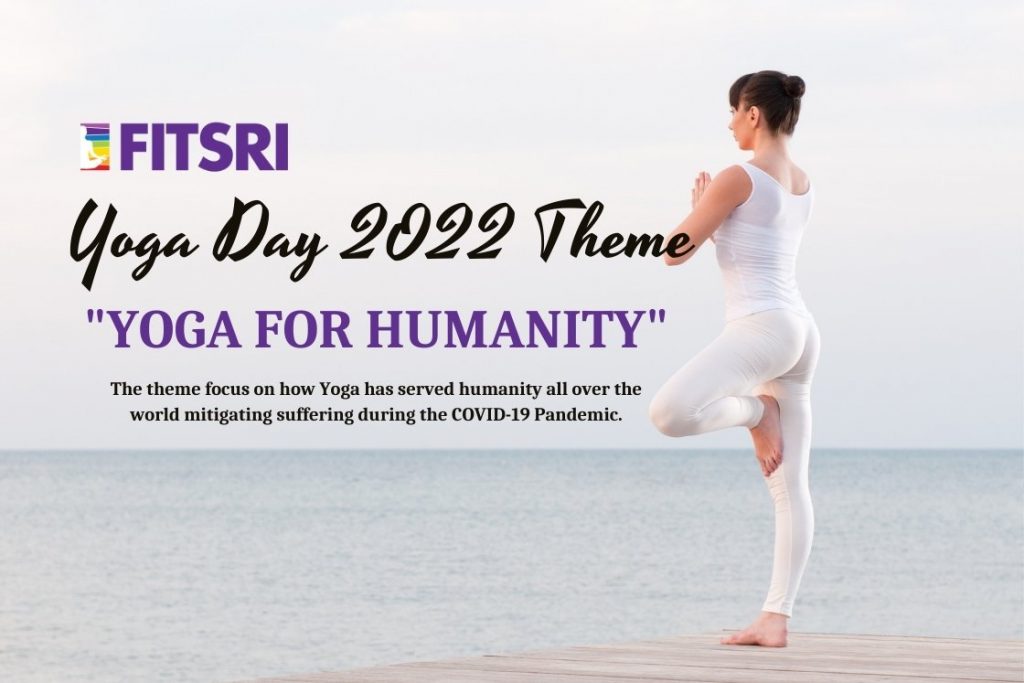 Yoga Day 2022 theme is "Yoga for Humanity", prime minister Modi announced on his radio programme Mann Ki Baat on 30th May.
The Union Ministry of Ayush set Yoga Day 2022 theme "Yoga for Humanity" focusing on how Yoga has served humanity all over the world mitigating suffering during the COVID-19 Pandemic. Indeed, it made everyone realise the importance of yoga during and post-Covid times to bring people together and promote a sense of unity across the globe.
Event
The main event of International yoga day 2022 will take place in Mysuru, Karnataka, on June 21, 2022. Likewise previous years, enthusiastic yogis and yoga gurus have already started planning to join the main event for different yoga activities.
The Union Ministry of Ayush, in collaboration with its many contributors, has devised a 100-day countdown plan for the 8th International Day of Yoga, in which 100 organizations promote yoga in 100 locations/cities.
Focusing on the theme of serving humanity, the ministry has designed programmes for the specially-abled population, transgenders, women and children. Through the 2022 yoga day event, the ministry is especially expecting village population to take part as local service centres are promoting awareness about yoga.
Because the 8th International Day of Yoga falls within the "Azadi Ka Amrit Mahotsav" year, the ministry has recommended that IDY 2022 be commemorated at 75 famous locations around the country.
This year's Guardian Ring event will take place on June 21st. It will be a marathon Yoga streaming event, with the initial proposal starting at 6 a.m. local time in Japan and capturing the digital feed of activities organized by Indian Missions around the world.
History of International Yoga Day
International day of yoga (IDY) is also commonly known as Yoga Day. From 2014 onwards, every year IDY is celebrated on the 21st June.
The proposal for IDY was made by the current prime minister of India, Mr Narendra Modi. On September 27th, 2014, He proposed the idea of celebrating 21st June as yoga day in front of the United Nation General Assembly (UNGA).
In the words of Mr Modi at UNGA,
Yoga is not merely a physical exercise but also helps us to discover the sense of oneness with ourself. Let we should work towards adopting a day on the name of Yogic practice i.e., International day of Yoga.
Indeed, Yoga is a primordial practise that mentally, physically, and spiritually provides energy in the form of calmness, courage, peace, and enthusiasm to the people. This energy people can utilize in doing their activities more vibrantly.
Declaration of 21st June as IDY
After the proposal made by the Indian Prime minister Mr Narendra Modi at UNGA, the declaration took place on December 11, 2014. The announcement of the IDY had an immense impact on the history of India.
Even in the history of UNGA resolution, not any single draft before adopted with this much support. One hundred seventy-seven nations supported the idea of celebrating 21st June as an international day of yoga. It was the maximum support ever any resolution has received before and therefore, unanimously United nations general assembly declared 21st June as 'International Day of Yoga.'
The International day of yoga day aims to raise awareness globally regarding the benefits of the pre-Vedic practice of ancient India. Yoga includes mindful breathing(Pranayama), meditation, and physical exercises like Asanas.
Why 21st June is celebrated as International Yoga Day?
Prime minister Modi further gave the reason behind proposing 21st June as International Yoga Day. He said,
21st of June is the longest day in the northern hemisphere (shortest in the southern hemisphere). Also, In yogic perspective, second full moon after 21st June was the day when Shiva (First Yogi) begun profounding Knowledge of Yoga to mankind.
21st June is also known as the June solstice. The June solstice is the summer solstice in the northern hemisphere and the winter solstice in the southern hemisphere. Scientifically, the sun reaches its highest point during its path this day, and therefore, the earth's axis is more inclined towards the sun. It makes this day longer than a typical day. Hence, From the perspective of yoga, this time is better for meditation also.
International Yoga Day 2021
The International Yoga Day 2021 was organized virtually owing to the COVID-19. The Union Ministry of AYUSH hosted the event, which began at 6:30 a.m with an address by PM Narendra Modi.
The year 2021 theme of Yoga Day was "Yoga for wellness".
The Ministry of AYUSH launched various programs to increase participation in the 7th International Day of Yoga (IDY 2021) such as:
Yoga Training: Common Yoga Protocol (CYP) and Yoga Volunteer Training (YVT) Course – To develop and disseminate knowledge and practice of Yoga among the people organized in collaboration with Morarji Desai National Institute of Yoga. It was broadcast live in English and Hindi on the MoA and MDNIY Facebook pages.
Prime Minister's Yoga Awards (PMYA) – Award for outstanding contribution towards the promotion and development of Yoga.
"Yoga & Me" Photography Contest – Post a photo of themselves doing their favorite Yogasanas (yoga postures) along with a brief description.
IDY Jingle Contest – Participants must submit a 25-30 second screenplay and jingle in any official language listed in the Indian constitution, English, and other UN languages. It should be simple to understand and connect with the general population. The winner will receive a cash award of INR 25,000.
IDY Discussion – Inviting suggestions for how people might participate in IDY 2021 at home with friends and family while also mobilizing the larger community.
IDY Quiz Contest – Access the quiz than through the MyGov platform from May 1, 2021, through July 31, 2021. Within 450 seconds, participants will be expected to answer 10 questions. Each participant will receive an e-certificate indicating their participation and completion upon successful completion.
IDY Pledge – Take the Yoga Pledge to make Yoga a regular part of their lives.
Yoga Survey/Poll – Citizens' perceptions of Yoga and the extent of IDY awareness and observance among citizens were the subjects of a survey.
International Yoga Day 2020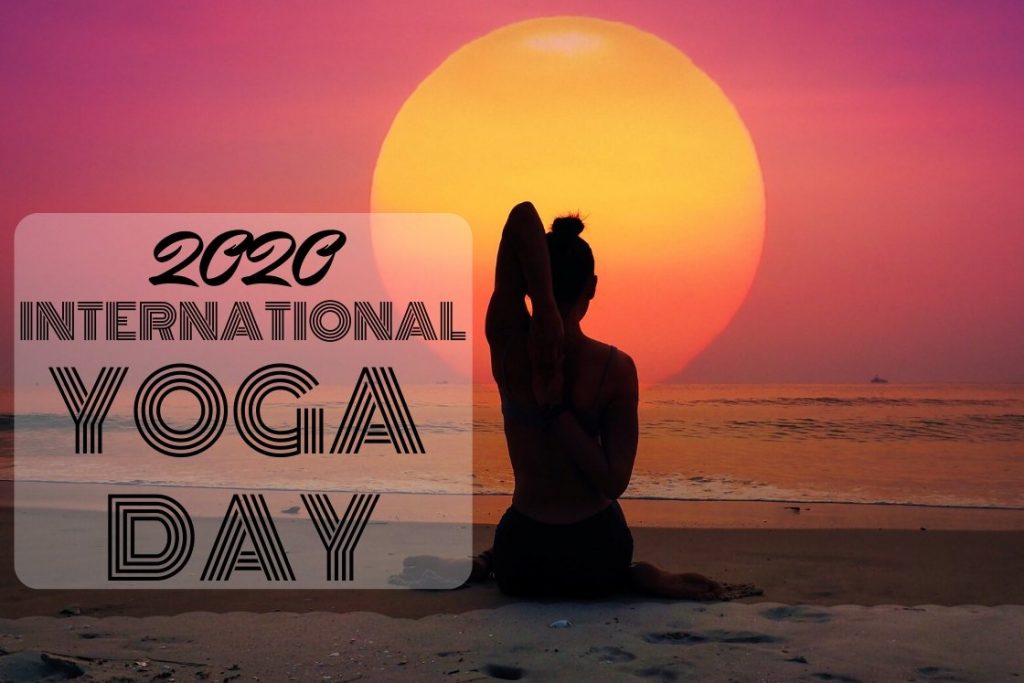 This year's 6th International yoga day will be celebrated on 21st June.
This year Coronavirus has affected all of us in some way, and our yoga studios shifted to home on smartphones and TVs. Amidst social distancing measures, yoga day will be celebrated this year in the home itself. United Nations has decided the theme of 2020 International yoga day "Yoga for Health – Yoga at Home".
During this challenging time of COVID-19 pandemic, studies have shown how the number of people suffering from depression, anxiety, and fear has risen. Yoga is helping peoples all around the globe to stay fit and healthy at home.
On encouraging this theme, the World Health Organization has stated in its "Global action plan on physical activity 2018–2030: more active people for a healthier world yoga as a means to improve health.
How International Yoga Day 2020 Will be Celebrated?
Every year people all across the world are encouraged to follow the 'Common Yoga Protocol (CYP)' program designed by the Ministry of Ayush, India. This program comprises simple yoga practices that can be done by any age group people to improve their physical, mental, emotional, and spiritual health.
Here is the last year's common yoga protocol:
This year United Nations has started a virtual event to celebrate yoga day with peoples around the globe.
International Day of Yoga 2019
The 5th annual IDY celebrated on Friday 21st June 2019.
The theme of International Day of Yoga 2019 – In the year 2019, the United Nation has decided, yoga will celebrate on the Theme of 'Climate Action.' The change in climate is affecting all people around the globe, and having understanding the core meaning of yoga can prevent climate change.
The way practicing asanas brings equanimity between body and mind. In the same way, the overall practice of yoga creates a harmonic connection between our body and nature. Reckless human activities are causing harm and destruction to the planet, which causes changes in the climate.
Therefore the UN has decided to spread awareness regarding climate change by practicing yoga. It solely connects our body with nature therein provoking environmental friendly activities.
Planning for IDY 2019
Governments around the world are planning to organize a large gathering for people to practice yoga. To support the theme of 2019 yoga day, Department of AYUSH (India) has planned to organize yoga gathering at the lap of nature.
The Venue of IDY 2019
In India, IDY 2019 will be celebrated at Prabhat Tara, Ranchi, Jharkhand on 21st June . PM Modi will lead this event and 30,000 yoga enthusiasts expected in the main mass yoga demonstration event. On 13th June at Ranchi, in presence of several State Dignitaries, there will be Curtain raiser event to the main event.
Apart from Jharkhand, Patanjali Yogapeeth had reported organizing some significant events around the different states of India. These events for IDY 2019 will be held in some big states of India, namely Maharashtra and Haryana.
Also, in the Islands of Lakshadweep, there will be a mass demonstration of yoga at Kavaratti.
Activities on Yoga Day 2019
Preparation for yoga day 2019 has begun with the announcement of certain advanced activities which the Indian Government has organized. It consists of a 5-day Trainers Training Programme on Common Yoga Protocol (CYP). This program is to prepare participants for the IDY event.
The event activities on 21st June 2019 would cycle rally for youth, seminars, workshops, musical chair and cultural programs on Yoga. To publish this event with a broad audience, banners, posters will publicly be added to the atmosphere. The mass yoga demonstrations will begin at 7 a.m. on 21st June as per the Common Yoga Protocol (CYP) and will end in one hour.
International Day of Yoga 2018
The fourth International yoga day celebrated on the 21st of June 2018.
1. Highlights – This time again prime minister Modi celebrated this event with 50,000 volunteers. Also, in Kota Rajasthan, 100,000 yoga practitioners gathered in a yoga session and established the Guinness World.
2. Location – PM Modi celebrated International day of yoga 2018 at 'forest research institute' in Dehradun.
3. Theme – "Yoga for Peace"
International Day of Yoga 2017
The third International yoga day celebrated on 21st June 2017.
1. Highlights – While creating more new records for Indian history, People from 150 countries participated in this event. The total number of participants gathered at Lucknow to practice yoga was 51,000. Also, 10,000 people had done group yoga in the city of Wuxi (China).
2. Location – The event took place in different cities around the world. In India, the celebration held in Lucknow, Uttar Pradesh. In China, People gathered in a city called Wuxi.
3. Theme – Theme of international yoga day 2015 was "Yoga for health."
International Day of Yoga 2016
2nd International yoga day also celebrated with the same enthusiasm all around the world.
1. Highlights – PM Modi gathered in a mass yoga demonstration of 30,000 people along with 100 differently-abled (Divyangs) children.
2. Location – International yoga day 2016 celebrated at the Capitol Complex in Chandigarh.
3. Theme – Theme of international yoga day 2015 was "Connect the Youth."
International Day of Yoga 2015
The first International yoga day celebrated on the 21st of June 2015 in different countries. People gathered in large numbers on some parks and monuments and practiced yoga in a group.
Here are some brief points which cover the information about IDY 2015.
1. Highlights – In this event, along with Priminister Modi, 35,985 people practiced 21 asanas for 35 minutes altogether at one place.
This event had established two Guinness World Records.
the largest yoga class

most significant number of nationalist participated from the 84 countries of the world
United nations also celebrated the IDY. UN secretary Ban Ki-moon also mediated and practiced some asanas under the instructions of spiritual leader Sri Sri Ravi Shankar.
2. Location – International yoga day 2015 celebrated at Rajpath in New Delhi.
3. Theme – Theme of IDY 2015 was "Yoga for Harmony and Peace."
Conclusion
IDY is celebrated widely and supported by global leaders. Thus the event is celebrated in more than 170 countries including Canada, USA, China, etc.
It is celebrated on a global level by organizing various activities like yoga camps, competitions, workshops, training fields, and many more to provide awareness among the common public about the importance of yoga.
This event is celebrated with such enthusiasm to make people aware that regular practice of yoga leads to mental, physical, and intellectual health. It helps to refine the lifestyle with positive changes.