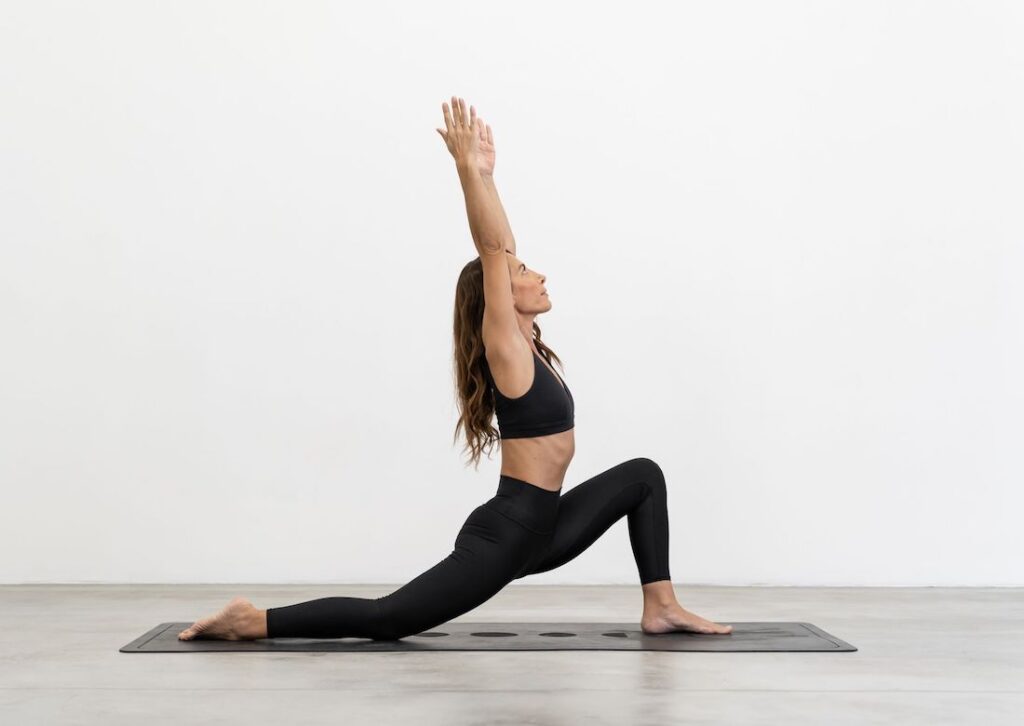 Cathy Madeo is highly influential figure in the world of yoga, recognized for her expertise and contributions to the field. As an entrepreneur and social media influencer, she is the founder of Cathy Madeo Yoga, a global online yoga school that focuses on educating and empowering individuals through yoga.
Cathy Madeo has a rich background in yoga, with over 20 years of teaching experience and 30 years of personal practice. She has earned the designation of E-RYT 500-Hour RYT yoga instructor, highlighting her advanced knowledge and skills in yoga instruction.
In addition to her role as a yoga teacher, Cathy Madeo is known for her influential online presence in yoga, with a dedication to spreading wisdom since 1994 and teaching since 2004. She offers high-quality online courses and Yoga Teacher Trainings for all levels, aligning with her mission to transform lives through yoga. Her expertise in addressing yoga-related concerns like wrist pain enhances her reputation.
Cathy Madeo's Biography
Early Life and Background
Cathy Madeo, originally from West Virginia, relocated to Melbourne, Florida, at age 10. She attended Interlochen Arts Academy, known for its performing arts focus, and later studied at The Theater School at DePaul University after moving to Michigan at 16.
However, her path diverged when she decided to relocate to Los Angeles with the aim of pursuing an acting career. From 1994 to 2004, she established herself as a commercial actress, featuring in advertisements for renowned brands such as Nike, Blue Shield, Martini & Rossi, and Ford Focus.
Cathy Madeo is 48 years old (as per Oct 2023) with nearly 30 years of experience in practicing yoga. She mentioned this in a facebook post.
Cathy Madeo's Educational Journey in Yoga
Cathy Madeo's contributions include empowering individuals through online yoga programs and teacher training, fostering a global yoga community, and enhancing well-being. Her expertise has made a significant impact.
Furthermore, Cathy's social media influence has played a pivotal role in spreading the benefits of yoga to a broader audience. Through her online presence, she has inspired and educated people on yoga practices and its positive impact on physical and mental health.
Her dedication to promoting wellness and her role as a yoga influencer have undoubtedly contributed to building a stronger and more informed yoga community, making yoga accessible to individuals from all walks of life.
What Yoga Style Cathy Madeo Follow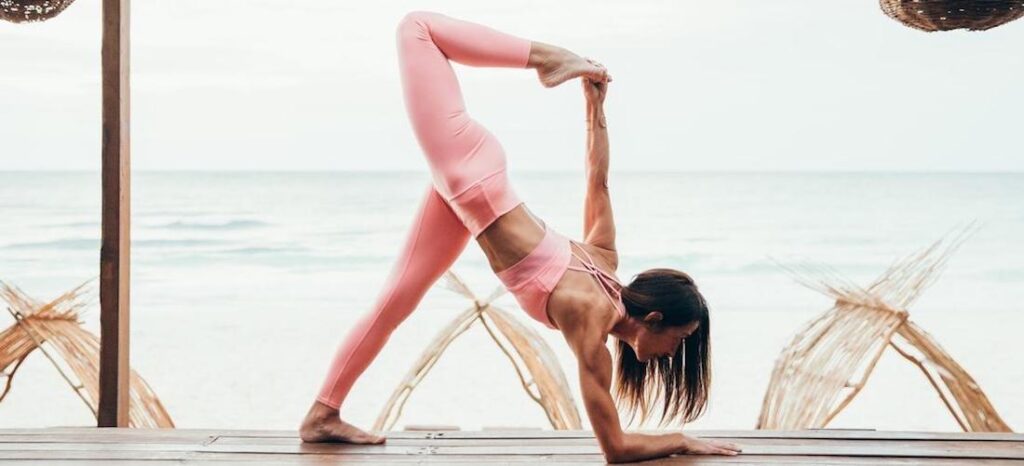 Cathy Madeo specializes in Alignment-Based Vinyasa Yoga. This style of yoga focuses on precise alignment and mindful movement within a flowing sequence of poses. It combines the principles of Vinyasa, which emphasizes linking breath with movement, with a strong emphasis on proper alignment to promote stability, flexibility, and strength.
Alignment-Based Vinyasa Yoga, as taught by Cathy Madeo, encourages students to understand the "why" behind each yoga pose, helping them build a deeper awareness of their bodies and alignment. This approach is suitable for practitioners of various levels, as it allows for modifications and variations to suit individual needs.
Cathy Madeo's teaching style promotes a holistic approach to yoga, emphasizing not only the physical aspects but also the mental and spiritual components of the practice. Through her extensive experience and dedication to yoga, she offers a comprehensive and enriching yoga experience to her students.
Cathy Madeo Yoga Teacher Training Approach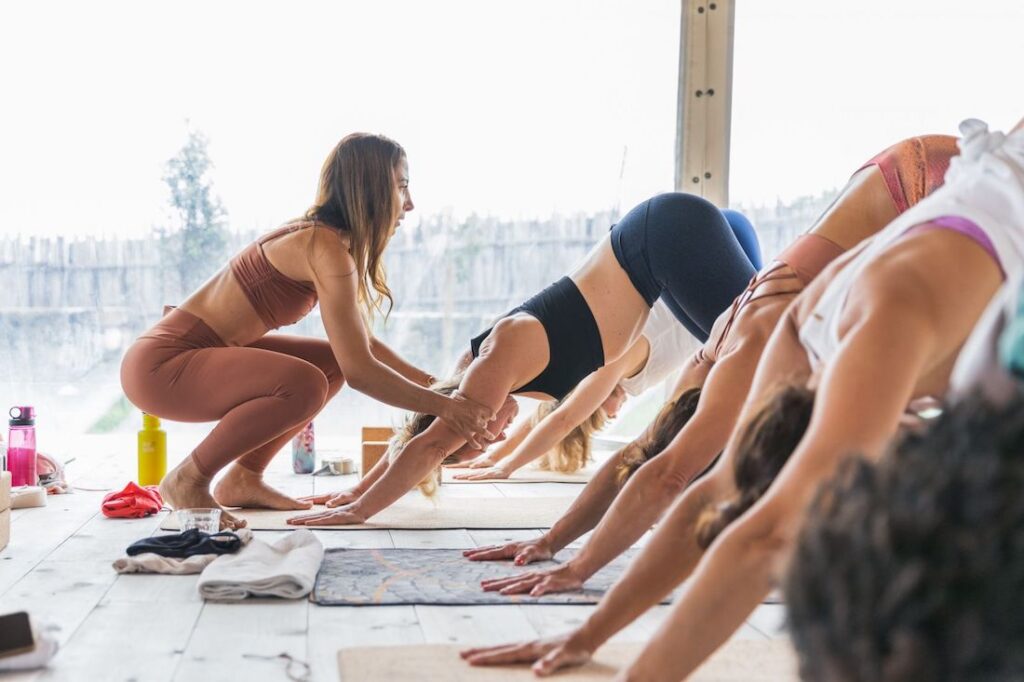 Alignment-Based Vinyasa Yoga: Cathy Madeo's teacher training program is centered around Alignment-Based Vinyasa Yoga. This approach emphasizes the importance of proper alignment in yoga postures. It focuses on teaching students how to align their bodies correctly in each pose to ensure safety, prevent injuries, and deepen the practice.
Comprehensive Training: Cathy Madeo's yoga teacher training is comprehensive and covers various aspects of yoga practice, including asana (postures), pranayama (breath control), philosophy, anatomy, and more. This holistic approach provides trainees with a well-rounded understanding of yoga.
Online Training: Cathy Madeo offers online teacher training programs, making it accessible to a wide audience. This allows individuals to deepen their yoga practice and become certified yoga instructors from the comfort of their homes.
Transformational Experience: The teacher training program is described as a transformational experience that goes beyond the physical practice of yoga. It promises to deepen one's understanding of yoga, providing deep insights into the practice.
Activate Your Core Program by Cathy Madeo
Activate Your Core is a program offered by Cathy Madeo through her platform, Cathy Madeo Yoga. This core-focused workout series is designed to educate individuals about their core muscles, how to engage them effectively, and includes a variety of core exercises that can be done at home or anywhere convenient.
Key Features:
Core Education: The program emphasizes understanding the core muscles and the proper techniques to engage them during workouts.
Diverse Exercises: Cathy Madeo provides a wide range of core exercises to target different muscle groups within the core.
Strength and Flexibility: The program not only aims to strengthen the core but also enhance flexibility and overall fitness.
Online Access: "Activate Your Core" can be accessed online, making it convenient for individuals to follow along from the comfort of their homes.
Variety: Cathy Madeo also offers an upgraded version, "Activate Your Core 2.0," which incorporates various drills and weight-bearing positions to ensure a comprehensive core workout.
Cathy Madeo's "Activate Your Core" program is suitable for anyone looking to improve core strength, stability, and overall fitness. It can be a valuable addition to a yoga practice or as a standalone fitness routine.
FAQs About Cathy Madeo
Q1. Who is Cathy Madeo?
Cathy Madeo is a yoga expert with over 20 years of teaching experience and 30 years of practice. She is the founder of Cathy Madeo Yoga, a global online yoga school.
Q2. What is Cathy Madeo's expertise in yoga?
Cathy Madeo is highly experienced in yoga, with expertise in vinyasa yoga styles and alignment techniques, as well as extensive teaching experience.
Q.3 How Can I access Cathy Madeo's Yoga Teachings?
You can access Cathy Madeo's yoga teachings through her online platform, Cathy Madeo Yoga, where she offers a range of online yoga classes and training programs.

Q4. What is Cathy Madeo's net worth?
According to publically available resources, Cathy Madeo's estimated net worth is around $1.5 million accrued through her yoga business and partnerships.