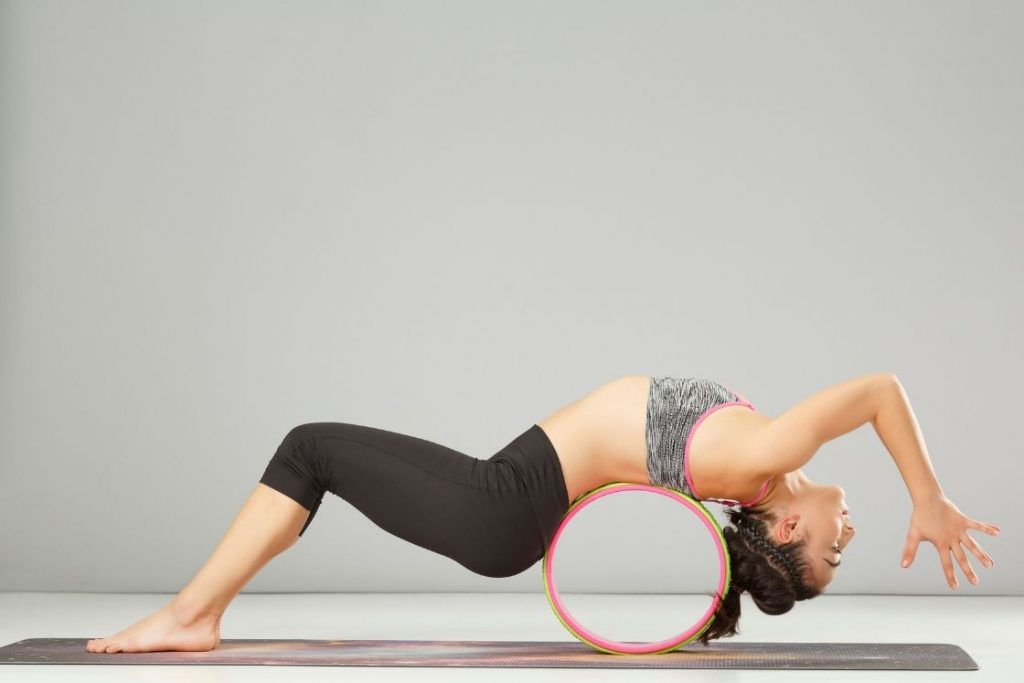 Feeling yoga stretches a bit too overwhelming? Or wishing you could stay still in a yoga posture a little longer? Introduce yourself to the yoga wheels, the best props designed for your deeper stretches, core work, and seemingly impossible balancing yoga postures.
Yoga wheels are hollow cylinders made from wood or plastic. They aid your yoga practice, enhancing its effects and customizing it. So, if you feel discouraged for not being able to attain the seated forward bend, the yoga wheel is there to support you.
What should you consider while buying a Yoga Wheel?
Buying a yoga wheel can be a tricky business. Yoga wheels are available in different sizes, materials, durability, and weight loads. If you want to add one prop to your yoga gear or personal props collection, you must do it right.
Here are a few points you can consider while buying the best yoga wheel.
1. Size
The yoga wheels are available in 3 different sizes- mini, standard, and plus size. The mini ones are suitable for practitioners who have a height of 5 feet or lower. They offer a more focused massage to your back.
The standard size of yoga wheels with a 12-inch diameter is useful for almost everybody build. Advanced practitioners can go for plus-sized yoga wheels for deep stretches. Practitioners looking for achieving stability with a yoga wheel can choose one with a 5–6-inch diameter.
2. Material
Most commonly, the yoga wheels are made of plastic. Some of them are crafted from wood. But the frames of the wheels are made using PVC or ABS plastic. Both materials are strong and durable. However, ABS plastic is more shock-resistant. You can go for yoga wheels made of ABS plastic as they are durable and less expensive.
Wooden frames can take comparatively less weight load than plastic. However, they are eco-friendly and sustainable. Wooden yoga wheels are also expensive and rare to find.
3. Padding
Yoga wheels differ in the thickness of padding. If you are sensitive to hard surfaces, it is better to go for a wheel that offers thick and comfortable cushioning as well as less painful sensations.
You can consider choosing foam padding yoga wheels that are non-slip and water-resistant. Some manufacturers also add a leaf vein structure to ensure an extra grip when you perform balancing yoga poses.
4. Weight Load
Most of the yoga wheels that are available in the market take up to 400-500 lbs (182-227 kg). If you want to use the wheel to sit and stand while doing yoga practices, go for a stronger one. Thus, while choosing a yoga wheel, first consider your requirements and what you are going to use it for.
The safe practice of a yoga wheel can only be ensured if you check the weight limit of the wheel before buying.
5. Shape
Although circular is the most common shape of the yoga wheels, it can be hard for beginners who are looking for balance and a less painful experience.
If you are beginning your yogic practices, go for an elliptical radiant design. They offer two surfaces – one rounded for deeper bends and other stress-free curves for muscle release. Go for the shape that suits your practice style and level of practice.
10 Best Yoga Wheels
When you have understood your practice style and requirements, picking the right one for you remains another important decision. Don't worry. We have got it covered for you.
Here is a list of high-quality and durable yoga wheels that you can choose from.
1. Acumobility The Ultimate Back Roller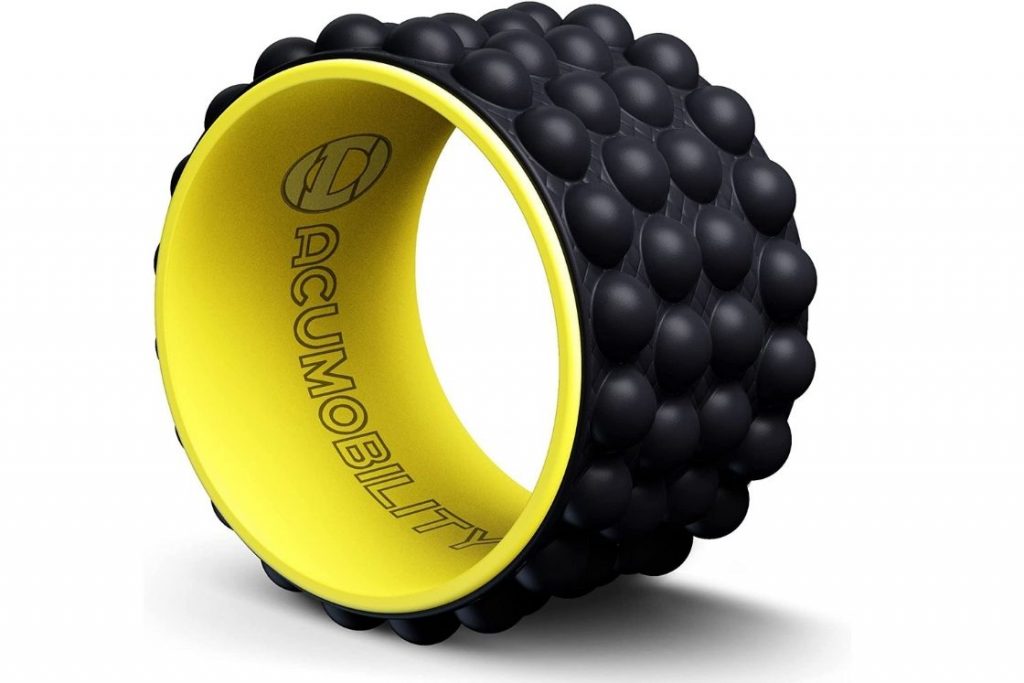 Material- Ethylene Vinyl Acetate
Dimensions – 11.3*7.48* 11.3 Inches
Weight- 3.4 Pounds
Designed by a chiropractor, Acumobility back roller is the best choice if you are looking for a nice back massage and spinal extension and flexibility. It is designed with bumps to offer effective back massage. The gap between the bumps so that there is no excessive pressure is put on the spine.
You can use it for back extensions. The Acumobility yoga wheel works on all body parts including neck, lower back, hips, glutes, hamstrings, calves, and shoulders as well as chest. The high-grade EVA foam maintains toughness and durability. The Acumobility Ultimate Back Roller is a great choice for practitioners of any level.
Pros
Perfect for any body weight
More width makes it excellent for chest workouts
Easy to use and travel friendly
The bumps offer a tissue massage like feeling
Beneficial for desk workers or people who sit in a hunched position for long duration.
Cons
The bump may feel squishy for some
May not be suitable for people who need hard compression
The size may seem to large for some practitioners
2. UpCircleSeven Yoga Wheel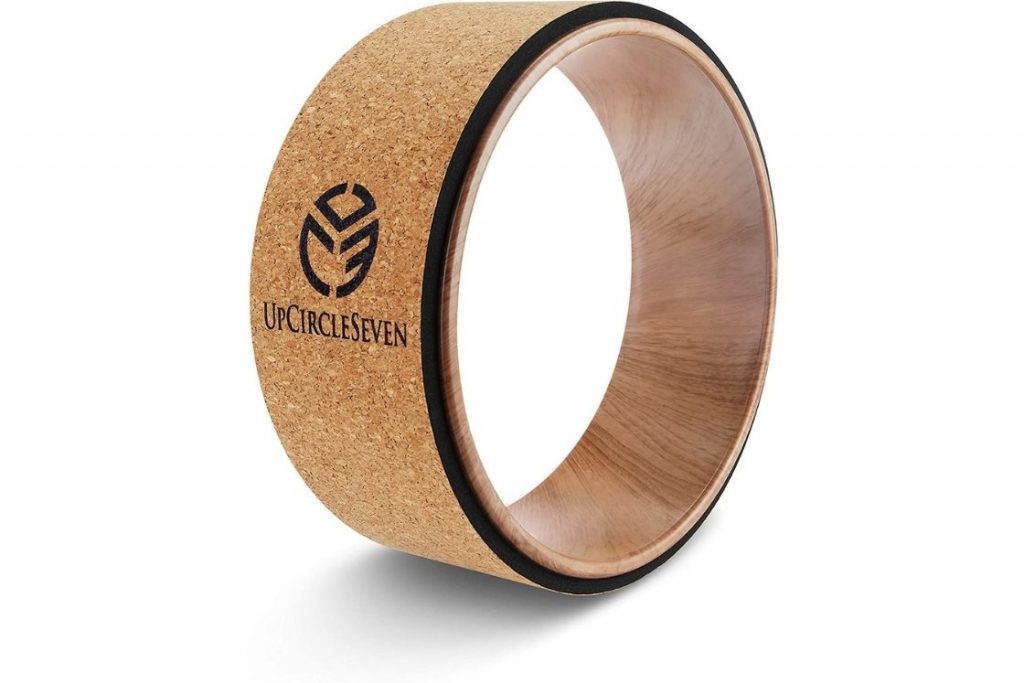 Material- Acrylonitrile Butadiene Styrene
Dimensions – 12*5*12 Inches
Weight- 3.59 Pounds
The UpCircleSeven yoga wheel is the best back wheel for long-lasting relief. It helps release muscle tension in your upper and lower back. This wheel has a thick foam padding and conforms with your spine to provide relief. Designed with a 550+lbs weight capacity which makes it ideal for all practitioners.
You can perform deep back stretches, bending, as well as many relaxing postures. Its non-flexing ABS frame better supports your practice without causing any discomfort. The UpCircleSeven Yoga Wheel is a great choice for all yoga practitioners.
Pros
Relieves stress from the muscles
Comes with a thick foam padding with a non-slip texture
Strong material which prevents flexing or breaking of the wheel
Can be used for other body areas that require stretching
Can also be used as a prop for yoga poses
Cons
The width of the wheel can be narrow for some practitioners
With medium firmness, it may feel too hard for some users
3. Philosophy Gym 13-inch Professional Yoga Wheel Roller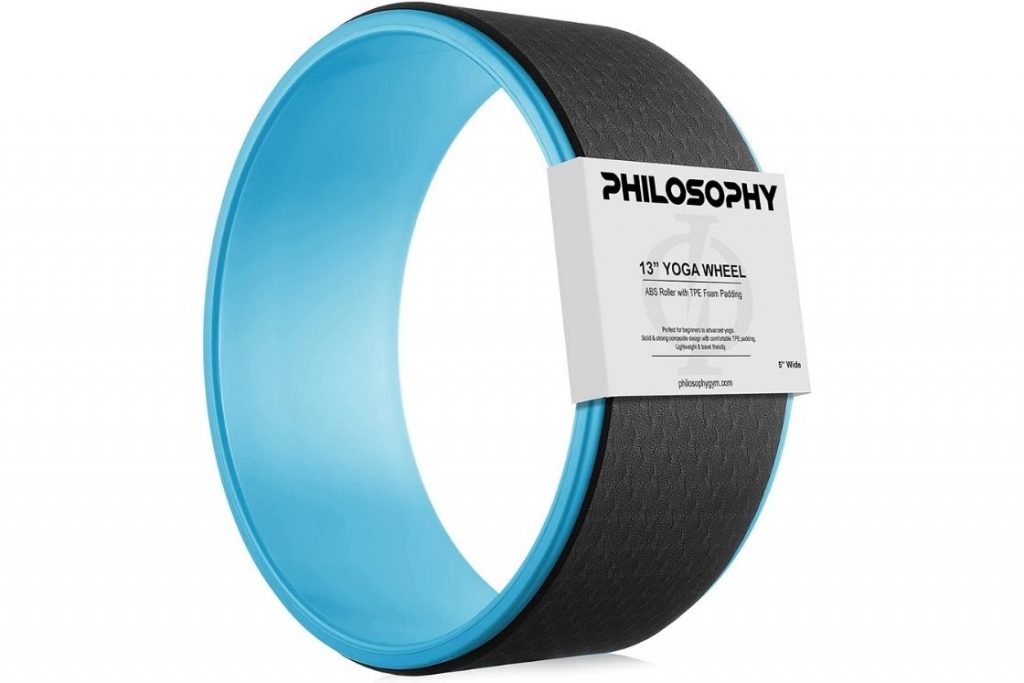 Material- ABS plastic and TPE foam
Dimensions L*W*H- 13*5*13 Inches
Weight- less than 3 Pounds
If you are willing to take your yoga practice to the next level, take it with the strong and durable Philosophy Gym 13-inch yoga wheel. It is crafted from high-grade ABS plastic and PTE foam that ensures safe use. The foam is moisture-resistant so you can complete your sessions without worrying about sweat and odor.
It features thick padding for superior comfort and firm grip. The Philosophy Gym 13-inch yoga wheel is designed to take 500lbs weight and is great for building stamina and strength. It features a streamline with 5inch width that is ideal for supporting your shoulders and back. Its ergonomic design allows you to perform backbends, chest-openers, alignment, core strength, and balance exercises.
Pros
Lightweight and Easy carry
Moisture and sweat resistant foam
Extra thick foam gives a form grip and padding
Cons
The diameter size can be too large for some people
4. Chirp Wheel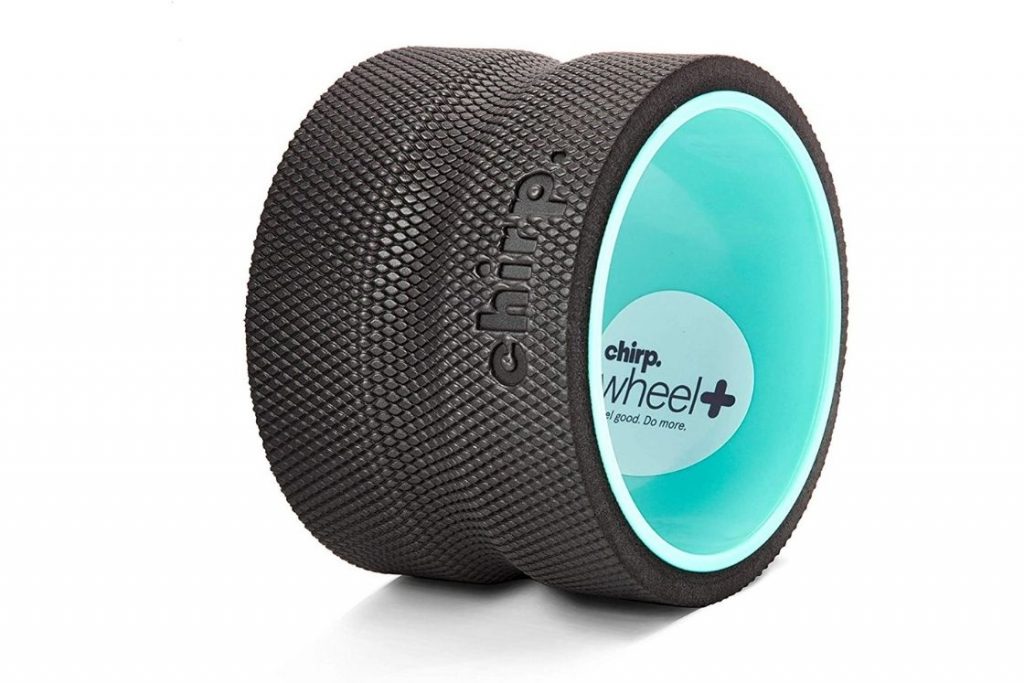 Material- ABS plastic and TPE foam
Dimensions L*W*H- 13*5*13 Inches
Weight- less than 3 Pounds
Increase your strength, flexibility, and balance with the Chirp Wheel. It features skid-resistant padding that provides a comfortable stretch to your muscles without any strain. Its strong injection moulded rigid core can take up to 500lbs weight.
The Chirp wheel has a unique design that features spinal grooves to protect your spine by redistributing the pressure on your muscles. This yoga wheel is useful for both beginners and pro practitioners. Also, it is an affordable choice that will support your yoga practice for a long time.
Pros
Unique design with special spinal grove
Come in various sizes
Skid-resistant and eco-friendly padding
Provides a deep tissue massage like sensation
Athletes and gym going people can also greathly benefit from it
Cons
The price is on the higher side
5. Aozora Yoga Wheel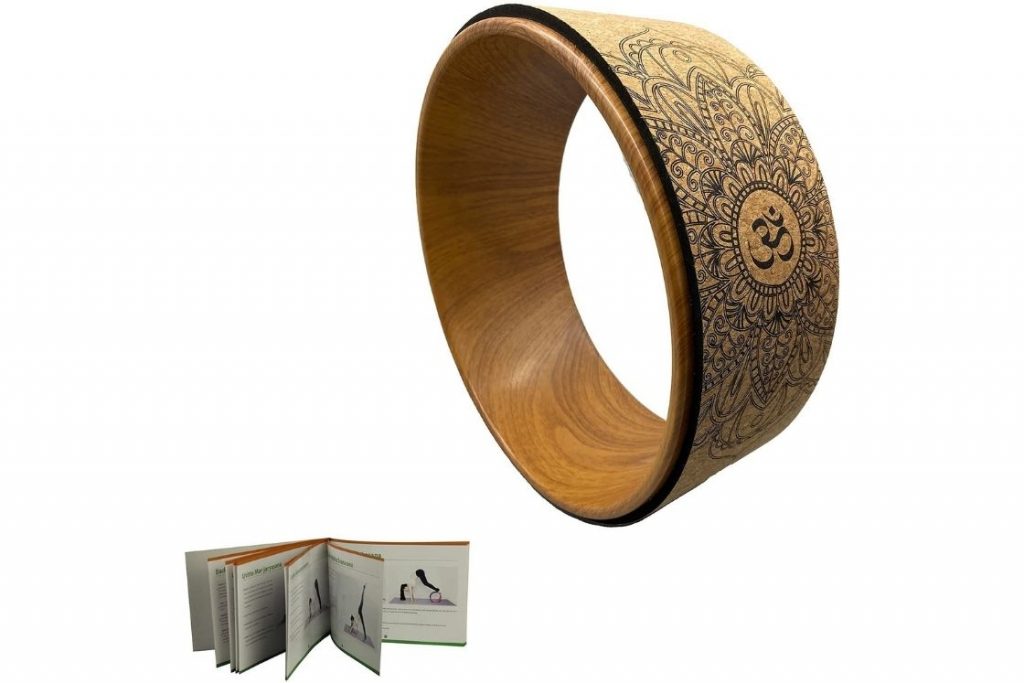 Material- Bamboo and cork
Dimensions L*W*H- 13*5*13 Inches
Increase your strength and stability as you perform challenging poses with the Aozora Yoga Wheel. It is designed with an extra thick outside padding to comfort your spine. The PTE foam ensures safe and comfortable use. Plus, its attractive design will be loved by all.
This Aozora Yoga Wheel has 500lbs strength that can support anyone while performing any pose. It is crafted with a speciality injection moulding process that offers incredible strength and safety. The ideal design of this yoga wheel makes it suitable for beginners and advanced practitioners alike.
Pros
Comes with a detailed guide book
Sturdy and lightweight
Anti slip and sweat resistant padding
Made from eco-friendly cork material with foam padding
Cons
The size may be large for average heighted people
Bamboo wheel may feel too hard and inflexible
6. Shogun Sports Yoga Wheel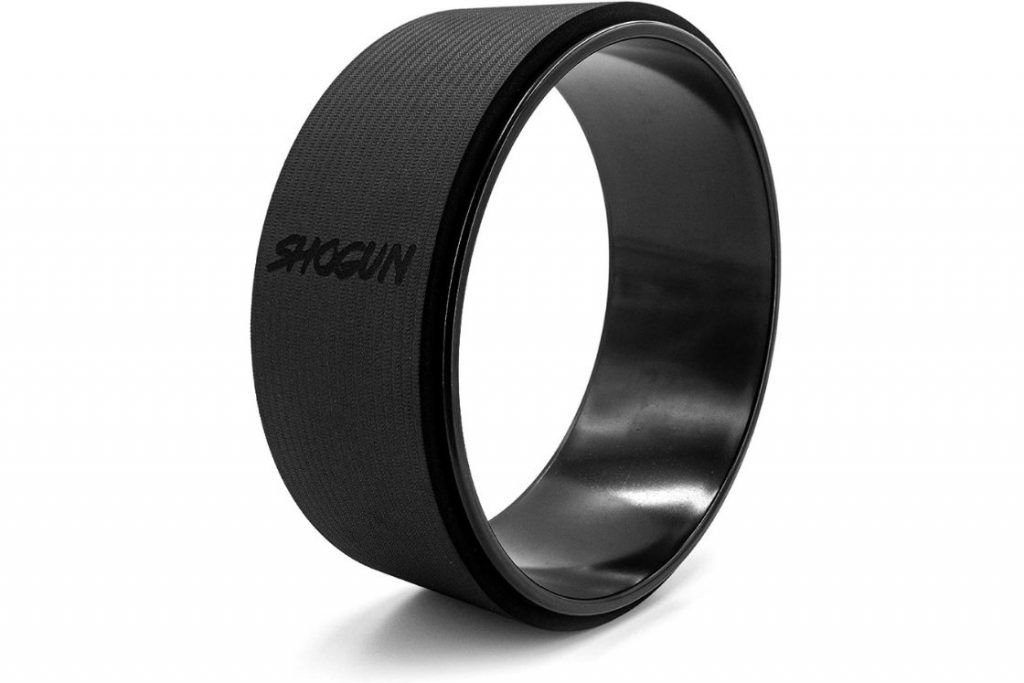 Material- ABS wheel and TPE padding
Dimensions L*W*H- 6", 10" & 12" and 5" wide
Stretch all parts of your body comfortably with the Shogun Sports Yoga Wheel. It supports up to 500lbs and hence is ideal for all practitioners to stably practice using this. The 10mm thick padding of this Shogun yoga wheel is excellent for your spinal comfort.
It features skid-resistant TPE padding that ensures the comfort of your skin as you practice. The strong ABS inner core offers incredible strength and durability. Its unique design makes the wheel suitable for beginners and advanced practitioners.
Pros
Extra thick padding
Comes in sizes from 6" to 12"
Easy return policy with 1 year warranty
Moiture resistant and double skid-resistant
Cons
Some practitioners may find the width too small
Extra padding may be too firm for some
7. Flex Connex Yoga Wheel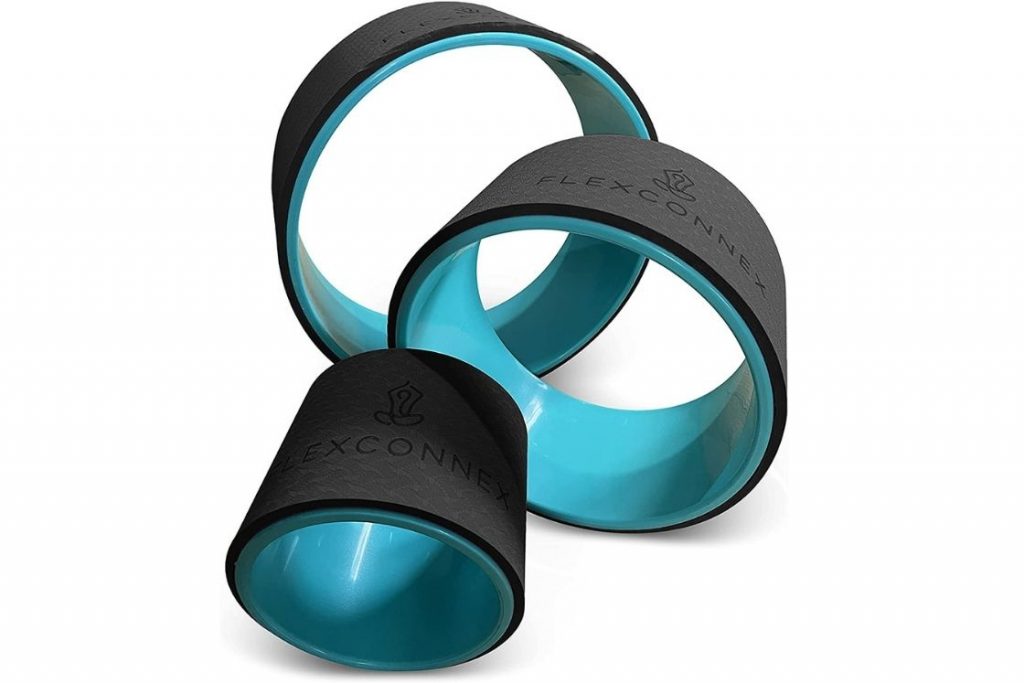 Material- ABS inner core
Dimensions L*W*H- 6", 10" & 12.5" and 5" wide
Be able to practice advanced yoga comfortably with the Flex Connex Yoga Wheel. It has a unique design that works well with your upper and lower back, shoulders, neck muscles, and supports you through intense yoga postures.
The Flex Connex yoga wheel is crafted from a strong ABS inner core that supports up to 500lbs. It is an excellent choice for your back massages, building core strength, and taking your stretching to the next level.
Pros
3 pressure level to choose from as per your training needs
Comes with a portable yoga bag
Great price for 3 wheels
Cons
The padding may be too firm for some people
8. Zenocity Yoga Wheel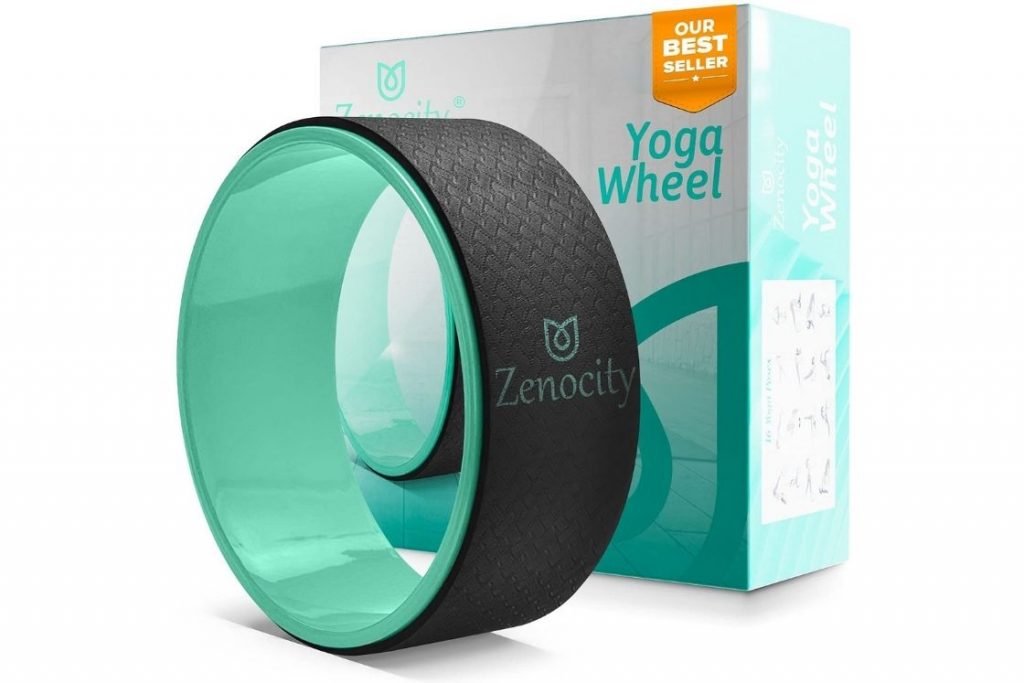 Material- ABS inner core & TPE padding
Dimensions L*W*H- 13*5*13 inches
Weight – 3.64 pounds
Bend and stretch comfortably in your yoga postures with the excellent Zenocity Yoga Wheel. It is designed for practitioners from 4 to 6ft height and offers a comfortable and stable yoga time. Its thick padding is suitable for your skin and also aligns better with the spine.
The high-end technology used in making this yoga wheel ensures the best use in meditating, relaxing, and healing poses. Its top-notch material is an indicator of long-lasting use. The Zenocity yoga wheel is an incredible choice for beginners.
Pros
Economical price
16 yoga poses guide included
Sturdy and comfortable
Comes with a lifetime warranty
Cons
Not recommended for people above 500lbs
9. Gonex Yoga Wheel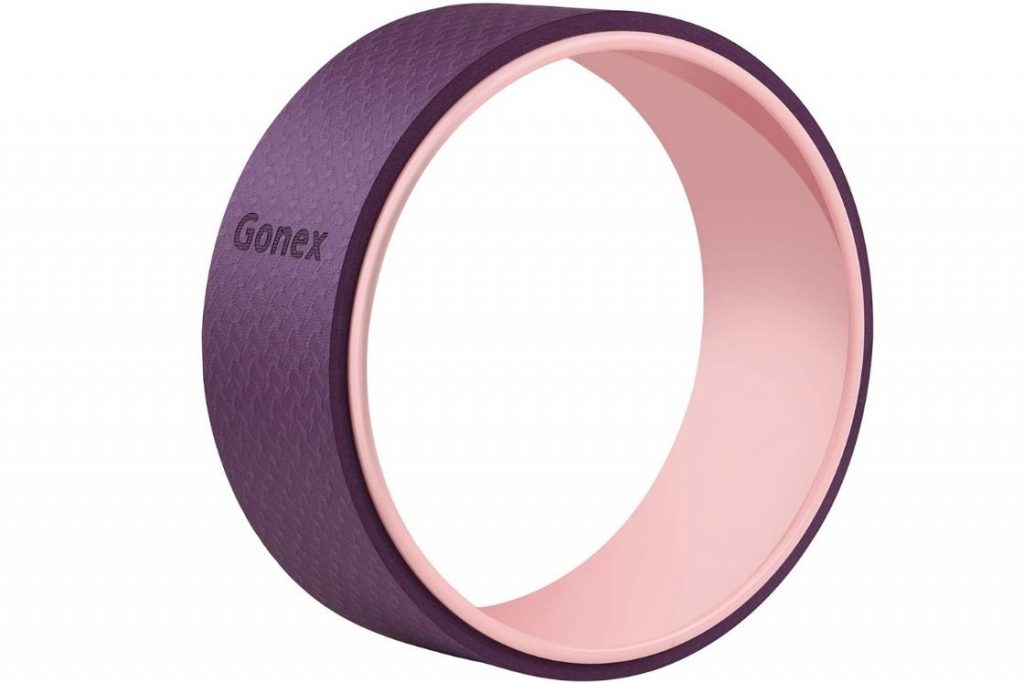 Material- New-type PP material inner core & TPE padding
Dimensions L*W*H- 13*5*13 inches
Perform all your favorite yoga poses with ease and balance using the Gonex Yoga Wheel. It's 10mm external thickness is resilient for all kinds of yoga postures. It is crafted using a high-grade PP material that withstands the test of time. Plus, the TPE foam with an anti-slip surface offers great stability.
The Gonex yoga wheel has a distinctive design that is suitable for beginners, intermediate, and advanced practitioners alike. You can perform stretching, balancing, chest-opening exercises with this yoga wheel.
Pros
Economical price
Includes 34 set of movement teaching
Anti-slip, extra thick, comfortable & sweat resistant padding.
Cons
The padding may feel too firm and uncomfortable
The size may be large for average heighted users
Can only sustain 330 lbs
10. Seven Sparta Yoga Wheel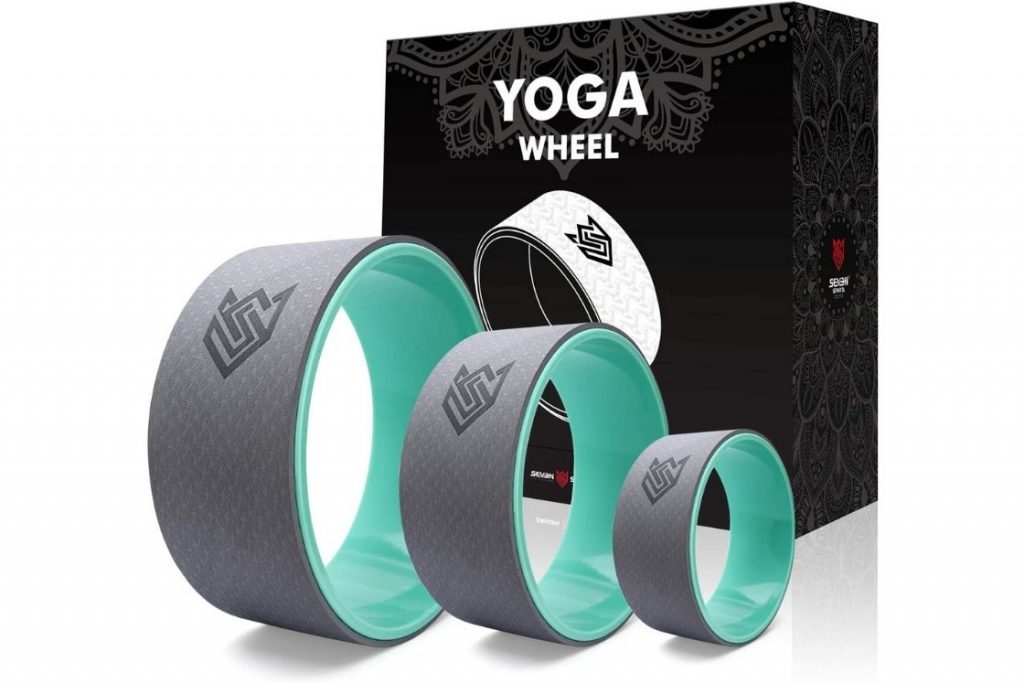 Material- ABS inner core & TPE padding
Dimensions L*W*H- 6.5", 10.5" & 13" and 5.1" wide
Weight – 7.1 pounds for 13" wheel
Prevent functional disorders like muscle tightness and chronic back pain with this sturdy and comfortable Sever Sparta Yoga Wheel. It is a set of 3 different sized yoga wheels that make your yoga practice dynamic. You can use different sizes according to the posture you perform.
Made of excellent ABS and TPE material, this yoga wheel offers strength and durability. It can withstand 550lbs and is thus suitable for practitioners of all body types. The non-slip and sweat-resistant TPE lets you have a comfortable yoga time. This is a great choice for beginners and pro practitioners.
Pros
3 different sizes to target different areas
Brand offers 30-days money back guarantee
Non-slip and sweat resistant padding
Comes with a carry bag and workout guide
Cons
At 7.1 pounds, it is heavier that other yoga wheels
The padding may seem firm
Who can use the yoga wheels?
If you have enrolled in a yoga class, you must have seen these wheels in the studio. They are also popping up on the internet being used by yogis and instructors. The use of yoga wheels has particularly gained attention because of its all-encompassing ability. Anyone, beginner or an advanced practitioner can use the yoga wheel alike.
The beginners can use the yoga wheels as support to practice difficult postures. The wheels can increase endurance, thereby allowing them to stay stable in a posture for an extended time. Beginners can also try basic sequences like shoulder stand, plow pose, child's pose, and lunges with the support of yoga wheels.
A yoga wheel is suitable for advanced practitioners as well as it helps in deepening the practice. Wheels are an excellent aid in supporting your back while performing advanced back bending or stretching. Furthermore, incorporating yoga wheels is good to uplevel your practice and keep you motivated without fearing injuring yourself.
However, it must be kept in mind that wheels prove good for the yoga practitioners who perform more active styles like Ashtanga, Vinyasa, or power yoga. The use of yoga wheels is not suggested to practitioners who are more into restorative and yin yoga.
Are yoga wheels safe to use?
Yoga wheels are specially designed tools to take your yoga practice to the next level. They are great body supporters to aid you through challenging yoga postures. But it is important to follow expert advice rather than simply following Instagram posts on how to use yoga wheels.
If you are a beginner and not so flexible, prefer not to try wheels without any expert guidance. Also, if you have had a recent surgery or injury, first consult your doctor before using a yoga wheel. Even if you are an advanced practitioner, do your poses with the wheel if you are confident of doing them at least partially without the wheel.
Yoga wheels are safe if you follow the guidelines and care while performing poses with them. Yoga is all-encompassing and safe exercise for all. However, every person's body structure is different. And what suits one practitioner may not be so good for the other. So, the safety of yoga wheels depends upon how carefully you use them.
Final Thoughts
Yoga wheels are gaining incredible popularity for the support they offer to make yoga comfortable and enjoyable. They help beginners achieve the basic poses with ease and deepen the practice of advanced yogis. Yoga wheels are the best props to take your yoga practice to the next level.
While there are so many options available, taking your needs into account and selecting the best option is important. Refer to this guide to get started with your yoga practice with a comforting yoga wheel. Happy rolling!