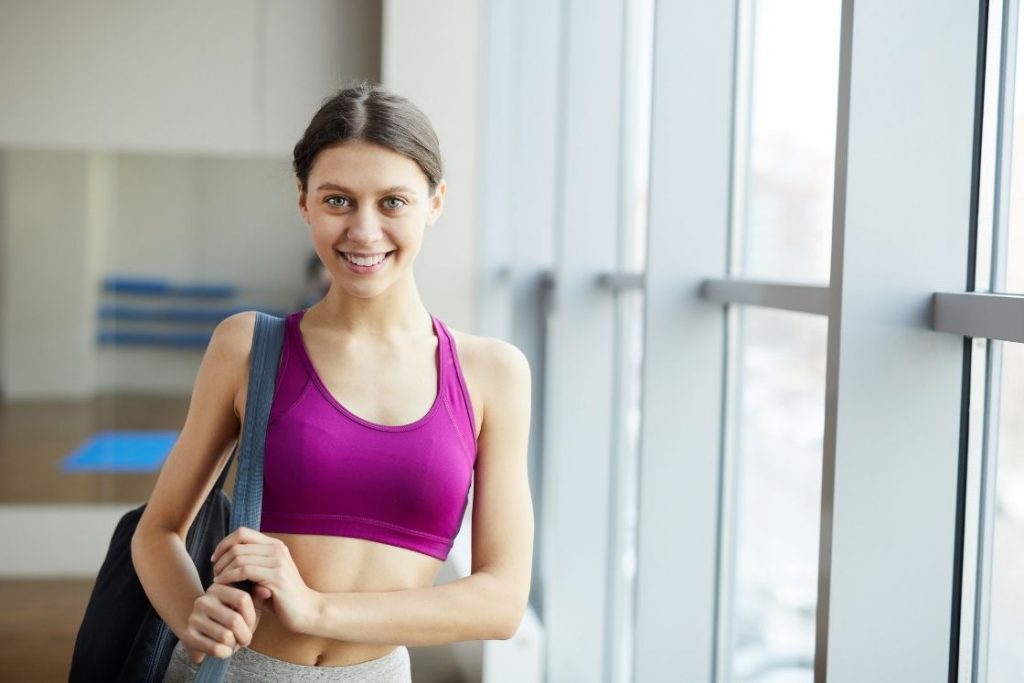 There is no denying that yoga mats are an essential accessory for a yoga session. Almost all yoga studios have a pile of rolled yoga mats on shelves for the practitioners to practice poses in a comfortable manner.
However, many people prefer to use their own yoga mats. Storing a yoga mat at home may not be a hassle, but carrying a yoga mat and other gears outside needs utmost care. And sometimes, a mere sling may not serve the purpose. You may have to carry an additional bag to keep other necessities like a water bottle, wallet, towel, etc.
Yoga mat bags are a perfect solution to this problem.
With a yoga mat bag, you can easily store your yoga mat, and carry them as a sling or carry bag. These bags are just like are quite similar to the gym bags, except they are a bit larger to accommodate a mat completely. Some even include space to keep an additional change of clothes and toiletries in case you need to freshen yourself after your workout.
What do you need to consider when buying a yoga mat bag?
Ever think if it's really worth buying a yoga mat bag? Yes, it's really worth having a yoga bag, especially If you regularly go yoga studio for practice! Consider how long it takes to get all your gear together to go to the studio. With a yoga mat bag, you can easily grab all things together in one place and go.
While selecting a yoga mat bag, you should consider checking the following points:
1. Size of the bag – The size of the bag will depend on the size of the yoga mat. While most yoga mats are of standard size (68 to 72 inches long), some may be larger than others. In such cases, you should determine if the mat can be properly rolled and stored inside the bag.
2. Additional accessories you will carry – When you're going for a yoga session, especially hot Bikram yoga, you are bound to carry a water bottle. And sometimes you need a towel to wipe off that extra sweat. How about your own yoga block or a blanket? Your wallet? The list can be endless. Hence, buy a bag that has dedicated space to fit your extra stuff along with your mat.
3. Durability and material of the fabric – The fabric your yoga mat bag is made up of is of essence to hold your mat and be sturdy. Cotton, polyester, canvas, or neoprene are some of the common materials for a yoga mat bag. Flimsy material may tear up quite easily and you may again have to invest in another bag.
Also, the breathable material of the bag can prevent molding it may or the accumulation of a sweaty smell inside the bag. The bag should be easy to clean.
4. Easy to carry – Another important factor is the way you want to carry this bag. When looking for the best yoga mat bag for you, it's easy to go with the one that looks the prettiest. It's critical that you choose a yoga bag that is both comfy and functional. The various types of yoga mat bags available are:
Sling straps – This is the simplest variant that you will find. It is just a back, often in the shape of a cylinder with one or two straps to carry as a sling. You can only fit your yoga mat in it and nothing else.
Sling bags – This is a bit larger than the above so that you can store additional gears along with your yoga mat.
Tote or duffle bags – For someone, who is commuting someplace else after their yoga session, this type is suitable. It has a large enough space to add multiple items so that you do not have to go back home and pick up other stuff that you may need for the day.
Backpacks – As the name suggests, these are bags that you can easily carry on your back just like a school bag. It comes with multiple compartments where you can keep almost anything. The yoga mat can either be placed inside or underneath the bag and can be secured with a buckled strap.
5. Budget – You do not want to spend a fortune on something that doesn't suit your needs. The easiest way to figure out which yoga mat bag is for you is to weigh the benefits and drawbacks of several bags, as well as what you need to bring with you. This will allow you to limit your choices without purchasing a bag that does not meet your requirements.
Considering the above requirements, we have compiled a list of some of the best yoga mat bags for you to choose from.
8 Best Yoga Mat Bags
Best Overall #1: Kindfolk Yoga Mat Duffle Bag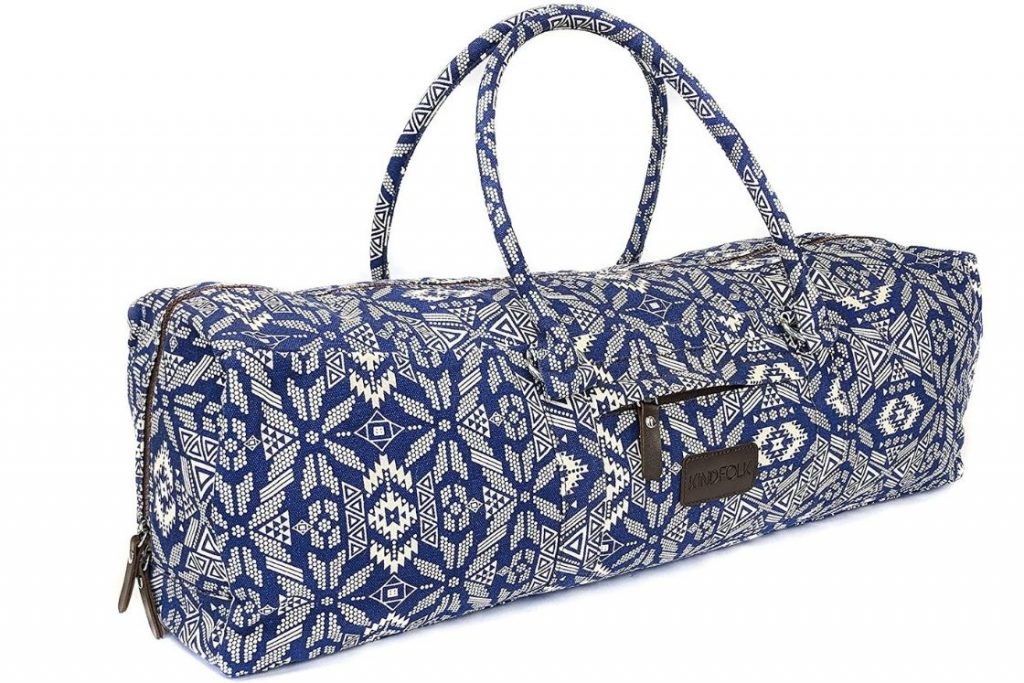 Material – Canvas, Leather
Size – 26 x 8 x 8 inches
This yoga mat bag is extremely well-crafted and robust, constructed of high-quality canvas, and is ideal for everyday usage. It can accommodate two small mats, as well as any arrangement of blocks, straps, towels, and other accessories. Keys, a cell phone, or other small belongings fit well in the outside pocket.
The backpack, which is oversized and segmented, can be used as a weekender for long journeys and travel. It's simple to clean with a towel, cold water, and dish soap because it's made of canvas.
Because Kindfolk utilizes man-made leather, they are both environmentally and animal-friendly.
The uniqueness of this brand comes from the fact that they donate $1 for every unit sold for girls and women empowerment around the globe.
Pros:
Various compartments
Durable canvas material
Easy to clean
Eco-friendly and vegan
Donate to women and girl empowerment
Reasonable pricing
Cons:
Small for larger sized mats
Not suitable for too many accessories
Best Lightweight #2: Manduka Go Light Yoga Mat Carrier Bag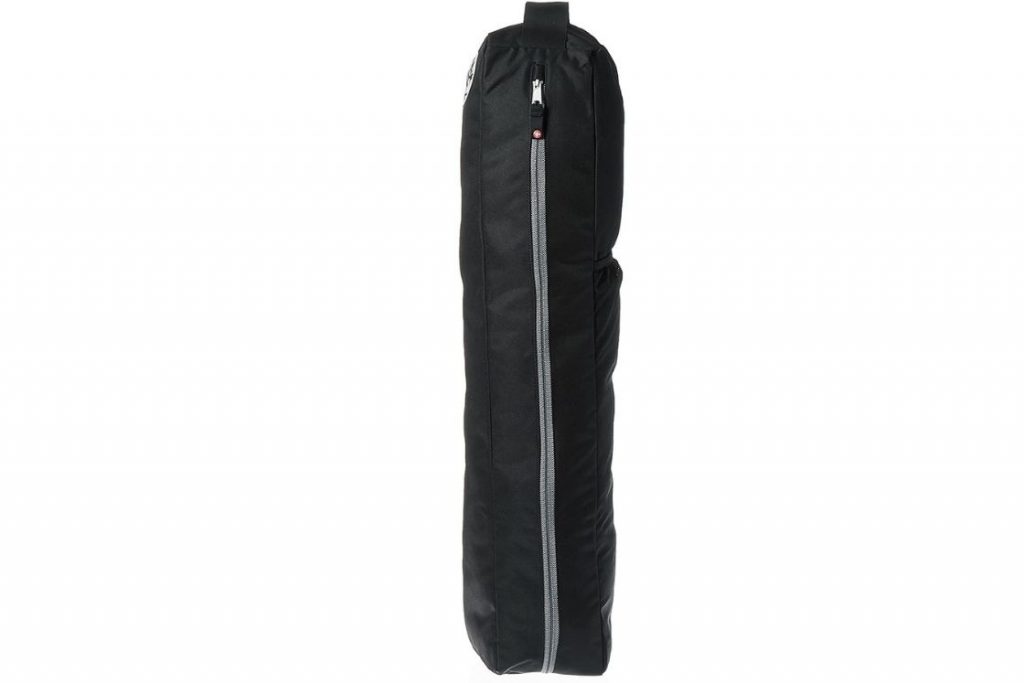 Material – Polyester
Size – 30 x 5.5 x 7 inches
Weight – 0.7 pounds
Manduka Go light yoga mat bag is as light as it can get! At 0.7 pounds, you do not have to worry about lugging a heavyweight bag and getting tired before you even start your yoga session. Even though the bag contains only one compartment, it has sufficient space to fit your yoga mat along with a small water bottle or a small towel.
For smaller belongings such as keys, wallet, or mobile phone, it also has a small internal pocket. The adjustable strap ensures that you can change the ways you carry your bag – as a sling or cross-body. Moreover, it also has a side handle for ease of handling. It is also a water-resistant bag so you do not have to worry about your belongings being soaked in rain.
Pros:
Extremely lightweight
Can easily accommodate mid-sized yoga mats
Weather and water-resistant
Adjustable strap with additional carry handle
Internal pocket for small belongings
Cons:
Price is on the higher side
No color variety
Best Budget #3: Heathyoga Yoga Mat Bag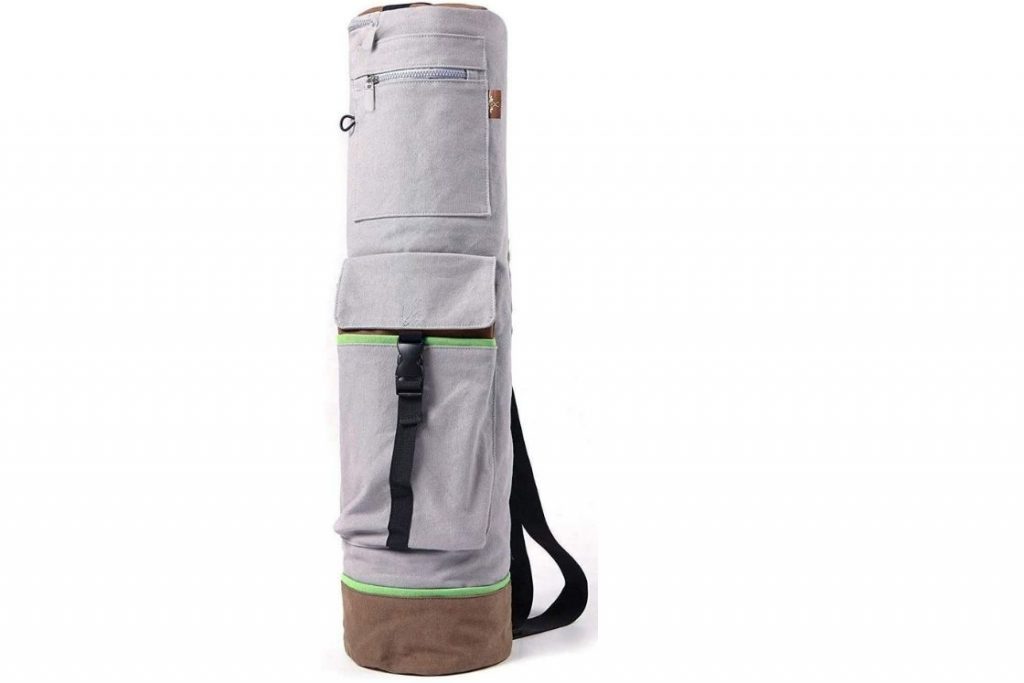 Material – Cotton and canvas
Size – 28 x 7 inches
Everything needed for a yoga practice can be stored in this large yoga mat bag. This thick and durable yoga mat carrier bag will accommodate a yoga mat, a towel, a yoga strap, and other items with enough to spare for extras.
This Heathyoga yoga bag is the perfect gym or studio companion because of its durability and functionality. Two smooth and strong zippers are intended to allow you swiftly store and take your yoga mat in and out. Two exterior pockets keep your phone, keys, wallet, water bottle, and other items segregated. The length of this yoga strap can be adjusted as per your preference for carrying.
Most yoga mat sizes are accommodated by this Heathyoga Yoga Mat Bag.
Pros:
Easy to carry
Made of sturdy material
Comes with two exterior pockets
Can accommodate almost all sizes of yoga mats
Budget-friendly
Comes in a variety of patterns
Cons:
Putting too much stuff can take a toll on the bag
Best Backpack #4: Gaiam Holds Everything Yoga Mat Bag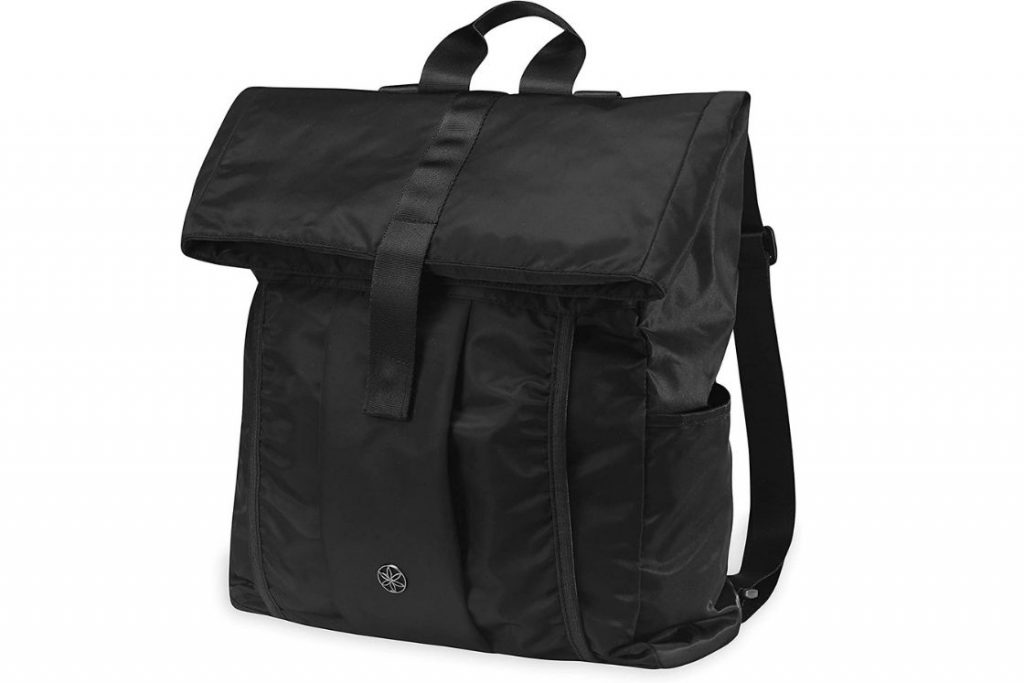 Size – 16 x 14 inches
Weight – 0.39 Kilograms
With various compartments to accommodate all your stuff no matter the situation, this multi-purpose Gaiam Hold-Everything Yoga Mat Bag Backpack is a great on-the-go accessory for yoga or everyday travel.
The zipped external sleeve protects practically any size mat and when not carrying a yoga mat, doubles as a pocket. It has additional zipped compartments to store valuables and keep items organized and in place while in transit – there's even space for a laptop in a dedicated inner laptop sleeve pocket.
Two side pockets are great for storing a water bottle, cell phone, and other items. With adjustable shoulder straps, you can rest assured that it gives a comfortable fit to your back and shoulders.
Pros:
Can fit almost every additional accessory
Additional internal and external pockets
Includes laptop sleeve
Multipurpose use
Fits almost all size mats
Cons:
May not be comfortable in public transport
Price is on the higher side
Misalignment of the yoga mat can cause the bag to lean on one side
Best Spacious #5: Yogiii Large Yoga Mat Bag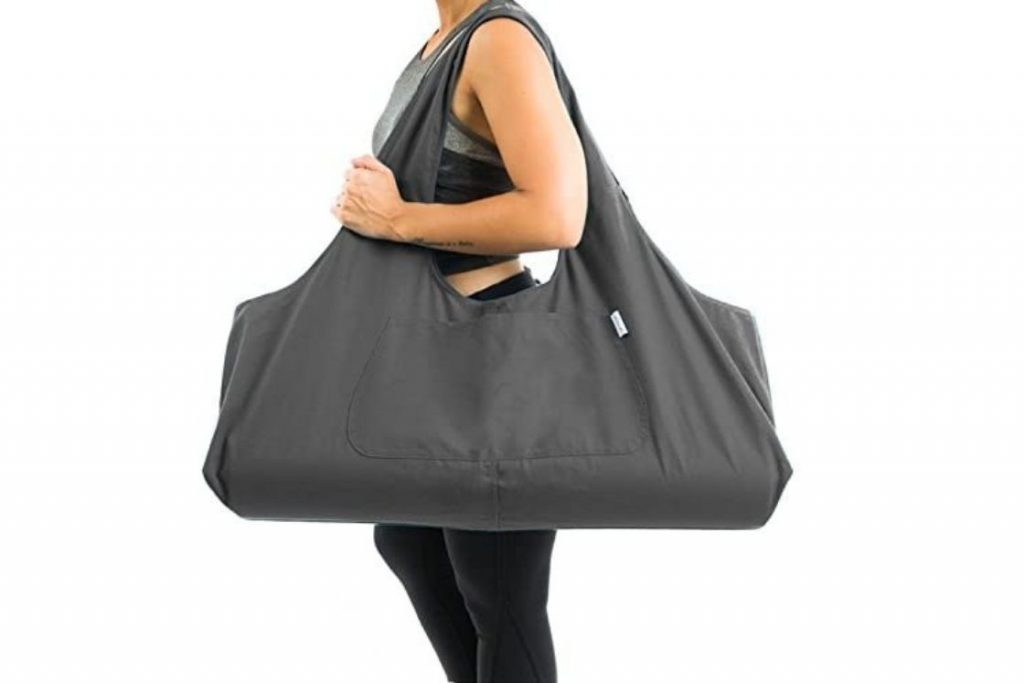 Material – Canvas
Size – 28 x 10 inches
The YogiiiTotePRO is a sizable shoulder tote bag that can hold two mats, two blocks, a towel, and other smaller items. Made with one piece of fabric, this simple and lightweight yoga mat bag is perfect for all. It has a large compartment that is suitable for all yoga mat sizes and other accessories.
This yoga bag has an outside pocket for your small belongings. It is made from a single layer of durable cotton canvas, making it lightweight and easy to handle. In addition, the shoulder strap is double lined for added support. To close the bag, there are no zippers or fasteners so all you have to do is put in your workout gear and go. ​
Pros:
Extremely spacious
Can hold up to 2 yoga mats
Can fit almost all mat sizes
Has additional pockets for small belongings
Made of sturdy cotton canvas material
Affordable price
Lightweight
Cons:
Things can fall out when the bag is kept on the floor
Best Tote Bag #6: Zenifit Yoga Mat Bag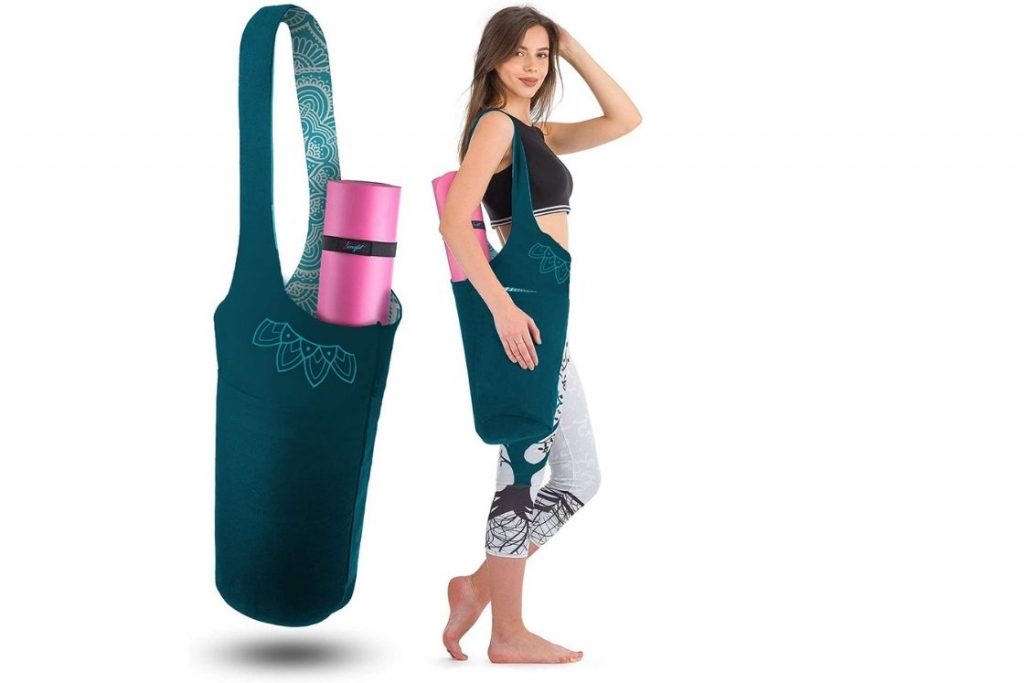 Material – Canvas
Size – 33.5 x 13.5 inches
Even though your yoga mat may pop out of this bag, the long height ensures that only 25% of the mat is outside the bag with plenty of space for other props and accessories.
The thick straps are optimized in length and have a hidden seam, making this bag more convenient to carry. There is an additional pocket that gives the advantage of carrying a water bottle and towel, as well as a zipped pocket with a sturdy YKK Zip for your phone, cards, and keys.
This yoga tote is made of heavy-duty cotton canvas and has reinforced stitched seams. The Yoga Bag also includes two elastics to keep your mat rolled up and tidy while transporting it. It comes bundled in a classy gift set, so you can easily gift it to your friend or a yoga enthusiast.
Pros:
Optimal length
Spacious enough to hold straps and blocks
Additional pockets for small belongings
Made of heavy-duty cotton canvas
Easy to store and maintain
Free elastics to keep the mat rolled
Cons:
Some people may have issues with the yoga mat popping out of the bag
Thicker mats may take up additional space
Best Ventilated #7: Peace Yoga Air Vent Yoga Exercise Mat Bag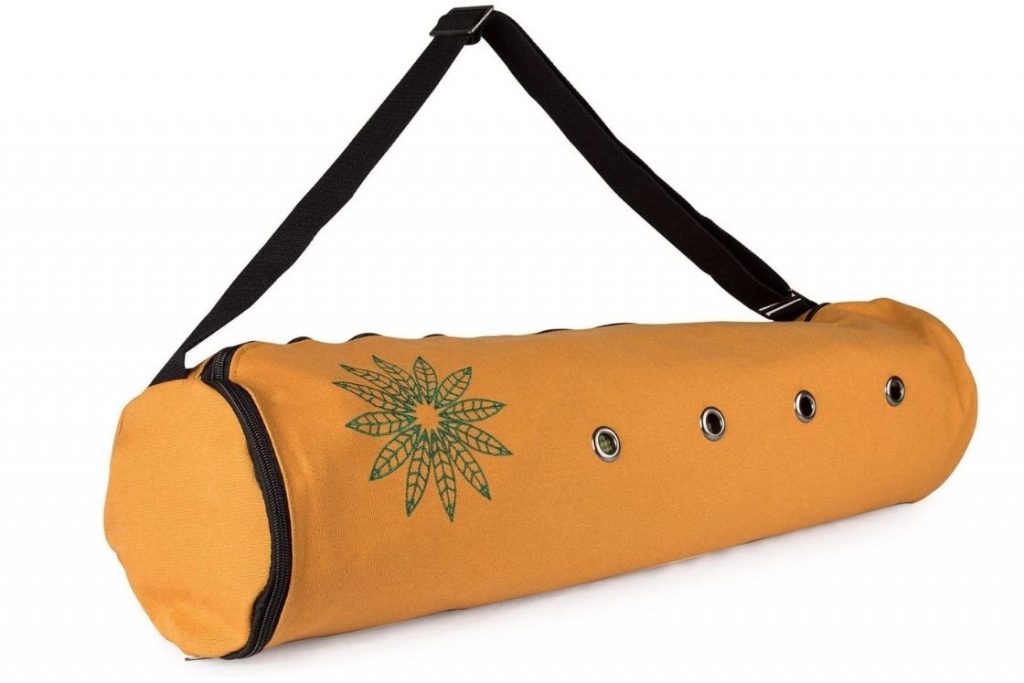 Material – Cotton
Weight – 272 g
This line of tote-style mat bags has an efficient cylindrical shape that is ideal for storing your yoga mat or exercise mat. It has practical features like zippered pockets for ease of accessibility to your personal items and an adjustable shoulder strap to maintain your healthy posture.
The four 0.5″-diameter eyelets for breathability are the bag's standout feature (excellent for hot yoga mats). These perforations allow your mat to breathe, making it a more sanitary method to transport your mat from home to yoga class or wherever else you work out.
Peace Yoga Mat Bag is a long-lasting, breathable, and practical solution for all of your yoga and exercise needs. The bag is designed to fit all standard mats and comes with a 90-day money-back guarantee.
Pros:
Unique air vents
Durable cotton material
Lightweight and easy to carry
Adjustable strap
Additional pocket for personal belonging
90-day money-back guarantee
Comes in a variety of colors and designs
Cons:
Might not be suitable for larger mats
Cannot carry many props
Material is not as tough as canvas
Best Multipurpose #8: Fashion Women Yoga Gym Bag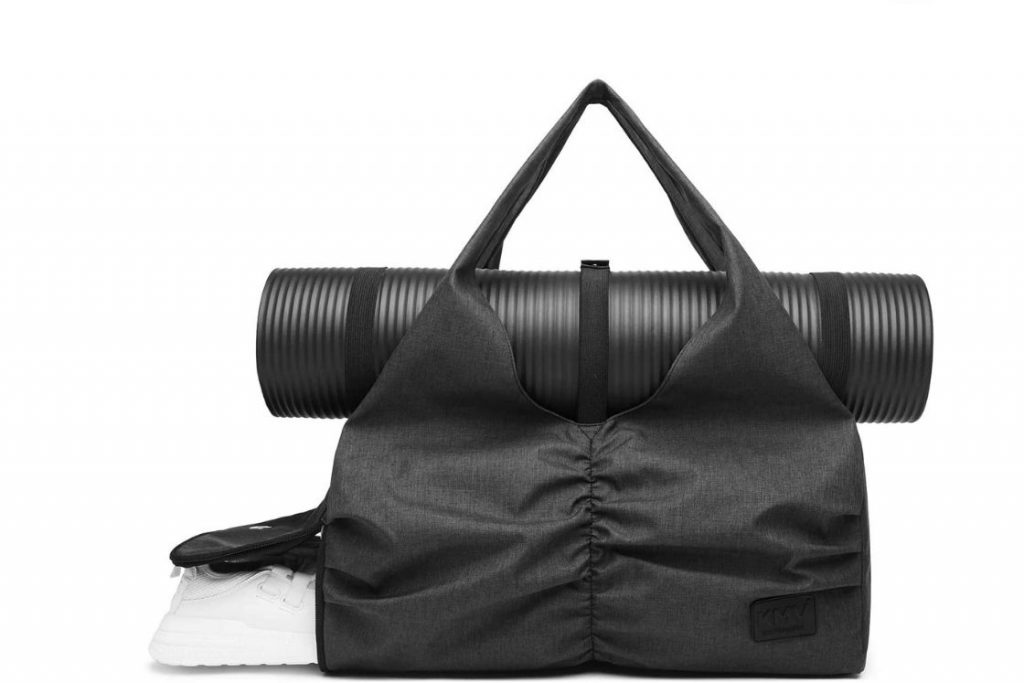 Material – Polyester
Size – 17 x 9 inches
Two front pockets, a huge main compartment, a wet-dry pocket, and extra shoe storage are all included in this yoga bag to put your personal items organized. It not only has a long, convenient place for storing a full-size yoga mat, but it also has a quick-access strap to keep it safe.
The yoga mat holders come in medium and large sizes in this bag, with plenty of room for storing additional clothes, a water bottle, your mat, towels, and more. You can also use it if you're travelling, going for a swim, to the beach, or to the gym, as you can keep your dry and wet clothes conveniently separate. The material of the bag is waterproof.
The yoga mat bag comes with a 30-day money-back guarantee, a one-year manufacturer warranty, and dependable customer service for the rest of your life.
Pros:
Multiple compartments
Dedicated shoe storage
Separate pocket for wet items
Waterproof material
Elastic straps for the yoga mat
Multipurpose usage
Comes in two sizes
Lifetime customer service and a 1-year warranty with a 30-day money-back guarantee
Cons:
The shoe storage may take up extra space
Elastic Straps may be too small for some mats