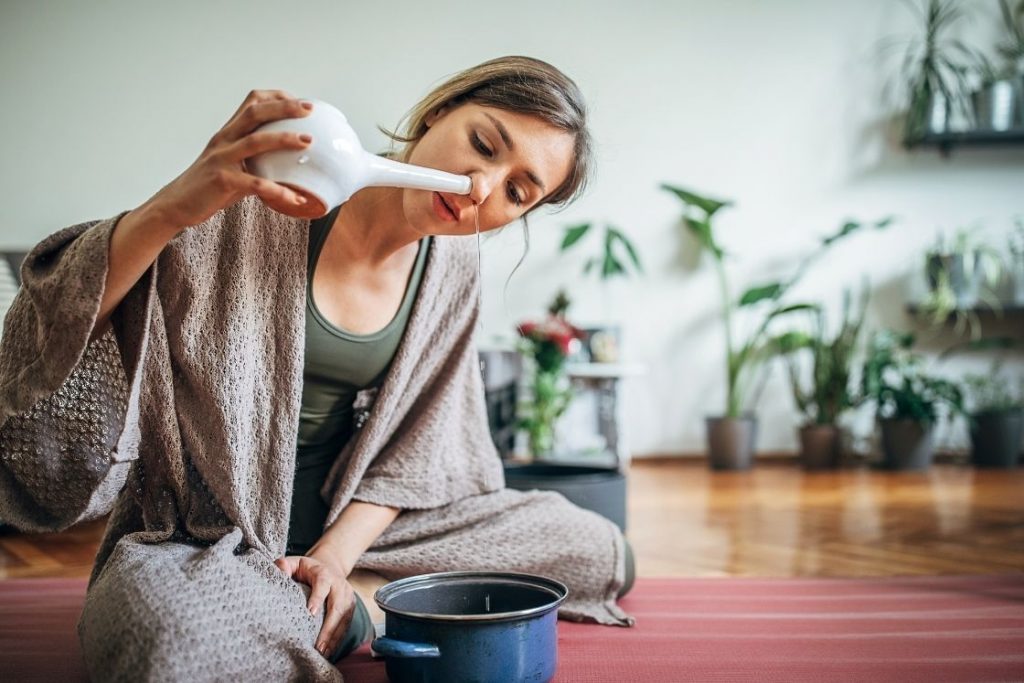 The wintertime often brings sickness related to cold and flu. Moreover, as the quality of air is becoming increasingly polluted in the last few years, it affects our nasal health in various unimaginable ways. It becomes absolutely necessary to protect our nasal health for these reasons if we wish for a healthier lifestyle.
The use of neti pots is one such habit that many people have adopted into their lives.
Neti pot is a device to rinse mucus or debris from your nasal passage.
A neti pot looks like a normal teapot but has a long spout on one side. This spout enters in each nostril and with the saline water filled in the pot, it rinses the infectants in the nasal area.
This practice, if done correctly, benefits in various ways from cleansing the nasal passage, temporarily restoring ease of breathing to relieving from symptoms like migraine and hypertension.
Keep on reading this beginner guide to choose the best neti pots for you!
Are Neti Pots Safe to Use?
Neti is one of the safest cleansing devices for relieving nasal congestion and irritation. It has been used in yoga as Jala Neti Kriya for centuries. Nasal irrigation devices like neti pots are very much effective in treating sinuses and many other nasal difficulties.
 A doctor from Harvard Medical School says that anybody with a normal nasal cavity and ones who have successfully recovered from a nasal surgery can use neti pots safely as long as they follow the guidelines.  
One should always use distilled water in the pots and not the microwaved ones. Tap water should be avoided to use in neti pots. Doctors recommend sterile, distilled, or boiled water. It is also important to adjust the temperature of the water to be not too hot and not too cold. Before using the neti pot, it is recommended to clean and dry it completely.
The process of using neti pot correctly should be learned carefully under the guidance expert person. There can be mild side effects like nosebleeds or irritation in the nasal area. Long-term use of neti pots is associated with sinus infections as it reduces the mucus lining in the nose, making it more prone to infections.
However, these side effects can be reduced by lowering the water temperature or infrequent use of neti pots until the side effects lessen.
Also, looking after your neti pot, regularly cleaning and keeping it in a good condition is required if you look for safe use. Neti pots offer an effective and safe way of treating nasal troubles as long as they are used and looked after correctly.
How to choose the right neti pot for you?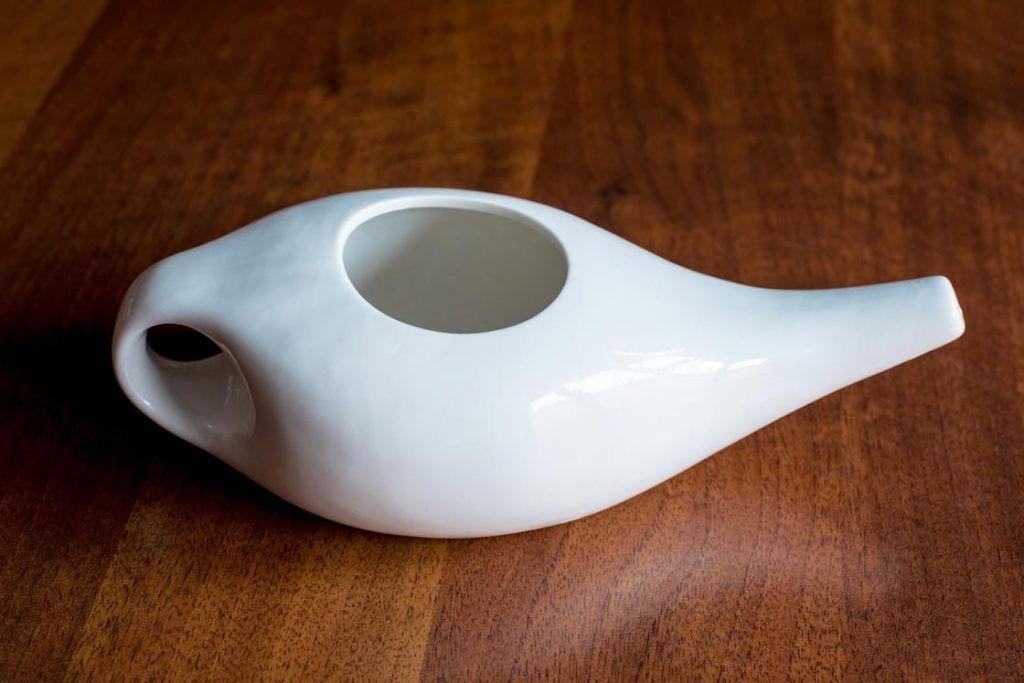 Neti pots are available in extensive ranges both online and offline- in the chemist's stores. It can be confusing which one to go for when you are provided with so many options, especially when you are a beginner.
However, choosing the design that best complements the benefits of neti is necessary. Here are some factors that you should consider while choosing a neti pot.
1. Consider Your Requirements First
The varieties available in the designs are very different. While buying a neti pot, consider your requirements first.
If you are a traveller, pick a lightweight and travel-friendly neti pot that can be easily carried around. In this case, ceramic or clay neti pots are not a good choice as they are more prone to crack easily.
If you are buying neti pot for an old person in your family, choose the design that they can easily hold. Plastic neti with a curvy handle would be a better choice here! Remember to shortlist your preferences before you pick a neti pot.
2. Go for a Comfortable Design
The process of neti is all about its accuracy and perfection. Inaccurate use of the neti pot can cause side effects. And hence, while choosing a neti pot, you must consider a design that fits your comfort.
Some neti pots require you to tilt your head so much that you can feel pain while performing neti. Or some neti pots have ill-designed spouts that are difficult to insert in your nostrils. Thus, before selecting a neti pot, shortlist the designs with which you can comfortably complete the neti procedure.
3. Pick a Sturdy and Long-Lasting Material
Neti pots are created from various materials like ceramic, steel, and plastic. Go for the one that will benefit you for a long time. Steel and plastic ones are generally more durable than ceramic ones.
But you should consider the quality of the material if you are choosing a plastic one. Sometimes, low quality plastic can cause reactions when poured with lukewarm water. To stay safe from such conditions, ensure the quality of the plastic.
Especially when buying plastic neti pot for kids, check if it's BPA Free such as the Waterpulse neti pot. It is a great option if you are searching for a durable nasal irrigation device that doesn't break.
However, if you are going to use the neti pot in your home and don't have a maintenance issue, you can clearly go for the ceramic pot.
4. Select an Easy to Clean Option
The use of a neti pot is not just limited to that one time, its maintenance is equally important to use it next time. Hence, choose your pot to be the one that can be easily cleaned and maintained.
Some ceramic pots are difficult to wash. Their designs are intricate and thus there is a chance of dust or other particles getting stuck there. To avoid such situations, pick a simple and easy-to-clean design so maintenance is not a troublesome task.
Best Neti Pots option you can consider
Neti pots come in different shapes, sizes, colors, and materials. After you have understood your needs and preferences, here are some best options you can select from.
1. Baraka Premium Ceramic Neti Pot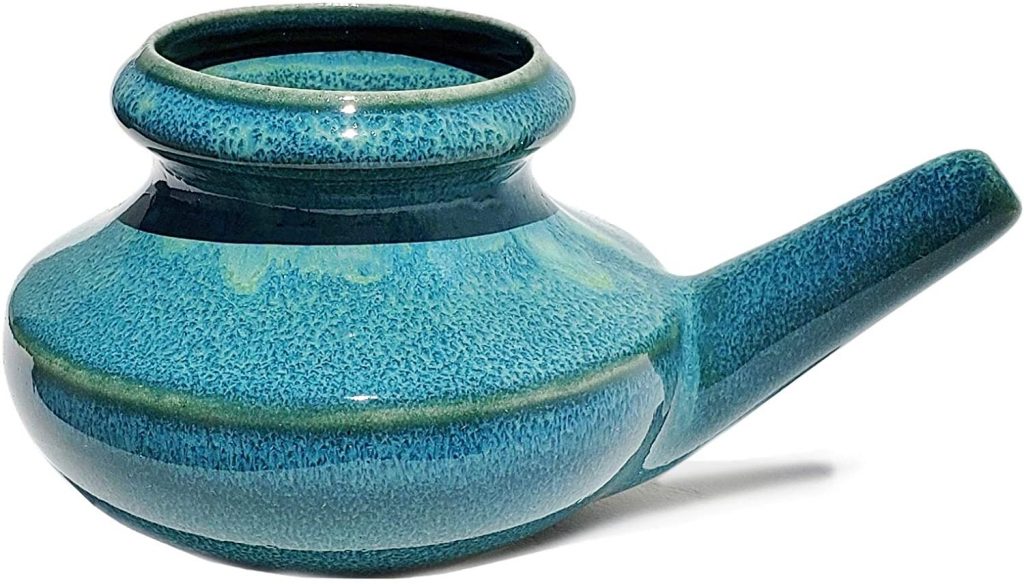 Baraka offers a premium-quality neti pot that is also easy to use. Baraka has its origin in the US and makes high-end, handcrafted ceramic neti pots. It is renowned for making quality sinus products in the US.
The high-quality ceramic used in making this neti pot ensures safe use. It holds around 8 to 10oz of water, which is enough to use for both the nostrils.
It is a very easy to hold neti pot that is useful for any age. Its ergonomic design makes the pot easy to clean and maintain. It is available in various attractive colors.
2. SinuCleanse Soft Tip Neti Pot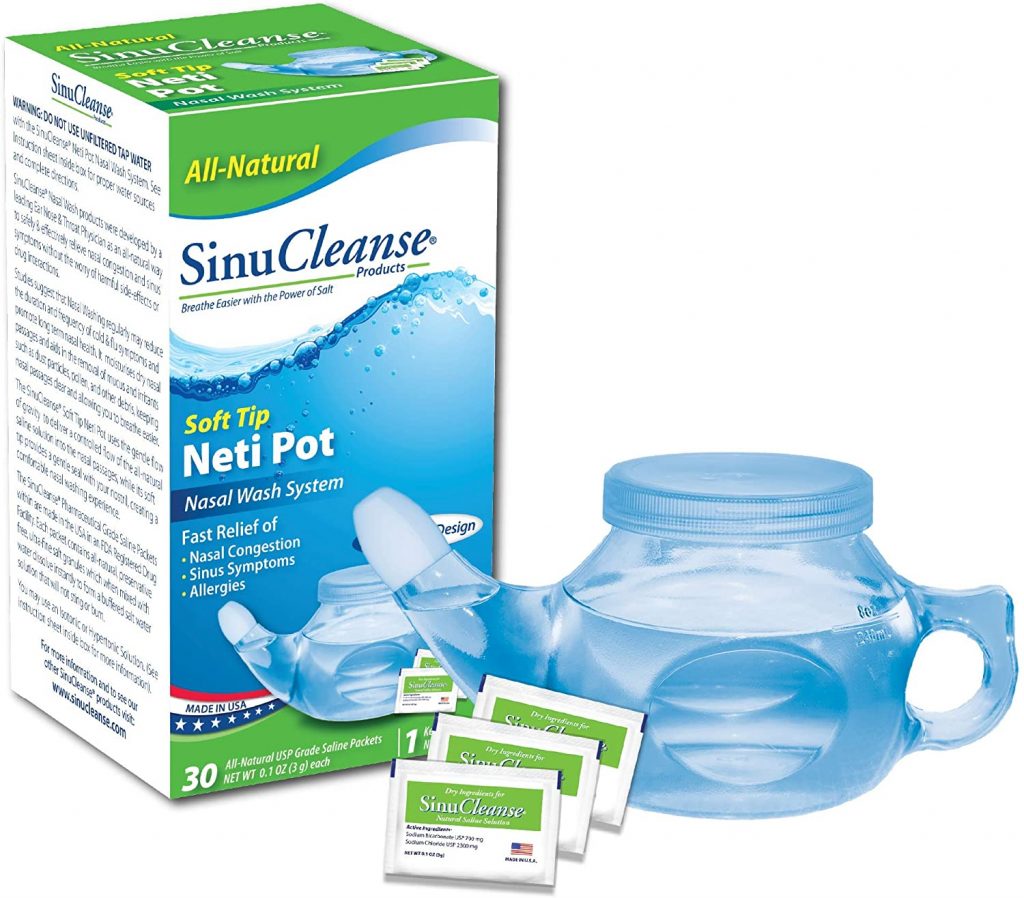 Protect the well-being of your nose with the soft tip of SinuCleanse Neti Pot. It is created with a high-quality yet soft material that does not irritate your nose while doing neti. The comfortable tip easily enters in your nostril and you can practice neti effortlessly.
It's easy-to-hold size is just right for you. If you are looking for economic options, this is just the right pick. The SinuCleanse neti pot is incredibly lightweight so that you can easily carry it anywhere you go.
3. ComfyPot Neti Pot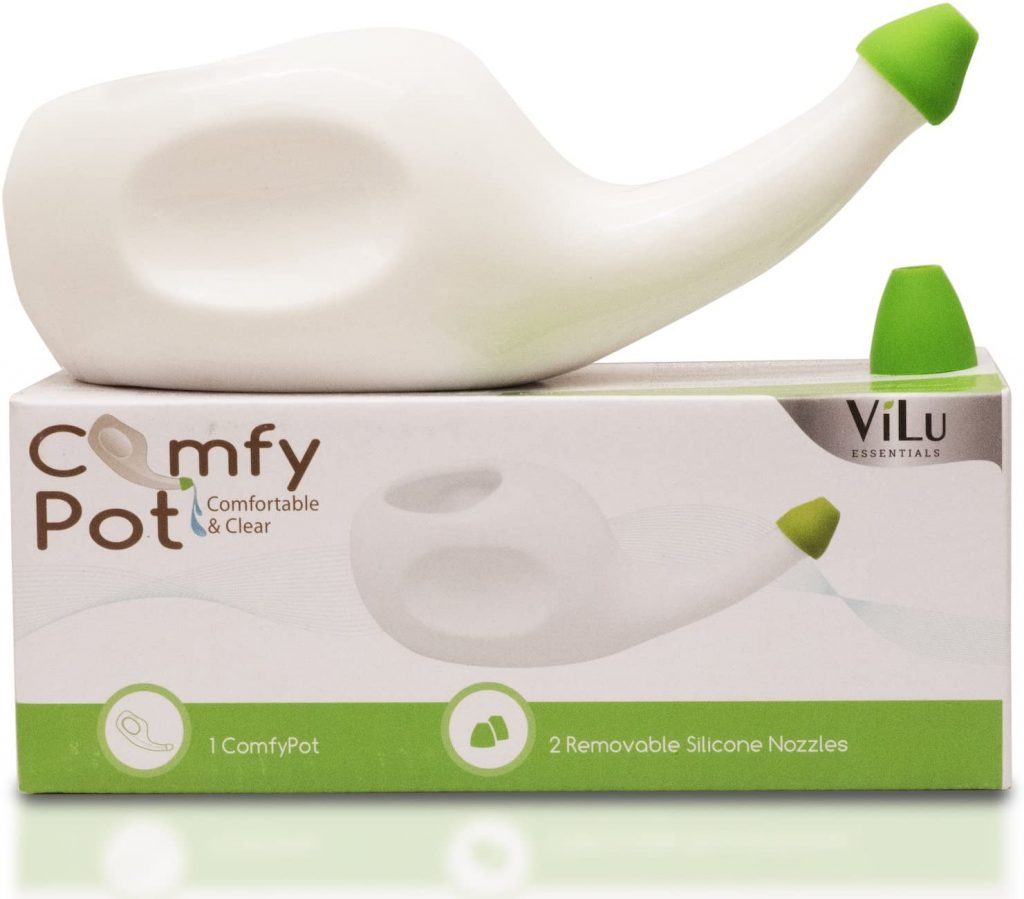 Treat your nasal problems with the comfortable and stylish ComfyPot Neti Pot. ComfyPot is known for designing unique nozzles that are safe for the user.
This neti pot has a unique design that offers a firm grip and hence is useful for any age group. This is made from high-quality ceramic that ensures safe and durable use.
Moreover, its nozzle is created from silicone and has an anti-slip opening, which makes this neti pot suitable for kids as well. The ComfyPot offers you a neti pot at a very reasonable price.
4. Himalayan Chandra Neti Pot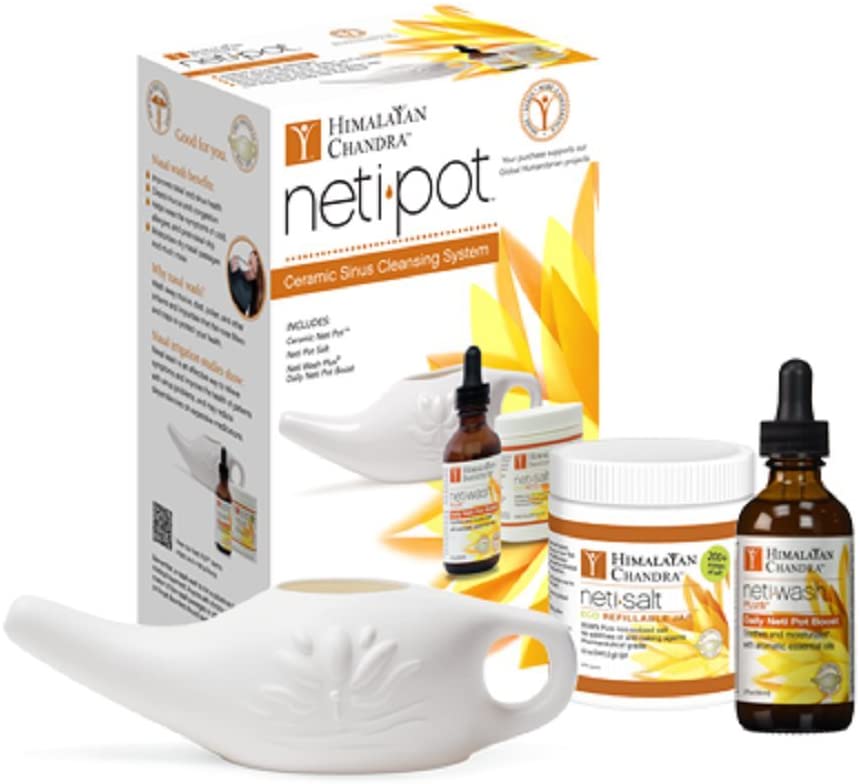 The Himalayan Chandra Neti Pot is an excellent combination of design and durability. The lightweight design of this pot makes anyone hold it comfortably. The distinctive features enable continuous flow so your neti procedure is done accurately.
This Himalayan Chandra neti pot is created with lead-free ceramic that offers safe use. You can count on this neti pot for practicing your neti comfortably.
5. NeilMed NasaFlo Neti Pot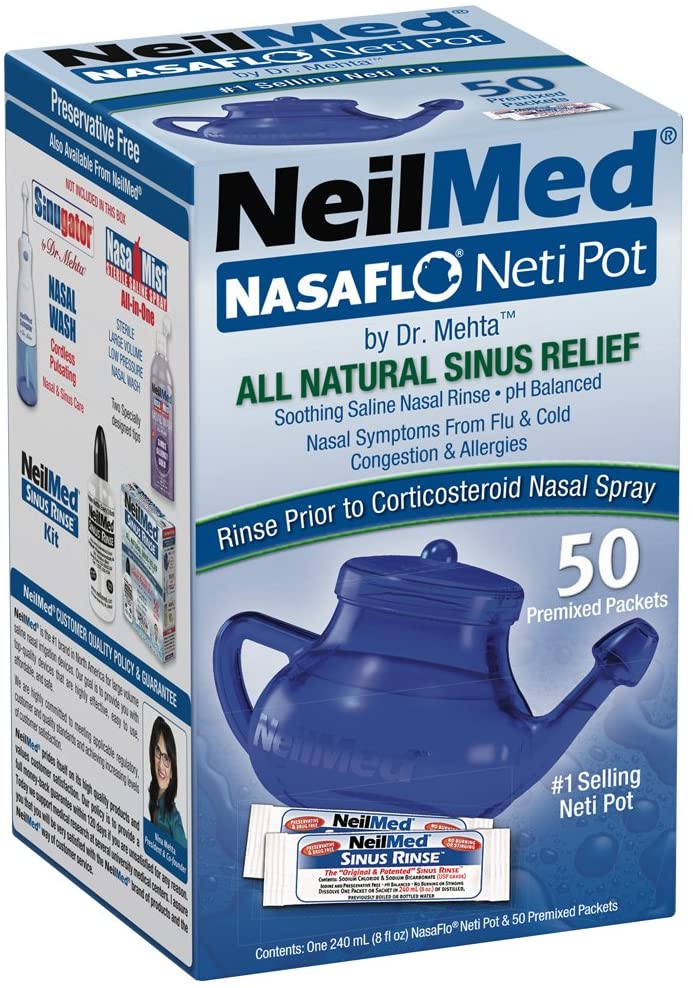 Enjoy a spill-free and comfortable neti practice with NeilMed NasaFlo neti pot. NeilMed is a leading brand in pharmaceutics, especially nasal care. This particular pot is created by a doctor himself and offers a wide range of benefits for your daily neti practice.
It effectively removes the smallest particles from your nasal passage, helping you breathe free. This neti pot is created from an unbreakable material and hence is a durable choice for your long-term practice.
6. WholeLifeObjects Steel Neti Pot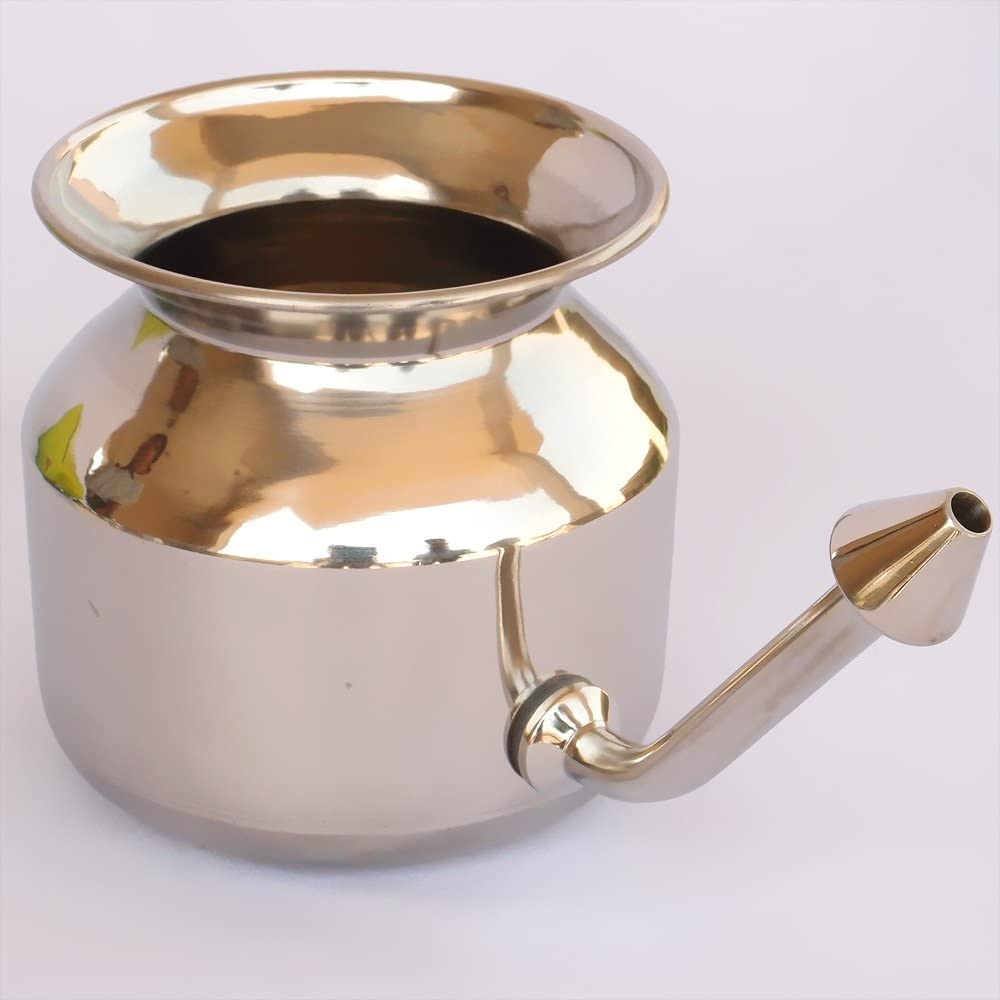 Whole Life Object creates an attractive yet sturdy neti pot for your safe and long-term use. It is made from premium-quality steel that ensures lasting use. The leak-proof design gives you spill-free practice time.
This neti pot has a unique nozzle that inserts comfortably in the nostril, ensuring safe use. The ergonomic design of this pot makes it easy to hold. It is incredibly lightweight and can be used by anyone. This is the best choice if you are looking for affordable options.
Final Thoughts
Neti is a purificatory practice that has been performed since centuries. Its increasing awareness has now led to exciting transformation in terms of a person's nasal health and other associated problems. Neti is now often prescribed by doctors as a treatment as well as a precautionary method to save ourselves from illnesses.
As a highly prescribed practice, neti has become popular worldwide. However, the must-know fact about it is that neti should be accurately performed to experience its benefits. And it is possible if you are choosing your neti pot right.