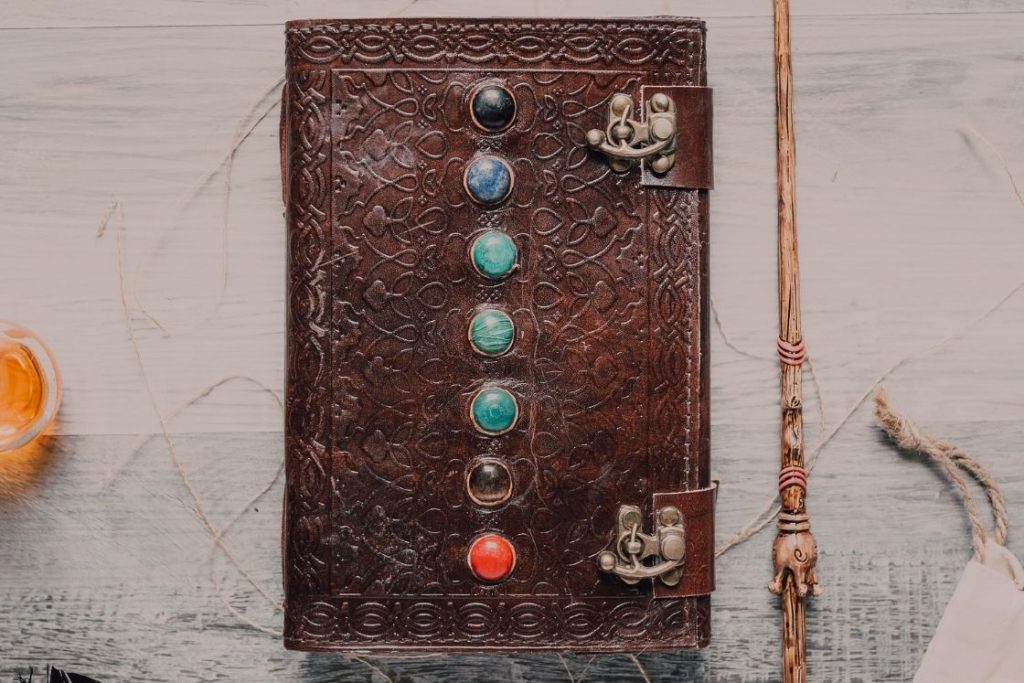 The chakras and how they affect our physical and mental health are some of the most talked-about aspects of yoga. Chakra yoga, meditation and different practices are practised to awaken, heal or balance a chakra. While some people already know and have sufficient clarity on the chakra characteristics and their symptoms, there are many who are still discovering it.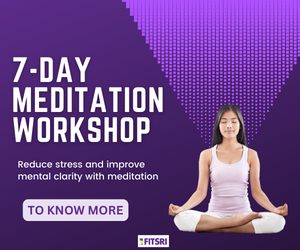 Whatever may be the reason for your curiosity, having books on a particular topic is never a waste. While the internet is, no doubt, the go-to resource for any kind of research, there is a certain charm to reading books.
In this article, we bring you 10 such interesting books on chakra which will keep you curious and yearning for more.
#1 – Best For Beginners

"Chakra Healing: A Beginner's Guide to Self-Healing Techniques that Balance the Chakras" by Margarita Alcantara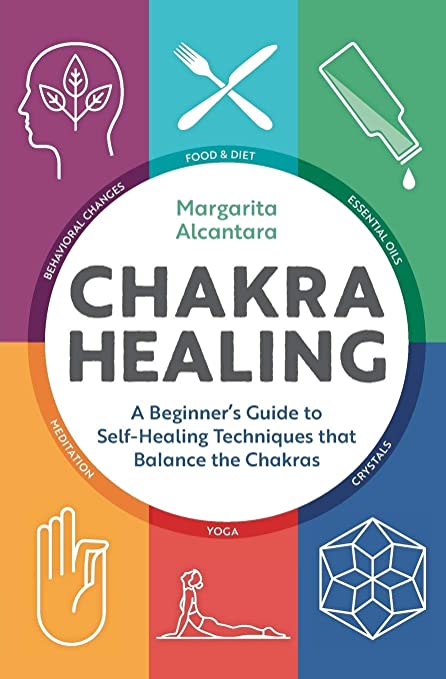 Format Available – Kindle, Audiobook, Paperback
Margarita Alcantara, the author is a licensed Acupuncturist, a Reiki Master, and a natural empath based in New York. Her book on chakra healing is one of the most revered chakra-related books for beginners.
This book provides a deep understanding of the chakras and how one can heal a range of body, mental and emotional issues through it. You will learn about various techniques such as crystal healing, meditation, yoga, use of essential oils, diet, etc to keep your chakras in balance. The book also outlines common ailments that will help you in identifying the link to the chakra and ways to heal it.
It is a beautifully illustrated book that makes learning fun and easy.
Buy it because –
Written in an easy and understanding format.
Covers all major concepts related to chakra.
No previous knowledge is needed.
Don't buy if –
You are only interested in colorful photos
You are not serious about learning deep concepts
Want in-depth historical aspect of chakras
#2 – Best for Scientific Minds

"Eastern Body, Western Mind: Psychology and the Chakra System As a Path to the Self" by Anodea Judith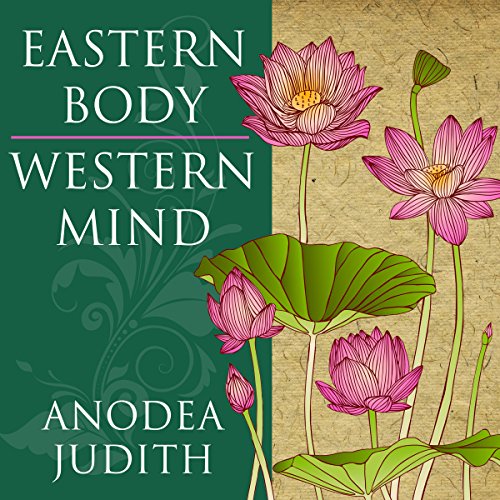 Format Available – Kindle, Audiobook, Paperback
Anodea Judith is a well-known name when it comes to providing chakra-related knowledge. She is a PhD in Psychology and Human Health and is a writer, therapist, and spiritual teacher.
Through this book, she has given a fresh approach to this ancient chakra energy system by connecting Eastern philosophy to Western psychology. She has used psychological and scientific methods to explain the chakra system with stories, examples, and her personal experiences. It is a wonderful self-study guide to learn about the body and healing trauma through meditation, yoga, and breathwork. Using quotes from famous psychologists like Freud, the book outlines in great detail the relevance of the ancient chakra system in today's Western world.
Buy it because –
In-depth understanding of the chakra system.
By using various paths of science, the ancient energy system has been explained.
Outlines techniques to heal your chakra and keep it in balance.
Each chakra has a dedicated chapter that assures extensive information
You want to understand the psychological aspects of chakra
Don't buy if –
You are a beginner.
You are more of a religious person.
Aren't comfortable with cultural appropriation
You are looking for a more spiritual and philosophical approach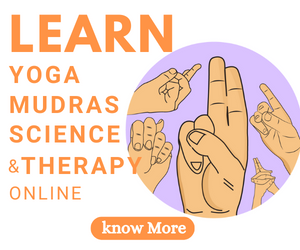 #3 – Best for Use of Alternative Methods

"Chakra Awakening: Transform Your Reality Using Crystals, Color, Aromatherapy & the Power of Positive Thought" by Margaret Ann Lembo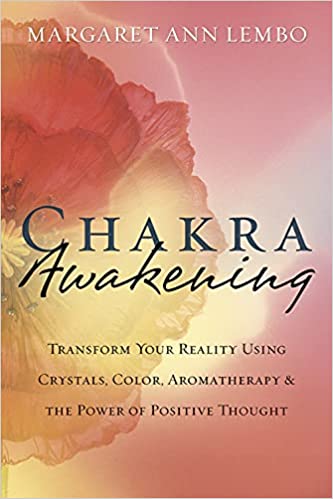 Format Available – Kindle, Paperback
This book has been authored by a sought-after author who has 30 years of experience as a spiritual entrepreneur and practitioner, aromatherapist. Apart from the above-mentioned book, Margaret has published many books on topics like meditation, crystals, aromatherapy, etc.
The chakra awakening book is a practical guide on activating and balancing the 7 chakras by using crystals, gemstones, colors, essential oils, etc. It also gives step-by-step exercises to bring about a positive change to your physical, mental and spiritual well-being.
Buy it because –
It has beautiful and colorful illustrations of various crystals.
It educates you in identifying a problem area
You are interested in exploring alternative methods apart from yoga and meditation.
Is easy to understand and grasp the concepts.
Don't buy if –
You do not believe in the healing powers of crystals and gemstones.
You already have substantial knowledge about these tools.
#4 – Best for In-depth Knowledge

"Llewellyn's Complete Book of Chakras" by Cyndi Dale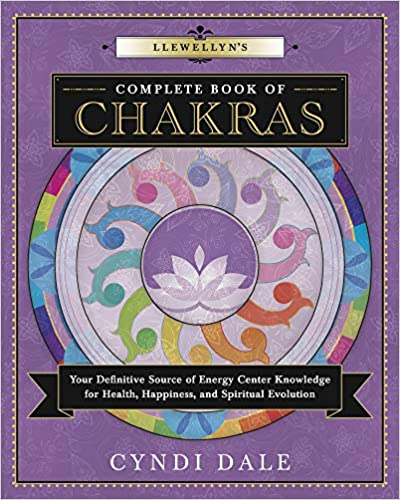 Formats Available – Kindle, Paperback, Audiobook
Cindy Dale is a world-renowned author, speaker, healer, and business consultant who has published many bestsellers on topics of clairvoyance, chakras, energy healing, etc. She also holds a fourth-degree mastership in Reiki and is trained in shamanism, intuitive healing, energy healing, therapeutic touch, the Lakota way, and faith healing.
This book can be considered an encyclopedia on chakras. The author has spent a significant amount of time researching the various aspects of chakra such as history, science, practices, and structures, and presented it in an easy and understandable format.
You can easily gain a lot of information on the chakras and the ways to use their energies for healing and personal growth. The links between each energy system and its powers have been beautifully explored and explained in this book.
A lot of knowledge on meditation, kundalini, energetic origins of diseases, and different healing chakra positions can be accessed through the book. Topics of psychic attacks and energy vampires have been carefully and easily explained in this book.
Buy this book because –
It is one of the best resources on chakras.
Is extremely detailed.
It has a healthy fusion of information and the latest findings on diagnosis and healing
It gives symptom-based explanations and appropriately correlates with the chakra
The healing techniques have been properly documented.
You want to gain more knowledge about chakras.
Don't buy if –
You do not have the time to read such an extensive book.
Don't want an information overload.
You are a beginner and want to learn only the basics
#5 – Best for Overall Use

"The Chakra Bible" by Patricia Mercier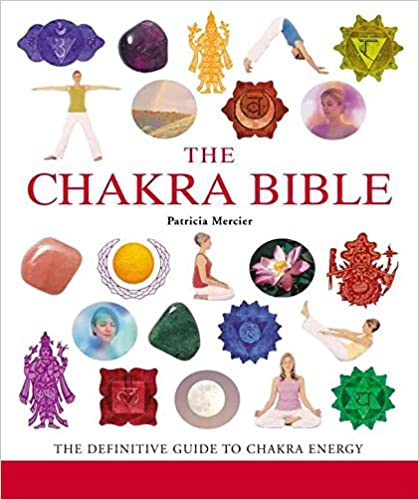 Formats Available – Paperback
Patricia is yet another successful author who has many bestsellers under her name. She is qualified in yoga, aromatherapy, herbs, Reiki, and crystal healing and is a Fellow of the Hygeia College of Colour Therapy, UK.
Her book, The Chakra Bible, is yet another extensive guide on all the chakra-related topics. You can get to know about anything and everything there is to know about chakras. The book perfectly integrates yoga, color, crystals, herbs, dowsing, chakra balancing and healing, essential oils, light therapy, reflexology points, and traditional teachings.
It not only has a wealth of information about the 7 chakras but also goes into details about new chakras that were discovered in recent times (There are considered 112 minor chakras in our body). It is also a great read for aura and crystal enthusiasts. One can easily use this as a reference guide at any point of time in life.
Buy it because –
You are a beginner and want to start learning about chakras in detail.
You will be able to understand the origin of chakras and other religious connections.
It is an easy-to-understand book hence recommended for beginners.
The illustrations are good and easy to grasp.
Details regarding the use of crystals and yoga poses are available.
Don't buy if –
You are more interested in learning about using Reiki as a part of chakra healing.
Don't believe in alternative therapy of healing.
You need more in-depth information on particular topics
#6 – Best for Removing Emotional Blockages

"Wheels of Life: A User's Guide to the Chakra System" by Anodea Judith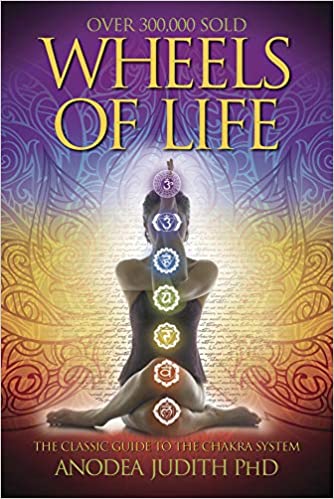 Formats Available – Kindle, Paperback, Audiobook
Another best seller by Anodea, "Wheels of Life" lets you explore the yoga and meditation techniques you can apply on your own. This book is especially recommended for clearing emotional blockages through healing the chakra. Apart from healing, you can also learn practical ways to activate your chakras and gain spiritual wisdom.
The latest edition includes lessons on raising children with a healthy chakra. This book is considered to be a classic as it was one of the pioneers in introducing the concept of chakra to the western audience. You will gain sufficient information about grounding yourself, healing your chakras, and taking you on the path to enlightenment.
Buy it because –
You are a beginner and want to start learning about chakras.
Each chapter is dedicated to one chakra.
You can learn about the yoga poses and meditation techniques to heal each chakra.
The working of each chakra as well as their principles.
It is well structured and readers can instantly apply the tips in their daily lives.
Most of the information is based on scientific evidence.
Don't buy if –
You want to learn more advanced concepts.
Can't sit for long hours and have a small attention span.
You like to read a more direct tone instead of a philosophical or poetic tone.
#7 – Best for Contemporary Take on Chakras

"The Chakra Book: Energy and Healing Power of the Subtle Body" by Osho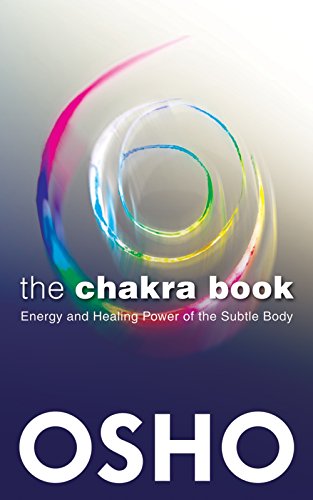 Formats Available – Kindle, Paperback
This book by Osho is one of the most authentic books on chakras as it makes you understand the chakras from a unique perspective. Just like how chakras are different for different people, in the same manner, the text of this book has been written in a manner that resonates with each person on an objective level.
The concepts of kundalini and doshas have also been dealt with in this book which you won't find in most chakra books. Osho has taken the topic of chakras and has been very successful in bringing out their essence, their interdependence, and the healing and cleansing techniques.
Buy it because –
It connects the spiritual dots effectively.
It doesn't ignore the religious connection of the chakras.
Can be used as a self-exploration guide to discover your energy centers.
It also talks about chakras from a scientific perspective.
Don't buy if –
Reading philosophical books is not your forte.
You do not agree with most teaching of Osho.
You do not have the basic knowledge about chakras.
#8 – Best for Sound Therapy

"Tuning the Human Biofield: Healing with Vibrational Sound Therapy" by Eileen Day McKusick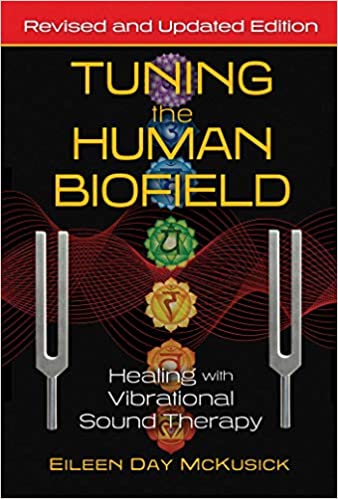 Formats Available – Kindle, Paperback, Audiobook
Eileen Day, the author, is a pioneer of a unique sound therapy method called Biofield Tuning, detecting and correcting distortion in human energy through a tuning fork. Eileen has been studying the effects of audible acoustic sound on the human body since 1996. This research has led her to publish a groundbreaking book on healing chakras through sound therapy.
The book gives an introduction to Biofield Tuning and how with the help of a tuning fork you can detect trauma or pain in the human biofield. By locating the exact location of these trauma, ailment, or emotional blockages, the energies of the chakras can be used to clear away these blockages. It can be said that it is a great book for therapists, sound healers, energy workers, as it provides healing knowledge with a new and scientifically backed tool.
Buy it because –
It is fully science-backed and based on years of research.
A book with a fresh perspective on removing emotional blockages.
Takes into account the importance of the human aura along with the chakras.
Comprehensive yet easy to read.
Don't buy if –
You do not have knowledge about the chakras.
You are more religiously inclined.
If you do not plan to spend time applying the technique.
You are not interested in reading details about research and understanding the nitty-gritty of it.
#9 – Best for Religious Outlook –

"Anatomy of the Spirit: The Seven Stages of Power and Healing" by Caroline Myss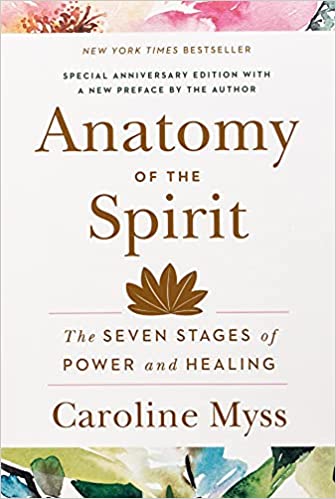 Formats Available – Kindle, Paperback, Hardcover, Audiobook
"Anatomy of the Spirit" is a New York Times bestseller that has sold over 1.5 million copies and has been translated into 18 languages. The author, Caroline, is a worldwide known name who has dedicated her life to creating educational programs in human consciousness, spirituality and mysticism, health, energy medicine.
After years of research on medical intuition, she published her book by combining the wisdom of Hindu chakras, the Christian sacraments, and the Kabbalah's Tree of Life. Through this, she has detailed the seven stages that everyone must pass to reach a higher consciousness.
Her breakthrough model of seven centres of physical and spiritual powers also helps in developing your sense of intuition through personal and spiritual growth. It excellently makes you understand the connection between the working of your body and spirit and gives you the tools to achieve physical and spiritual wholeness.
Buy it because –
You are seeking spiritual wisdom.
Takes into account the various religions and explains the chakra system from the wisdom acquired from them.
It discusses the connection between good health and spiritual well-being.
It is a guidebook of living a healthier life by balancing your chakras
Don't buy if –
You cannot take in too much spiritual talk.
You do not believe in stuff unless they are scientifically proven.
If you want techniques to heal your chakras yourself
#10 – Best for Yogis –

"Anodea Judith's Chakra Yoga"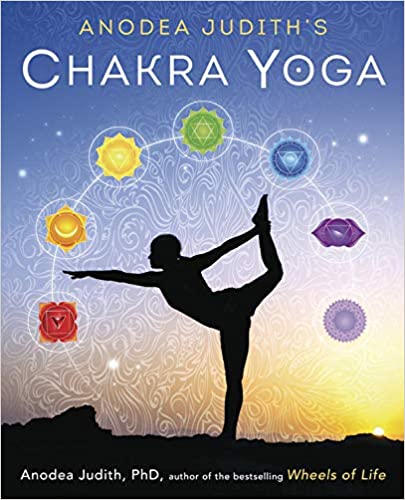 Formats Available – Kindle, Paperback
Lastly, a book on yoga poses that you can practice activating, balancing, and healing your chakras. This list would not have been complete without a yoga book by none other than Anodea Judith.
In this book, the author has very nicely put forth the principles and practices of yoga to activate your energy wheels and take on the journey to connect with the higher consciousness. The unique facto of this book is that the yoga poses have been differentiated based on the chakras.
With the help of step-by-step illustrations, you will get many techniques to open your chakras such as breathwork, guided meditation, yoga poses, mantras, and yogic philosophies. It is a must-have book for people who are fond of yoga practice, teachers, and students alike.
Buy it because –
Gives a detailed description of each yoga pose through illustration.
You will also learn about other techniques for activating your chakras.
It is highly recommended by yoga teachers as the poses can be easily understood.
It gives detail about how each chakra utilizes its energy in performing a chakra yoga pose.
Don't buy if –
You are a beginner at yoga.
You want more in-depth information on guided meditation and breathwork techniques.