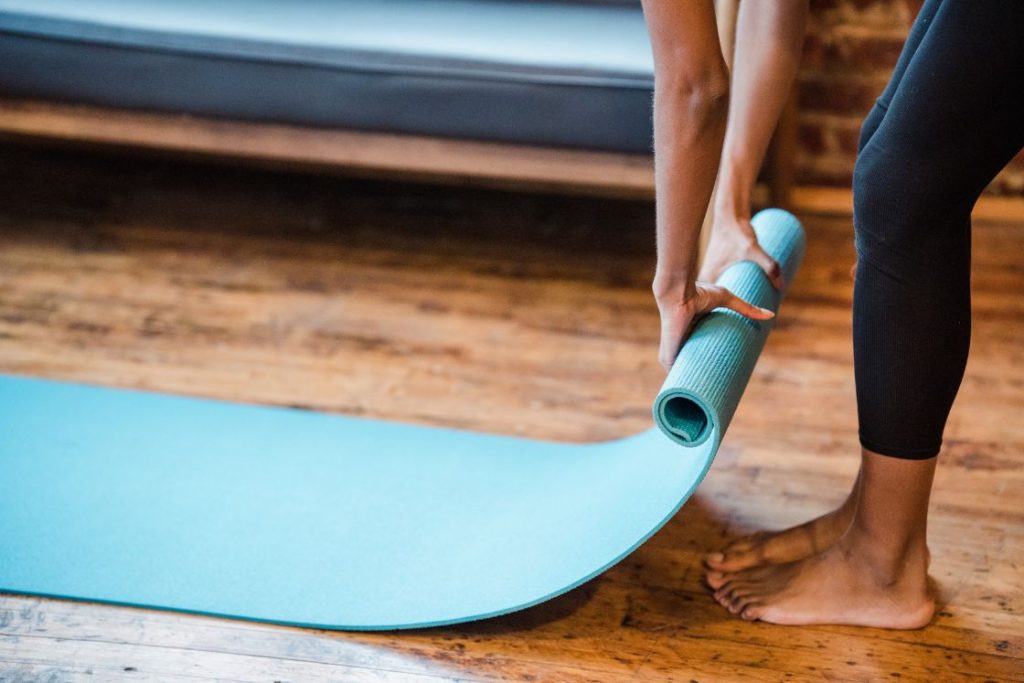 Yoga mat and yoga practice have become synonymous with each other. You can spot a yoga practitioner with this big rolled-up mat at their side. While buying a yoga mat is optional, most yogis/yoginis prefer mats as it gives a good stable base for your body.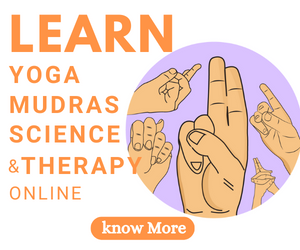 You need a decent yoga mat to get the most out of your practice. And to help you in your endeavour to purchase a good yoga mat, we have compiled a list of the 10 best yoga mats available in India.
Best Yoga Mats Available in India
Here are the top 10 yoga mats available in India in 2022.
#1. Best overall: OJS ® Yoga Mat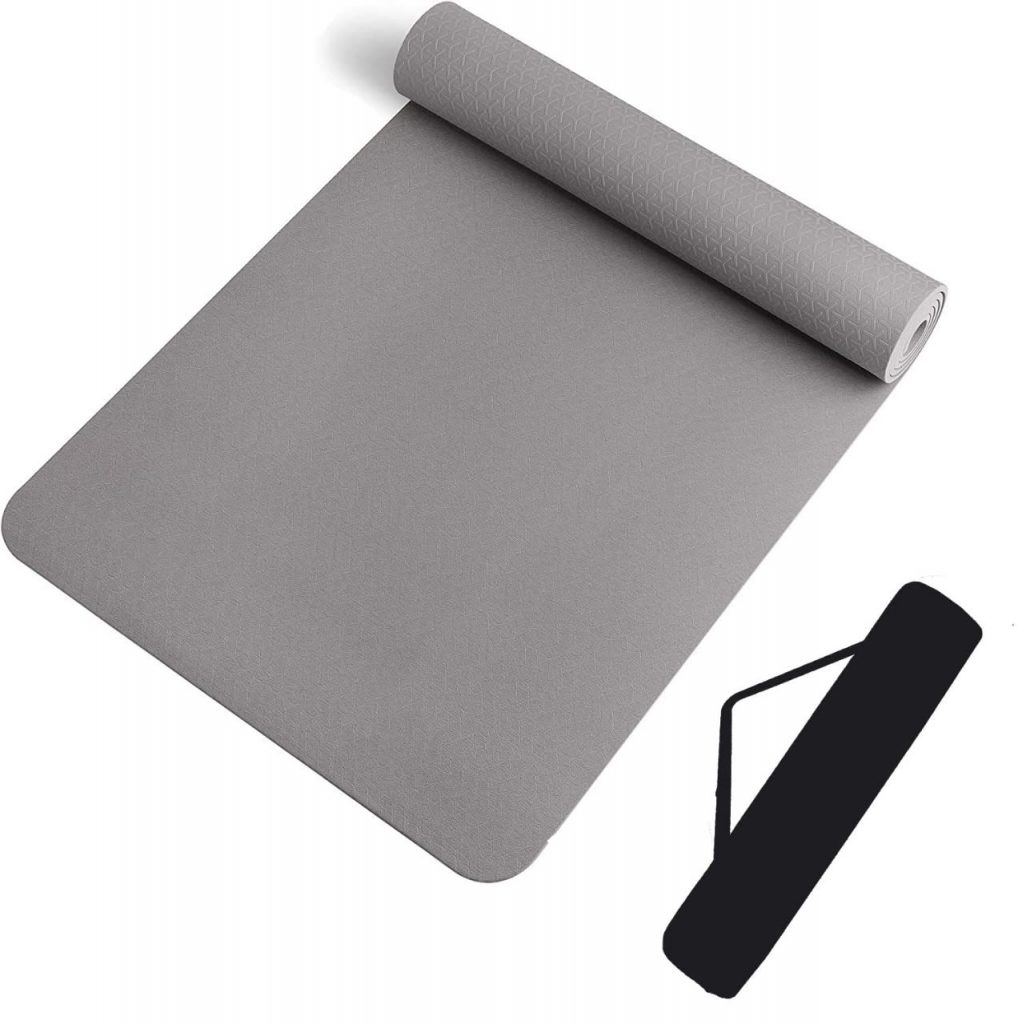 Material – Ethylene Vinyl Acetate (EVA)
Thickness – 4mm, 6mm, 8mm
The non-slip textured surface offers the best grip without losing comfort, and the extra thick 6mm pad protects the head, making it ideal for doing different types of yoga.
Because this yoga mat is so lightweight and comes with a mat bag, you can take it anywhere—from your home to a gym—without having to purchase a yoga sling.
The EVA material used to make the OJS yoga mat is lighter, softer, and doesn't have a strong odor or PVC. OJS's eco-friendly mat is ideal for use anywhere, including at home.
The material utilized makes it simple to wash sweat and dust.
Additionally, they are extra-wide and extra-long to prevent a restrictive practice environment and to give you more room to move deeper into your postures.
Pros:
Anti-slip material
Easy to clean
Lightweight
Waterproof
Comes with a carry bag
No odor
Many colors and sizes are available
Cons:
none
Also read: 8 yoga mat bags to carry all your essentials tools
#2. Best in Budget: Fitness Mantra® Yoga Mat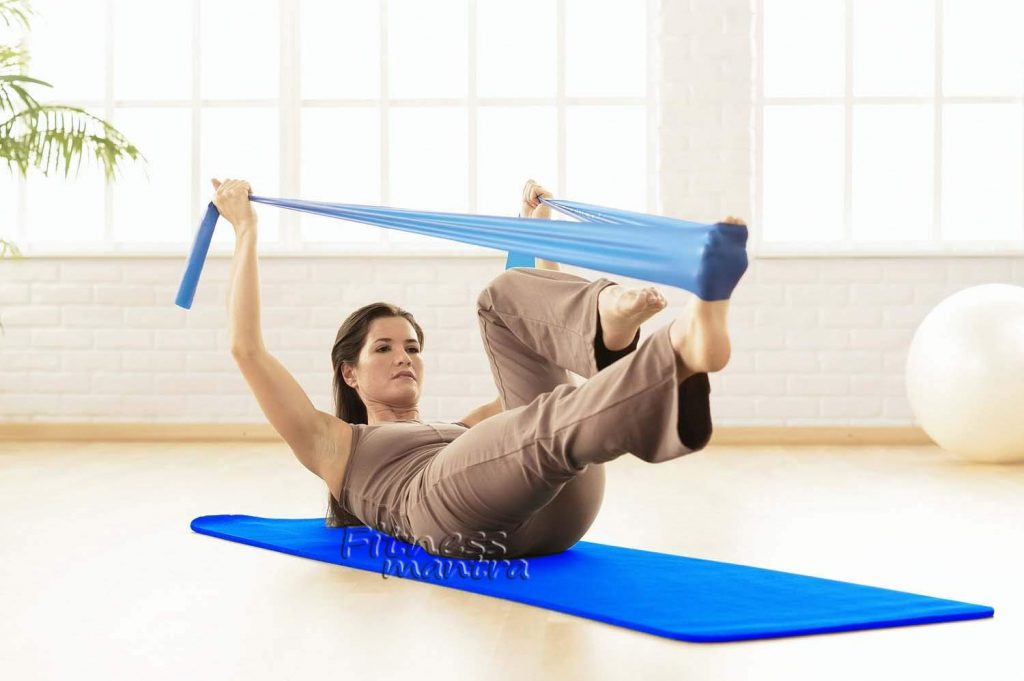 Material – Ethylene Vinyl Acetate
Size – 182.9 x 61 Centimeters
Thickness – 6mm
This fitness mantra yoga mat will be comfortable for people of various shapes and sizes because of its 180cm length and 60cm width. The 6mm thick mat keeps you balanced while cushioning your elbows, knees, hips, and spine on hard floors thanks to its high-density eco-friendly material.
Biodegradable silicone components are used in the recyclable EVA mat. The good quality material will stop sweat and grime from soaking into the mat, making it easy to maintain and completely non-toxic and safe for people.
The textured surface on both sides ensures a perfect grip on the ground and for your hands.
Pros:
Eco-Friendly and Non-toxic
Anti–Tear Material
Easy to maintain
Comes in various colors
Budget-friendly
Dual-sided embossed
Lightweight
Cons:
Some users may find the thickness too hard
#3. Best Extra Thickness: AmazonBasics Extra Thick Yoga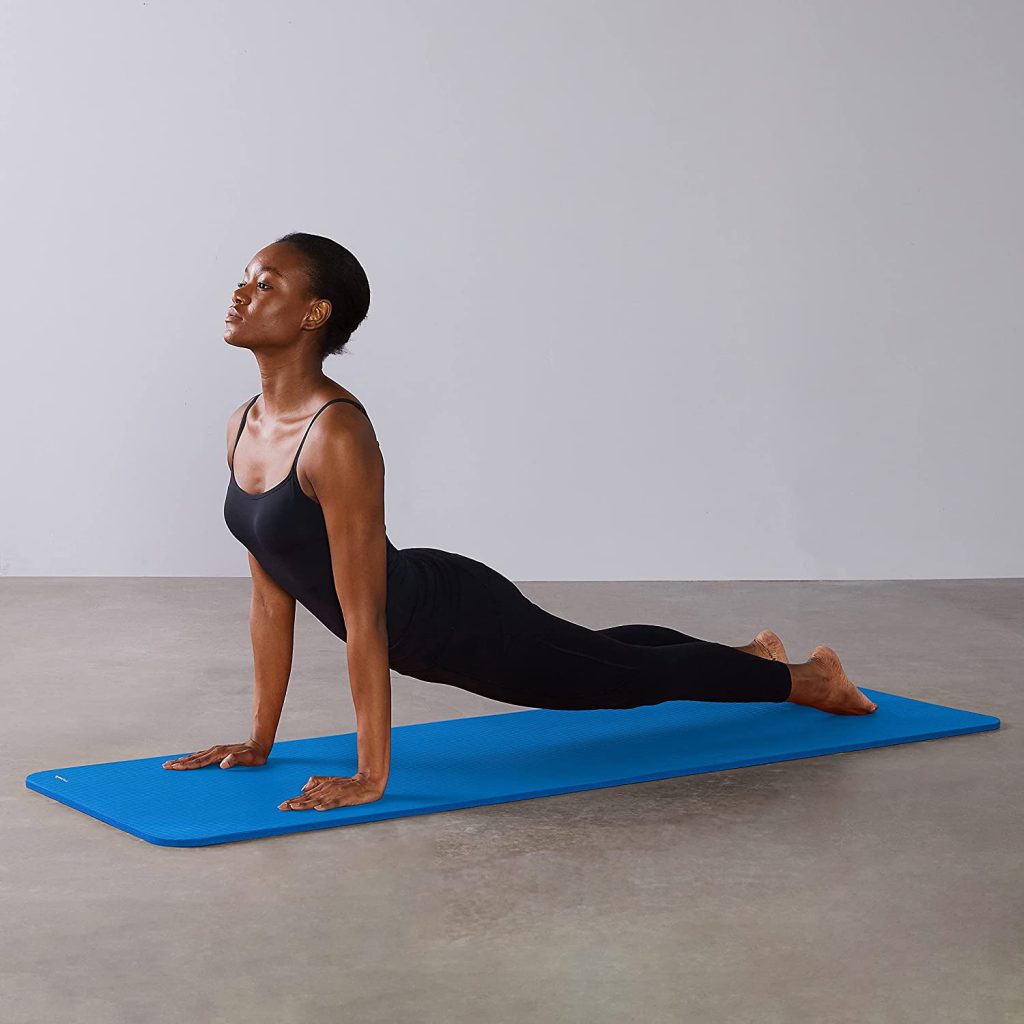 Material – Nitrile Butadiene Rubber (NBR)
Size – 187.96 x 60.96 (LxW)
Thickness – 13 mm
This extra thick yoga mat from AmazonBasics brand is a high-quality item with adequate padding. In addition to yoga, the lightweight mat is appropriate for other exercises like pilates and floor exercises because it is manufactured of sturdy quality foam.
The mat's 13mm thickness will support your body through all exercise routines and positions. The mat is easy to store and travel because it includes a carrying strap.
Pros:
Extra thick
Easy maintenance
Lightweight
Carrying strap included
Non-toxic foam material
Cons:
Price is on the higher side
The foam may collapse over some time
#4. Best in Alignment Guide: WiseLife TRU Alignment Yoga Mat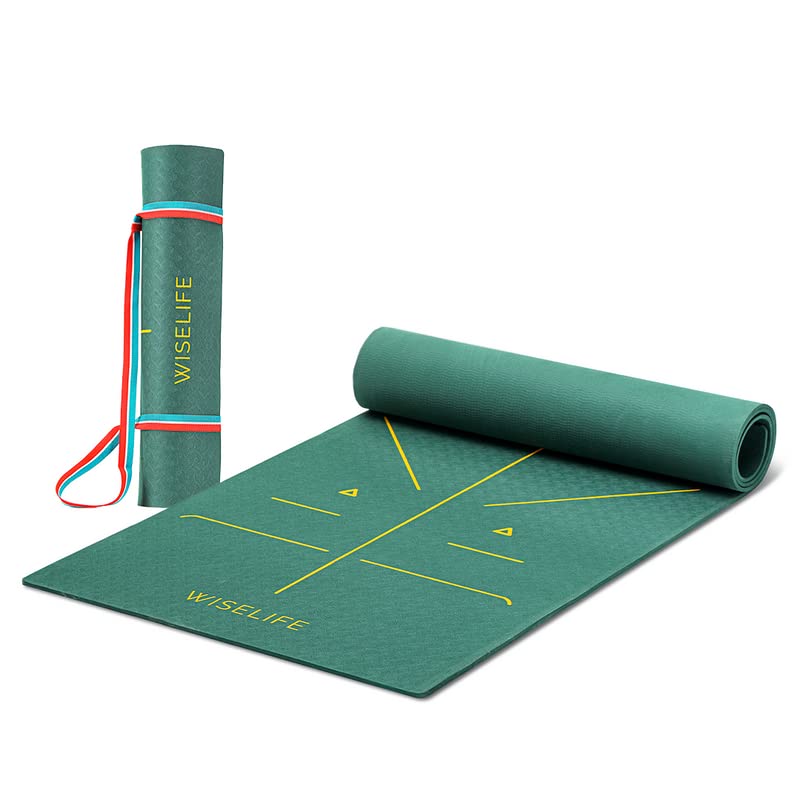 Material – TPE (Thermoplastic Elastomers)
Size – 182.88 x 60.96 cm (LxW)
Thickness – 6 mm
This WiseLife yoga mat is composed of TPE, a flexible, elastic, and environmentally friendly polymer. The extra-thick 6mm mat shields joints without jeopardizing stability or support. The mat is perfect for even balancing poses because it isn't excessively thick. Furthermore, it is appropriate for all workout lovers at 72″ long by 24″ wide.
The distinctive alignment lines serve as a guidance tool for your yoga asana practice. You have all the advice you need from the arrangement of indicators.
The yoga mat's dual texture adds extra traction to your intense yoga and pilates practices.
It also comes with a free carrying strap.
Pros:
Alignment marks
Dual texture for extra grip
Free carrying strap
Easy to maintain
Durable material
Waterproof
Variety of colors
Cons:
Expensive
#5. Best Eco-friendly: SOLARA Premium Yoga Mats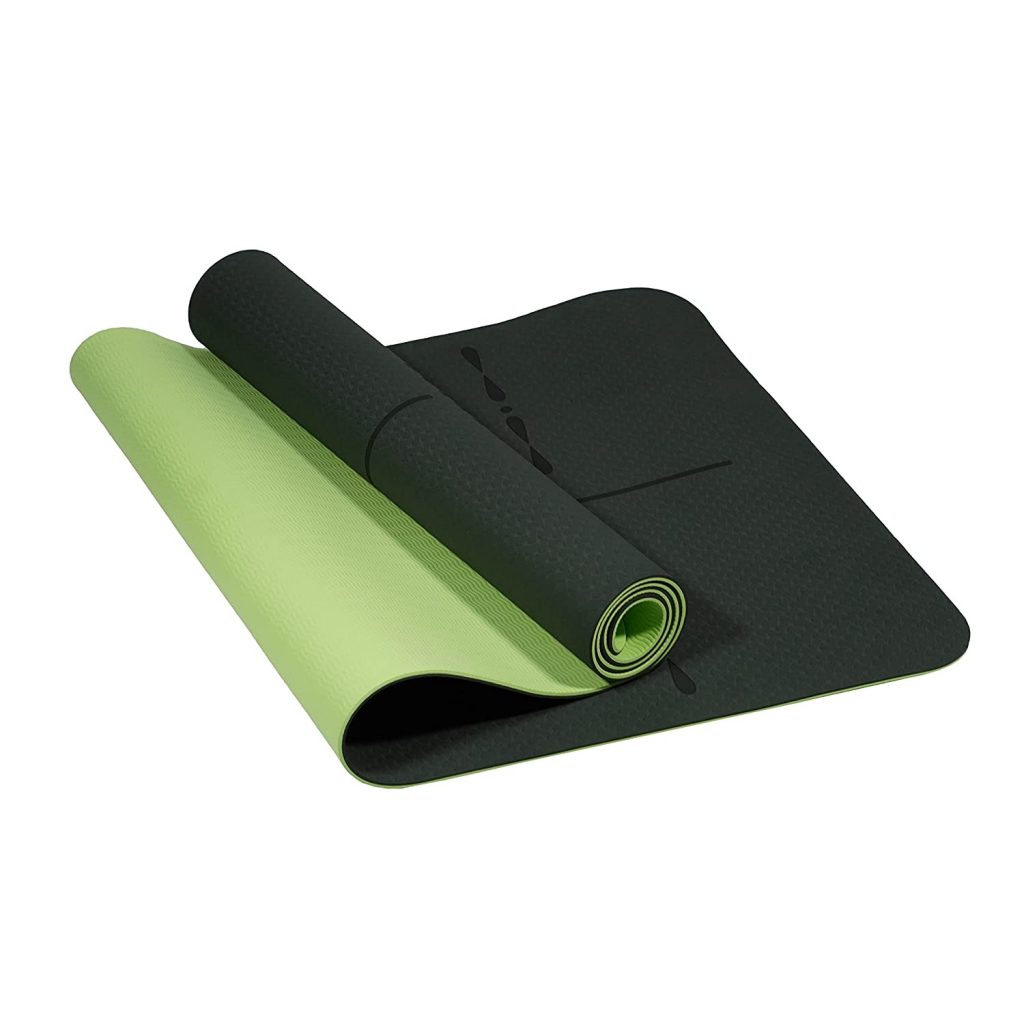 Material – TPE (Thermoplastic Elastomers)
Size – 182.88 x 66 cm (LxW)
Thickness – 6 mm
With this Solera Premium Yoga Mat, you also get a large TPE eco-friendly carry bag, an eBook, 50+ yoga videos, and a 2-year SOLARA Promise.
This mat is manufactured of eco-friendly, elastic, and flexible TPE material.
Also read: Eco-friendly yoga mats to support environment (available in India)
Injuries can be avoided by the top surface's TPE material, which also has a special sticky non-slip texture on both sides and a wavy bottom that strongly holds the floor.
Your elbows, knees, and hips will be comfortable on the hard floor thanks to the premium mat's 6 mm thickness.
A carrying bag is provided, so you can transport it anywhere you like. You only need to use a moist towel to clean it if it's dirtied.
Pros:
Anti-tear with high elasticity
Sweatproof
Easy to clean
Free carry bag
Nonslip texture on both sides
Alignment lines
Large size
Can be used on both sides
Cons:
Expensive
The mesh of the carry bag may tear easily
#6. Best in Additional Accessory: Boldfit Yoga mat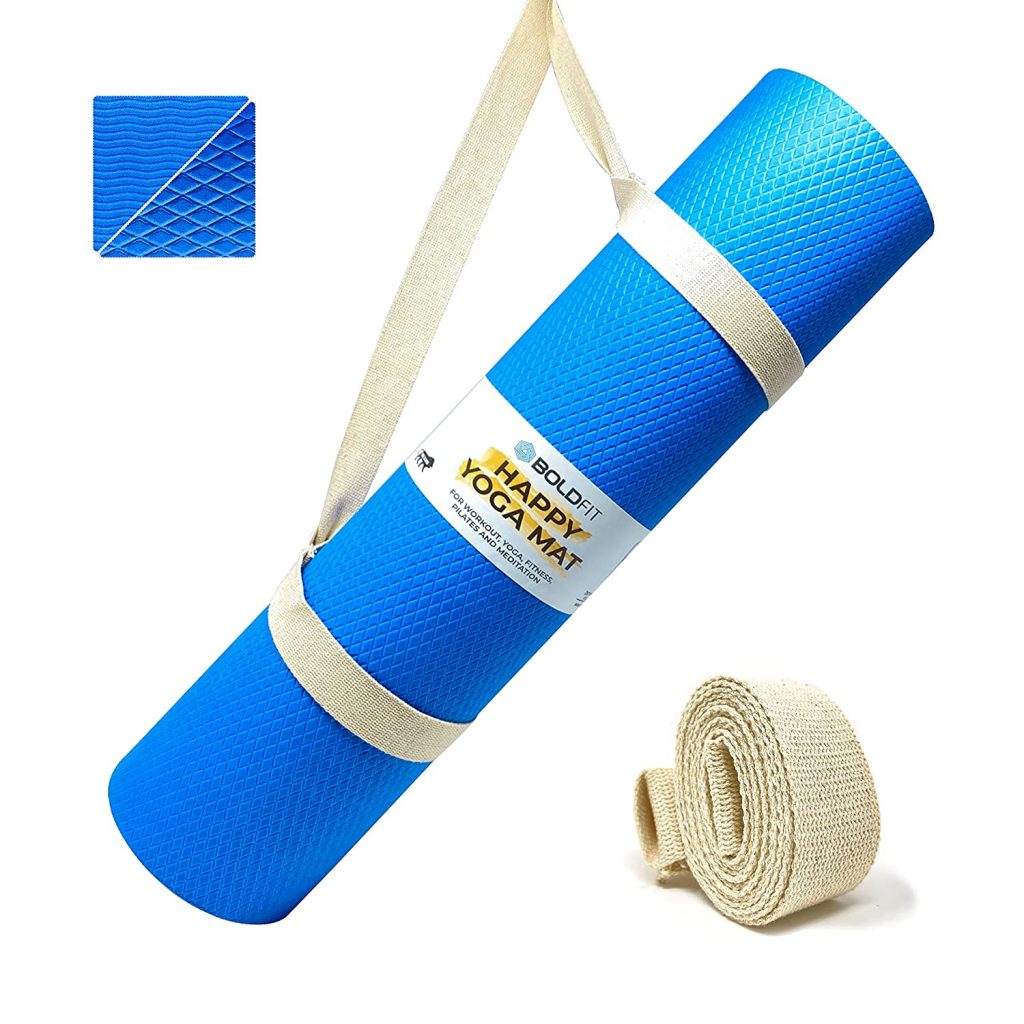 Material – TPE (Thermoplastic Elastomers)
Size – 183 x 61 cm (LxW)
Thickness – 6 mm
The 6 mm thick top quality mat's TPE material, which is extremely durable, provides comfortable cushioning for the spine, hips, knees, and elbows on hard floors. The mat size fits men and women of all shapes and sizes perfectly. The product is biodegradable and free of latex, silicone, PVC, and other harmful substances.
The yoga mat's double-sided non-slip sides provide exceptional slip resistance, helping to prevent accidents.
The Boldfit Pro Grip yoga mat comes with a free yoga strap. The yoga mat is sweat-proof and simple to clean with soap and water.
Pros:
Environment friendly
Odorless
Anti-slip and waterproof
Free yoga bag
Easy to maintain
Cons:
The mat may be difficult to flatten initially
#7. Best Cotton Mat: ASE YOGA INDIA Yoga Mat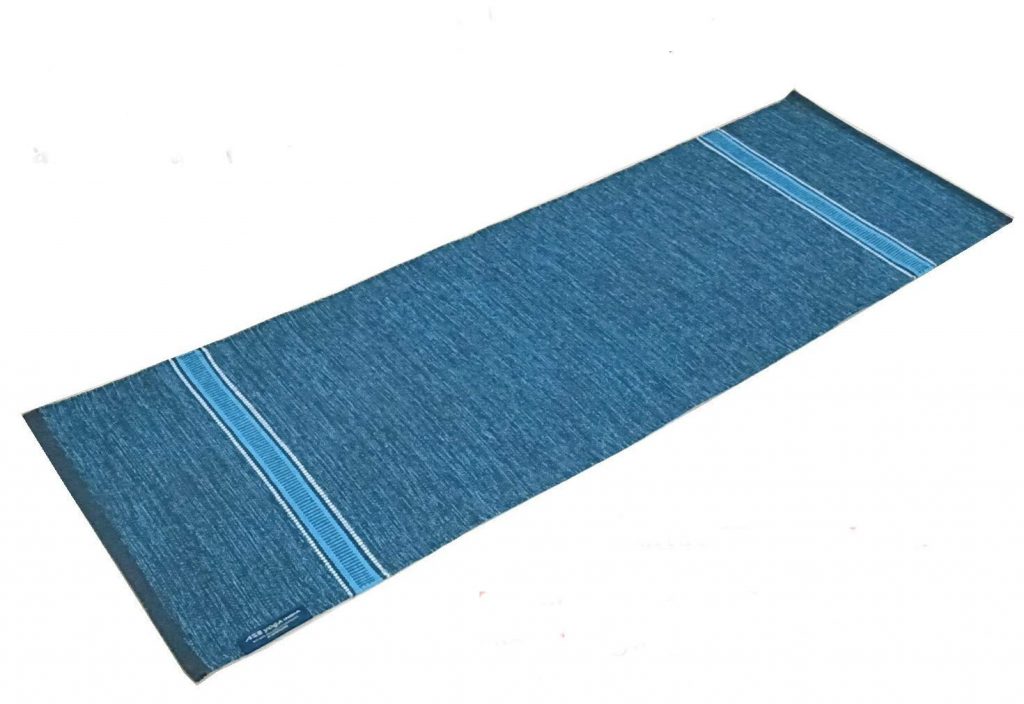 Material – Cotton
Size – 183 x 61 cm (LxW)
Thickness – 6 mm
100% cotton yarn has been used to create this ASE yoga mat. The underside is rubberized hence it can hold a good grip on the floor. The cotton material is airy and can absorb sweat easily. The mat is easily washable making it easy to maintain.
It comes with a carrying strap which can be helpful to carry it to the yoga studio. It is simple to roll up and store. This mat is eco-friendly, being made from handloom cotton material so you do not have to worry about toxins and chemical odors.
Pros:
Breathable material
Eco-friendly
Sweat absorbent
Washable
Comes with a carrying strap
Cons:
The upper layer can be rough on your hands
#8. Best in Variety: Strauss Yoga Mat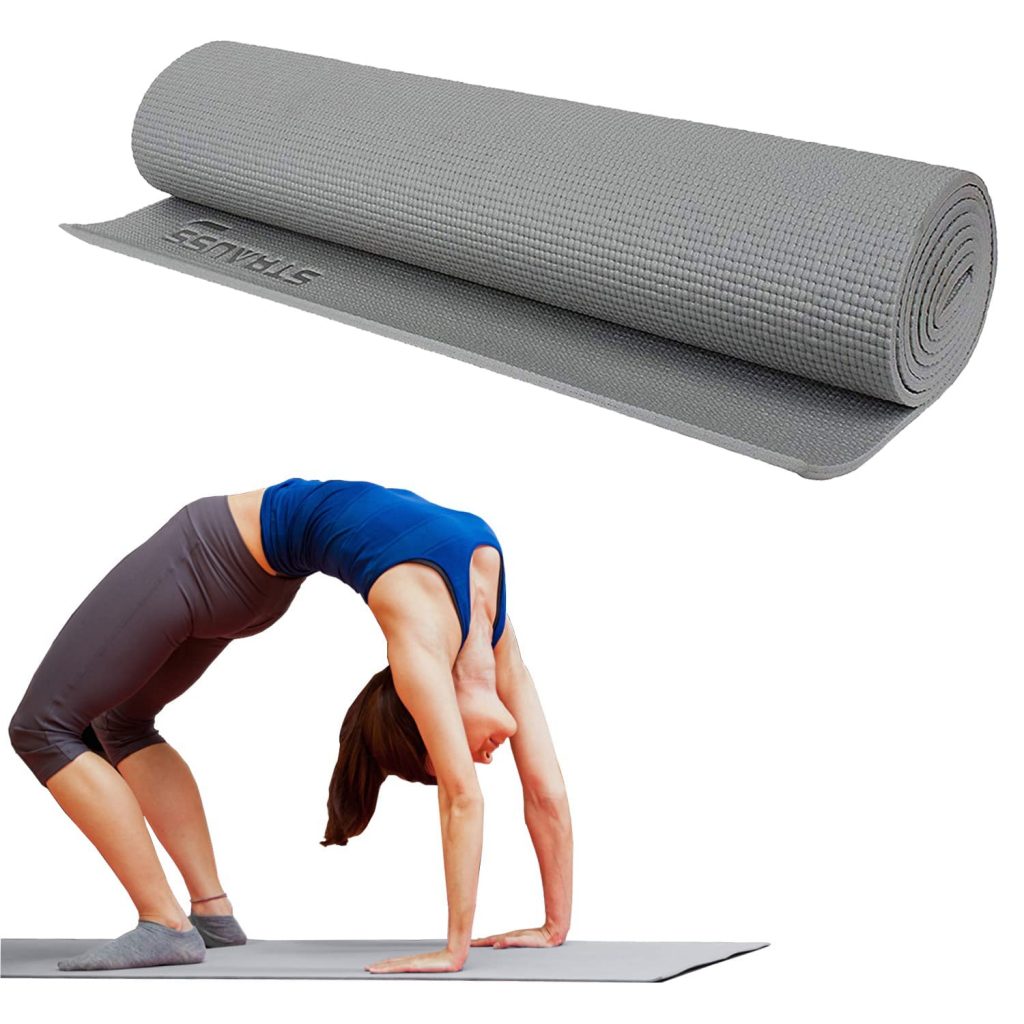 Material – Polyvinyl Chloride Foam
Size – 173 x 61 cm (LxW)
Thickness – 4, 6, & 8 mm
During your practice, the Strauss yoga mat will prevent you from slipping and skidding because it is cushioned and anti-skid. While still being soft enough to cushion your joints, this firm mat absorbs the pressure of working out.
The mat is available in a variety of colors and is made of a high-quality, sturdy material that resists wear and tear. In addition to being simple to clean, the yoga mat is also simple to roll up and store.
It comes with a carry bag with a full zip closing and a useful front pocket to hold your smartphone or keys.
The mat comes in various colors, patterns, and thicknesses, so you have the liberty to choose your preference.
Pros:
Anti-tear and anti-skid
Variety of colors and thickness
Machine washable
Carry bag included
Lightweight
Cons:
The length may be smaller for tall people
#9. Best for Reversible use: TEGO Yoga Mat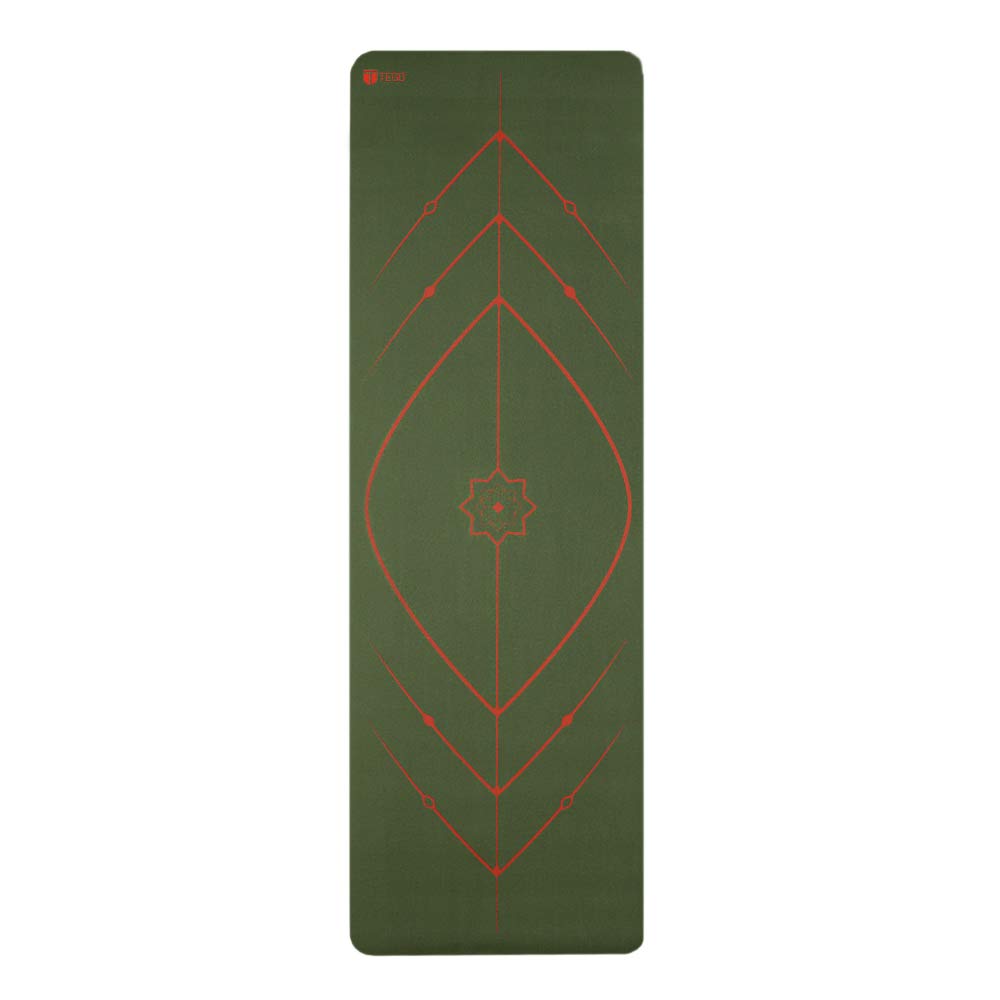 Material – Polyvinyl Chloride
Size – 183 x 61 cm (LxW)
Thickness – 5 mm
The TEGO Stance mat's PVC is free of lead and the six most dangerous phthalates. Antimicrobial technology is also applied to the TEGO Stance mat to provide further security.
The dual-layered yoga mat has a raised, ultra-tactile honeycomb surface on one side and a sticky side on the other. The closed cell design of the TEGO Stance mat lessens the likelihood that your sweat will leak into the mat, increasing its durability and all-around cleanliness.
The TEGO Stance mat is made of high-quality material, and its 5mm thickness makes it both lightweight and comfortable on the joints. A quiver bag with a comfortable shoulder strap and a separate compartment for your keys, wallet, or phone are included.
Pros:
Can be used on both sides
GuideAlign design
No Sweat accumulation and bad odor
Antimicrobial protection
Carry bag included
Cons:
Expensive
Best Combo: #10 Clear Choice Yoga Mat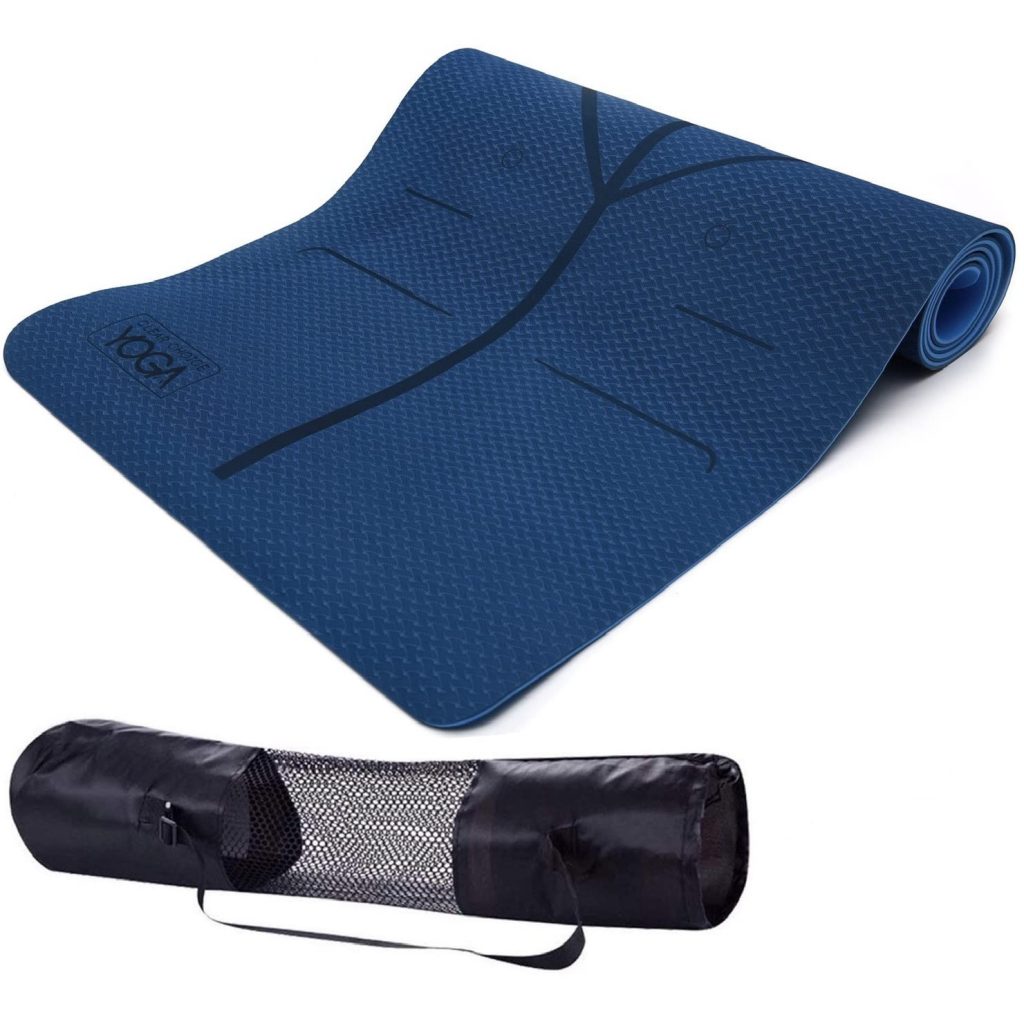 Material – TPE
Size – 183 x 62 cm (LxW)
Thickness – 6 mm
A non-slip texture has been added to this new TPE exercise mat for yoga. The superior grip is provided without sacrificing comfort thanks to a double layer structure and a non-slip surface.
The mat is constructed from TPE, a material that is hypo-allergenic, hygienic, and both safe and slip-resistant at the same time.
Even while practising without a yoga instructor present, the alignment lines assist in maintaining proper body alignment in several asanas.
With the supplied carrying bag and strap, this robust yoga mat is easy to transport to the gym or wherever you choose.
Pros:
Eco-friendly
Anti-skid
Easily washable
Non-toxic
Light-weight
Cons:
What to consider when buying a yoga mat?
When you set out to buy a yoga mat, you should consider the following points:
1. Your level of expertise
Purchase a thick yoga mat (5-8mm) if you're a beginner or intermediate so that you may get the most support possible for your poses. For advanced-level practitioners, a flawless grip will be possible with a thickness of 1 to 5 mm.
2. Material of yoga mat
Choose from variants made of plastic (PVC), thermoplastic elastomer (TPE), or environmentally friendly materials. You need not worry about allergies with the PVC mats because it is latex-free, but it cannot be recycled. In comparison to PVC, TPE, a mixture of rubber polymers and plastic, is far more environmentally benign.
Natural rubber, cotton, jute, or cork are materials used to make eco-friendly mats. Their hand and foot traction is still decent even though they offer less floor grip than the other options.
Also read: Which material yoga mat you should buy?
3. Texture of the mat
Choose a yoga mat that has a combination of rough and smooth feel. This will provide a good grip and comfort. Additionally, raised textures' tactile patterns aid in repelling microorganisms and dampness. This will keep your mat dry and odor-free. Common textures popularly used in yoga mats are diamond, zig-zag, wave, and honeycomb.
4. Select the mat as per your needs
The typical length of the mats is 68 inches (173 cm), so if you're tall, you should take it into account when shopping. You might also use thicker mats for increased cushioning if you frequently get sore or have joint pains.
For sitting or lying down poses or restorative yoga, thicker mats are best. The most typical thickness is 6 mm. Your hands, feet, and yoga mat should all have a secure grip on the floor if you're going for the vinyasa method.
Also read: How thick your yoga mat should be?
Consider yoga mats that will keep you from slipping if you practice more strenuous, sweaty forms of discipline.
5. Location of yoga practice
Depending on your needs, you can purchase any yoga mat for at-home practice. However, you should get portable, lightweight yoga mats if you frequently travel or go to yoga studios. These mats are very simple to carry and store.
6. Price of the mat
One of the most important factors when buying a mat is its price. The more design or added features, the more the price. However, do not invest in a cheap mat in the beginning. If you want to continue yoga in the long run, buy a high-quality mat. Even if you want to stick to a budget, make sure you are carefully looking at all the factors mentioned above to purchase the best quality.