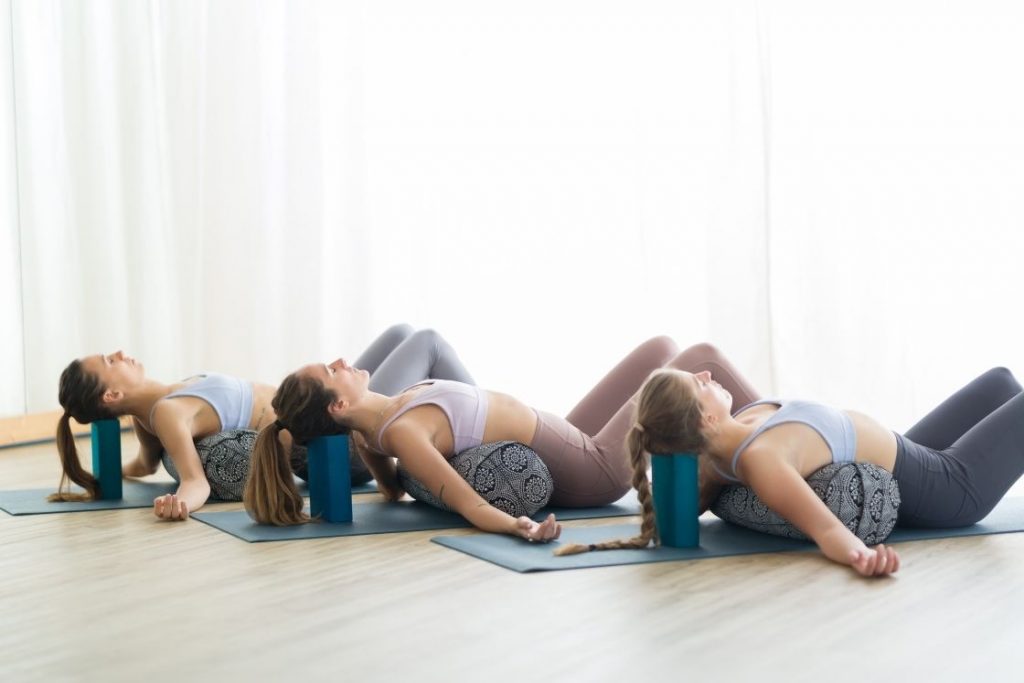 Yoga bolsters are soft and firm pillows that are available in a variety of sizes and shapes. They can be rectangular, round, thick, or thin, and made of a wide range of materials.
There is a bolster for everyone, whether you want to make specific poses more accessible, adapt your practice to physical restrictions, or simply relax and stretch.
The most crucial consideration when buying a yoga bolster is how you intend to use it. What yoga style do you practice and what does your yoga teacher or instructor recommend.
This article will assist you in selecting the best yoga bolster for your needs.
What is yoga bolster used for?
Bolsters are prominently used in yoga studios to provide extra support and cushion for beginners, pregnant ladies, and practitioners suffering from joint, back, or knee pain.
The long round bolster is more popular in the restorative yoga style. In restorative yoga, we focus on long holds, stillness, and deep breathing that open up the body through passive stretching. To accomplish this, a bolster is of great use.
A bolster can be placed under various parts of the body for firm yet comfortable support. For example, placing it under the chest in supine poses encourage relaxation and deep breathing.
The bolster can provide a cushion between your body and the hard floor or yoga mat, allowing you to be more comfortable while performing various yoga poses. Yoga with a bolster provides additional support for your body and aid in getting into the proper position.
Things to consider before selecting a yoga bolster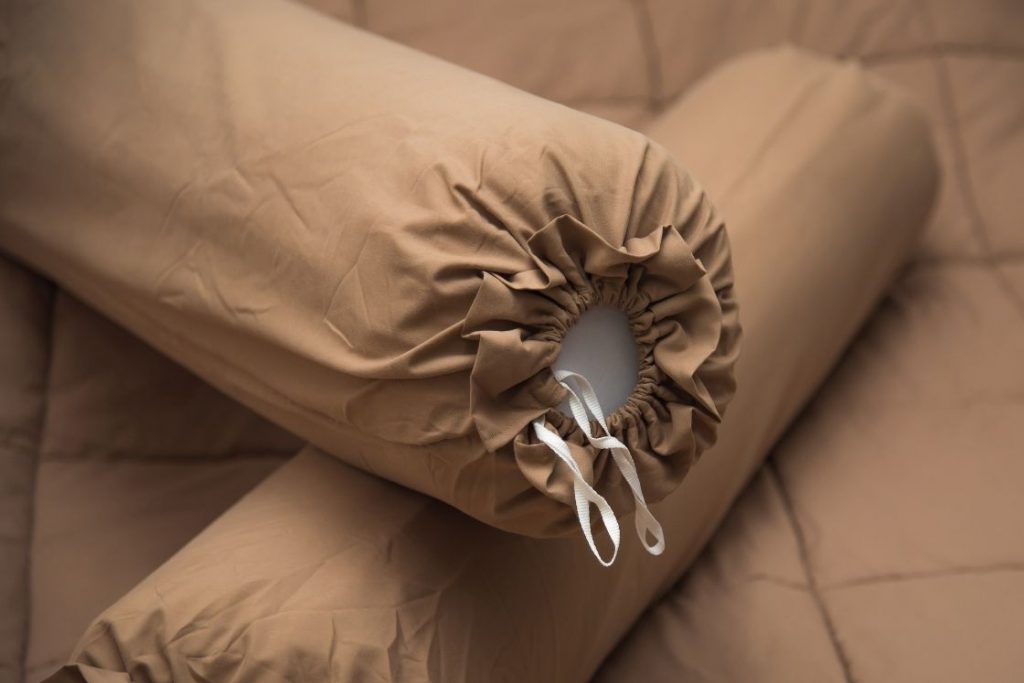 Even though all yoga bolsters are intended to give extra support to many yoga postures, there are several different styles and varieties to choose from.
Before you buy a yoga bolster, you should consider checking up following things:
1. Size and Shape
Keeping in mind your height and weight, you should first decide what size (small, medium, or large) or shape of the bolster is best suited for you.
There are typically 3 types of bolsters commonly available in the market:
Round or Cylindrical bolster – These are firmer and less angled. Several people use a yoga round bolster under the back to elevate the spines and allow shoulders and arms to stay down in various supine positions.
When put beneath the knees, round bolsters can also give support and comfort. Round bolsters are typically longer and heavier than rectangular bolsters and are frequently used by expert yogis.
Rectangular bolster – Rectangular bolsters are the most common and typical shape you'll see around yoga studios. These bolsters are wide and flat, which makes them ideal for back support. Their shape allows them to be positioned flat on the ground to provide support and lift for your body.
For sitting yoga poses and forward bends, a rectangular yoga bolster is also a wonderful option. They can also provide support for a variety of meditation poses.
Lean bolster – This type of bolster, also known as Pranayama Bolsters, is a 'speciality' bolster. Lean bolsters have become popular as a chest opening support for better lung function.
A Pranayama bolster is longer and thinner than a rectangular bolster. They're also frequently chosen to provide extra support and cushioning when kneeling or doing a backbend. It can be used in passive positions either lengthwise or crosswise for meditation or pranayama.
2. Filler and Material
Cotton batting, synthetic fibers/foam, buckwheat, or kapok are common fillings for yoga bolsters.
Buckwheat is the heaviest of grains, but it is also the most flexible, adapting to your shape.
A yoga bolster stuffed with Recron, Cotton, or Kapok is firm, strong, and comfortable and keeps its shape well.
The qualities of synthetic fiber and foam vary depending on the combination and number of layers utilized. Synthetic fiber and foam filling bolsters are lightweight and long-lasting.
Bolsters sink with time, whether they're filled with foam, cotton, or buckwheat. Cotton, foam/synthetic fibers, and buckwheat are the materials that sink the most. Many bolsters, however, are adjustable, allowing you to add or remove stuffing to suit your preferences.
The fabric of the bolster is another crucial factor to consider. Most yoga bolster covers are likely to be produced from natural materials such as unbleached cotton or hemp. They also come in nylon, canvas, microfiber, or polyester coverings.
3. Firmness
Your yoga bolster must be firm enough from the inside to provide support and stability in various positions. oftentimes, the filler determines the bolster's firmness and ability to maintain its shape.
Choose a bolster with soft but substantial padding from the outside and firm from the inside to keep you comfortable. For maximum firmness and comfort, a high-density foam or cotton batting interior is recommended.
4. Price
Lastly, you should analyze the price of each product you're researching. Though the price is not the only consideration, since cheap yoga bolsters aren't usually the best, it is necessary to stick to your budget. If you're attempting to decide between two bolsters that you like, the price difference between them might help you decide.
Best Yoga Bolsters
Best Overall: #1 AJNA Yoga Bolster Pillow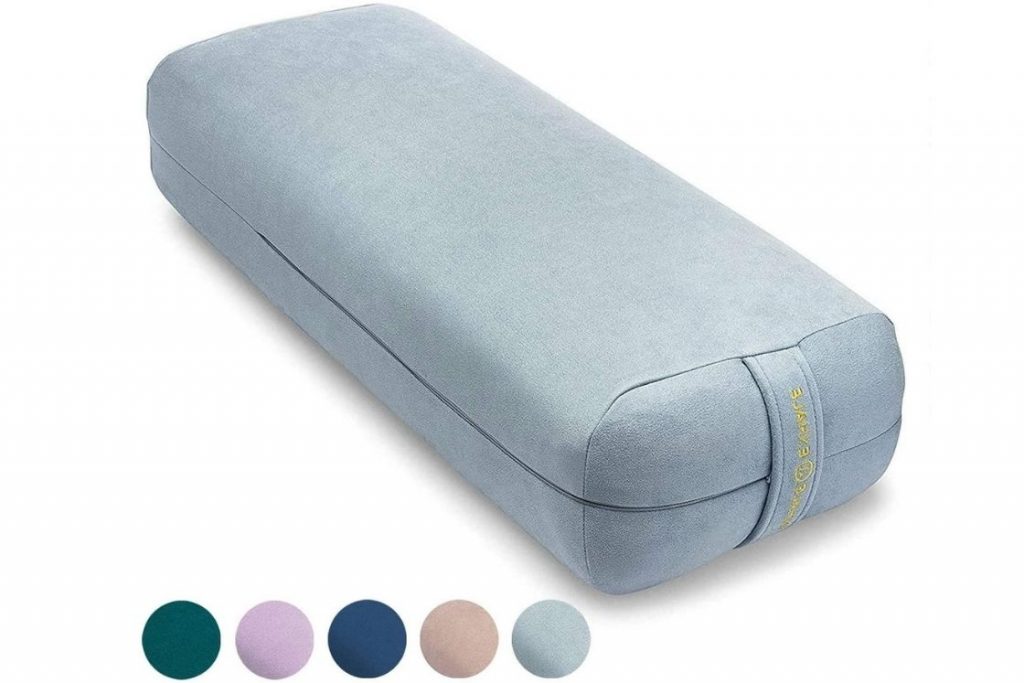 Shape – Rectangular
Filling – Recycled foam
Cover material – Eco suede
Weight – 3.4 pounds
This bolster shape will be ideal if you're seeking a yoga pillow that can be used at home as well as in the studio and is easy to transport while staying durable. It is both attractive and practical, available in five colors, and is produced sustainably from environmentally friendly materials.
The fill of this yoga bolster is comprised of recycled foam of various densities, which makes its cushion extremely comfy without sacrificing its sturdiness, so you can get excellent spine support in all positions.
This yoga bolster pillow is made entirely of vegan-friendly materials. In addition, no dangerous chemicals or hazardous solvents were utilized in the treatment of any of the components.
It also has a handle stitched on one side to make it easily transportable.
Pros:
Ideal for restorative yoga
Offers spinal support
One-size-fits-all size
Durable
Eco-friendly and vegan materials
Cons:
Slightly expensive
Can feel too firm to some pracitioners
Best Versatile: #2 Hugger Mugger Standard Yoga Bolster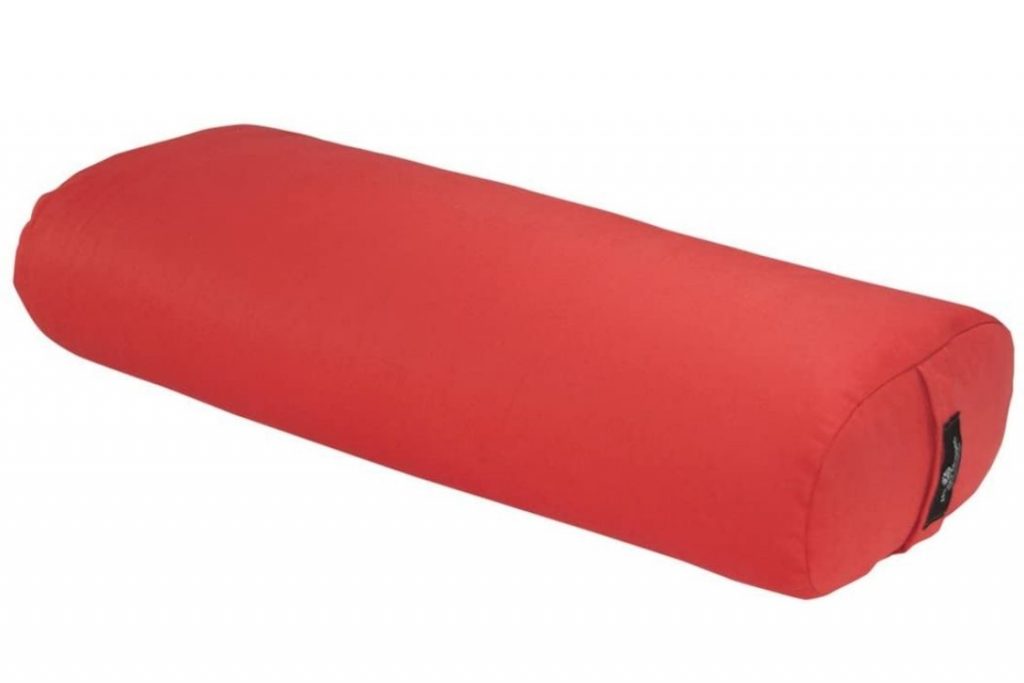 Shape – Rectangular
Filling – Foam and cotton batting
Cover material – Cotton
Weight – 1.88 pounds
If you're looking for a conventional or rectangular yoga bolster, this Hugger Mugger bolster is a good option. The shape and dimensions of this yoga bolster are ideal for most Restorative Yoga poses. You can also use this bolster for Yin Yoga and most other slow pace yoga styles.
This yoga bolster comes with a big and flat surface that will give you the support you need to keep your balance and stability in various positions. Its robust cushioning gives support without becoming too hard for any asana.
It's handcrafted in the United States and has a soft surface for maximum comfort while using it.
Pros:
Extra-wide top provides firm support for any yoga position
Handmade in the USA
Comfortable and durable
Handles make it easy to carry
Variety of colors available
Cons:
Slightly expensive
Can feel too bulky for practitioners with short height
The cover might be hard to remove for cleaning
Best Economical: #3 YogaAccesories Round Yoga Bolster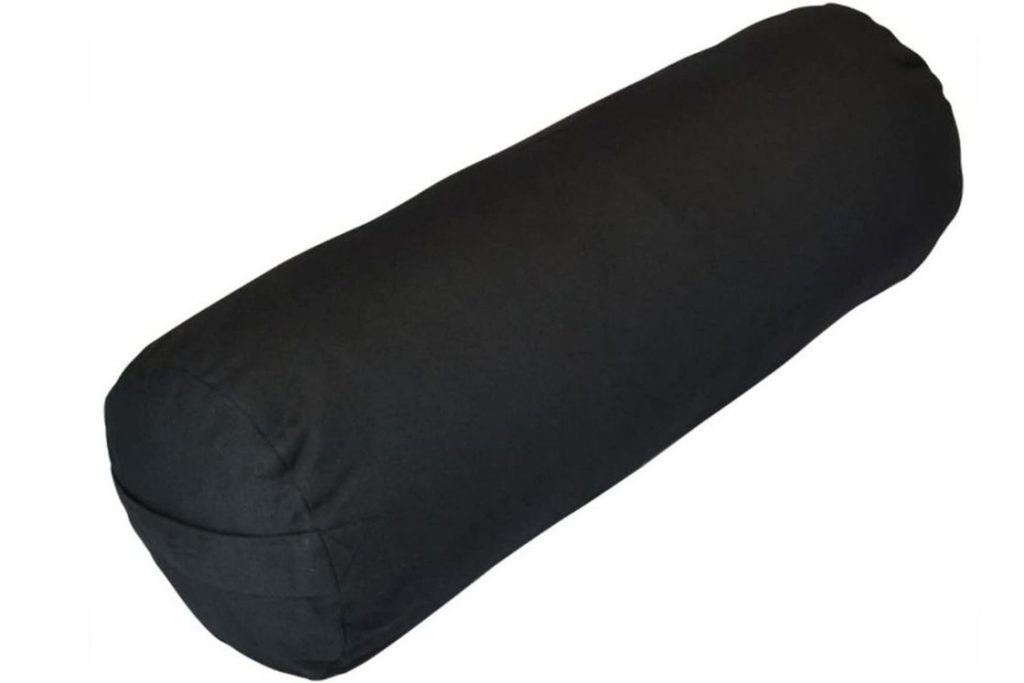 Shape – Round/Cylindrical
Filling – Cotton batting
Cover material – Cotton
Weight – 6 pounds
Because of the cotton filler, this yoga bolster is solid, buoyant but fluffy. Its zipper cover is easily removable and machine washable. This cylindrical yoga cushion is entirely comprised of cotton fibers, with a cotton canvas for the outer cover and cotton blend batting filling.
A fantastic aspect of this comfortable yoga pillow is that you can add or remove the cotton batting to change the stiffness and height, by using the additional internal zipper for the bolster under the outer cover.
This yoga bolster is a great option for pregnant women, restorative yoga practitioners, and individuals who want to enhance their flexibility through at-home yoga practice.
A fantastic aspect of this comfortable yoga pillow is that it comes in ten different colors and two different styles, both of which have the 'OM' sign embroidered on the sides in a lotus flower. A mandala pattern may be found on a couple of them, and others feature two carry handles, one on each side.
Pros:
Large enough to suit anyone's preferences
Removable machine washable zipper cover
Available in a range of colors
Affordable
Made of 100% cotton
Easy to carry around
Customizable firmness
Cons:
It may feel too big or heavy for smaller yogis
The chemical smell upon opening (can be removed after air-drying outside)
Best Lightweight: #4 Manduka Enlight Yoga Bolster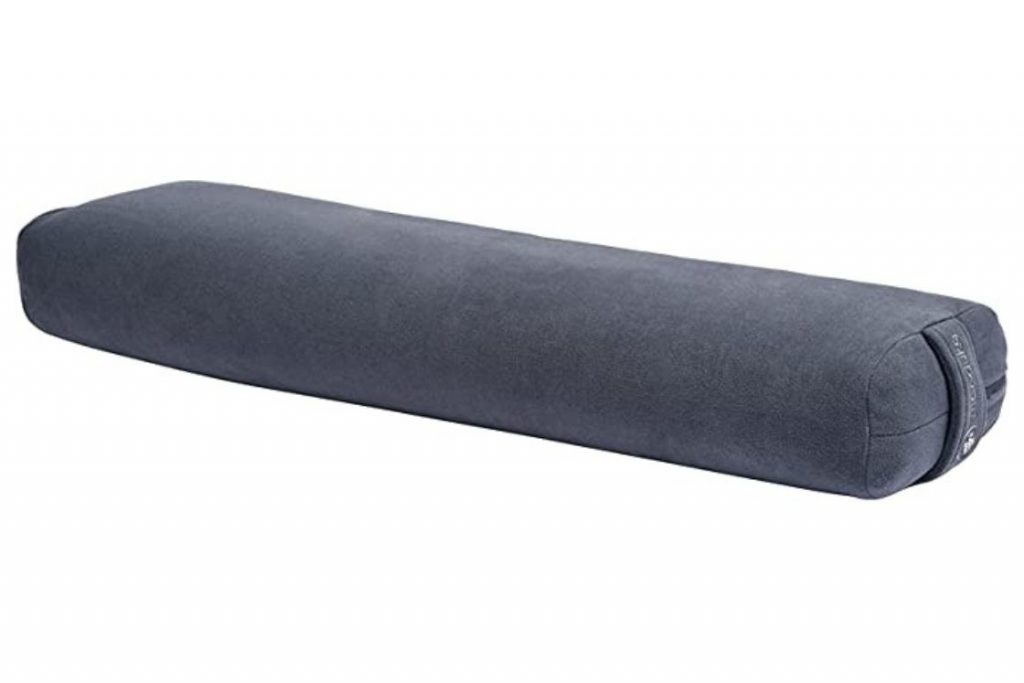 Shape – Lean
Filling – Polyester
Cover material – Microfiber Suede
Weight – 2.5 pounds
The fiber-fill in the bolster is meant to keep it firm and provide you with the support you need. This bolster is packed with 30% recycled fiber and covered in a soft microfiber suede-like fabric that is 100% moisture-absorbent. The cover can be removed for washing when necessary.
The bolster's smooth surface is maintained thanks to the hidden zipper design, which also allows you to remove the cover. It also features a carrying handle to make transporting it easier.
If you're looking for a traditional rectangular yoga bolster for support and relaxation, this is a remarkable medium-firm alternative.
Pros:
Travel-friendly
Lightweight and Durable
Easy to carry and maintain
Removable cover
100% moisture-absorbent cover
Cons:
Can compress under pressure
Best Stylish: #5 Brentwood Home Crystal Cove Yoga Bolster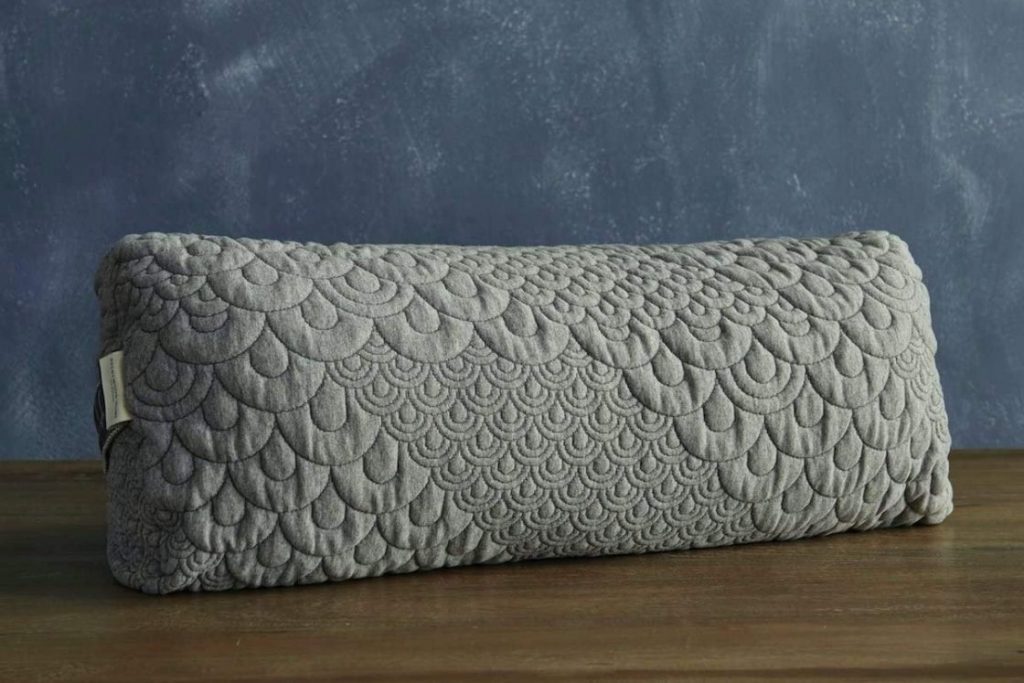 Shape – Lean
Filling – Buckwheat
Cover material – Cotton
Weight – 12 pounds
The Crystal Cove Yoga Bolster by Brentwood Home is crafted of certified organic cotton. The buckwheat filling and certified organic cotton liner are both environmentally friendly and non-toxic. The hulls are held in place by a soft stretch-knit shell with exquisite embroidery and an inner cotton liner.
The filling of this yoga bolster is made entirely of sustainable buckwheat, which is robust, firm, and long-lasting. This yoga bolster is denser and heavier than conventional bolsters due to its distinctive filling. It comes with an organic liner zip to remove the buckwheat for adjusting the firmness or replace the fill after a few years.
The smooth and beautiful shell-like patterned stitching makes this pillow suitable for both yoga and home design. This bolster has a washable cover and carry handle.
Pros:
100% natural materials
Customizable firmness
Beautiful stitching and design
Can be used for decor
Extremely sturdy
Does not compress when pressure is applied
Removable washable cover
Cons:
Extremely heavy 
Not suited for travelling
Expensive
Best Innovative Shape: #6 Half Moon Bolster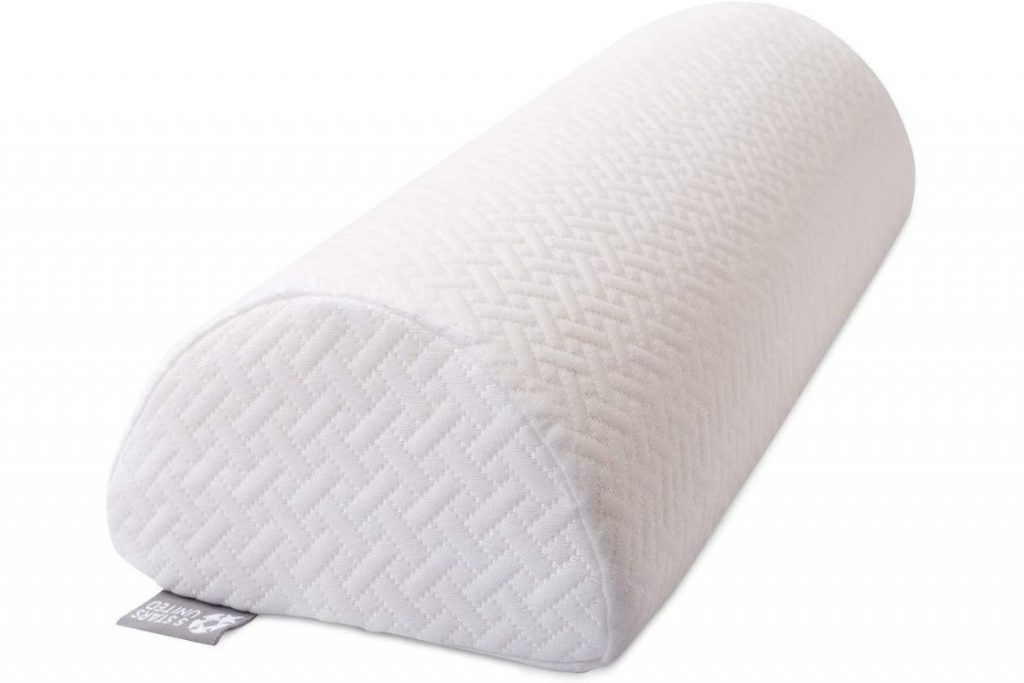 Shape – Half-Moon/Semi-circle
Filling – Memory Foam
Weight – 1.23 pounds
This therapeutic bolster has a semi-circular shape and can be used to relieve pain and enhance body alignment in four different positions – between the legs, under the lower back, knees, and legs.
The top surface of this yoga bolster is high-quality memory foam with a subtle lemon aroma that allows relaxing use of the pad due to the pad's replication of your body's shape. While the bottom layer is a highly robust foam that acts as a stiffener to keep your preferred position in place.
It has a form-fitting outer cover that zips off and can be washed. This cushion with a semi-round form can be used in a variety of settings.
It is recommended to air out this pillow for 48 hours before using it, as a sudden drop in temperature can cause the pad to become stiff.
Pros:
Ergonomic support
Lightweight
Removable cover and washable
Soft and breathable fabric
Soft yet firm enough for regular use
Multi-positioning body support
Doesn't collapse under pressure
Cons:
May be too high for short people
Best Cylindrical: #7 Leewadee Yoga Bolster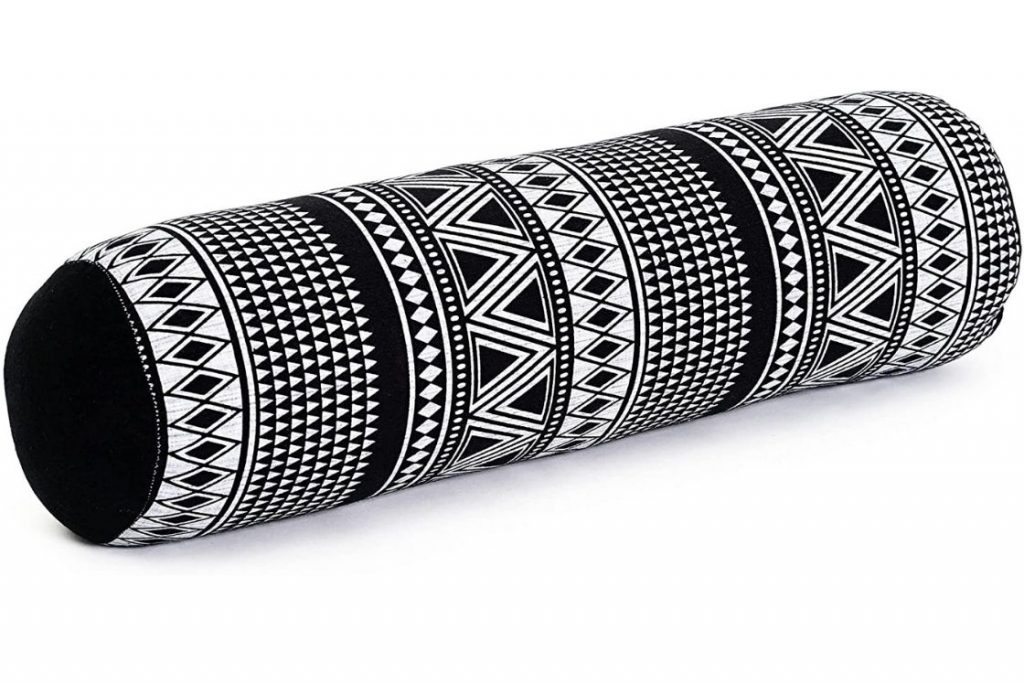 Shape – Cylindrical
Filling – Kapok
Cover material – Cotton
Weight – 1.47 pounds
The Leewadee Yoga Bolster is filled with natural kapok and assembled of breathable, natural plant fibers. For meditation and yoga practice, it is soft and airy, and it supports the lower back, knees, legs, and feet.
This yoga neck pillow can be quickly and simply stored due to its softness and lightness. The neck roll's robust and breathable fabric provides a pleasant and comfortable position for meditation.
The elegant Thai pattern adds to the bolster's trendiness and style while the double seam adds to its strength and sturdiness.
Pros:
Double seam
Stylish and vibrant colors and patterns
Durable kapok filling
Firm yet comfortable
Ideal for neck and knees
Easy to store
Cons:
Seem too small for some practitioners
Best Bolster Set: #8 Gayo Yoga Bolster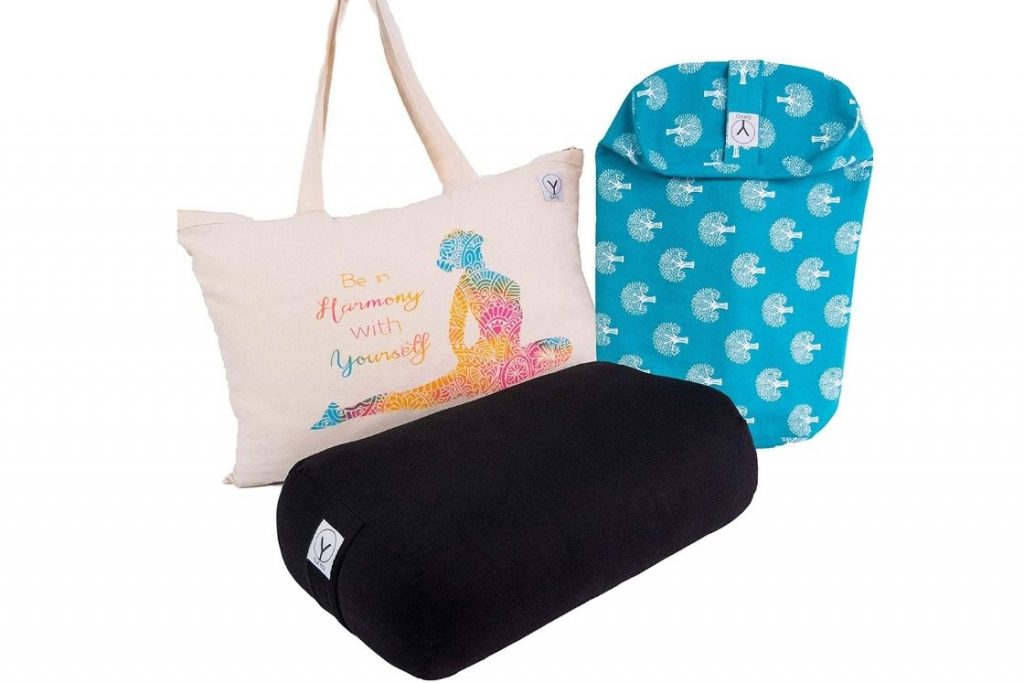 Shape – Rectangle
Filling and Cover material – Cotton
Weight – 4 pounds
The Gayo Yoga Bolster is produced from 100% organic cotton that has been certified. It helps with challenging poses when you're injured, has limited flexibility, or are pregnant. This moisture-wicking and breathable pillow are ideal for restorative yoga and deep breathing activities.
It includes a convenient travel bag as well as an extra bolster cover. It's fantastic for yin yoga, stress relief, and reducing lower back stiffness. This bolster is somewhat shorter than the conventional bolster, making it easier to transport.
Pros:
Eco-friendly cotton material
Breathable and sweat-absorbant
Easy to remove and wash the cover
Travel-friendly size
Comes with an extra cover and travel bag
Lightweight
Ideal size for short people
Cons:
The firmness can be too much for some
Conclusion
We hope our assortment of yoga bolsters has sparked your interest in purchasing one. Yoga bolsters can help you avoid injuries, reduce pain, alleviate strain, and increase flexibility and mobility. So, make a list of your requirements and start looking for the ideal yoga bolster to reap the advantages of the asana.