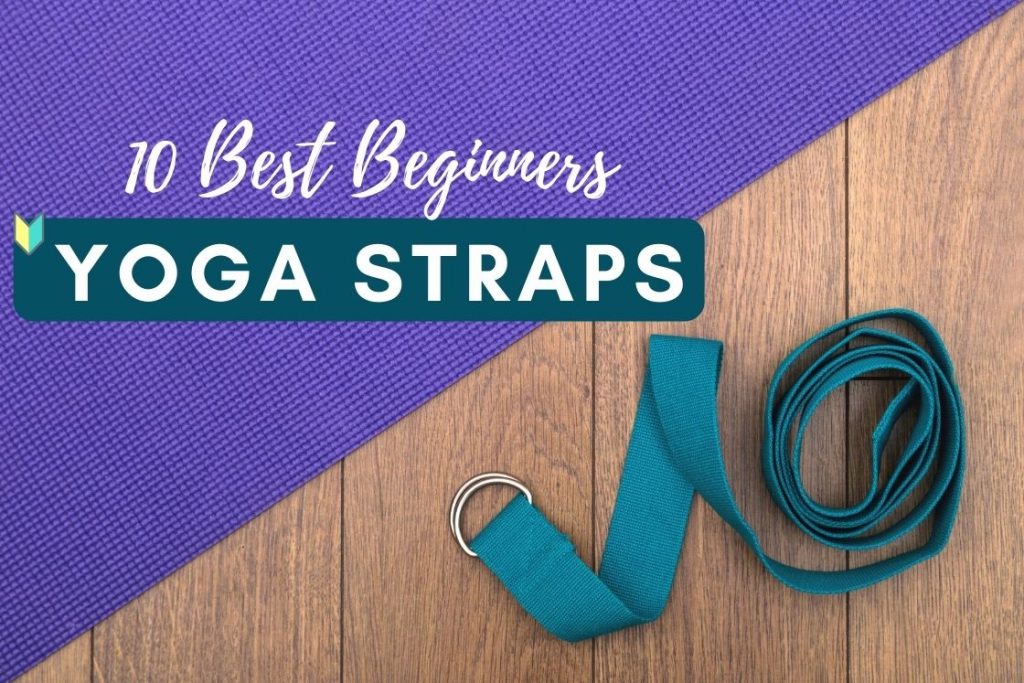 Being a beginner in yoga can be a daunting experience. There is insecurity that you will not be able to perform the poses well, especially in a class setting. You do not have to worry as there are various props available to help you progress in your journey.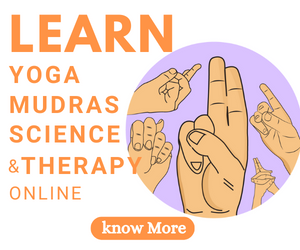 A yoga strap is one such accessory that beginners can use in any way, either to fix your alignment, to hold the poses longer, for support, or to deepen the stretch. The yoga straps come in various lengths, materials, and other variations that serve a variety of purposes.
Best Overall: #1 – Tumaz Yoga Strap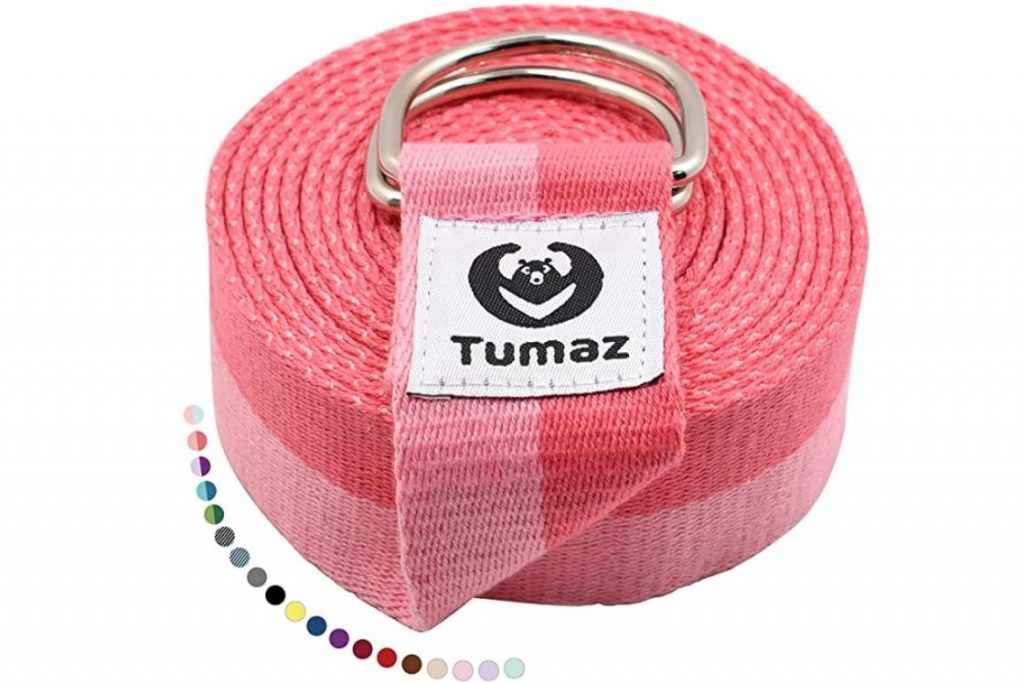 Material – Cotton-Polyester
Available length – 6ft or 8ft and 10ft
Closure Type – Metal D-rings
Color – Vibrant and Environment Friendly
The Tumaz Yoga strap is an all-time favorite as it comes in 15+ vibrant colors. This non-elastic strap gives great flexibility and durability and can be used for almost all yoga poses. It has a soft texture and the strap is dyed with environment-friendly colors.
It comes with strong 4mm welded D-ring buckles along with a 2.5 mm thickness of the strap, making it strong. It can easily hold up to 2,379 pounds of weight due to the special knit technique.
The brand offers a "no question asked" 60 days refund, replace or return policy. You can choose one from 6, 8, and 10-feet lengths variants.
Pros:
Thick material to hold weight
Environment-friendly dyes
Soft yet strong material
Easily adjustable D-rings
Wide variety of colors
Comes with an instruction booklet
Outstanding customer service
Best Multi-purpose: #2 – CleverYoga Yoga Mat Strap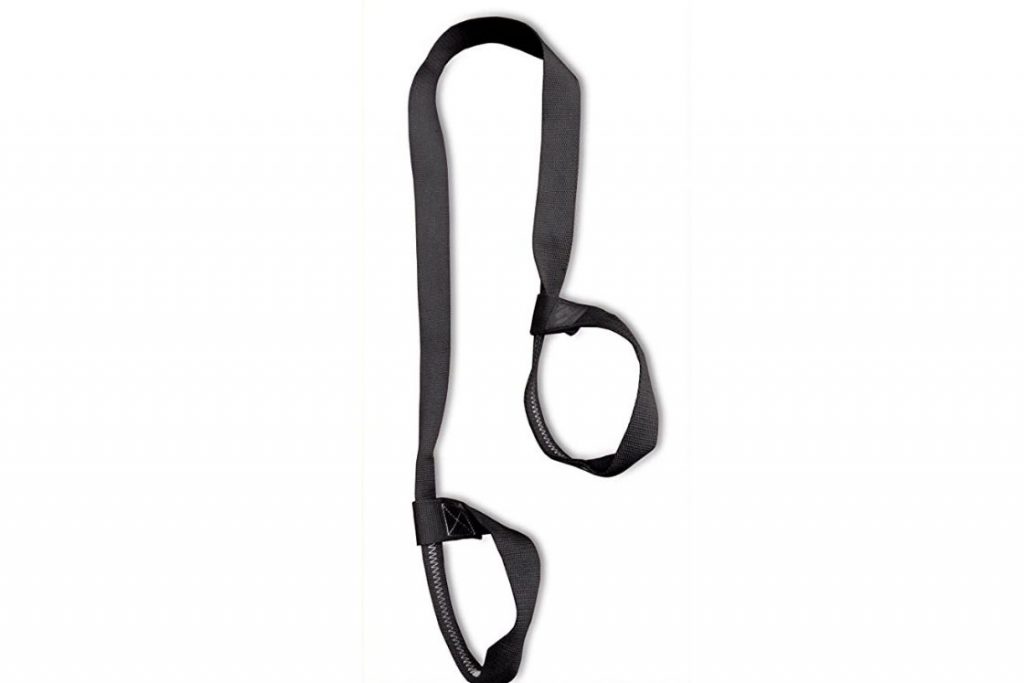 Material – 100% Cotton
Available length – 66in and 85in
Closure Type – Adjustable loops
Color – 4 colors
The CleverYoga brand was formed by yogis for yogis. Hence it is safe to say they understand the needs of every practitioner. This strap serves two purposes, you can use it for your yoga practice and also carry your yoga mat.
The adjustable loops on both ends make it easy to put both ends of the yoga mat through it and carry it to your class. It is made of 100% cotton material, which gives it durability, flexibility, strength, and washable.
This mat strap comes in two sizes – 66-inches for regular use and 85-inches recommended for taller practitioners. It is currently available in 5 colors. The brand also offers a hassle-free replacement or refund policy.
Pros:
Multi-purpose use
Easily washable
Loops are adjustable
The thick material makes it strong
The longer strap can fit two regular yoga mats
Outstanding customer service
Cons:
Can come off as stiff
Only 2 variants of lengths
Single webbing may cause the strap to fold
Price is on the higher side.
Best for Challenging Poses: #3 – Manduka Align Yoga Strap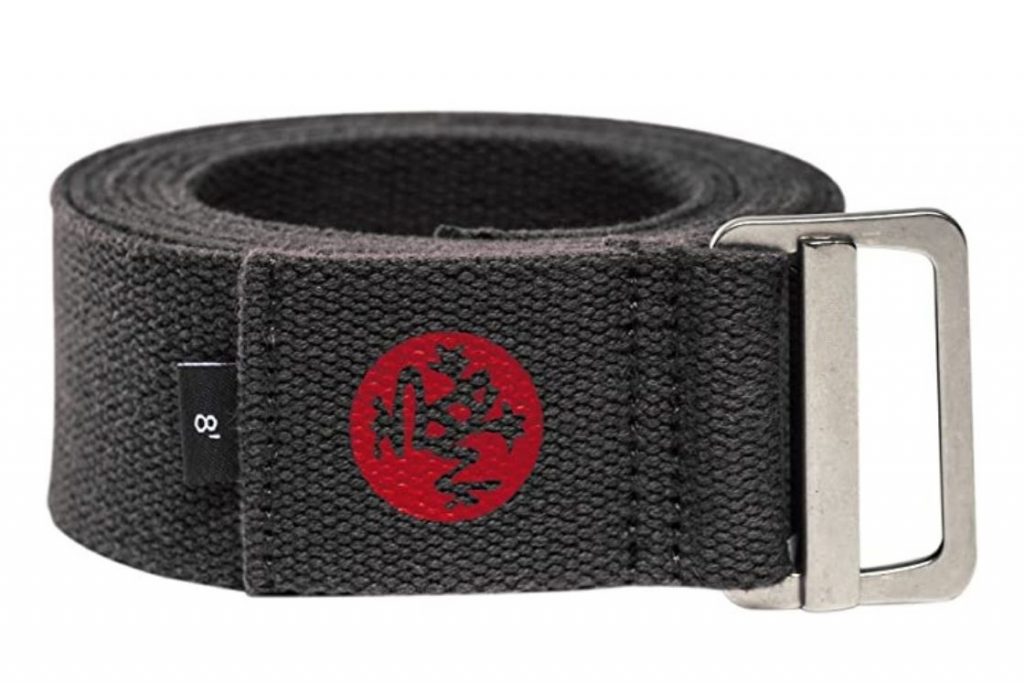 Material – 100% unbleached eco-friendly cotton
Available length – 8ft and 10ft
Closure Type – Middle-bar zinc-alloy buckle
Color – 3 eco-friendly colors
The Manduka Align Yoga Strap has the unique feature of combining the traditional strap design of the famous yogi BKS Iyengar. It is made of unbleached natural cotton webbing with slip-free support which makes it easy to use for advanced poses.
The zinc-alloy, lightweight, and strong middle bar buckle assure that the strap is fastened securely. The yoga strap is dyed with AZO (cancerous), lead, and heavy-metal-free dyes, which makes it environmentally safe and safe for use on the skin.
Pros:
Wider belt width for most coverage
Thick and durable
Sturdy yet soft
Easy to use buckle
Environment and skin-friendly
Cons:
The movable middle bar makes noise.
Available length variants may be too long for people with short or average height.
Price is on the higher side
Limited colors
Best for Stretching: #4 – Onory Yoga Strap Stretch Straps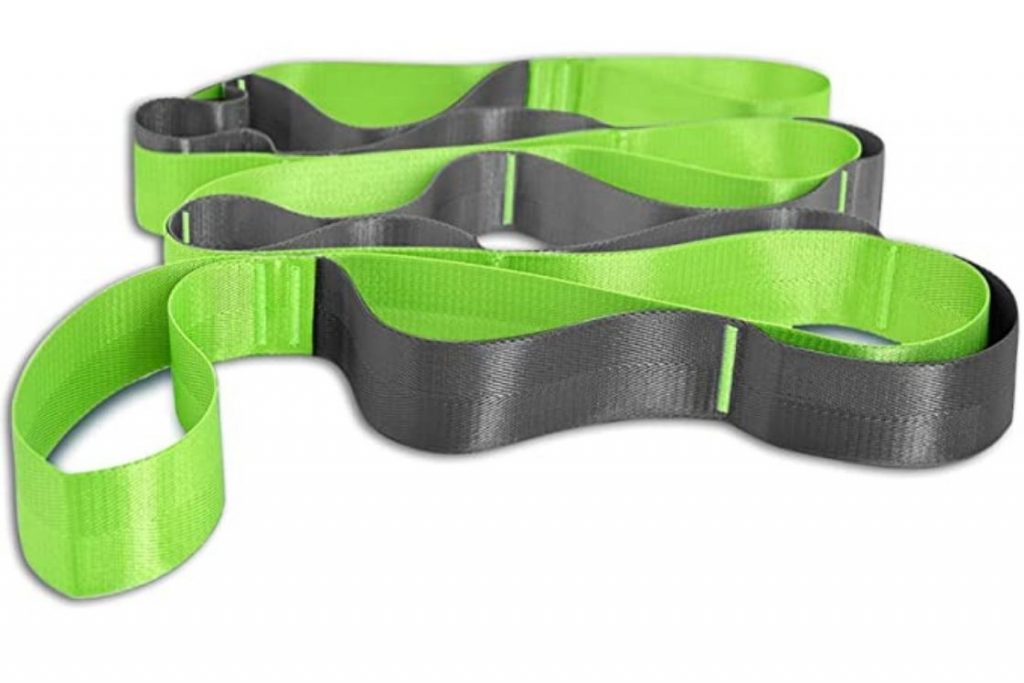 Material – Nylon
Available length – 8ft
Closure Type – Multi-loop
This nylon multi-loop strap is extremely beneficial for performing strap stretches and marking your progress for flexibility. The straps are 1.5inch wide which gives good coverage to your feet, hands, or other body parts.
It has a strong stitch and tight weave making it durable and the non-elastic material is easily washable. Since it is non-elastic, it doesn't contain any latex, making it safe for the skin. The colors available are bright and unique.
Instead of buckles or rings, the strap comes with loops at its end where you can easily and securely grip the yoga strap. The 12 loops give a range of movement and length of the stretch.
It can also be used for Physical Therapy and warm-ups. The strap comes with a carry bag and exercise booklet where you can see a number of stretches demonstration.
Pros:
Washable nylon material
Strong stitch and tight weave makes it durable
Soft yet strong
Multi-loops make it easy for you to track your progress
Easy to carry and strap storage bag
The booklet lists some stretches and exercises that can be performed with the strap
Wide strap for coverage
Affordable price
Cons:
The loops cannot be adjusted as they are stitched
Can be too long for average height or short people
Non-maintenance can cause faster wear and tear
The slippery texture does not assure a good grip
Cannot be used in a dryer
Best for Regular Use: #5 – REEHUT Yoga Strap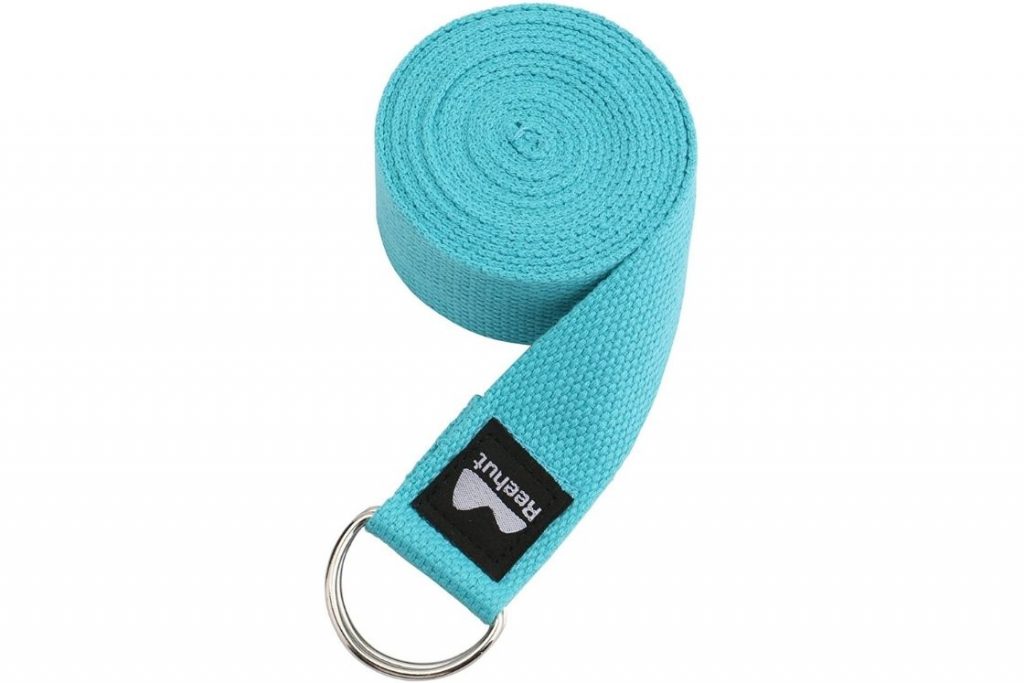 Material – Polyester cotton
Available length – 6ft, 8ft and 10ft
Closure Type – Metal D-rings
REEHUT yoga straps are well known to be affordable and easy to use. The polyester cotton material of the strap is soft yet sturdy and does not rub harshly on the skin. It is flexible so you do not have to worry about the belt losing its shape.
The material makes it extremely lightweight, easy to carry and maintain.
The D-rings are made of metal which makes it easier to fasten the loop. You can easily adjust the loop size due to the smoothness of the rings. The length variants make it easier to choose based on your height.
You can use this strap for going into difficult poses, toning and strengthening your muscles, deepening stretches or performing warm-ups.
The brand offers 30-days replacement and refund with lifetime customer support.
Pros:
Fabric is thick and durable
The size of the D-ring is quite large
Easily washable
Comfortable to use and durable
Comes in a plastic zip-lock bag
Cons:
Some may find the width of the strap to be thin
Not machine washable due to the metal rings
The D-rings are not welded which can cause them to spread or break.
Best Eco-friendly: #6 – Yoga Design Lab Yoga Strap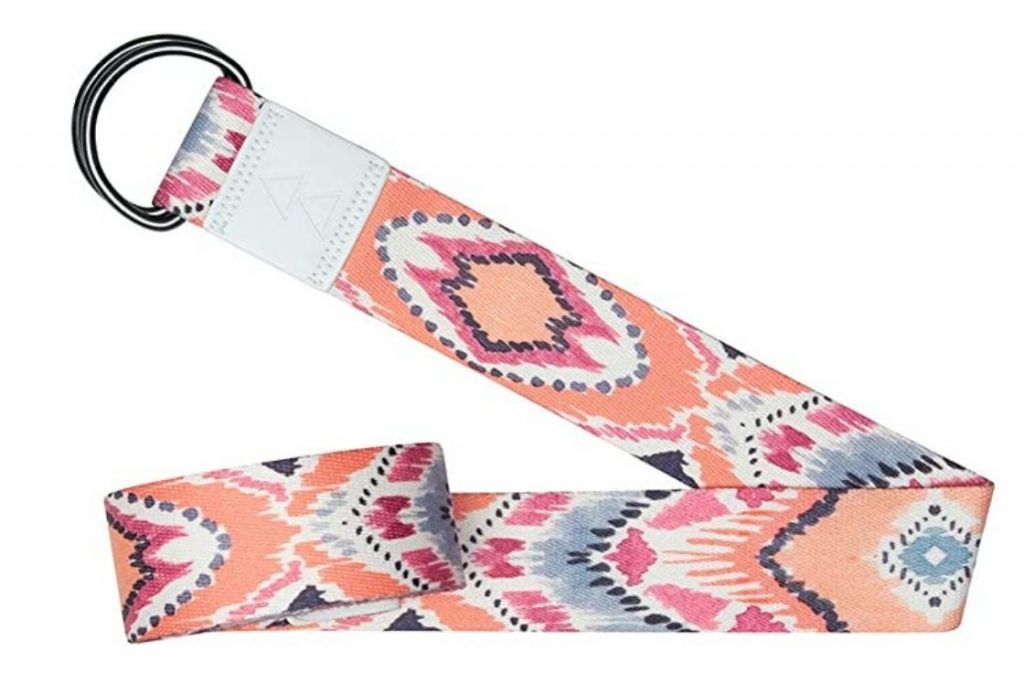 Material – Premium Cotton
Available length – 8ft
Closure Type – D-rings
Color – Non-fading, water-based colors with ecological printing
The wonderful vibrant and colorful yoga straps are made to deepen your practice. The colors of the strap are water-based and printed which means that they will not fade for a long time. It is made of premium cotton material that makes it soft, flexible, and easy to maintain.
The heavy-duty metal D-rings assure easy adjustment of the strap. The synthetic leather stitched on both ends of the strap prevents the fraying of the thread and also gives an edge to the style.
This yoga strap is sturdy and can be easily identified between a jungle of straps!
Pros:
Stylish leather to prevent fraying
Soft and comfortable material
Made from fully environmentally safe resources.
Vibrant colors with unique designs
Currently offers 10% discount on the purchase of 2 or more products
Cons:
Comes in only one length size
The material can sometimes be a hindrance to grip
Price is on the higher side
The width of the strap may seem thin to some people
Best Cinch Buckle: #7 – Hugger Mugger Cinch Yoga Strap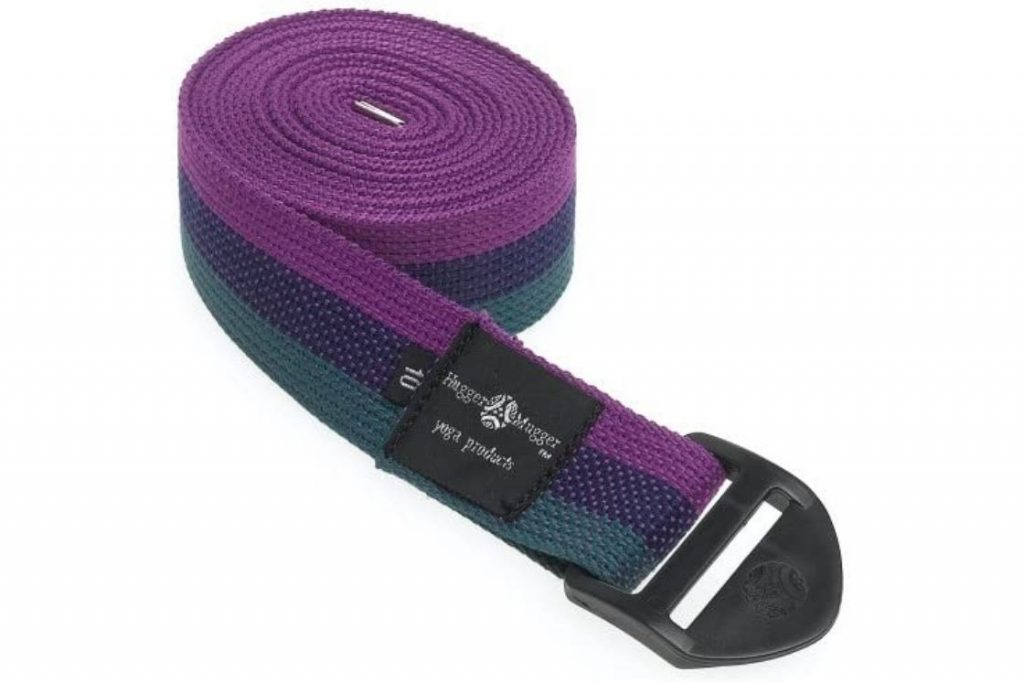 Material – Cotton Webbing
Available length – 6ft, 8ft and 10ft
Closure Type – Cinch Buckle
This Hugger Mugger strap is made from cotton webbing which is lightweight yet durable. It is strong enough to hold 500lbs of pressure. The cinch buckle, although made from plastic, is easy to use. A practitioner can adjust the loop size with one hand.
It can be used by beginners as well as advanced-level yoga students alike. The brand offers a lifetime warranty on its straps.
Pros:
The lightweight cinch buckle assures safe locking of the strap
Anti-slip material has a comfortable grip
Strong material that can hold 500lbs
Lifetime warranty
Cons:
The plastic buckle may break if not maintained properly
Price is on the higher side
Best for Alignment: #8 – Infinity Strap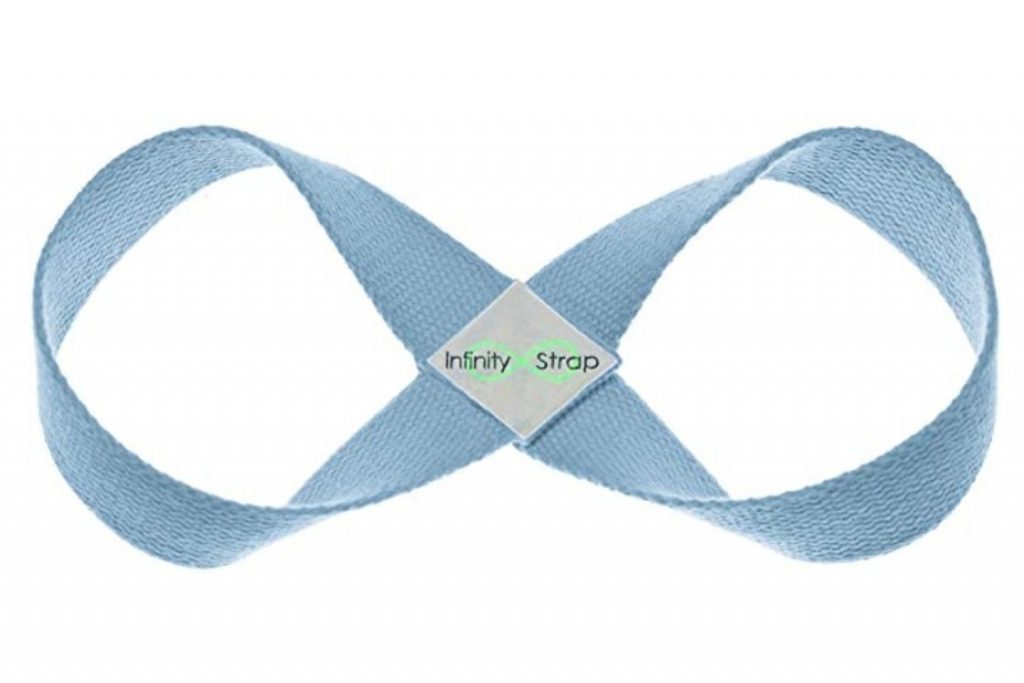 Material – Cotton
Available length – 13in (small), 16in (medium) and 19in (large)
Closure Type – N/A
The Infinity Strap brand offers its namesake, infinity loop yoga strap. It is a great strap for fixing your alignment in many yoga asanas. It is shaped like the sign of infinity or "8". The loops are stitched in the middle and you can stick your arms and feet through these loops.
As this strap doesn't have any buckle or metal rings, you do not have to worry about making noise and becoming the center of attraction while using this strap. It is easy to carry and extremely lightweight. In addition to alignment, you can also use it for stretching and physical therapy.
The size of the strap is measured from shoulder ends.
It is most beneficial for people who are unable to find the bind or stretch with regular yoga straps.
Pros:
Durable and long-lasting material
Easy to use with no fuss of adjustments of loops
Can be used and carried anywhere due to its size
No buckles, rings, or leftover strap length to handle additionally
Cons:
You would need to buy different infinity straps as your flexibility increases.
It is expensive than regular yoga straps
Best Combo Set: #9 – Pete's choice 2-Pack strap and 2-blocks combo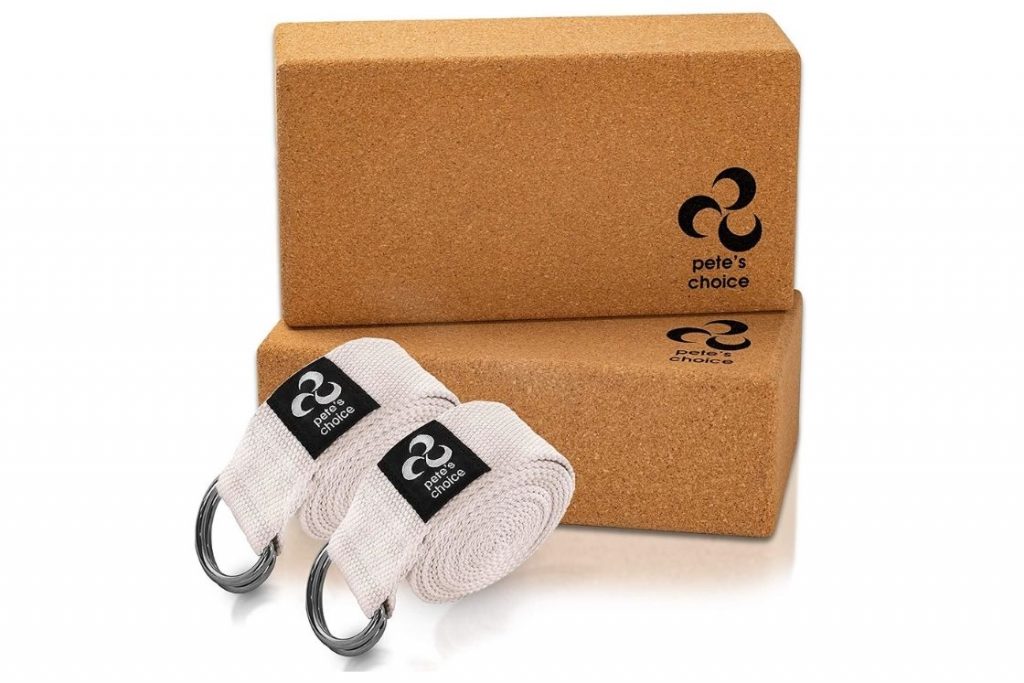 Material – Cotton (strap) and Cork (block)
Available length – 8ft
Closure Type – D-ring
You know what's better than one yoga strap? 2 yoga straps.
And to make your purchase more worthwhile, you can buy this combo set that contains 2 additional cork yoga blocks.
The straps are made of natural cotton which makes the strap sturdy and durable. Moreover, the strap is soft and flexible so you can easily twist and bend in any shape or form. The high-quality material also offers a good grip on the strap so that you don't have to worry about it slipping from your hands. The D-rings are made from high-quality metal and are also durable, easy to use, and adjustable.
The blocks are made from cork making them easily recyclable. You can use these blocks to release tension and pain from the muscles and as additional support.
This combo set can be used as a gift or you can use them with your partner. Both the strap and block material are eco-friendly so you will also be saving the environment.
It also offers a hassle-free money-back guarantee.
Pros:
2+2 offer at reasonable price
Both strap and block are easy to maintain
Recyclable and non-toxic material
Soft, strong, and durable strap
Does not give a rope burn feeling with a tight grip
Well attached D-ring with high-quality material
The combo can be used as a gift
Cons:
There are no color variants
The light color can easily accumulate dust and needs to be frequently washed.
Only one length variant; may not suit short or average height students.
Best Budget: #10 – Voidbiov Yoga Strap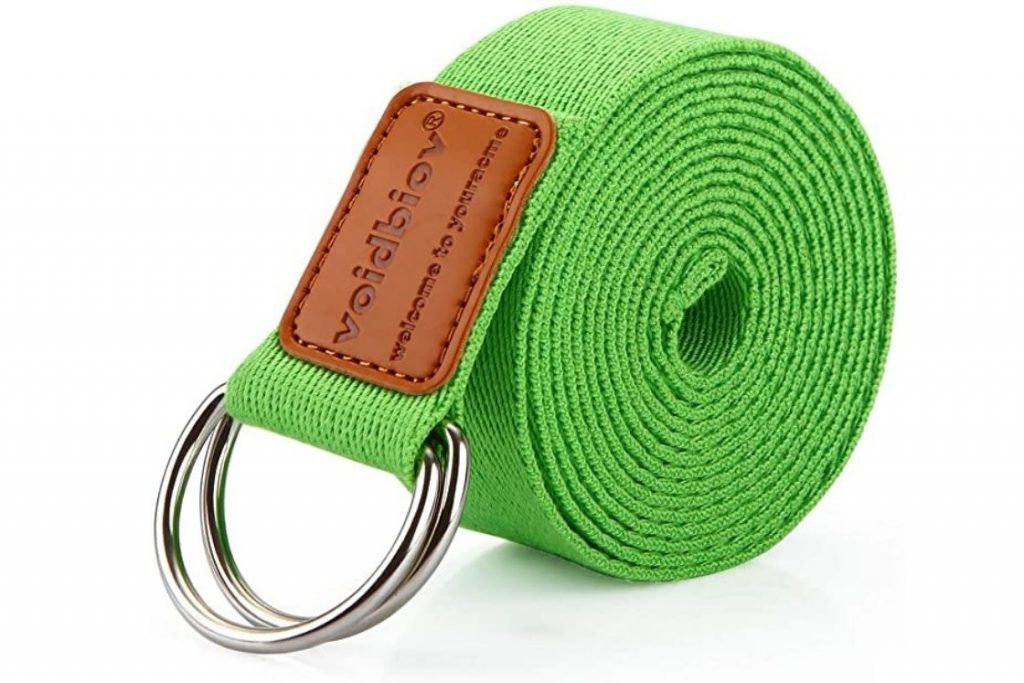 Material – Cotton
Available length – 6ft
Closure Type – D-ring
If you do not want to spend a lot of money but want the best quality then this is the strap to buy. The strap is made from soft and sturdy cotton material. This makes it easy to wash and it will not lose its shape. The material doesn't give a rope burn and provides a firm grip.
The 4cm width of this strap gives good coverage for supporting different parts of your body.
The metal D-ring is 5mm in thickness making it strong enough to hold the straps for a longer hold. The strap has a strong stick with tight webbing which will not give you frayed ends.
Pros:
Best quality at a cheap price
Soft, supple, and strong material
Nice range of colors
Wide strap
Cons:
The length is not suitable for tall people
The logo could be placed discreetly.
How To Choose A Yoga Strap?
There are a few things you should consider when buying a yoga strap; first and foremost is strap material and length. Then check what type of closure it comes with.
You can choose a yoga strap keeping these things in mind;
1. Select a durable and strong material
The first and foremost thing to consider is the material of the yoga strap. Most yoga straps are made out of cotton, hemp, nylon, or rubber-like material. The most common and recommended material is cotton as it is durable, easily washable, sturdy, and easy to break in.
However, it easily absorbs water so, in the case of performing hot yoga, you need to constantly wash it to remove sweat. And since the strap is a bit thicker, it may take time to dry.
Therefore, a nylon strap will be much effective for hot yoga as it doesn't absorb much water.
Organic cotton can be an option in case you have sensitive skin as the texture is much softer than cotton.
Hemp is an environmentally friendly material and is also equal to the strength and durability of cotton. So if you are a person who cares for the environment, you can buy a hemp yoga strap.
The stretchable straps are mostly in the form of resistance bands. Instead of providing support, these rubber-band-like straps push back to give resistance to your movements. You can use them during your warm-ups or stretches.
2. Detemine the length as per your height
There are typically 3 lengths variants of yoga straps available in the market – 6-feet, 8-feet, and/or 10-feet.
The most popular length among them is a 6-feet strap. It can be easily used for any yoga pose and can be held comfortably. This size length is most recommended for beginners. Do not go for a longer strap or else you'll get entangled.
If you are on the taller side, you should go for an 8-feet or 10-feet yoga strap. You will be able to adjust the strap as per your arm length easily. It will help in those poses where you need to use your height to your advantage.
The 10-feet is also an option if the 8-feet variant is not available and provides the same benefits as the 8-feet variant.
3. Choose a closure design as per your need
While you can easily find a simple strap with no additional accessory attached to it, you should also consider if you would like a buckle, D-ring, loop in your straps.
Simple Yoga Strap – A simple strap is useful if you do not have to create loops. It would benefit in asanas that only require you to place the strap in a way that gives support.
However, on the flip side, you will first have to learn how to safely and securely tie a loop to practice your asanas. It also depends on the material of the strap how easy it is to bend and tie a knot. You will have to tie and untie the knot, which takes time.
D-ring and buckle – A D-ring yoga strap is the most favorable and commonly used in yoga practice. This is because they are manageable, you can form loops easily and easily adjust the size of the loops.
Cinch buckle and pinch buckle yoga straps are other varieties that you can shop for. The straps can be easily adjusted with one hand and you can be assured of your strap never coming loose in the middle of an asana.
The downside of these is that tend to make noise while adjusting or if they mistakenly fall down. One can be easily distracted and lose the flow of an asana.
Loop – You can also buy yoga straps that come with loops made at both ends. They are easily adjustable as you just need to slide the loop up and down. You can also use it to carry your yoga mat!
Another form of yoga strap is one that contains multiple loops on it. With this belt, you can mimic the traction of an elastic band to get a range of stretches. However, the loops are pre-made and cannot be adjusted.
You also have the infinity loop band. It is in the shape of infinity and is useful if you want to work on your alignment. They come in various sizes so you can choose based on your physic and purpose. They are also not adjustable like belts.
4. Pick a strong material for the ring/buckle
If you've chosen to go with a buckled yoga strap, you should also keep in mind the material of the buckle as well.
Metal and plastic are the two materials of the buckle or ring of a yoga strap. Metal is considered more durable and sturdy but it may make the strap slightly heavy.
The D-ring is mostly made of metal, the smooth surface of the metal design makes it easier for the strap to be adjusted with one hand. However, if by any chance the belt falls from your hands, it is going to make noise, which is not good for a peaceful practice. And some people also have the fear that they may not clasp the belt strongly.
Plastic on the other hand is light and can easily hold the heavy fabric of the yoga strap. But they often get broken if you do not maintain them.
Moreover, make sure that the ring/buckle is not too thin or narrow so that it is not able to hold the pressure.
5. Are they environment friendly?
As the world is becoming more conscious about the environment, so are the makers of the yoga straps. You need to carefully see the details of the material a strap is made of. Some cheap variants use harmful chemicals to dye their product which can harm the skin. Others may use PVC or other materials which are not recyclable and do not degenerate for years.
Conclusion
We hope that our selection of yoga straps has inspired you to select one of them. Yoga straps are effective in reducing injuries and increasing your flexibility and mobility. So, jot down your preferences and start searching for the right yoga strap to enjoy deep stretches of the asana.