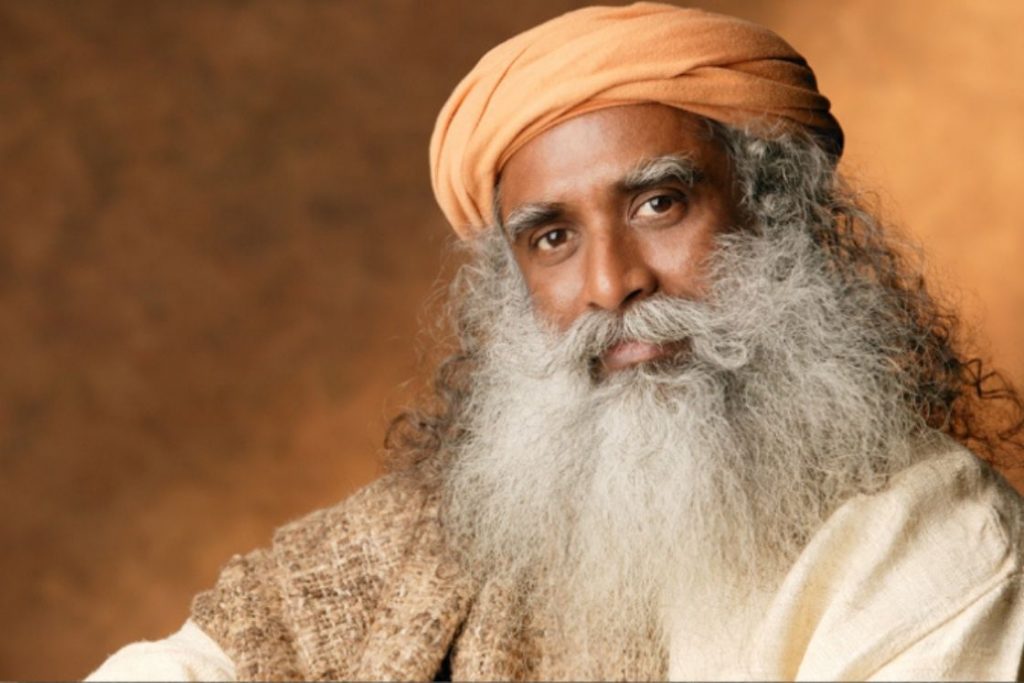 Sadhguru Jaggi Vasudev is an Indian yogi and visionary who founded the non-profit organization Isha Foundation, which conducts yoga programs all over the world. He is an author, motivational speaker, philanthropist, and spiritual teacher, among other things.
Sadhguru's transformational initiatives have impacted millions of individuals around the world.
His style is non-belief-based, yet it does offer tried-and-true strategies for self-transformation.
Sadhguru, who belongs to no one system, incorporates and communicates what is most relevant for modern living from the yogic sciences.
Early Life
Born on 3 September 1957 in Mysore, Karnataka, India, Jagadish 'Jaggi' Vasudev was the youngest of the five children. His father was a physician at the Mysuru Railway Hospital due to which their family travelled a lot. 
As a result, he developed a love for the outdoors and adventure as a child. He wandered into the jungle regularly, seeing exotic animals and catching snakes.
Even though he didn't have any spiritual inclination or goals in his youth, by the age of 13, Vasudev received regular yoga instruction from Malladihalli Raghavendra.
In the meantime, he studied at Demonstration School, Mysore and Mahajana Pre-University College. He completed his graduation with a bachelor's degree in English from the University of Mysore.
In his college years, he developed a fascination for riding bikes and often rode with his friends.
He started his career with a poultry farm in Mysore and also subsequently got into the construction business with a company named Buildaids.
At the age of 25, he rented his business to his friend and set out to travel and explore.
It was on 23rd September 1982, that he had his first spiritual encounter while sitting on a rock in Mysuru's Chamundi Hills. According to Sadhguru, "Every cell in my body was bursting with a new, indescribable level of ecstasy."
By the time he regained his consciousness several hours had passed and it was evening. It was a life-changing experience for him.
In order to explore further, he travelled to many places. People engaged with him differently as if he has some sort of inner vision. They approached him and sought advice or foreseeing the future.
Jaggi Vasudev performed meditation for a year and then decided to share his experience with others.
Start of Spiritual Life
In 1983, he started teaching yoga in Mysore, which was attended by only 7 people. However, his classes soon gained popularity and he went on to teach across Karnataka and Hyderabad. Gradually he gained a significant following and taught over 15,000 students.
For his sustenance, he relied on the income from his poultry farm and the donations from students.
He met his wife Vijaya Kumari or Vijji, in a yoga program in 1984, whom he married even despite objections from her family.
In 1987, Jaggi Vasudev suffered a major setback when his poultry farm was destroyed in a fire. For him, this was a sign that he should completely devote himself to teaching yoga and travelling without any business interference.
The Isha Foundation
Jaggi Vasudev founded the Isha Foundation in 1992, in the Velliangiri Mountains in the state of Tamil Nadu, India, to serve as a forum for his spiritual and educational endeavors.
Jaggi began to step into the role of spiritual Guru as his spiritual audience grew. The few who knew him personally saw a change when he transitioned to the position of spiritual guide. At this point, he came to be referred to as Sadhguru.
He introduced the Inner Engineering program through his Isha Foundation. This program combines hatha yoga, meditation, selfless service, and community-minded living to provide a holistic attitude towards life. Shambhavi Maha Mudra, a simple but strong kriya (inner energy technique) for innermost transformation, was introduced in Inner Engineering.
A specialized yoga method called Isha Yoga is at the heart of the Foundation's efforts. It embodies old yogic principles for the modern individual, resulting in peak physical, mental, and emotional well-being.
Besides its Indian location, it also operated from the Isha Institute of Inner Sciences on the Cumberland Plateau in middle Tennessee, USA.
Isha Foundation is currently run by over 11 million volunteers from over 300 city-based centres throughout the world.
The Dhyanalinga
Due to the death of his wife and some other setbacks and issues with his foundation in 1997, he was unable to initiate the Dhyanalinga, a spiritual energy centre. However, on June 23, 1999, the Dhyanalinga was formally inaugurated.
The Dhyanalinga will serve as a tool that allows those who meditate and pray near the holy ground to connect with a profound spiritual reality and advance more quickly.
A World Renowned Speaker and Writer
Sadhguru's speeches have gained him a repute as a world-renowned speaker and opinion-maker. He is frequently invited to speak at major international venues on topics as different as human rights, business values, social, environmental, and existential challenges.
He spoke at the World Economic Forum in Davos in 2006 and 2007, Switzerland, the Tallberg Forum in Sweden, and the Australian Leadership Retreat in 2006.
He's also attended the UN Millennium Peace Summit and the World Peace Congress as a delegate.
He appears on a variety of TV shows, forums, and student organizations around the world. The audience is typically invited to ask questions during such sessions. Sadhguru has also given talks at the Oxford Union, the World Economic Forum and Ted Talks.
Sadhguru has also authored several books such as Inner Engineering: A Yogi's Guide to Joy, Karma: A Yogi's Guide to Crafting Your Destiny, Mystic's Musings, and Death: An Inside Story.
He is also a wonderful poet and some of his poems have been compiled and published in the book Eternal Echoes and an English magazine "Forest Flower", which was launched by him.
Other Accomplishments
In February 2017, Prime Minister Narendra Modi inaugurated Sadhguru's designed massive 112-feet statue of Adiyogi Shiva. The statue's purpose is to urge individuals to practice yoga for inner peace.
In the same year, he was awarded the Padma Vibhushan, India's second-highest civilian award for his contributions to the domain of spirituality.
Sadhguru's Personality
Despite his extensive reading, he considers his solutions to be the result of his inner insight, and he hardly utilizes scripture to support his position. He prefers to employ anecdotes, parables, or stories from India's spiritual heritage instead of scripture.
He enjoys trekking in the Himalayas and occasionally leads groups of hikers. He often organizes holy journeys to Mount Kailash.
Sadhguru's personality is unique. He can be childish at times, but he also takes on the role of Guru and strict taskmaster on other occasions. He may say nothing overtly, instead of hoping to draw them inwardly deeper.
In question-and-answer events, he can come across as a logical, pleasant speaker who always has a suitable response to any question.
He is also known to be a good cook who promotes a vegetarian diet and balanced consumption.
Apart from being a spiritual guru for millions, Sadhguru also likes to ride his bike and play golf. His passion to ride fast took him to take tips from the renowned Formula 1 driver Christian Rado in April 2017. Subsequently, he drove a Toyota Scion on the racetrack.
At the Isha Yoga Center, he designed several remarkable buildings and sanctified areas that have garnered widespread notice for their blend of deep religious power and stunningly inventive eco-friendly beauty.