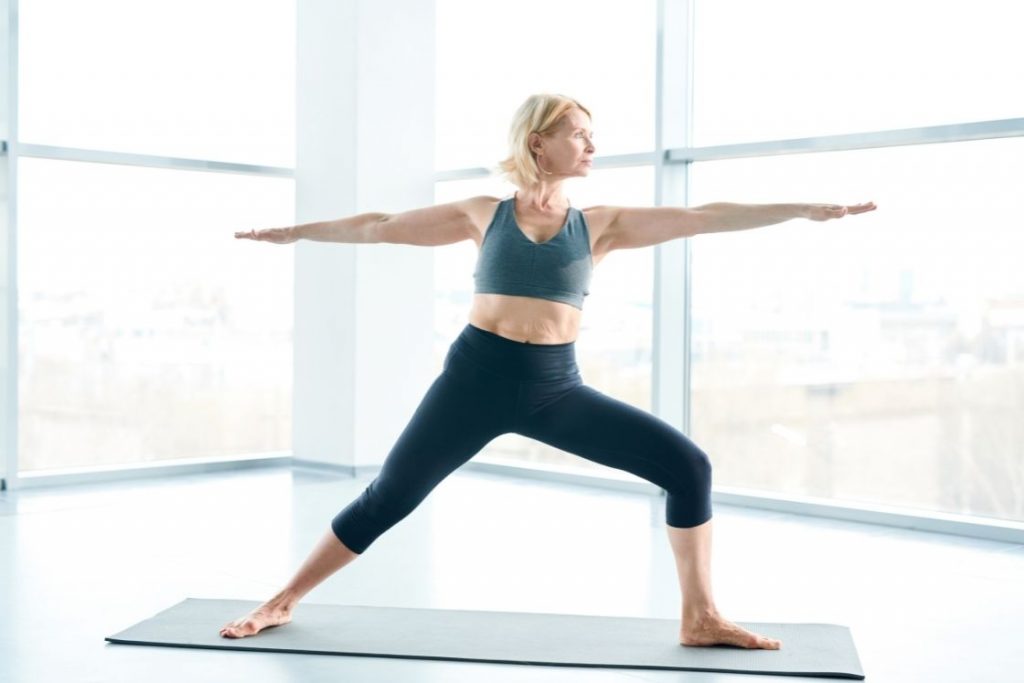 A yoga mat is one of the first things a person imagines when they think of practising yoga. They are mostly made of rubber, nylon, or cotton but new variants for material keep emerging.
Typically a yoga mat is made of anti-slipping material so it provides stability when you are busy focusing on the detailing of the pose and your body alignment. They are a bit thick to provide a cushion in your seated, reclining, or inversion asanas. You will also find variations in lengths, width and thickness of yoga mat to suit your need.
In this article, we have listed 11 non-slip yoga mats which you can readily purchase.
These mats are relatively cheap so you do not have to worry much about spending hundreds of dollars. They are easy to clean as you can either wipe the surface or handwash/machine wash them in cold to lukewarm water.
Best Overall: #1 Heathyoga Eco-Friendly Non-Slip Yoga Mat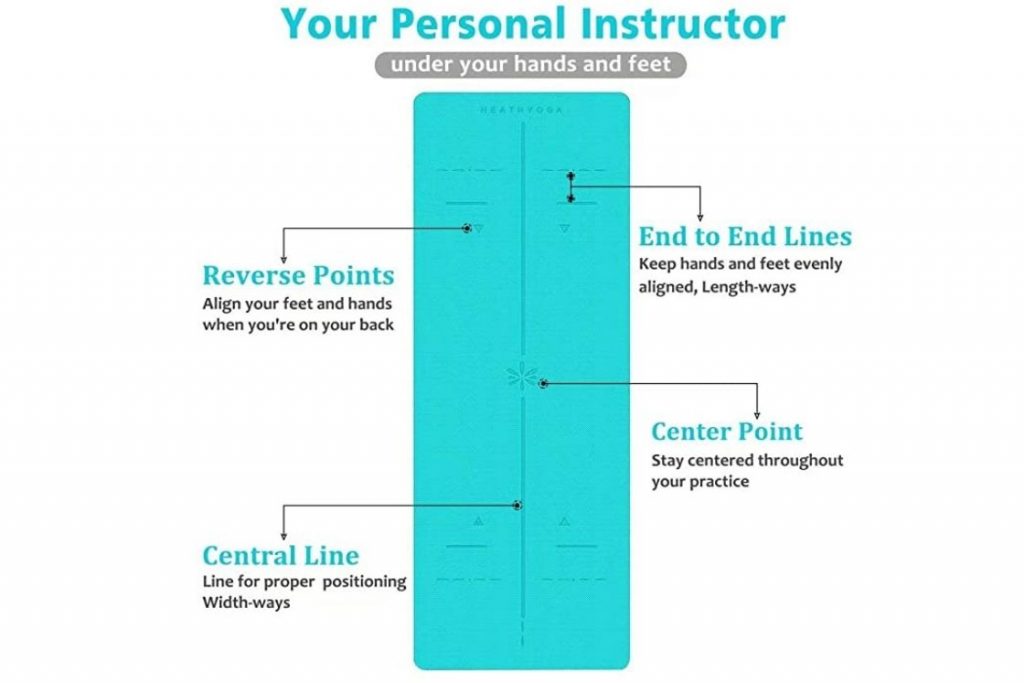 Material – Thermoplastic Elastomer (TPE)
Size – 183cm x 66cm
Thickness – 6mm or 1/4in
Weight – 2.8lbs
This mat checks the box for most of the consideration one would take before buying a mat. It is made of eco-friendly TPE (Thermoplastic elastomers) which makes it inherently superior, denser and unique composition along with no plastic smell at all. It also doesn't contain latex so you do not have to worry about any skin irritation or allergies.
The 6mm thickness with double layers in this mat gives a good cushion and grip to support your joints during your yoga practice. Especially If you enjoy restorative yoga, a style with fewer poses that you hold longer, for example, you may prefer this mat. It has a non-slip texture on both sides of the mat which assures good hand and feet traction and floor grip.
The mat also has alignment lines to help you get in the correct posture. It is longer and wider than most mats and is suitable for all yoga styles and heights of yoga practitioners.
It comes with a carrying and velcro strap.
Pros:
Made with SGS-certified Thermoplastic Elastomers (TPE)
Odorless
Longer and wider than regular yoga mats
Velcro strap and carrying strap included
Guidelines on the mat which help in correct alignment
Double layered and appropriately thick
Cons:
It may not be suitable for hot yoga where you sweat profusely.
Best Instructional Mat: #2 – NewMe Fitness Yoga Mat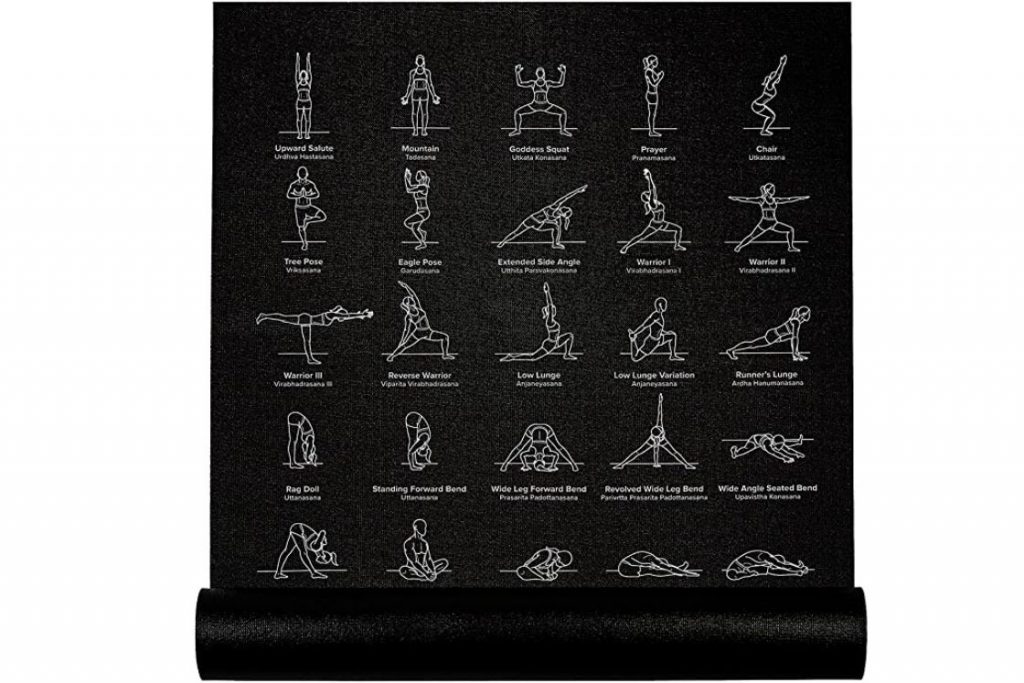 Material – Non-toxic PVC (BPA free and phthalate-free)
Size – 68in x 24in
Thickness – 5mm
Weight – 2.6lb
It is safe to say that this is the only yoga mat that is wider and comes with poses imprinted on it. Yoga practitioners will benefit through these poses as they will be able to learn the poses and create a sequence as well.
Even though it is made of PVC, the material is non-toxic and it is BPA and phthalate-free PVC making it substantially eco-friendly. It has a non-slip surface that can be easily cleaned by wiping with a cloth.
You can practice all yoga styles on this mat and is suitable for all levels of practitioners. You can also use it as an outdoor yoga mat due to its texture. The material is durable and long-lasting.
Pros:
Easy to clean
Non-toxic PVC material
70 Pose illustrations
Easy to carry as it is lightweight
Cons:
Some practitioners may find it thin
The illustrations may get erased over time
Best Cork Yoga Mat: #3 – Gaiam Cork Yoga Mat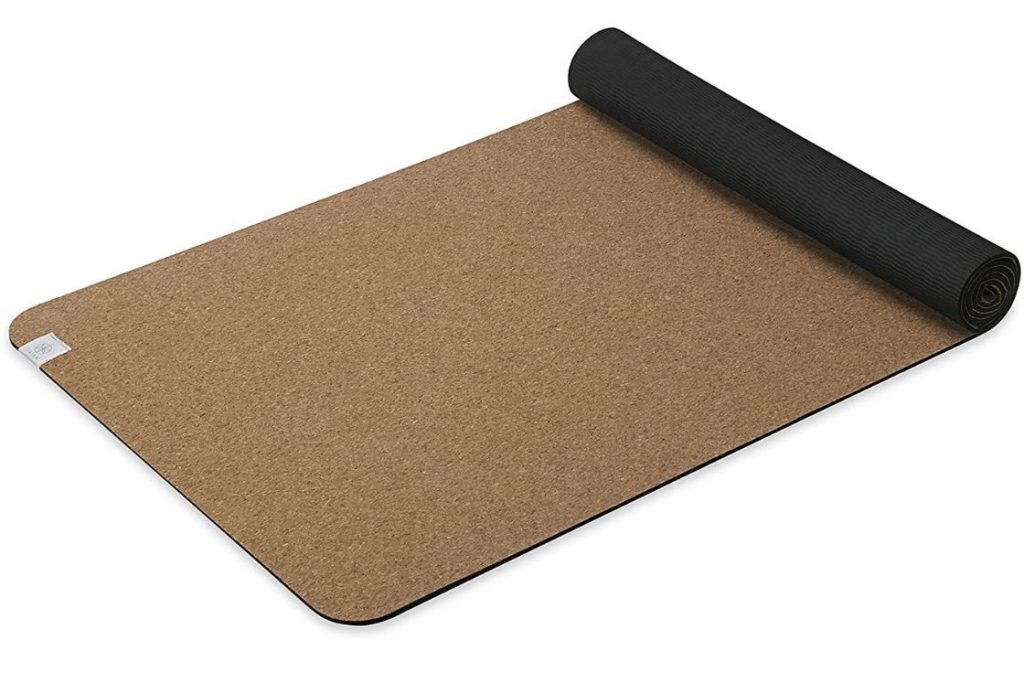 Material – Cork (surface) and TPE (underside)
Size – 68cm x 24cm
Thickness – 5mm
Weight – 1.71lbs
This mat comes with a cork material surface that is sustainable and eco-friendly. This non-slippery mat comes with a TPE base that grips the floor to support you in all yoga poses. The cork surface gives good traction to your hands and feet and doesn't have a rough texture.
When it comes to mat material, cork is known to resist moisture hence you can rest assured that your sweat will not get accumulated and later cause a funky smell. It can be used for all yoga styles.
You can wipe it down with a cloth with mild detergent and air dry by laying it flat. It may take some classes to completely unroll, as the cork needs 2-3 days to stabilize.
Once you open the packaging, it is advised that you air-dry the mat to remove the harmless odour.
Pros:
Sustainable and eco-friendly material
Lightweight
Good grip
Germs and odor resistant
Cons:
The cork may start chipping off if it is rolled with surface-inside
Takes a long time to flatten
Not enough thickness
Not recommended for tall people
Best Crack Resistant: #4 – Gruper Yoga Mat Non-Slip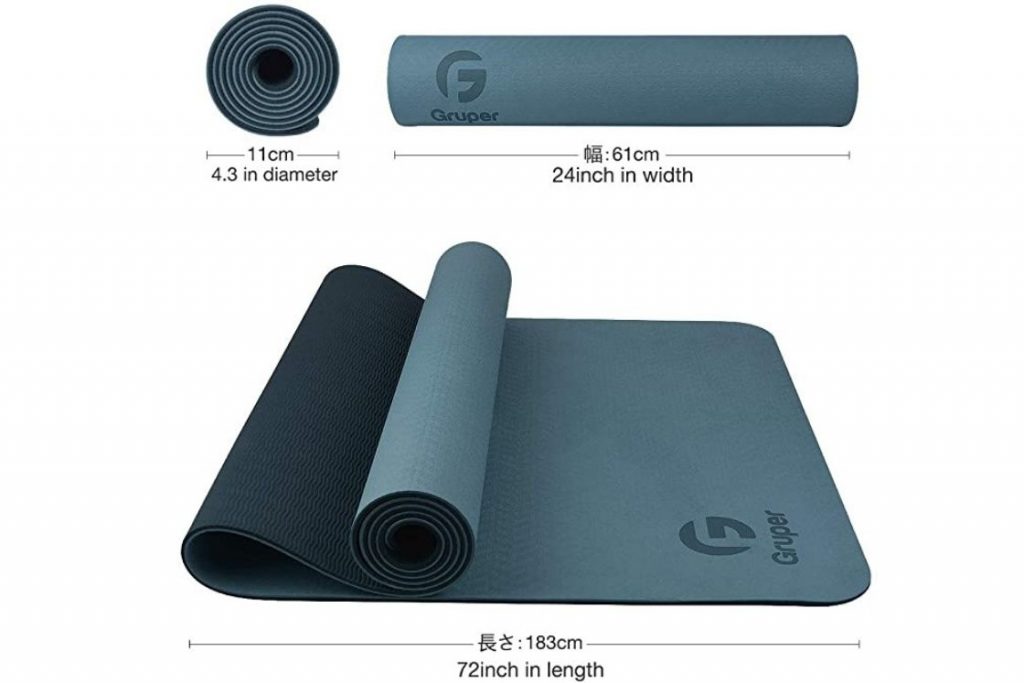 Material – TPE
Size – 183cm x 61cm (standard and medium), 183cm x 81cm (large)
Thickness – 6mm (standard), 8mm (medium and large)
Weight – 2.6lb (standard), 3.1lb (medium), 4.lb (large)
Gruper yoga mats are one of those that offer variants in their sizes and thickness so you can choose as per your height and need. The mat is safe to use as it uses eco-friendly TPE material that also makes it soft.
This upgraded version contains an anti-tear design so you do not have to worry about wear and tear. Both the surfaces are non-slippery making it ideal for all yoga forms. The corrugated pattern on the underside is perfect for staying firm on the floor.
It is sweat-proof and waterproof making it manageable and easy to maintain. Another good feature of this product is that you can use it from both sides. It has also been tested for 65-degree anti-slip, on which it proved to be successful.
The mat comes with a one-year warranty and 90 days refund policy. It comes with its own carry bag, so you can easily carry it to your yoga class.
Pros:
Anti-tear design
Waterproof and sweatproof
Easy to wash and store
Comes with a carry bag
Soft and flexible
Comes in various sizes and thickness
Cons:
The mat cover may tear easily.
May curl at the corners
Can cause a crease if you fold instead of roll
Best Vibrant Designs: #5 – Gaiam Yoga Mat – Premium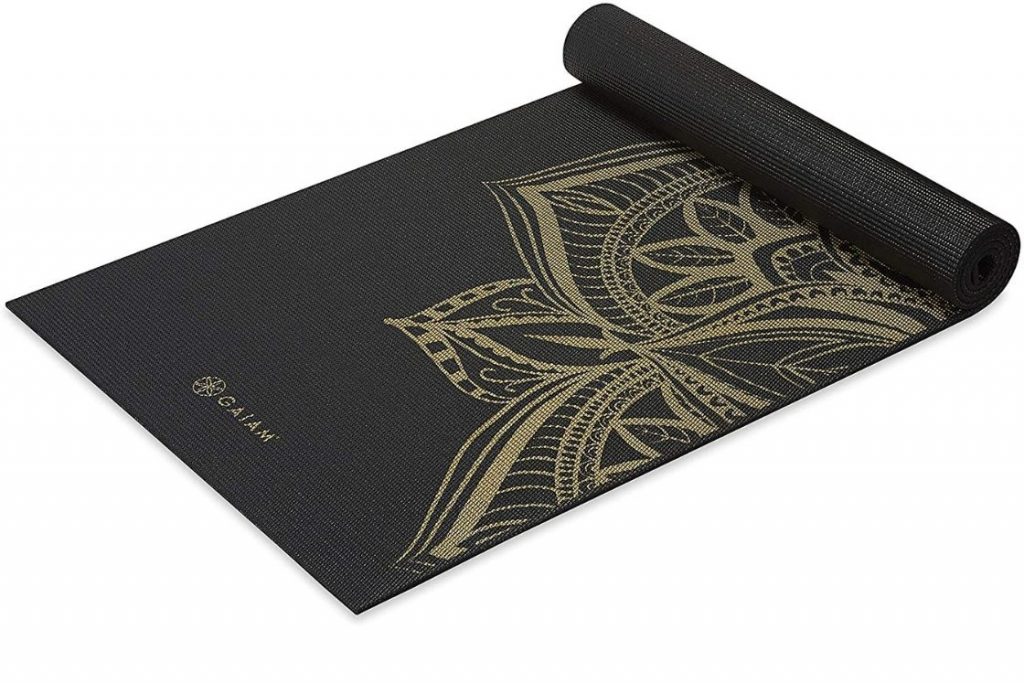 Material – Non-toxic and 6P free PVC
Size – 172cm x 61cm
Thickness – 6mm
Your eyes will get a treat when you go through their selection of yoga mats. There are various colors and beautiful designs available for you to choose from and get inspired.
It is made from PVC that is non-toxic and free from 6 harmful phthalates. The yoga mat is durable and the thickness ensured that your joints are well cushioned. It is lightweight and can be easily carried to your yoga class.
This yoga mat has a sticky non-slip texture that provides superior grip and traction.
The brand offers free downloadable yoga workouts with the purchase of the mat.
Pros:
Lightweight and easy maintenance
Sticky non-slip texture
Beautiful designs and colors
Free downloadable yoga workout
Good thickness and cushion
Affordable
Cons:
May not be suitable for tall practitioners
The material may dent with overtime use
Best in Extra-Thickness: #6 – BalanceFrom GoYoga All-Purpose Yoga Mat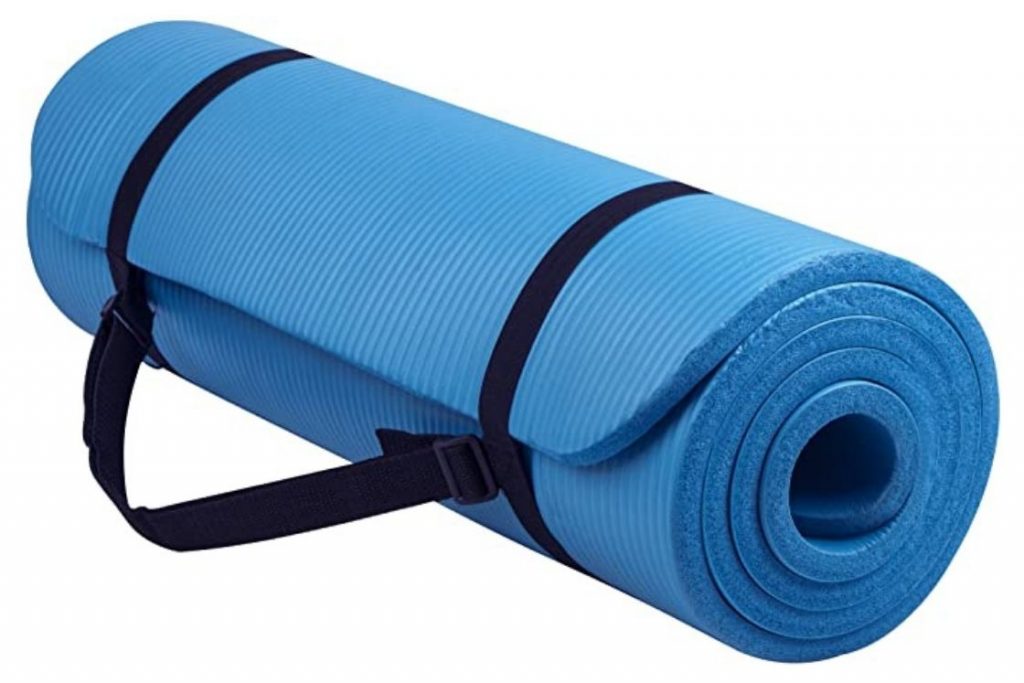 Material – Foam
Size – 180cm x 61cm
Thickness – 12.7mm
Weight – 1.8lbs
If you have sore knees or joint pains, this extra-thick mat is just for you. The high-density foam provides the perfect cushion to all your seated and reclining yoga asanas. Your hips, elbows, spine, hands, and feet will be nicely supported.
You can use this mat for almost all yoga forms as the mat has a non-slip texture on its surface and underside. The slip resistance makes it easier for you to maintain balance and prevent injuries.
It is easily washable with soap and water and comes with a carry strap.
Pros:
Extra thick and cushiony
High dense foam material
Supports joints and prevents soreness
Easy to maintain
Suitable for tall people
Carry strap is included
Cons:
The foam may squish with overuse
It may make a squeaky noise
Best for Hot Yoga: #7 – Aurorae Synergy 2 in 1 Yoga Mat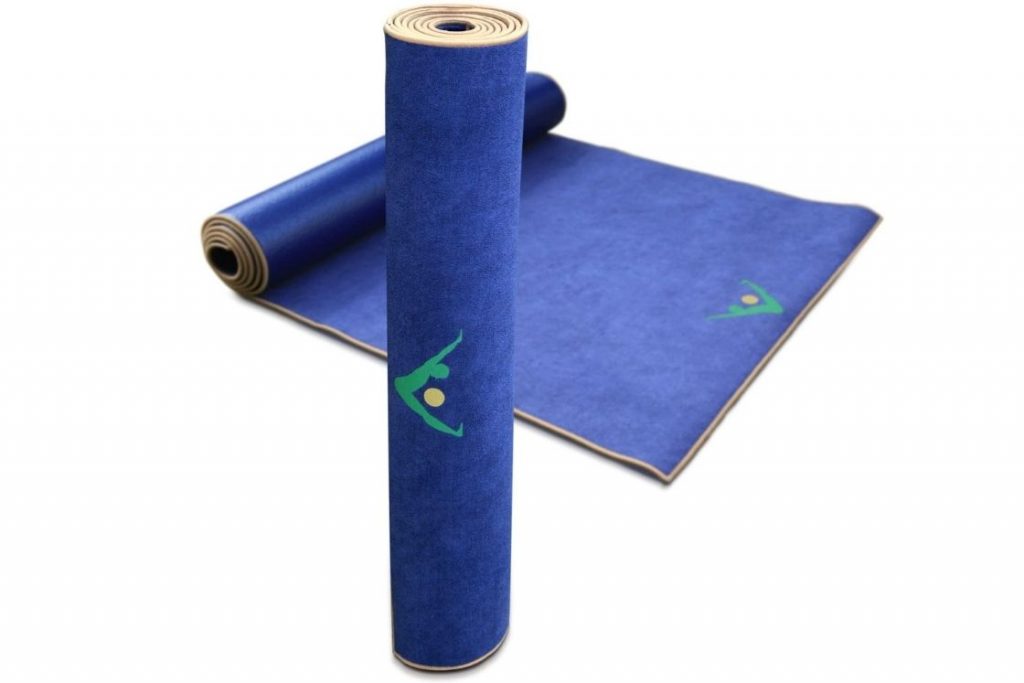 Material – PER bottom and Microfiber Top
Size – 183cm x 61cm
Thickness – 5mm (bottom)
Weight – 1.61lbs
Aurorae is a family-run business that has patented the design for this yoga mat. It is a unique 2 in 1 yoga mat that has a microfiber towel on the surface and a non-toxic Polymer Environmental Resin on the underside. This combination makes it perfect for sweaty yoga styles and exercises.
The towel is firmly placed on the base so it doesn't bunch during the transition of pose. And the more you sweat, the better the grip. It is lightweight, durable, odorless, and easy to wash yoga mat. The mat is latex, silicone, and phthalates free so it is perfectly safe to use.
The towel has been placed on top of a 5mm non-slip base which provides an added comfort and cushion.
You can easily machine wash this mat and hang it to air dry. It is recommended that you spray water on the edges to make them softer.
Pros:
Patented design
Perfect for sweaty yoga forms
Non-toxic and environment friendly
Easy maintenance
Extra cushion and comfortable
Lightweight and Odorless
Cons:
Price is on the higher side
Not suitable for low-intensity yoga forms
Best Jute Mat: #8 – Ajna Organic Yoga Mat – Natural Jute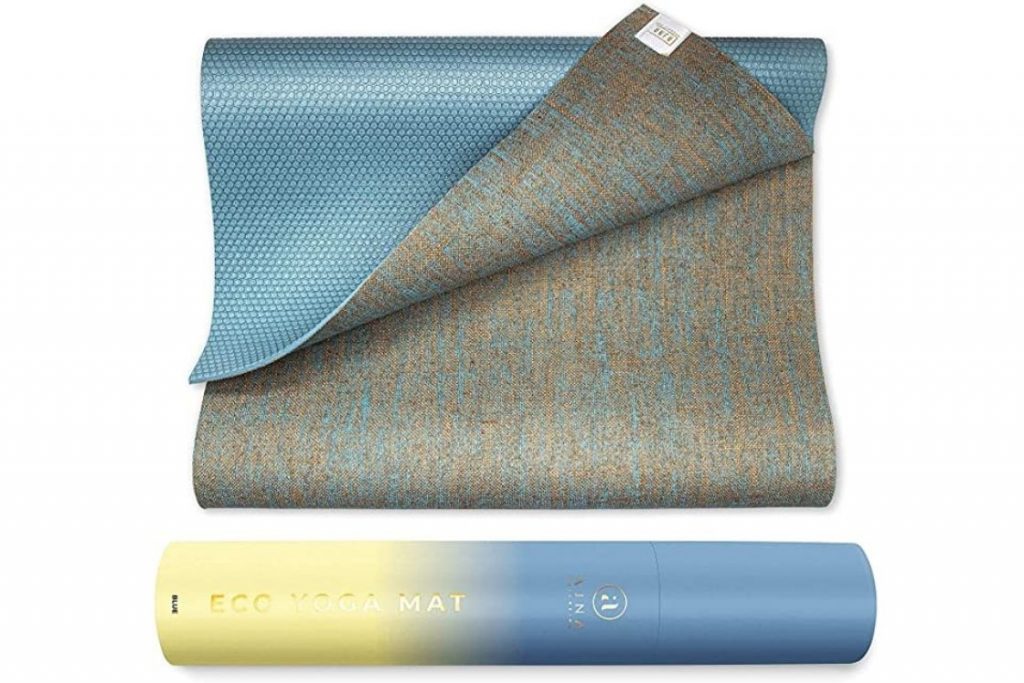 Material – Jute Top and PER bottom
Size – 183cm x 61cm
Thickness – 5mm (bottom)
If you're bored with the regular mat variants, you can opt for this sustainable and ecological jute yoga mat. The surface is made from natural jute which doesn't smell, stain or absorb sweat. It is firmly placed on a PER base which is non-slip and is durable.
The base is 5mm thick and with the addition of the jute surface, makes it comfortable and cushiony. So you can easily perform any yoga asana without having to worry about sores or bruises.
It is lightweight and comes with a free yoga strap so that you can easily carry it around. Once you wipe it down with water, you do not have to worry about the yoga mat circling mid asana.
The most unique feature of this brand is that for every product they sell, they plant a tree. Now you know you are contributing towards saving the environment!
You will also receive an email with guided meditation and customized yoga flow within 72 hours of your purchase.
Pros:
Made from natural jute
Lightweight and easy maintenance
Stain-resistant and odorless
Suitable for tall practitioners
Environment and skin-friendly material
For every product sale, they plant a tree
Cons:
Price is on the higher side
May come off as thin for some practitioners
Best for Travelling: #9 – Gaiam Yoga Mat – Folding Travel Fitness & Exercise Mat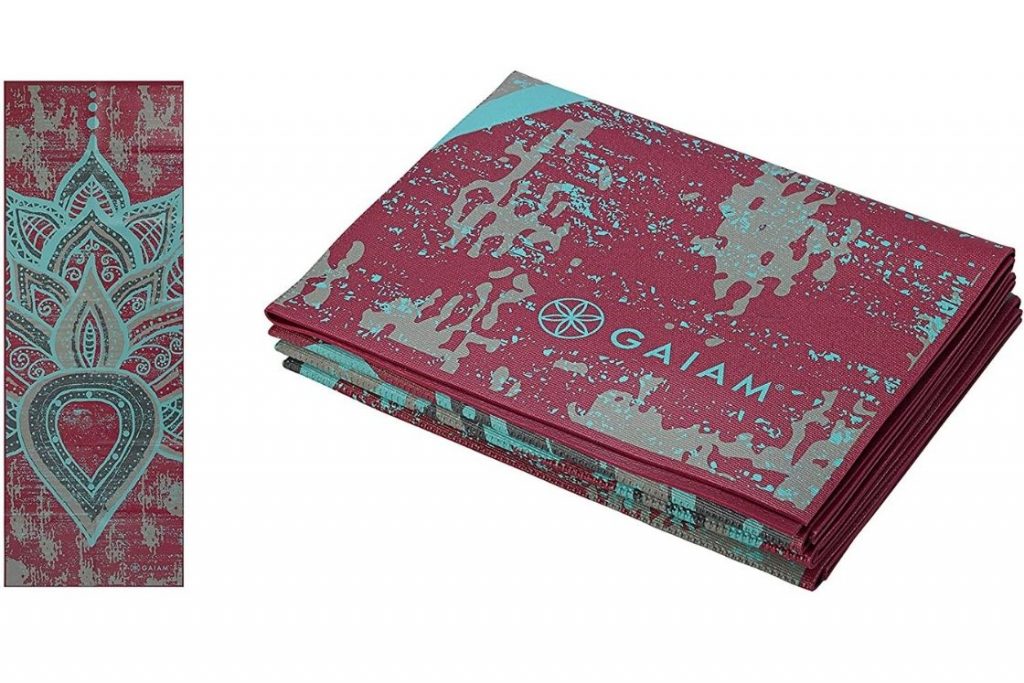 Material – Non-toxic PVC
Size – 173cm x 61cm
Thickness – 2mm
Weight – 1.8lbs
If you're a frequent traveller and do not want to miss out on your yoga practice, this mat is a must-have. It can be easily folded into a 10in x 12in square and stored in your suitcase or overnight bag.
Even though the thickness is 2mm, it can be easily placed on any surface and give a fantastic grip. It is extremely lightweight and the stitched creases work as a guide to perfectly fold the mat.
The stitching is also very firm; they do not stick out and press to your skin.
The sticky non-slip texture ensures firm footing whether you are practicing your yoga poses on a beach, grass, or hotel room.
Pros:
Lightweight and easy to carry
Stitched lines work as a guide to fold the mat
Reasonably priced
Provides firm footing
Cons:
Not recommended to be used in home
The color may come off
need s to be stored in a mat bad or else it may turn brittle
Best for Pro Yogis: #10 – Manduka PRO Yoga Mat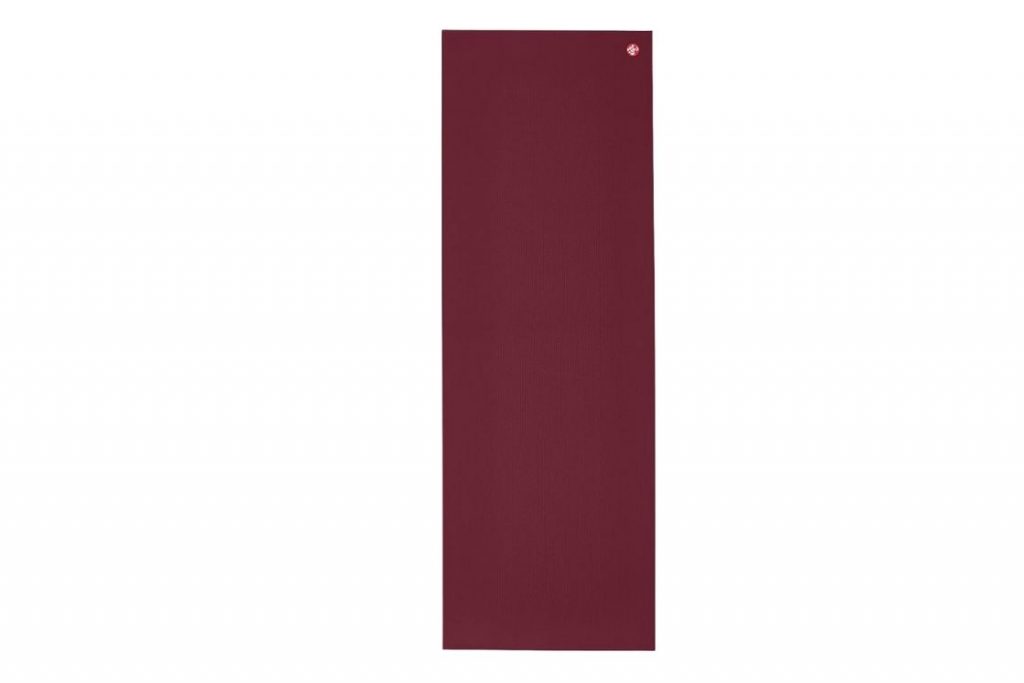 Material – Non-toxic PVC
Size – 180cm x 66cm, 216cm x 66cm
Thickness – 6mm
Weight – 7.5lbs, 1kg
Here comes a mat that is meant for advanced practitioners. Manduka is a well-known brand that is known to bring out exceptional yoga accessories and this yoga mat is no exception.
It has been carefully handcrafted to suit the needs of advanced-level yoga students. The Closed-cell surface gives superior joint protection and doesn't let moisture or sweat seep into the mat.
Both variants of the mats are thick and made with dense non-toxic PVC that has been tested for harmful substances to STANDARD 100 by OEKO-TEX. The thickness and density provide good cushioning for your joints, stability, and firm grip.
The mat comes with a lifetime warranty.
Pros:
Dense material with superior grip
OEKO-TEX tested non-toxic PVC
Highly stable and durable
Closed-cell surface gives superior protection
Sweat and moisture resistant
Easy to clean
Comes with a lifetime warranty
Cons:
Not recommended for beginners
Extremely expensive
The dense material makes it heavy to carry
Best Within Budget: #11 – COOLMOON 1/4 Inch Extra Thick Yoga Mat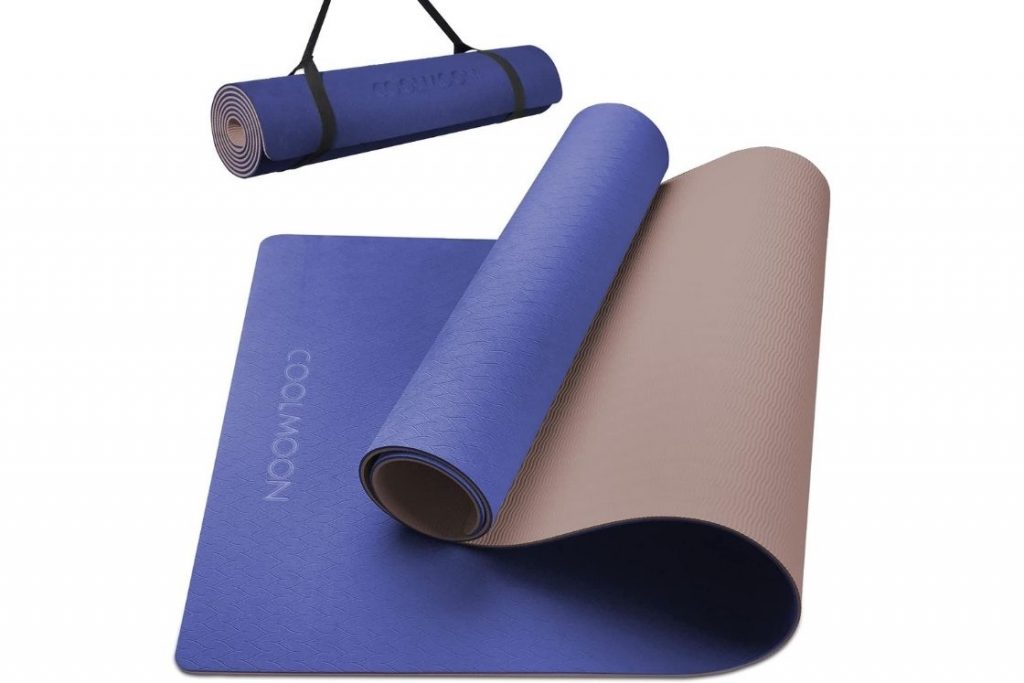 Material – TPE
Size – 183cm x 61cm
Thickness – 6mm
If you do not want to spend too much yet want the best quality, COOLMOON has the perfect yoga mat to offer.
You can stay within budget and obtain a 6mm thick yoga mat that will support your elbows, hips, knees, shoulder, hands, and feet. The TPE is much safer and environmentally friendly which makes it durable and long-lasting.
It has a unique hexagon texture on the surface which gives a superior grip and makes it tear-resistant. The mat has a high-quality anti-slip texture on the underside that ensures a firm grip on the ground.
Even with the high density, it is lightweight and the free carry-on strap makes it easy to carry. It is easy to maintain the mat as it is waterproof and sweat-proof. The length of the mat is perfect for all height sizes.
Pros:
Affordable price
Dense anti-tear material
Unique hexagon texture for superior grip
Waterproof and sweat-proof
Lightweight and easy to maintain
Free carry-on strap
Cons:
The curl up due to packaging may take some time to go away
What to consider when buying non-slip yoga mat?
There are a few things you should consider when you are choosing a non-slip yoga mat:
1. Consider your level of expertise
If you're a beginner or intermediate level it would benefit you to buy a thick yoga mat (5-8mm) so that you get the maximum support with your poses. For advanced level practitioners, 1-5mm thickness will be suitable for a perfect grip.
2. Material of the Mat
You can go for plastic-based (PVC), thermoplastic elastomer (TPE), or eco-friendly versions. The PVC version is latex-free so you do not have to worry about allergies however they are non-recyclable. TPE is a blend of rubber polymers and plastic is much more environmentally friendly than PVC.
Eco-friendly mats are made of natural rubber, cotton, jute, or cork. Though they provide lesser floor grip than the other variants, their hand and feet traction is still good.
3. Select the mat as per your need
If you're tall, consider mats that are more than 68 inches or 173cm long as this is the standard size of the mats. Or if you have joint pains or ailments or you get sore easily, go for thicker mats for added cushion.
Thicker mats are most preferable for seated or reclining poses or restorative yoga style. The most common thickness is 6mm. is If you're going for Vinyasa style, your yoga mat should have a firm grip on the floor and your hands and feet as well.
For more sweaty intense yoga forms, go for those mats which will prevent slipping due to your sweat.
4. The place where you will be performing yoga
For home practice, you can invest in any yoga mat based on your need. However, if you are travelling to a yoga studio or travel a lot in general, you should buy lightweight and durable yoga mats which are easy to carry and store.
5. Price of the mat
One of the most important factors when buying a mat is its price. The more design or added features, the more the price. However, do not invest in a cheap mat in the beginning. If you want to continue yoga in the long run, buy a high-quality mat. Even if you want to stick to a budget, make sure you are carefully looking at all the factors mentioned above to purchase the best quality.
Conclusion
Take your time to make a list of your needs, search and purchase what's best for you. A good yoga mat will help you enjoy your yoga practice and not bother about unnecessary pain or bruising. We hope that our selection of non-slip yoga mats and the list of considerations will inspire you to buy a yoga mat immediately.